LA City Council candidates discuss solutions to homelessness at virtual forum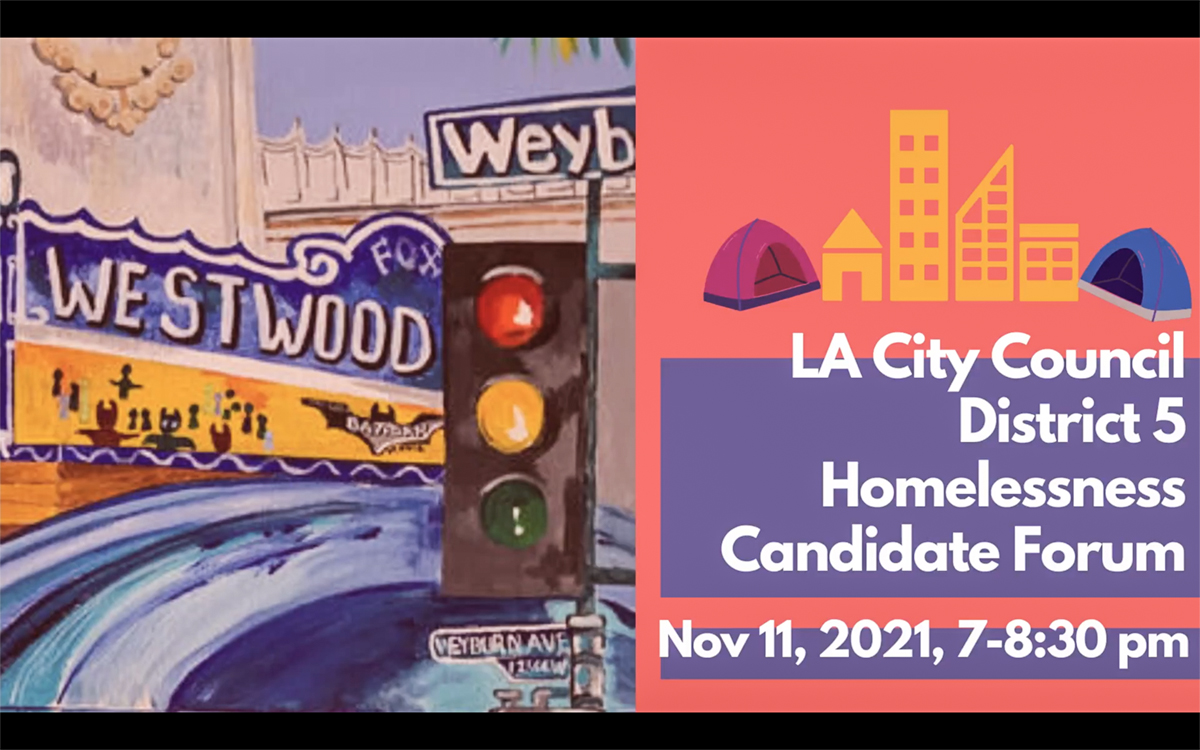 Los Angeles City Council candidates spoke about the city's actions on homelessness at a forum Thursday. (Screen capture by Justin Jung/Daily Bruin senior staff)
Los Angeles City Council District 5 candidates discussed homelessness at a virtual candidate's forum Thursday.
Thursday's event was the second candidates forum – an event where candidates can answer questions from voters – addressing homelessness, following the Aug. 5 forum.
Six of the seven candidates currently registered with the Los Angeles City Ethics Commission participated including Molly Basler, Jimmy Biblarz, Scott Epstein, Kristina Irwin, Katy Yaroslavsky and Sam Yebri. The commission oversees city and state laws concerning campaigns and elections, such as campaign financing.
After introducing themselves, the candidates answered questions submitted prior to or during the Zoom forum.
During the audience Q&A portion toward the end of the event, the forum was Zoombombed and obscene images were projected on the slideshow. Event organizers removed the alleged disrupters around 8:30 p.m.
As questions were presented, multiple candidates began by critiquing the city's current solutions to homelessness. Candidates agreed that current approaches to homelessness are temporary fixes that fail to address the roots of the issue.
Candidates also criticized a recent city council ordinance signed in July by Mayor Eric Garcetti, which banned encampments on sidewalks and in front of many public spaces, including parks, schools and libraries.
More than 66,000 people are experiencing homelessness in Los Angeles County as of 2020, a nearly 13% rise from 2019, according to the most recent Los Angeles Homeless Services Authority report.
Basler, a candidate and local business owner, said the criminalization of homelessness is not a working solution, citing a LAHSA statistic that 60% of the homeless population had already gone through the criminal justice system.
Biblarz, a faculty member at the UCLA School of Law, agreed with Basler, adding that many other solutions, such as providing accessible social services, should be considered before incarcerating individuals experiencing homelessness. Biblarz added that homelessness, low wages, job insecurity and rapidly rising housing costs are all intertwined issues.
Yebri, a lawyer and former commissioner on the Los Angeles Civil Service Commission, said individuals experiencing homelessness are disproportionately Black and that individuals with disabilities are more vulnerable to conditions on streets.
Epstein, the founder of the Midtown Los Angeles Homeless Coalition, said the city should invest in innovative, low-cost housing proposals such as low-rise bungalows and models such as Tiny Home Villages.
Epstein, a contact tracer for UCLA's Arthur Ashe Student Health and Wellness Center, added that encampments should be removed in certain locations such as sidewalks, provided that the city offers alternative shelter.
"What we're doing, in effect with (this ordinance), is moving unhoused people, incredibly vulnerable people during COVID from one sidewalk to another sidewalk," said Yaroslavsky, a climate attorney.
Yaroslavksy agreed that encampments should be relocated, provided that the city increases the availability of affordable, stable housing and accessible social services.
However, Irwin said she supports the July ordinance signed by Garcetti banning encampments. Irwin, a real estate agent and public notary, said she supports police enforcement of the ordinance in evicting individuals in homeless encampments but said police officers should not be primary responders for mental health crises.
Irwin added that individuals experiencing homelessness without mental health counseling can be dangerous to themselves and others in public spaces. She said that the city should provide mental health and substance abuse services for individuals experiencing homelessness.
"For a county of 10.5 million people, the county provides 81 residential site beds for people who have mental health breakdowns," Yebri said, adding that the city needs to provide more resources and locations to respond to mental health crises.
The primary election is scheduled for June 7, 2022, with a runoff in November 2022 if necessary.