UCLA-led study finds climate change as main factor for increased wildfire weather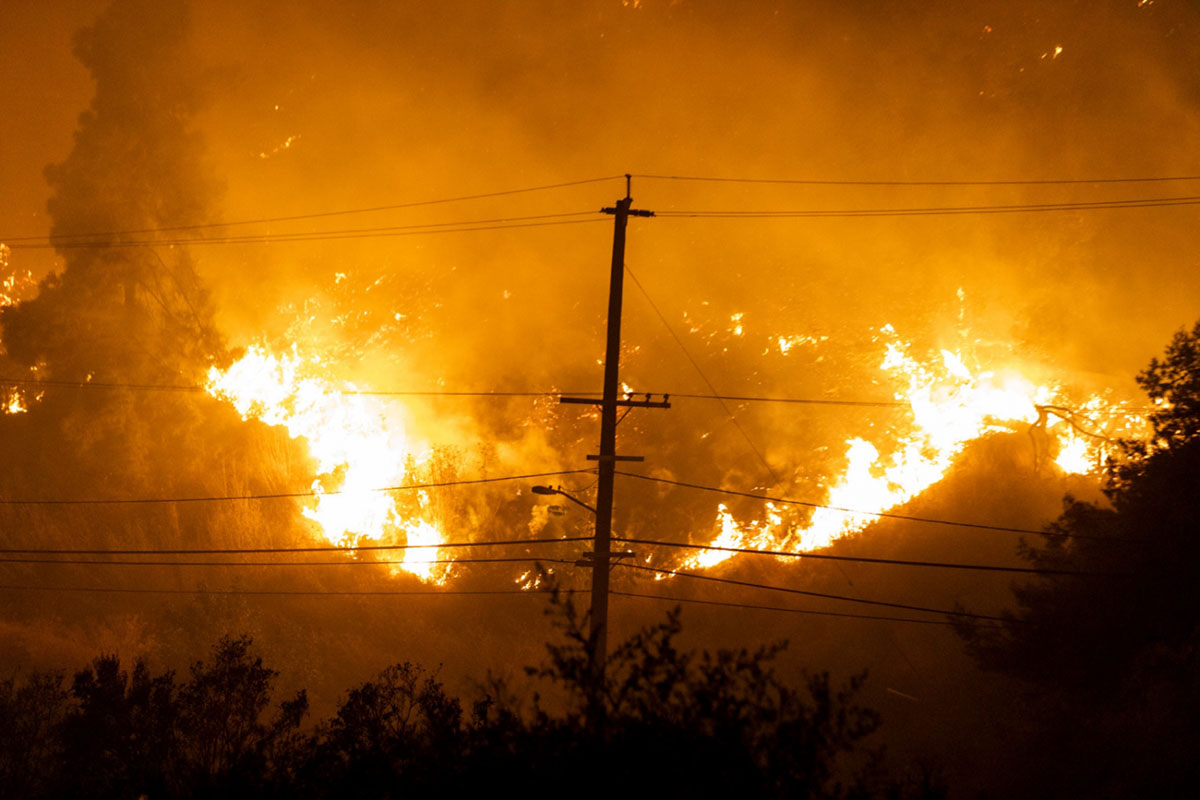 The 2019 Getty fire, which burned 745 acres of land near UCLA's campus. A recent study led by UCLA researchers confirmed that climate change is a driving factor behind increasingly extreme fire weather in the Western United States. (Daily Bruin file photo)
This post was updated Nov. 15 at 12:45 a.m.
Climate change is responsible for around two-thirds of the increase in catastrophic wildfire weather in the Western United States, according to a UCLA-led study published Tuesday.
In 2020, California experienced its most extreme recorded fire season, in which 9,917 fires burned more than 4.2 million acres, according to CAL FIRE.
More severe fire weather is expected in the future, said Yizhou Zhuang, a postdoctoral student in atmospheric and oceanic sciences and lead author of the study.
Higher temperatures raise the vapor pressure deficit, which is the difference between the maximum amount of moisture the air can hold and the amount of moisture currently in the air, Zhuang said. As this value rises, the air becomes drier and absorbs more moisture from plants and the soil, increasing the risk of catching fire, he added.
Using observational data and computer algorithms, the researchers found that 68% of the increase in vapor pressure deficit between 1979 and 2020 is due to climate change, while the remaining 32% can be explained by natural variations, Zhuang said. The study's team also ran climate models that suggested that up to 88% of the increase in fire weather is caused by climate change, he added.
"We can expect more and more severe fire weather in the coming years," Zhuang said, "We really hope the public and the science community will realize what has happened and what will be coming in the future."
[Related: Luskin Center for Innovation investigates California's response to extreme heat]
​​The average area of land burned annually in 11 western U.S. states was twice as large in the past 20 years compared to the previous 20 years, said Rong Fu, a professor of oceanic and atmospheric sciences and a co-author of the study. In 2020, the burn area was five times the average of the last 20 years, she added.
"The climate impact on fire weather is already happening," Fu said. "It's not in the future; it's now – it's the recent past."
The California Fourth Climate Change Assessment published in 2018, also warns that by 2100, the average amount of land burned by California wildfires each year may increase by 77% and the number of large wildfires could increase by 50%.
Fu said that even though she knew that climate change contributes to increased fire weather, she was surprised by how early it has become the dominant factor. She said that she had previously expected it to become the main factor driving wildfires after 2050, but was surprised to find that the data indicates that the impact of climate change surpassed the impact from natural weather patterns 20 years ago.
"We really need to act fast because this impact happened sooner and stronger than we previously realized or anticipated," Fu said.
The already hot temperatures and dry conditions in Los Angeles are exacerbated by warming temperatures, which can result in more damage caused by wildfires, said Madeline Zhang, a second-year atmospheric and oceanic sciences major, in an emailed statement. She added that the number of hot days is also increasing and vegetation is becoming drier and more flammable.
"Having a risk of wildfire damages becomes an extra stress on communities, and actual damages can be devastating," Zhang said. "Even in areas where fires are not able to reach, the ash and smoke from these fires can add to the worsening air quality in L.A."
Fu said she hopes that people realize the urgency of climate change and push society toward reaching lower emissions.
"Increased fire weather is directly related to our action – our control of emissions of carbon dioxide," Fu said. "Our future is in our own hands."