Westwood business owners begin enforcing new Los Angeles vaccine guidelines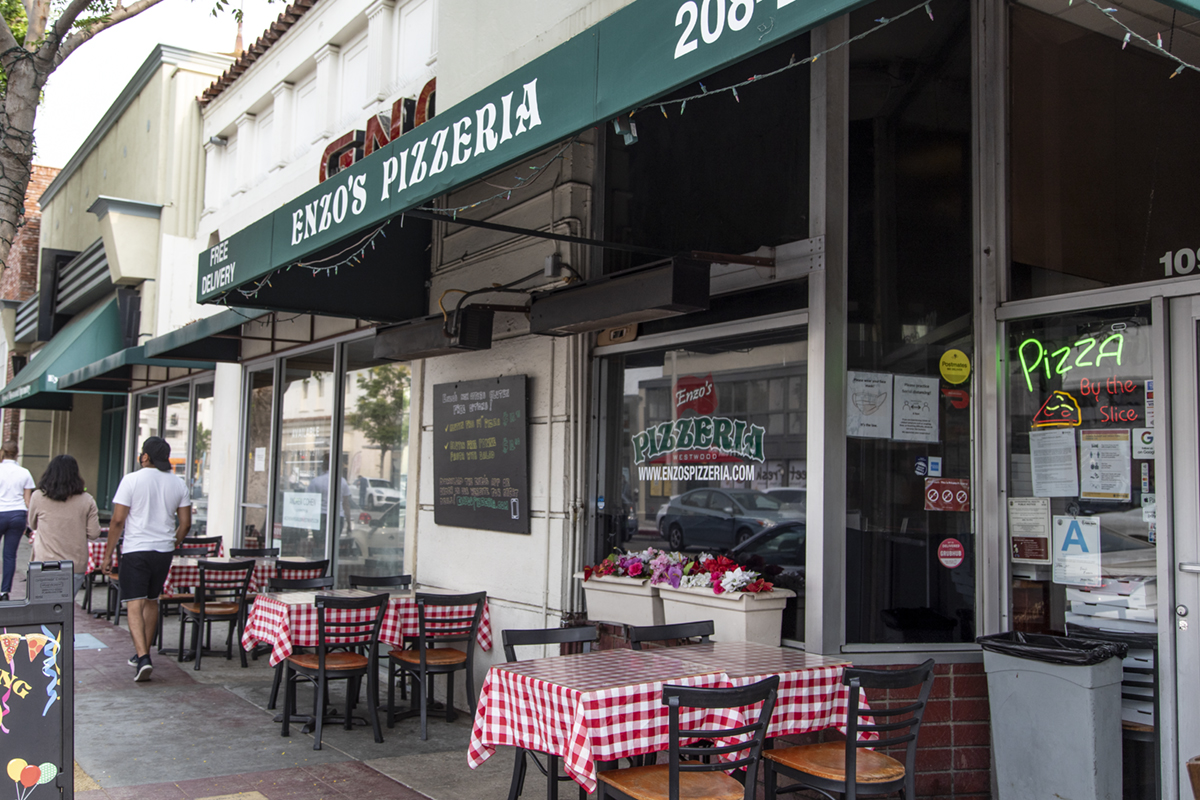 A citywide vaccination rule took effect Monday requiring proof of vaccination or a recent negative COVID-19 test to enter most indoor businesses, including Enzo's Pizzeria (pictured). The rule will begin to be enforced Nov. 29. (Justin Jung/Daily Bruin senior staff)
This post's featured art was updated Nov. 15 at 12:42 a.m.
The city of Los Angeles' vaccination requirement to enter many indoor businesses took effect Nov. 8.
The requirement impacts several facilities, including restaurants, gyms, entertainment venues and recreational areas. However, the city will not enforce its vaccination requirement program, SafePassLA, until Nov. 29, giving businesses time to implement the requirement, according to the program's website.
The Los Angeles City Council enacted the requirement through a city ordinance Oct. 6. The ordinance was initially scheduled to take effect Nov. 4 but was later changed to Nov. 8.
[Related: Los Angeles to require proof of COVID-19 vaccination at most indoor businesses]
Prior to the city ordinance, the city only required individuals to wear masks to enter these venues. Now, a physical or digital vaccination card or proof of a recent negative COVID-19 test is necessary for entry. For those ages 18 and older, individuals must present their proof alongside photo identification, according to the SafePassLA website.
Businesses refusing to comply with the city mandate to check vaccination status may face administrative citations beginning Nov. 29. The first violation will result in a warning, while subsequent violations will result in increasing fines up to a maximum of $5,000 per violation, according to the ordinance.
Community leaders and business owners in Westwood said the new city requirements may present challenges but will largely benefit the public.
Andrew Thomas, executive director of the Westwood Village Improvement Association, said he expects the regulations will encourage more customers to visit businesses. Thomas added that he thinks employees will be more comfortable serving vaccinated individuals but also noted that some businesses may experience challenges when asking individuals without proof of vaccination to comply.
Amelia Arredondo, the general manager of Primo's Donuts, said she now asks dine-in customers for proof of vaccination at her shop's counter.
"I think the ordinance is a great way to make sure people are safe," Arredondo said. "The benefits outweigh the cons."
Hernan Martinez, the manager of Lazy Daisy Cafe in Westwood, said his shop requires proof of vaccination from each customer at the front of the venue, which has resulted in frustration by some customers without proof of vaccination.
"I think it's more important to take care of the people here than appease someone who doesn't want to follow rules or the law," Arredondo said.