Weekend preview: Nov. 11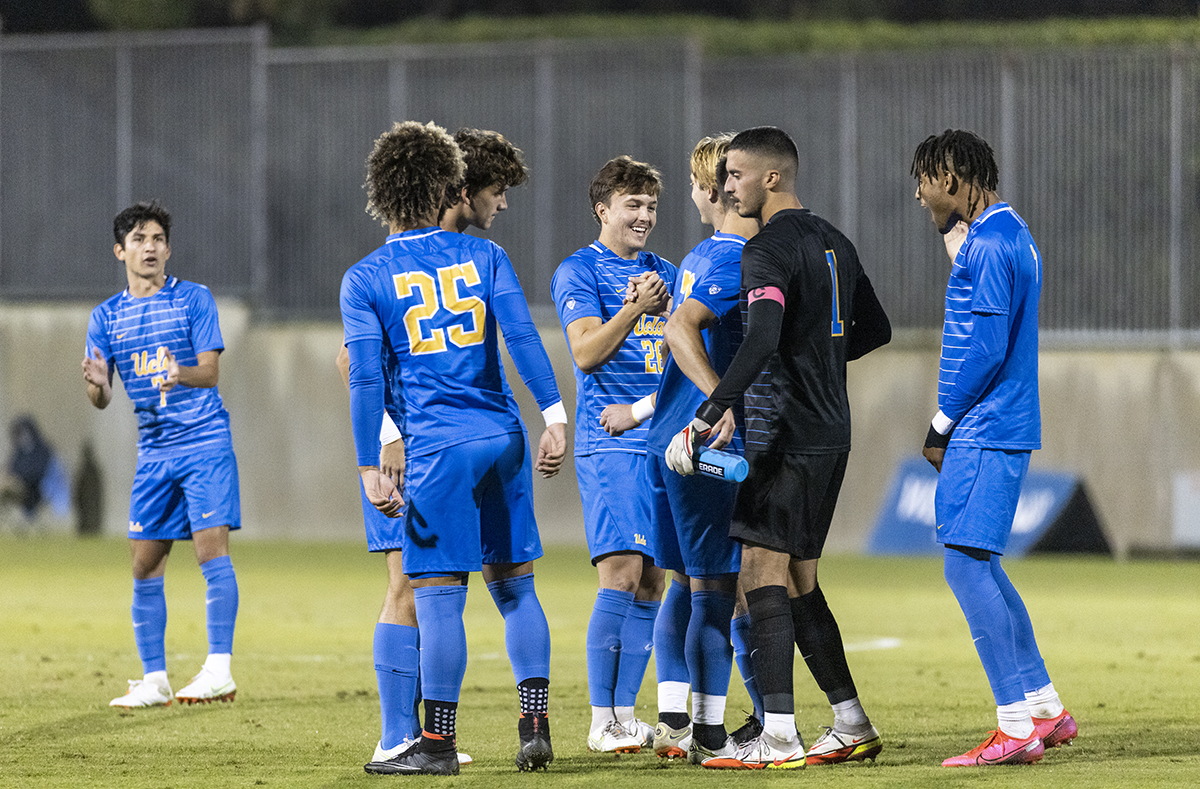 No. 22 UCLA men's soccer players gather together during a home game. The Bruins will finish off their regular season with a chance to pick up their second road matchup of the year. (David Rimer/Assistant Photo editor)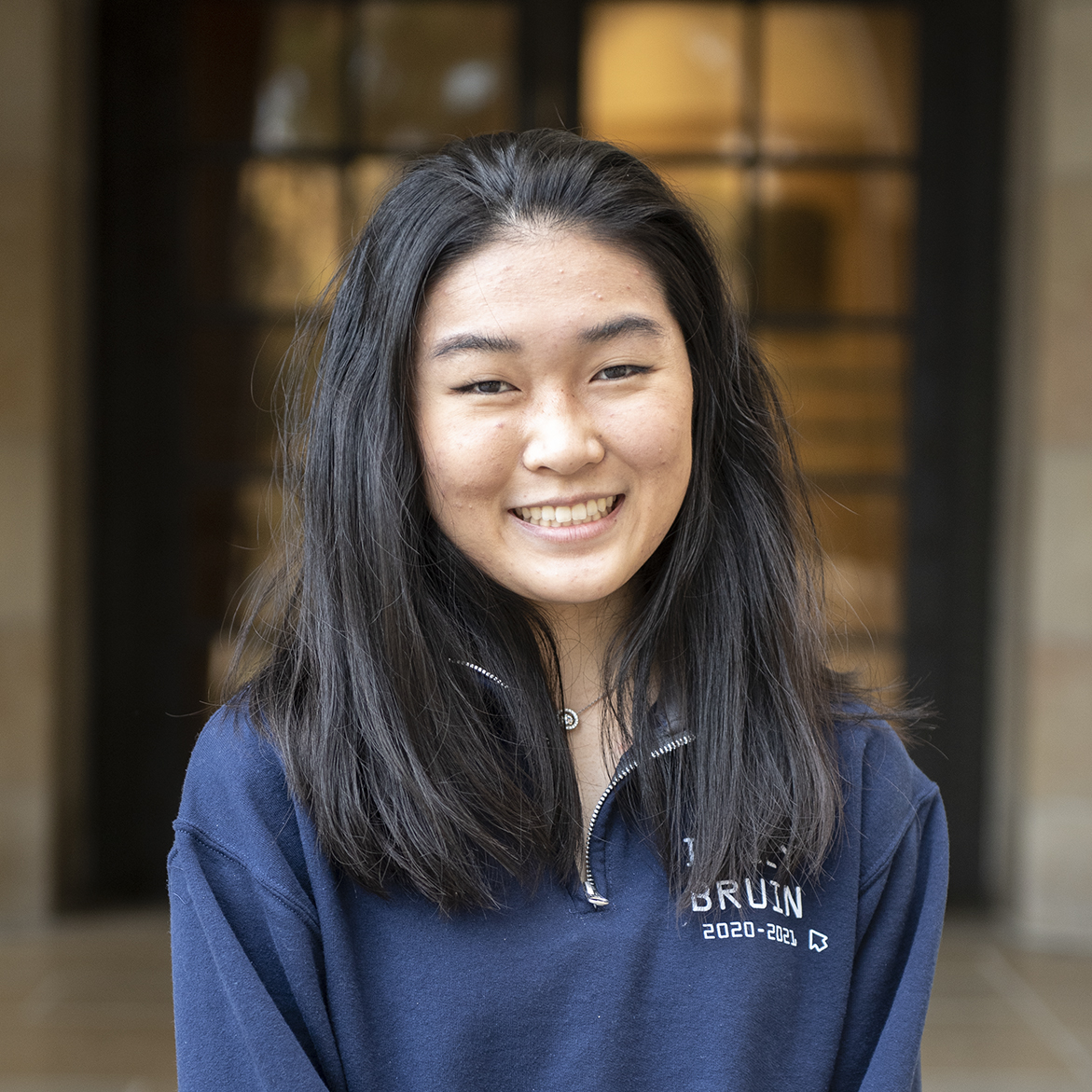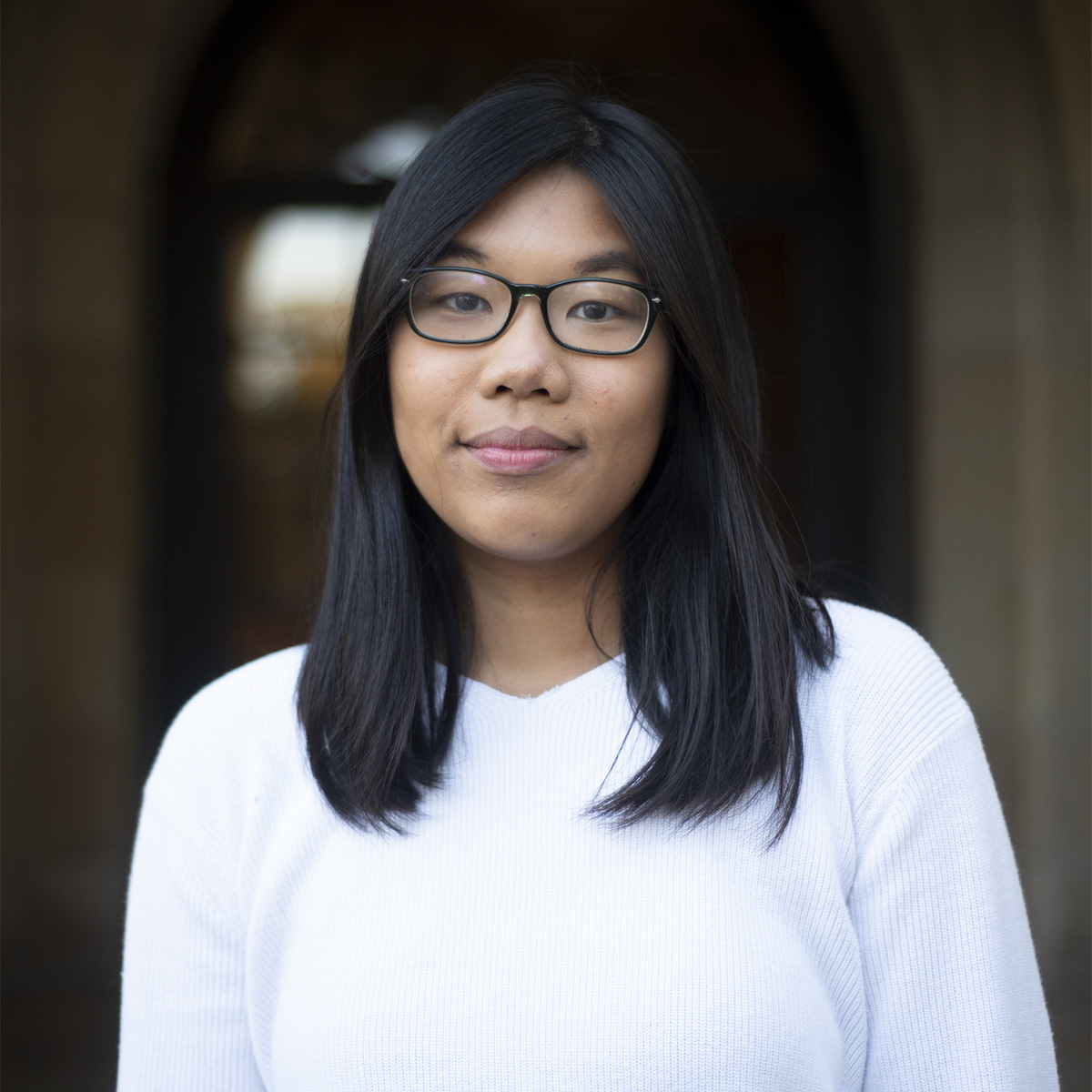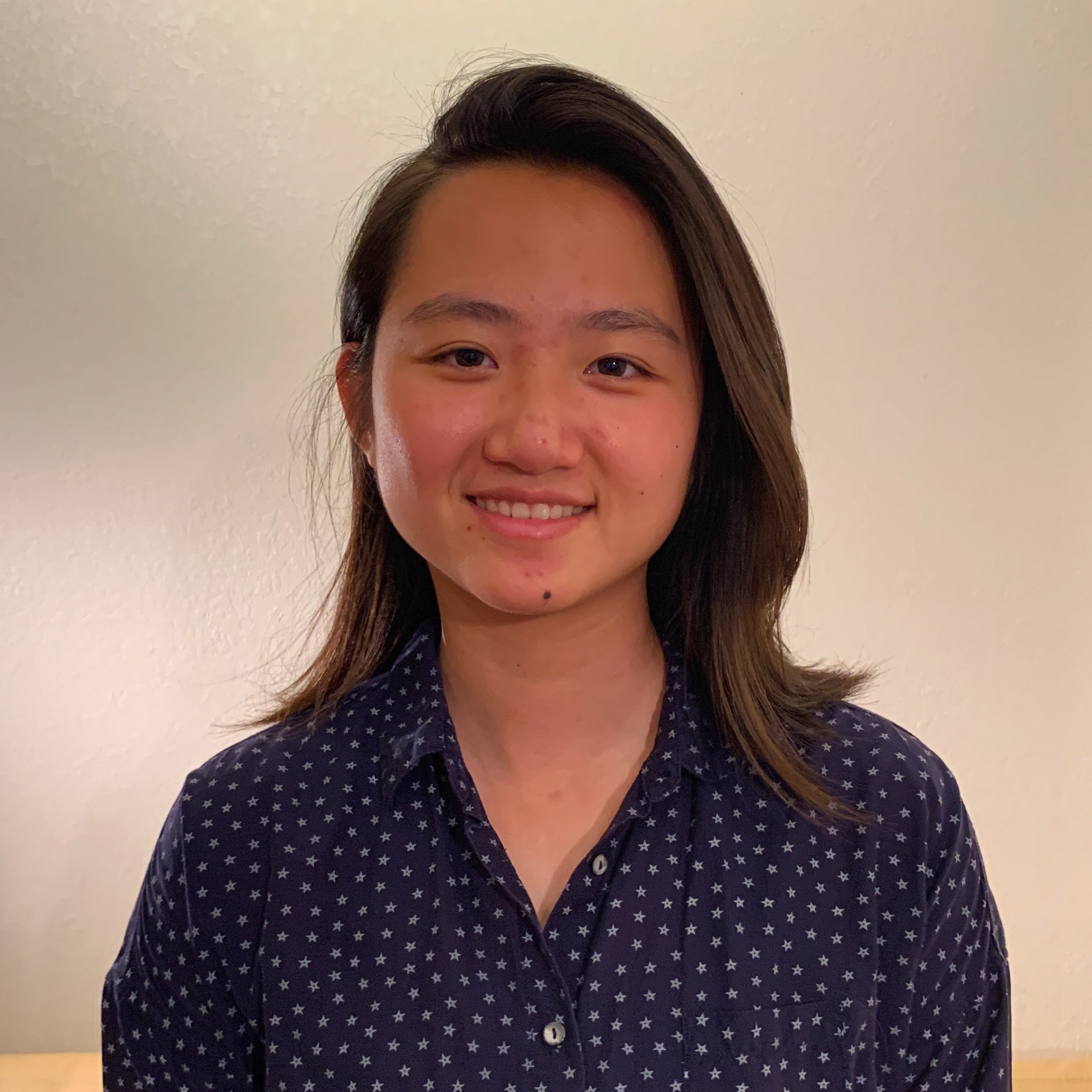 Men's Soccer
Shane Smith, Daily Bruin contributor
Fresh off their highest-ranked win of the season, the Bruins will have one more chance to build momentum before heading into a potential NCAA tournament berth.
After handing then-No. 2 Oregon State its first road loss of the season on Sunday, No. 22 UCLA (9-6-1, 4-4-1 Pac-12) will face San Diego State (8-6-2, 2-6-0) for its final game of the regular season.
The Aztecs have gone 7-2-0 at home this season with their only losses coming against two of the nation's top three teams, then-No. 2 Oregon State and No. 3 Washington. UCLA has been on the hunt for its first road win against a conference opponent since 2019, when it beat San Diego State in the final game of the regular season. The Bruins are 1-3-1 on the road this season, compared to 8-3-0 at home.
When the two teams last met just over a month ago, the game went to extra time. In overtime, UCLA found the game-winning goal, ultimately finishing with 16 total shots – which ties for the Bruins' highest total this season – and 10 more than the Aztecs were able to record.
In preparation for the second matchup of the season with the Aztecs, coach Ryan Jorden said the familiarity factor between the teams will have an impact.
"When we see each other twice, we all know each other," Jorden said. "Stylistically, people don't change too much. But you also have to remember it was a tight game and you have to remember that it took a lot of work to get there."
With the NCAA tournament selection show looming Monday, the Bruins will take on the Aztecs on Friday at 7 p.m.
Women's Volleyball
Tung Lin, Daily Bruin senior staff
Two wins later, the Bruins are embarking on the second leg of their road trip.
No. 12 UCLA women's volleyball (19-3, 12-2 Pac-12) is traveling north to face Oregon State (4-20, 2-12) on Friday and No. 17 Oregon (18-6, 9-5) on Sunday.
The Bruins swept the Ducks and the Beavers in Pauley Pavilion during a previous Friday-Sunday series on Oct. 22 and Oct. 24. Coming off of a 3-2 loss against Arizona State, the pair of wins against UCLA's Pacific Northwest rivals started its current six-game winning streak.
"I'm just grateful for every game," said graduate student outside hitter/opposite Mac May. "Especially this last go around the Pac-12, where every place that I go and every team that I play will be the last time that I play them."
During the match against the Ducks, senior outside hitter/opposite élan McCall racked up 28 digs – a career high since 2018.
Oregon swept No. 20 Stanford on Nov. 4, adding to the Ducks' three-match winning streak. Middle blocker Kiari Robey clocked in seven blocks during the match. She received Pac-12 Freshman Player of the Week with an overall 1.3 blocks per set.
With freshmen outside hitter/opposite Charitie Luper missing the last two matches, sophomore outside hitter/opposite Allison Jacobs has been filling in. Jacobs racked up a career high of 15 kills in the last match against Colorado.
"We take it one game at a time," Jacobs said. "If it's a Friday game, we're thinking about the Friday game only. We're not thinking about the Sunday game; we're not thinking about NCAAs; we're not thinking about any of that. We're taking it one game at a time."
Men's Volleyball
Eden Yu, Daily Bruin contributor
The Bruins are looking to compete in their first complete season since 2019.
UCLA men's volleyball will host its first competition of the season at home Friday and Saturday in its annual fall SAC Tournament featuring USC, UC Santa Barbara, Cal State Northridge and Trinity Western from Canada. The Bruins will start off with a tournament opener against the Matadors on Friday afternoon, face off against the Gauchos on Saturday morning and wrap up their weekend with a match against the Spartans on Saturday afternoon.
After the 2020 season was truncated and the start of the 2021 season faced complications because of the COVID-19 pandemic, head coach John Speraw said he is looking forward to having a complete slate of matches this year.
"(I'm) excited about having a full season where we can train in the fall and prepare the team in a more traditional manner," Speraw said. "I think our program is in a great place not only culturally but in terms of just talent."
The team also graduated three of its seniors last year, including former setter Sam Kobrine and outside hitter Austin Matautia. According to Speraw, the two open positions are all up for contention among the younger players.
At setter, Speraw said the role may be filled by either sophomore Miles Partain or redshirt sophomore Marcus Partain, while the team's opposite rotation could revolve around freshman Ido David, redshirt junior Kevin Kobrine and redshirt sophomore Kyle Vom Steeg.
"We'll have a new setter, so there's several of them competing for the spot, including the Partain brothers," Speraw said. "Both Marcus and Miles are having great falls. And (regarding at) opposite, we have something unique. … There's not very many teams that have great opposites, and I think we have some nice depth there."
Friday's first match will kick off at 4:30 p.m. in the Student Activities Center gymnasium.
Swim and Dive
Christine Tran, Daily Bruin senior staff
The Bruins will hit the diving boards for the second time this season.
UCLA swim and dive (2-2, 1-2, Pac-12) will send a team of divers to the Trojan Diving Invitational on Friday through Sunday to compete against USC (3-0, 3-0), UNLV (1-0), Cal Poly (1-2), Fresno State (0-1), Air Force (1-0)and Azusa Pacific (1-0).
Four Bruin divers are entered in the invitational, with sophomore diver Aurora Huxman making her season debut this weekend. She will be joined by junior All-American diver Hannah Butler and freshmen divers Zoe Jespersgaard and Maya Salvitti.
Head diving coach Tom Stebbins said he has worked with Jespersgaard and Salvitti as part of his club swim team for years before their arrival at UCLA. He added that this familiarity has contributed positively to their coaching dynamics.
"We kind of knew what we had to address before they got here," Stebbins said. "Their sport isn't one in which you can work for just a little bit of time and then things magically get better. It's a really slow … step-by-step process."
UCLA competed with swimmers and divers last weekend in the Grand Canyon State, where it fell to Arizona State on Friday and Arizona on Saturday. Stebbins said many of his divers were nervous competing for the first time, especially against seasoned divers.
Despite the loss, Stebbins said he was proud of how the Bruins bounced back during the second event against Arizona and that he expects them to be more comfortable in their abilities at USC.
The 24 year coach said that after the meet against Arizona, he talked to the team about feeling more empowered and finding a sense of belonging at the collegiate level.
"The reality is that the only thing you can do is be in your bubble and be the best you can possibly be for yourself," Stebbins said. "We're not a sport that defends their opponents, we're not somebody who what we do will influence or change what they do. We're truly about kind of internal and personal excellence, and if you can get your mind into the right place."
Cross Country
Eden Yu, Daily Bruin contributor
It's been two years since the Bruins have been to the NCAA regionals.
Now, the Bruins are returning to national postseason competition.
UCLA cross country will travel to the Haggin Oaks Golf Club in Sacramento, California for the first round of NCAA competition Friday.
In 2019, the men placed 8th while the women finished 11th overall in the NCAA Western Regional.
Among all the runners on the men's contingent who will be making the journey north, only redshirt junior Darius Riley has prior experience competing in a postseason-length race: a 10,000-meter race as opposed to the 8,000-meter races the men's team usually runs throughout the regular season. In the 2019 race, Riley was the only freshman on the men's travel team.
"Only one of us on this team has run a 10K," Riley said. "The only expectation we can go into it with is to just go out and compete. It could either be our last race this season, or the second to last race. But that doesn't mean we won't be ready for it – we've been training the whole season for the 10K."
The men's 10K race starts at 11 a.m. and the women's 6K race begins at 10 a.m. on Friday.