Indian Student Union to bring Garba night to Wilson Plaza for fall celebrations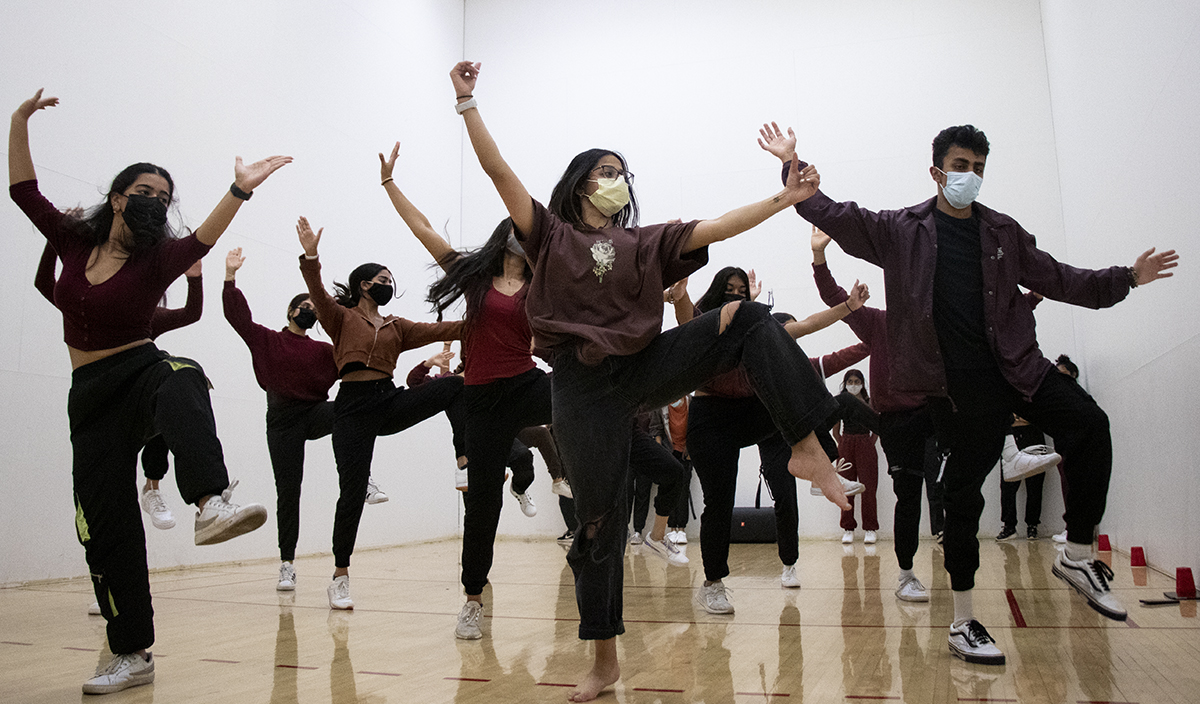 Members of student dance group ROOT[D perform at their dance rehearsal to prepare for the Indian Student Union's Garba night on Friday. The South Asian fusion group is one of many student dance groups that will be performing, along with various casual collective dances. (Finn Chitwood/Daily Bruin)
Garba Night
Indian Student Union
Wilson Plaza
5 p.m. to 9 p.m.
Garba night is brightening up Westwood to celebrate Diwali and Navratri.
In partnership with other South Asian clubs on campus, the UCLA Indian Student Union is hosting Garba night on Friday at Wilson Plaza to celebrate Indian culture during the time of Diwali, the festival of lights, and Navratri, a nine-day celebration for nine goddesses, which are forms of Goddess Durga. ISU's director of cultural affairs and second-year data theory student Nishant Jain said Garba, stemming from the Sanskrit word "garbha" meaning "womb," is a group dance to honor femininity. Jain said the goal of Garba is to celebrate Indian culture with a dance style that is accessible to any student, even if they may not be familiar with it.
"It's a great way to build a sense of community among our students," Jain said. "College is such a unique (time) to celebrate culture because you're dealing with so many people that are your age and are from similar backgrounds."
Jain said Garba's liveliness, seen in its colorful outfits and live music, makes it a good introductory event for students who may not be connected to South Asian culture. Traditionally, men wear a kurta pajama, a dress shirt that goes down to the knees, and women wear lehenga cholis, which are brightly colored, long skirts. Jain said the outfits, music and food create a celebratory atmosphere, particularly since the months of October and November include many important religious holidays in South Asia.
The night will be divided into several components – Garba in big dance circles, Raas dance with dandiya sticks, performances from several South Asian student dance groups, and Bollywood-style dances to conclude the night, Jain said. Though Garba originated in Gujarat in the western part of India, Jain said it is now celebrated across India and in most South Asian communities.
[Related: Dance Disassembled: Student groups interlace culture with dance through costumes]
Such teams include UCLA's Raas team, Bataaka Nu Shaak, and fusion team ROOT[D. Second-year neuroscience student and dancer for ROOT[D Astha Sahoo said the performance will utilize ROOT[D's fusion style incorporating Bollywood, Bhangra and hip-hop dance into one piece. ROOT[D made sure to utilize hip-hop in addition to South Asian dance genres for a twist in the middle of students dancing traditional Garba, Sahoo said.
"The motto of ROOT[D is being comfortable being uncomfortable," Sahoo said.
For those who may be uncomfortable or anxious about attending a cultural event for the first time, Sahoo said the nature of Garba allows for students of all backgrounds to join in the celebration of South Asian culture. She said she recommends watching a short YouTube video to learn the most basic Garba movements or simply going to the event and joining a dance circle.
"There's big circles going around so you can just come and pop in," Sahoo said. "It's a very inviting environment."
Although Garba may be nerve-wracking, co-president of ISU and third-year psychobiology student Aayush Patel said with the dance circles of Garba and partners in Raas, a student can come and learn the steps just from participating. He said ISU hosts such events in the hopes that South Asian students can meet others who share certain aspects of their identity and develop a sense of home away from home.
"What we ultimately hope get out of the event is for students to have fun and meet new people," Patel said. "Especially at a time when things can be a little uncertain, underclassmen can come out of their comfort zone, maybe mess up and have a lot of fun doing it."
[Related: Student club holds dance workshops to raise funds for peers affected by COVID-19]
Whether a student has been going to Garba for years or this is their first event, Patel said ISU's events are opportunities to meet new people. Considering the large South Asian population on campus, Patel said the event can be a learning experience for South Asian students or for those who are curious about the culture to experience new dances, music and food.
In terms of experiencing new cultures, Jain said Indian culture is not exclusive to anyone. Garba is used as a celebration for many Hindu holidays in the fall, particularly Diwali and Navratri where Hindus celebrate the triumph of good over evil and the new year. However, the event itself can be enjoyed by anyone who has an interest in experiencing a new tradition.
"The (liveliness) of Garba is almost chaotic," Jain said. "It helps you get a sense of what life is like in India. This is our culture overall – it's very joyful and bright."