Tay's Takedown: UCLA football coach Chip Kelly needs to look at the big picture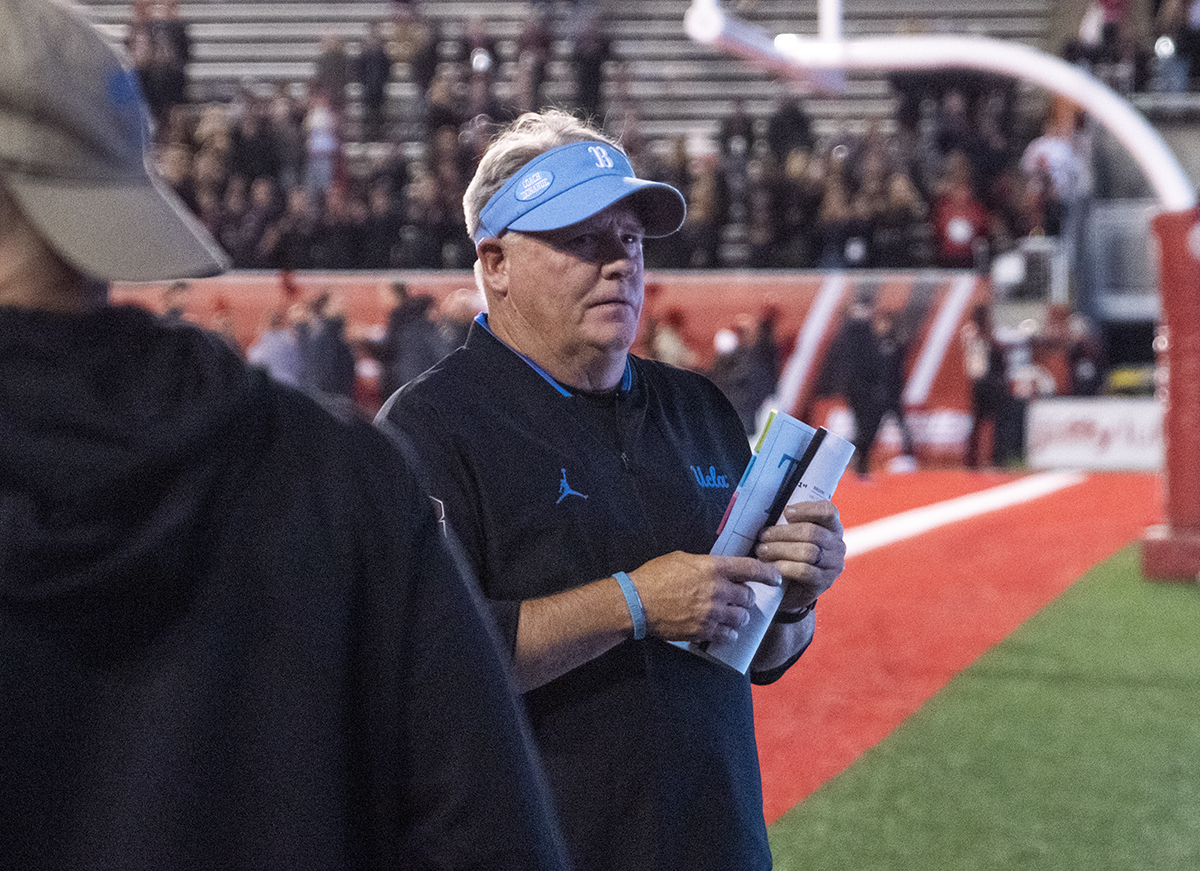 Coach Chip Kelly stands on the field ahead of UCLA football's game at Utah. In his four years in Westwood, Kelly has amassed a 15-25 record – the worst mark in program history for a noninterim head coach. (Jeremy Chen/Daily Bruin staff)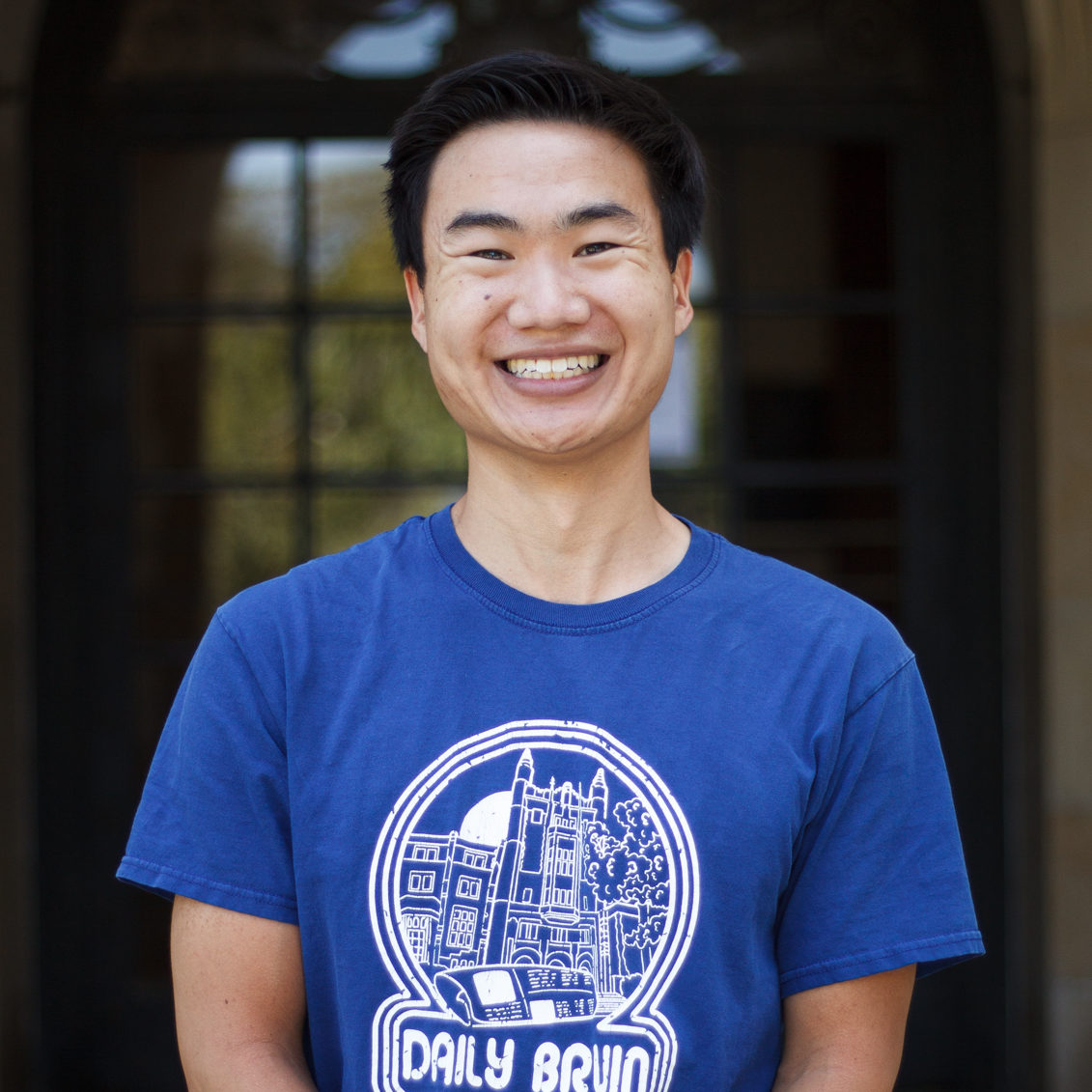 Today is Thursday.
While this is an altogether useless fact, I allude to it for a more significant reason. These words embody an errant philosophy that is leeching UCLA football of success.
The Bruins are a self-defined, process-driven program, and they embrace a philosophy dictating that UCLA takes each game week by week, day by day. In focusing on having a good Thursday – or insert current day of the week here – coach Chip Kelly doesn't waste time considering comparisons from year to year. He doesn't believe in momentum. And don't dare ask a big picture question.
"Our whole focus here has never been about the outcome. It's about the process," Kelly said in November 2020.
But when 21 of 22 starters on Kelly's squad are upperclassmen and he can only muster a measly 5-4 record, something in the process is clearly broken.
I fear Kelly's refusal to see the big picture leaves UCLA stagnant in mediocrity. Kelly's process-oriented approach is a narrow-minded, self-reinforcing and cyclical philosophy that prevents the program from identifying its own major problems.
From Kelly's insistence on keeping defensive coordinator Jerry Azzinaro to the mind-boggling ways the Bruins have managed to defeat themselves since the start of September, there are macro-level problems that are corroding the Bruins' micro operation.
Jerry Azzinaro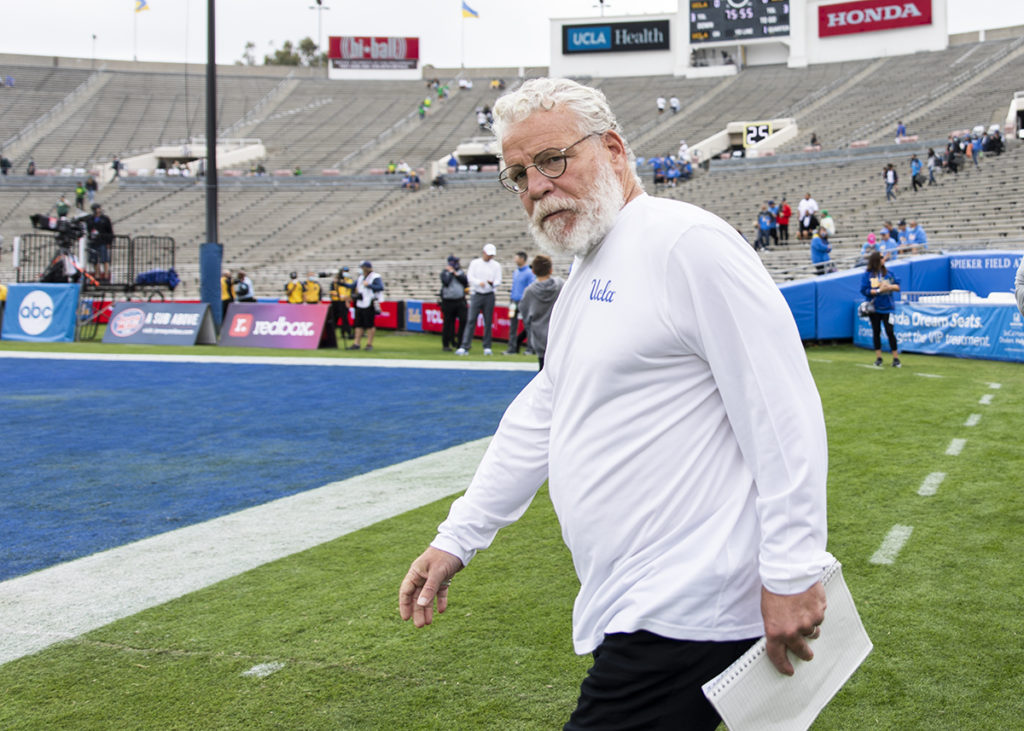 Azzinaro's scheming and game planning have been among the worst in college football. But the fourth-year defensive coordinator is not the cause of the Bruins' mediocrity. Rather, he is a symptom of a program that refuses to see the worrying trends.
During Azzinaro's tenure, UCLA has never been ranked higher than No. 69 in the nation in total defense. In 2018 and 2019, they were ranked No. 102 and No. 113, respectively.
The Bruins haven't fared much better this season, either. Three quarterbacks have thrown for season-high numbers against the Bruins' secondary, and UCLA has conceded 10 rushing touchdowns in its last two games.
Against Utah last week, the Bruins were trampled by the Utes' Tavion Thomas, who rushed for 160 yards Saturday night.
"Well, I'll just talk about tonight," Kelly said when asked about how he can justify keeping Azzinaro after the Utah loss.
It is overly reductive to say these performances are because of poor preparation for one game. Having a good weekday practice doesn't fix four years of inept defense.
There is a pattern of poor defensive scheming and game planning that Kelly's micro operation refuses to see.
Self-inflicted wounds
For a veteran team, the Bruins make too many inexplicable mistakes.
Against Oregon, senior defensive back Quentin Lake negated his own interception after lining up offsides. Better yet, he made the exact same mistake on the subsequent play.
Offensively, the Bruins stalled themselves on multiple drives, with dropped balls and false starts causing UCLA to be shut out for the entire third quarter.
"You have to clean those up. Those are self-inflicted wounds," Kelly said after the loss to Oregon. "We'll make the corrections when we get back with these guys on Monday."
The next week was more of the same. The Bruins surrendered their first safety of the season when senior offensive lineman Atonio Mafi completely missed his blocking assignment, ending any thoughts of a comeback.
For a team that is supposed to be four years in the making, the Kelly philosophy of simply correcting mistakes isn't good enough. If the UCLA process is to groom fourth-, fifth- and sixth-year players who make these kinds of mistakes on a weekly basis, the Bruins' micro organization is fundamentally broken.
A look in the mirror
Perhaps some big-picture considerations would benefit Kelly too.
Kelly has tallied a 15-25 record with the Bruins, the worst record of any UCLA coach who was not in an interim role in the history of the program.
Former coach Rick Neuheisel was fired after leading the Bruins to a 21-28 record over three years. Jim Mora was fired after going 17-19 in his last three seasons. Both coaches produced higher winning percentages than Kelly has during his time in Westwood.
A look into the record books would indicate that Kelly's hour of reckoning is fast approaching.
Though it would take a major collapse to keep them out of a bowl in 2021, a lowly-ranked postseason appearance seems to be the Bruins' ceiling rather than their floor. And next week, UCLA might very well be playing in front of a record-low attendance at the Rose Bowl, as high hopes for the program have all but gone up in smoke.
Kelly's philosophy keeps his program blind to all of this, though. He instead touts a cyclical, process-driven machine that spits out the same mediocrity season after season.
Kelly adopts the same mantra week after week.
"I wouldn't bet against that group in that room there," Kelly said about his players after the Utah loss. "We'll be right back at it."
After this fiasco of a four-year experiment with Kelly, I doubt that all the Thursday practices left in eternity would be sufficient to prove the doubters wrong.
Tay is currently a Sports senior staff writer on the men's basketball beat. He was previously an assistant Sports editor for the baseball, men's soccer, men's tennis, cross country and women's tennis beats. Tay was previously a contributor on the men's tennis beat.
Tay is currently a Sports senior staff writer on the men's basketball beat. He was previously an assistant Sports editor for the baseball, men's soccer, men's tennis, cross country and women's tennis beats. Tay was previously a contributor on the men's tennis beat.