UCLA student embraces AAPI heritage through tattoo artistry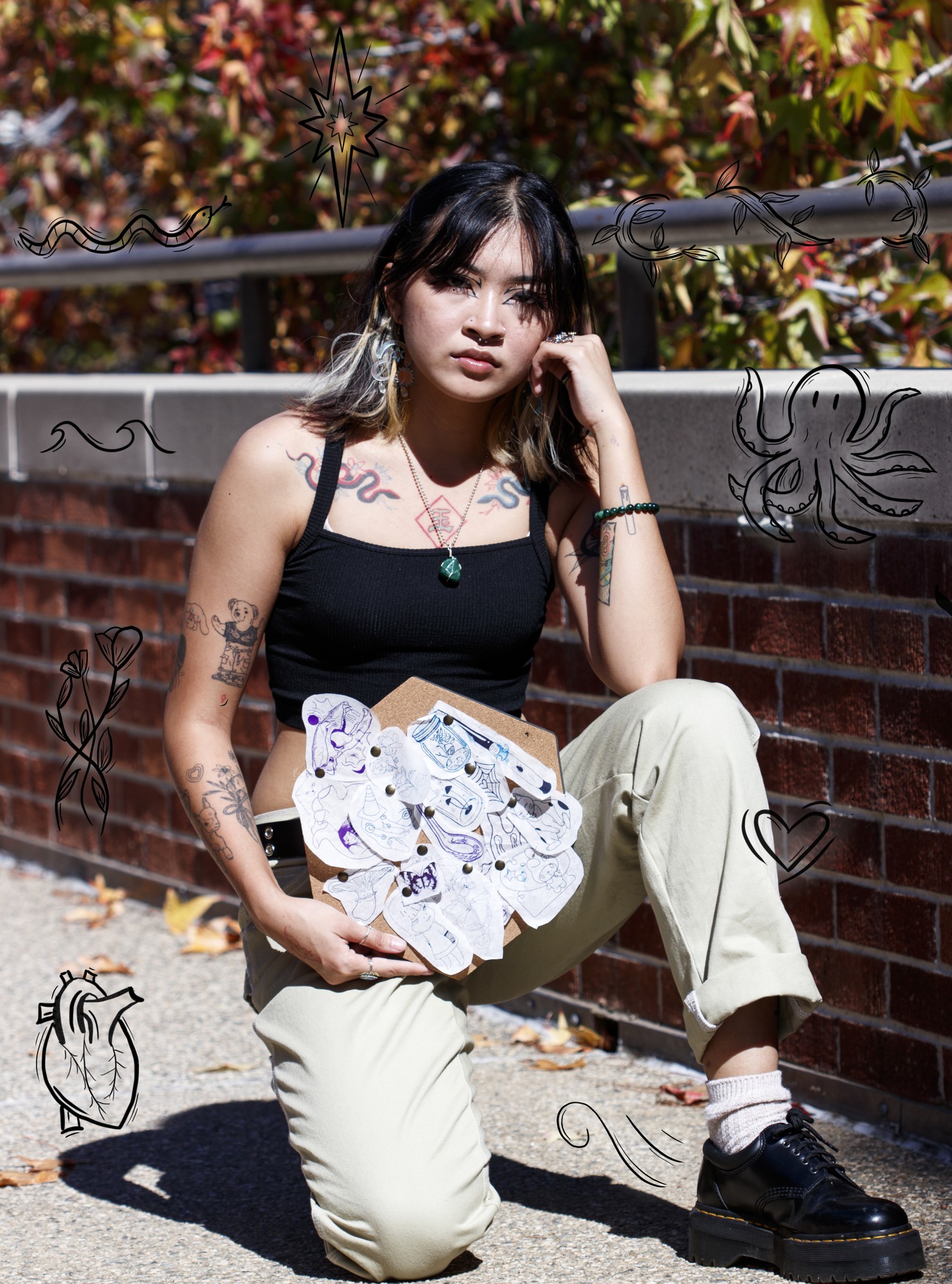 Fourth-year geography and sociology student Ashli-Ann Ha tattoos clients using the hand-poke method, which aids in creating their characteristic simple, whimsical style. (Photo by Kristin Pischel, Photo Illustration by Katie Frei)
Ashli-Ann Ha is piercing the skin of the tattoo industry, dot by dot.
The fourth-year geography and sociology student started out by inking Bruin Plate bananas in 2019, but Ha said she has since honed the vibrant designs she creates using the stick-and-poke technique, a nonelectric method of tattooing that is executed using only a needle and ink. Leaving behind her makeshift dorm room studio at Sproul Hall, Ha said she now enjoys building long-lasting friendships with her clients through tattooing sessions.
"It makes me feel very happy to know that people want my work that bad on their body to the point where they'll come from wherever to see me," Ha said.
Because of the priciness of machine tattooing tools, Ha said she was more drawn to stick-and-poke tattooing for its financial accessibility. Ha said she appreciates the technique for its cute, dotted results and simple, charming aesthetic. The process of watching a piece slowly come together is therapeutic and gratifying, she said.
However, Ha said being self-taught meant she had to be resourceful when it came to tools and learning. She said she was still able to seek help beyond YouTube and Google tutorials by inquiring about guest spots at tattoo studios in Venice Beach, Boyle Heights, Koreatown and East Hollywood, as well as by interacting with the large community of queer hand-pokers of color she met there.
"I'm really grateful for all those opportunities (to tattoo at professional studios). … Before, I (used to) be really scared because I'd be like, 'Is my work good enough? Am I really doing the right thing by trying to even make it?'" Ha said. "But then the fact that I've had all these opportunities already, I know that this is where I belong."
[Related: UCLA student turns love of plants, pets into successful small business]
While the idea of creating permanent body art on other people was daunting at first, Ha said she was able to reconcile these anxieties through the help of friends who served as her first clients. Ha's roommate, fourth-year art history and neuroscience student Izcally Hernandez, said she was impressed by Ha's ability to transform their shared apartment into a welcoming studio. After getting tattooed for the first time by Ha and observing her working in their apartment, Hernandez said they also admired Ha's calming presence.
"I felt very safe to be tatted by her," Hernandez said. "It was something she put so much thought and care and love into. It was also just very personal because there was someone that I cared about that was putting something permanent on my skin."
Experimenting more with the compositions she posts on Instagram, Ha said she has been releasing flash sheets – collections of premade designs. While still learning to gauge what her client base is interested in, Ha said she is developing her own style by trying to incorporate more color and abstract designs. Fellow hand-poke artist and alumnus McKenna Lah, who works at Jelly, a Koreatown tattoo studio, said Ha's body of work is lighthearted and whimsical.
[Related: Student art shop explores the female form with abstract line pieces]
While Ha has tattooed everything from mushrooms to snails, they said motifs inspired by their Asian American upbringing such as Chinese gourds, mooncakes and White Rabbit candy have always been pervasive. Ha said creating Asian American- and Pacific Islander-centered flash sheets have allowed them to bond more intimately with clients of similar ethnic backgrounds.
"It's helping me tap into my identity as an Asian American because I feel as children, sometimes we're growing up around other people who might not want to embrace it," Ha said. "I feel now as I'm getting older, I'm learning that I can use my art to embrace small parts of my identity."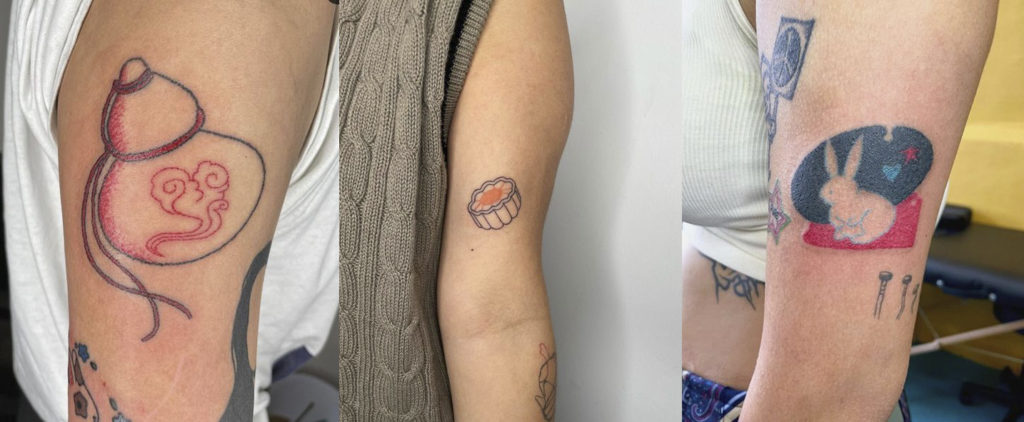 Going forward, Ha said she hopes to pursue tattooing as a full-time job after graduation in addition to learning machine tattooing, so that she may offer both electronic tattooing and hand-poking to her clients. Inspired by the careers of international tattoo artists from Korea and Japan, Ha said they dream of finding new adventures outside of Los Angeles by traveling the world and tattooing in other cities.
"I don't regret any of the tattoos that I've gotten and I don't think I ever will, because to me, tattoos signify periods of my life," Ha said. "Whether those periods were good or bad, I find that they have helped shape who I am today."