UCLA student draws inspiration from musical background, youth to release new single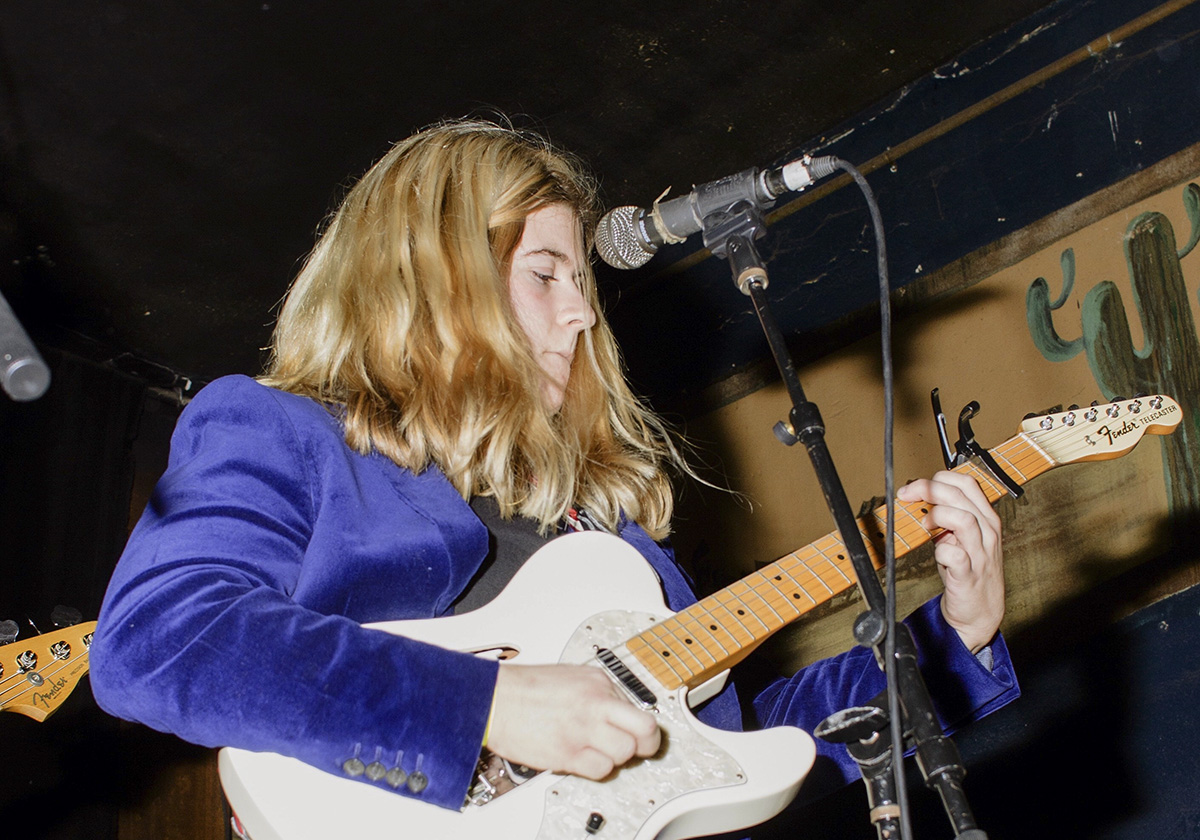 Fourth-year comparative literature student Charlie Havenick released their second single "Queen Anne" in October. The release follows her experience performing live. (Courtesy of Jon Del Real)
Charlie Havenick's eclectic musical landscape has been instrumental to her creative process.
The fourth-year comparative literature student and multi-instrumentalist songwriter released her single "Queen Anne" on Oct. 18. A Los Angeles native, Havenick performs around LA and is expanding their focus into developing as a recording artist, they said. Her second studio project, "Queen Anne," is a guitar-driven reflection of her youth, and Havenick said the track is a testament to her evolving relationship with songwriting.
"I fight myself sometimes to write for other people," Havenick said. "So it's good for me to ask, 'What do I want to hear?'"
The pandemic granted her time to reflect, Havenick said, and as a result, her songs have an introspective quality. They said their songwriting process is an act of self-care that is as challenging as it is therapeutic. "Queen Anne," which is rich in imagery and moments of blunt vulnerability, is a letter to their younger self, Havenick said. Their synesthesia has influenced their writing process, as Havenick said they can recall conversations from age 6 and visualize the sensory experience in detail.
For "Queen Anne," Havenick said she wove together lyrics written for her younger self with a guitar riff she wrote several years ago. With clear acoustics and heavy electric guitar lines, Havenick said they had the melody in their back pocket and began playing it again a few months ago. Sonically, she said her main focus for the track was to create a layered guitar effect.
"I always have a hard time with guitars because I go back and forth so much, wanting it to be super clean-toned and super fuzzy and dirty," Havenick said.
[Related: UCLA student follows musical instincts, releases self-produced debut single]
Partially influenced by their diverse musical background with instruments such as trumpet, piano and saxophone, Havenick said they blend different sonic elements and genres in their music. She said she frequently borrowed and experimented with different instruments in middle school, and now Havenick pulls from her assorted range of experience.
Beginning in high school, Havenick said they started performing live, and then later played guitar and drums for their past band Stamp Collection. Through performing, she found a way to communicate with people, Havenick said. She can share a piece of herself that feels unfiltered, and she said the experience translates into her feeling more open after a show.
While Havenick has expanded into releasing music independently, they said their creative process still involves collaboration. She writes by herself and then shares her work with the musicians she records with, and Havenick said the song then becomes a fluid exchange of ideas. They said they feel less pressure when they take the time to write independently first, and they appreciate the flexibility of the editing process.
"You can go back and edit, and the song becomes a constant conversation," Havenick said. "It's not so static."
For Havenick, surrounding herself with others who play for the sake of playing music has reminded her to take pleasure in the creative process and pushes her to understand other musicians' parts in the songs. Upon first meeting them, Paul Soultanakis, a multi-instrumentalist and drummer for Havenick, said Havenick's explosive drumming pushed him to play with greater intensity.
"That's always really fun, someone who pulls you out of your comfort zone without even meaning to," Soultanakis said.
[Related: Student band Even Kevin combines indie jams, surf rock in debut album]
Collaborating on their respective projects, Havenick said, has led to artistic symbiosis with Soultanakis and fourth-year sociology student Mia Lin. Soon after the pair met, Lin said she began playing bass for Havenick, and Havenick became the drummer for Lin's project MyVeronica. By playing for one another's projects, Lin said the pair are able to tap into a shared base of energy and inspiration, pushing each other forward.
Since making the leap to release music independently, Havenick said they appreciate the flexibility and introspective aspect of writing for themself, but ultimately they still aim to have fun with high-energy music. After bringing her guitar to surfing sessions throughout the pandemic, Havenick said she has also drawn sonic inspiration from surfing, such as emulating the movements of the ocean.
Recording the song at her friend's home studio, Havenick said she played all of the instruments for "Queen Anne" excluding Lin's bass performance. Since recording is a continual learning process, Havenick said they will be able to tap more into their own voice as a studio artist as they record their upcoming EP. For Havenick, as long as she is playing music and developing artistically, she is fulfilling her ambitions.
"If I can live a life where I always get to play, which I think is possible, in any capacity, I'll be happy," Havenick said.