UCLA organization brings awareness to HIV/AIDS in Latino community at holiday event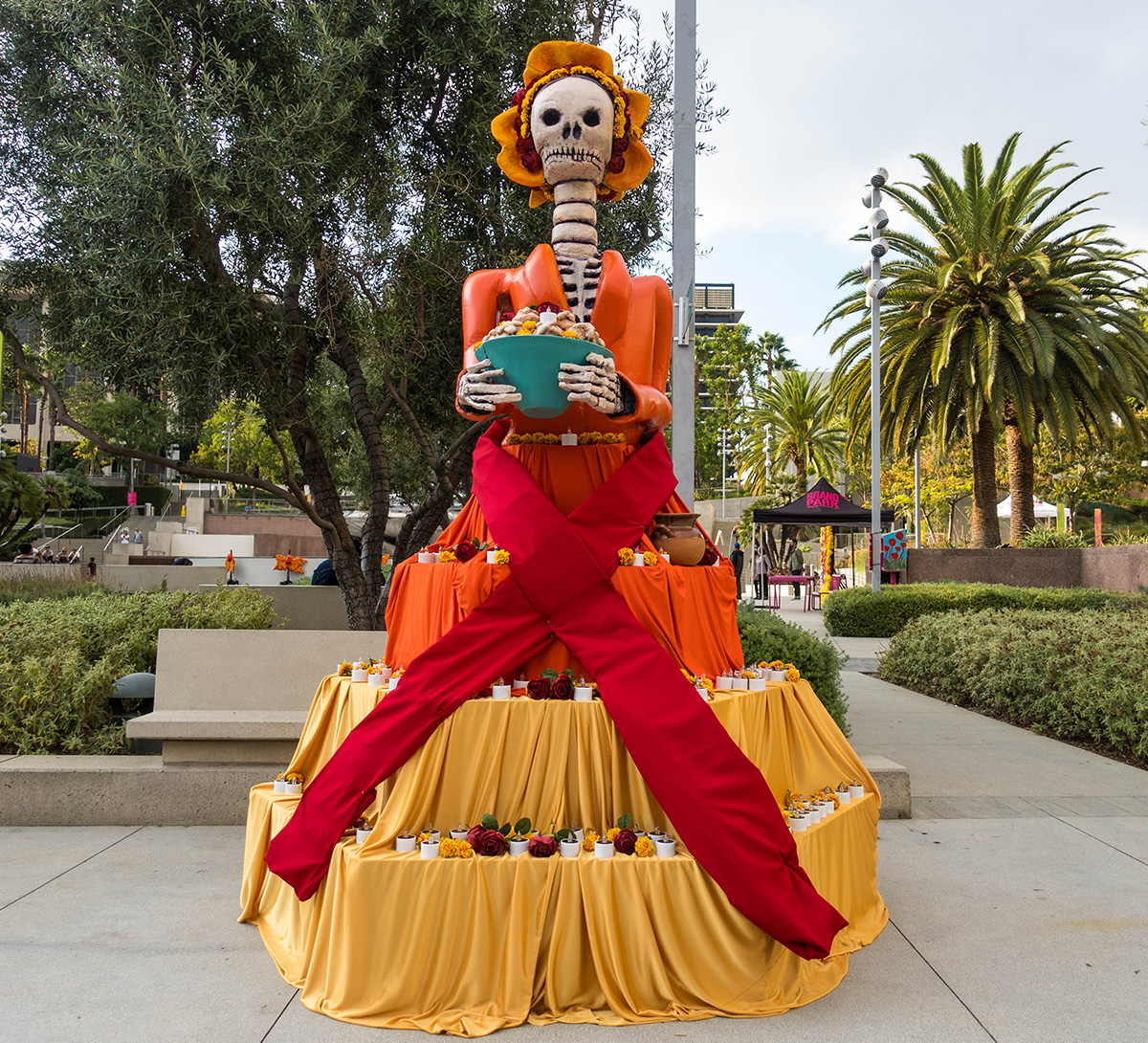 The Los Angeles Family AIDS Network, a UCLA organization, created an altar with the Latino Outreach Understanding Division for Grand Park's Downtown Día de los Muertos event. The altar is tiered, topped with a woman holding a bread basket. (Courtesy of Michelle Moro/Grand Park)
Downtown Día de Los Muertos
Grand Park
200 North Grand Ave
Los Angeles, CA 90012
Oct. 22 to Nov. 2
Art and community wellness are merging together for downtown Los Angeles' Día de los Muertos celebration.
Marking the holiday observed from Nov. 1 to Nov. 2, Grand Park will host its ninth annual Downtown Día de los Muertos event. As part of the 12-day celebration, park-goers can visit art installations, altars and community workshops at the park. One altar featured in the park, operated by The Music Center in LA, was created by the UCLA organization the Los Angeles Family AIDS Network with the Latino Outreach Understanding Division. Their altar, which highlights the impact of HIV and AIDS on women and Latinos, is meant to create a discussion about HIV and AIDS, alumnus and director of the LAFAN Natalie Sanchez said.
"Let us not put these taboos about who's been affected by HIV, and actually share some of the truths," she said. "It'll bring us to meaningful conversations about HIV and women."
In LA, Latino people make up a majority of the population, Sanchez said, so Latinos make up the majority of those living with HIV in LA as well. However, she said within Latino families, there is often too much silence surrounding the topic of sex, which leads to fewer conversations about the resources available for safe sex, such as HIV testing.
Additionally, women and children with HIV face greater disparities in the amount of care and resources available to them, Sanchez said. During the height of the HIV/AIDS epidemic, women and children infected with the virus were largely ignored, so she said the LAFAN aims to emphasize that women with HIV can still live long, healthy lives and receive treatment.
"HIV is very stigmatized," Sanchez said. "It's very hard for especially women to come out and be open about their HIV status. We're hoping to say there's a community; there are resources available for women."
[Related: Grupo Folklórico de UCLA to release online Día de los Muertos video performance]
The collaborative altar between LOUD and the LAFAN resulted from a workshop the two groups held for HIV-positive women, said Caroline Contreras, president of the LA chapter of LOUD. Women were invited to the workshop to make flower crowns, but Contreras said they then decided to make something larger out of the workshop and participate in Grand Park's Día de dos Muertos celebration as a way to elevate HIV awareness among Latinos.
As part of the event, free and confidential one-minute HIV tests were offered for the Noche de Ofrenda event on Saturday, she said. The organizations staffed a table managed by volunteers and prepared to answer questions about HIV as well as help people learn about and find medical resources. The organizations' message to the community is that HIV doesn't discriminate, Contreras said, and that with increased awareness, the rate of infections can decrease.
While Contreras and Sanchez conceptualized their altar design together, she said the physical structure was built by artists Joe Baykun and Ben Werfel. The altar's base is tiered like a cake, and the upper portion has a female skeleton with a flower crown of marigolds holding a bread basket, Sanchez said. An essential element of the altar is the candles placed around it, which she said represent each of the new HIV diagnoses among women in 2019 in LA County.
"(The altar) represents beauty; it represents femininity," Sanchez said. "She's carrying the bowl of the bread, and that's such a motherly gesture."
The altar will also display photographs of celebrities and loved ones who have died from HIV, Sanchez said. People can bring their own photos to the altar as well. Sanchez said she plans on honoring her best friend's aunt, who was infected with HIV through blood transfusion, by displaying her photo at the altar.
[Related: Biologist Flossie Wong-Staal remembered for pioneering HIV research and treatments]
Alongside the LAFAN and LOUD, other local organizations such as the East Los Angeles Women's Center and the Community Power Collective are showcasing altars of their own. Grand Park director Julia Diamond said Día de los Muertos is an opportunity to address larger issues related to health and wellness, especially after the level of loss sustained during the COVID-19 pandemic.
"COVID-19 has laid bare health inequities in new ways," Diamond said. "Black and brown communities have been acutely impacted by COVID-19 in terms of the scale of loss, and it's also exposed so many fragilities in our health and public health system."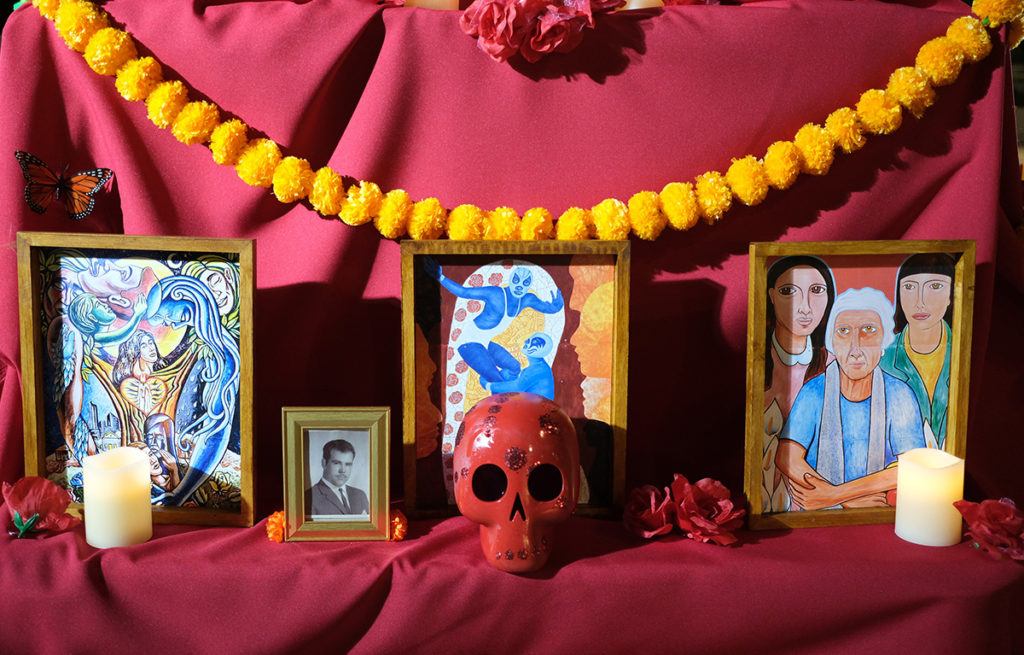 Visitors can also learn more about participating organizations by scanning QR codes at each altar to hear audio clips detailing the organizations' backgrounds, she said. Additionally, there is also a community altar at the park, which she said allows people to grieve anyone they have lost. To honor these lost loved ones, Diamond said visitors are encouraged to bring photos, flowers or mementos to the community altar. Participating in the community altar offers the community a way to feel connected to one another, she said.
"Even if (Día de los Muertos) is not a tradition that people have experienced growing up or had in their homes or communities, it's a beautiful one," Diamond said. "It's profoundly moving even in its simplicity."