The Quad: 'Blackfishing' harms Black community, highlights societal double standards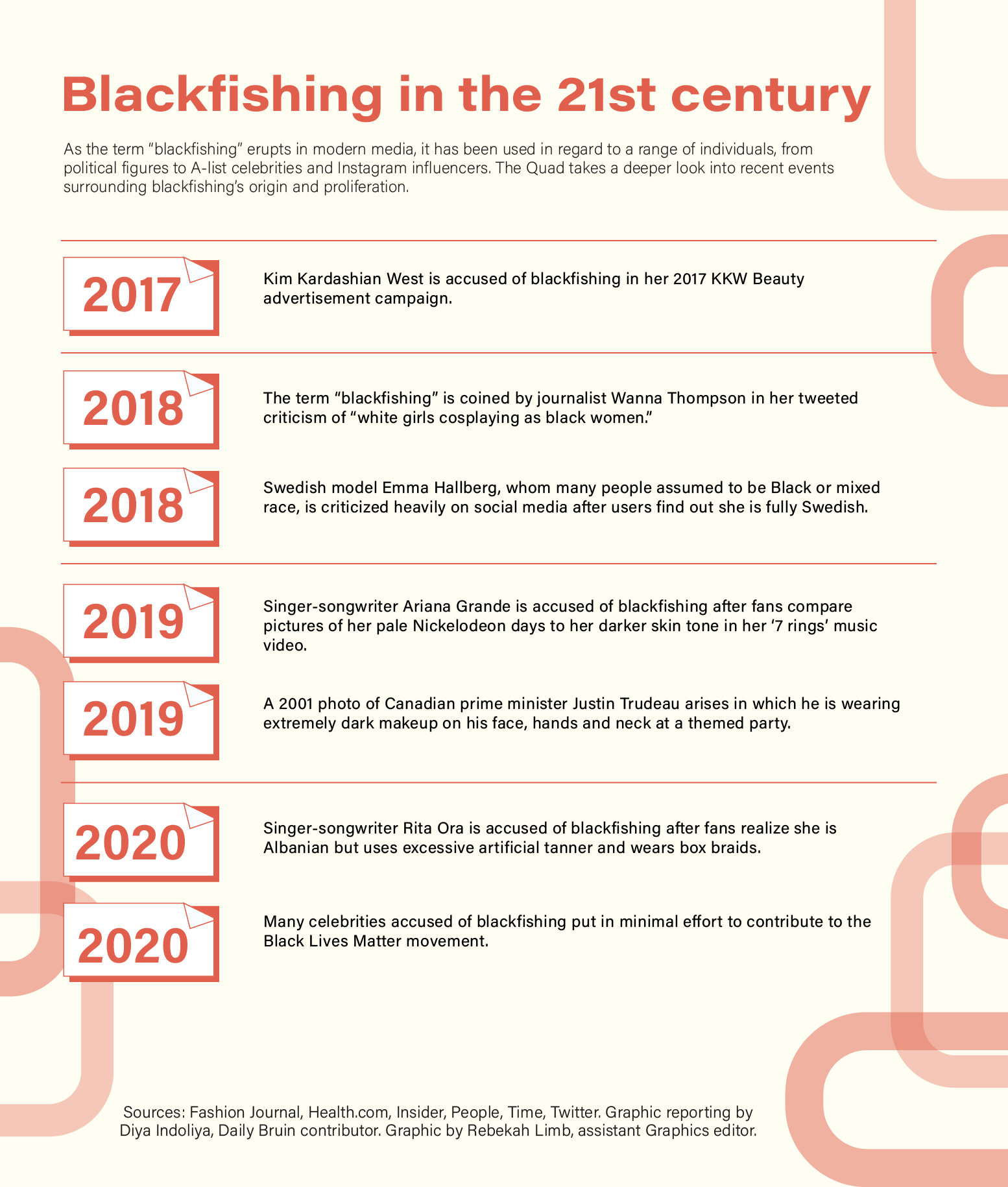 In a modern world engulfed by social media, several terms such as "catfishing" and "cancel culture" have risen to new heights. Among these popularized terms is "blackfishing," a word that is often associated with A-list celebrities and internet influencers alike — but many people fail to understand its deeper offensive implications.
Doctoral student A. E. Stevenson said that although blackface and similar forms of appropriation have been around for a long time, the term "blackfishing" is fairly recent.
"The term came into popularity in 2018 … on Twitter with someone pointing out this woman, and … people started to give other examples of these white women who were passing for Black on Instagram," Stevenson said.
First-year sociology student Arrielle Norton said that while people have the freedom to do what they want with their bodies, blackfishing is inherently unacceptable.
"Blackfishing is non-Black people trying to alter themselves to achieve Black-like features," Norton said. "I think flatline, blackfishing is wrong. I think it's wrong for non-Black people to be able to be praised for their (altered) features … but Black men and women are degraded for those very same features."
Today, there are many ways to alter one's appearance – whether it be artificial tanner, new hairstyles, lip injections or Photoshop. While some of these actions may not seem strikingly offensive to some people, it is important to think about them from a historical standpoint.
Keith Rice, a historian at the Tom & Ethel Bradley Center, said that it is ironic that the features being highlighted via blackfishing are typically the same features that have been targeted to discriminate against Black people for centuries.
"People have made fun of the way Black women in particular's bodies are shaped," Rice said. "But when someone appropriates that body shape, … it's a problem when that becomes celebrated because it's somebody who's white, as opposed to someone who is Black having that same body shape and being degraded for it."
Similarly, Norton said that blackfishing is especially offensive to the Black community given the blatant history of racism against people of color in many areas.
"Now, for (non-Black) people to just be like, 'Oh, I'm just going to get my lips bigger because I think it looks better,' or 'I'm going to curl my hair permanently because it looks better – it's almost like a slap in the face to the Black community because they are praised for something that we were once made fun of for," Norton said.
Stevenson said that there is a history of discrimination against Black women on the basis of their hairstyles – the very same hairstyles many non-Black people are celebrated for wearing today.
"When Black women choose to adorn themselves in historically Black (hairstyles) etc., … they're met with a kind of 'forbiddenness.' … There are actual laws … where Black women oftentimes lose opportunities for employment based off of their hairstyles," Stevenson said. "Whereas it seems that whenever white women specifically, but (also) any other (race), engage in the same hairstyle, they are met with a ton of newness – a kind of ingenuity, on their behalf."
Rice said that blackfishing is all the more problematic when people profit off of Black culture.
"For one, Black people are tired of people making money off of our culture. … (These influencers) are trying to reach a wider audience. That generates and turns into cash for them and the people who run these companies. So, when you see somebody who's not Black monetarily capitalizing on your likeness or what you look like, that's offensive," Rice said. "Black people don't get paid for being Black, so why should someone else get paid for being Black?"
However, while the media has instigated blackfishing, Norton said it also has the potential to spread awareness against it.
"Social media gives everybody a platform to say what they want. And so, when we see celebrities doing stuff to their bodies, … we get to call them out for it," Norton said.
Stevenson said that blackfishing in media has brought up the difference in beauty standards not only between white and Black women but also within the Black community.
"There's a certain type of Black woman that these white women aspire to look like, and these Black women are already racially ambiguous," Stevenson said. "And within Black community spaces, there continue to have been issues about how lighter-skinned, more racially ambiguous Black people in media spaces tend to come to be … the desired representation of Blackness writ large."
However, amid the controversy, Norton said she is noticing a shift in beauty standards and embracing cultural beauty.
"We're kind of at a point in time where Black women are accepting that they are beautiful being themselves – not having to flatten their hair, going natural, not having to worry about what someone would think about them," Norton said.