SOUNDWALK: UCLA Campus is music to new, returning Bruins' ears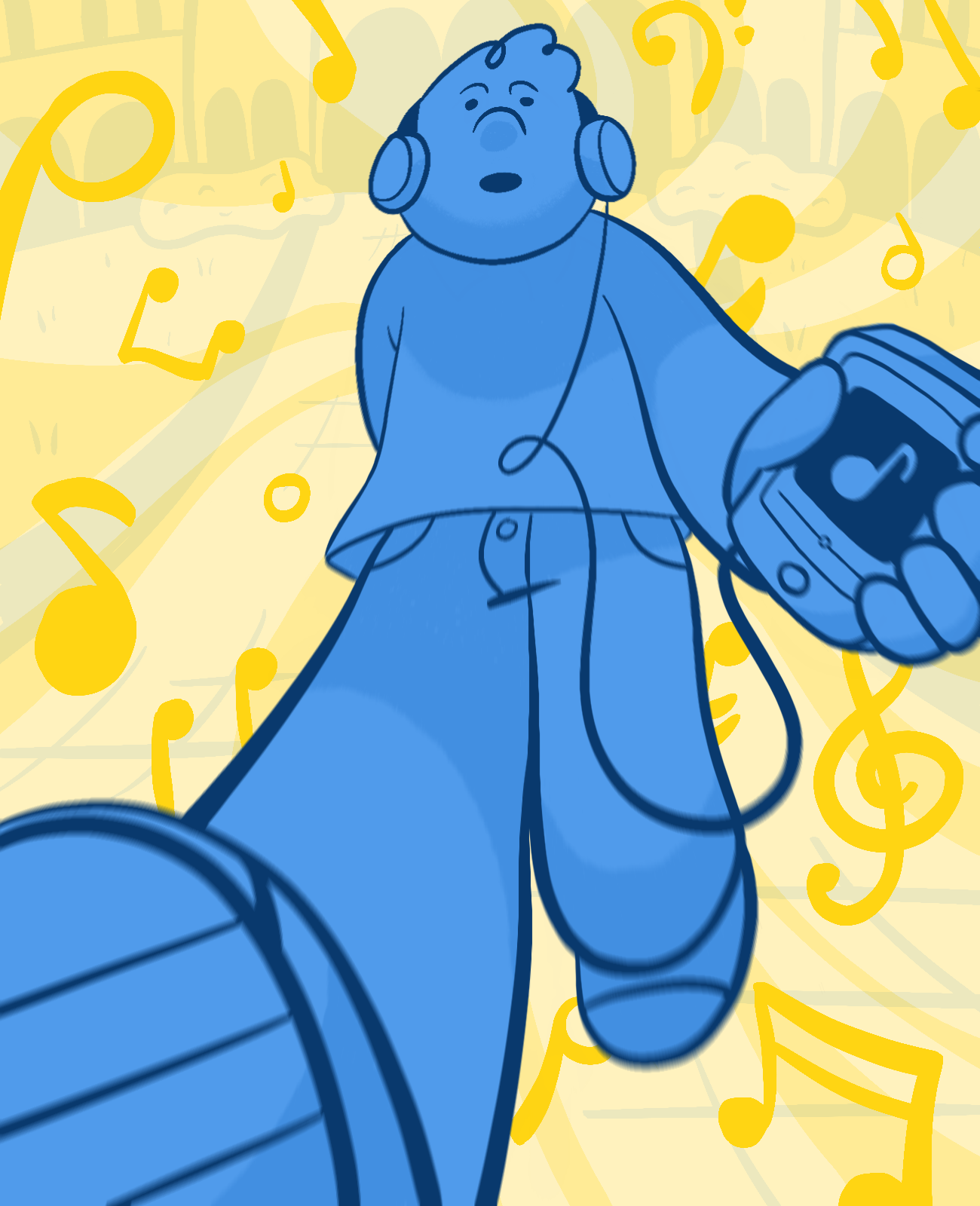 (Dani Nalangan/Daily Bruin)
SOUNDWALK: UCLA Campus is scoring serenity.
Created by composer and sound designer Ellen Reid, Ellen Reid SOUNDWALK uses GPS services through an app to soundtrack user experiences based on location. The music features synthesizers, vocals, flute and other orchestral instruments. SOUNDWALK: UCLA Campus is the one of the most recent iterations of Reid's SOUNDWALK project made specifically for the school's campus. It was produced in collaboration with the UCLA Student Committee for the Arts and the Center for the Art of Performance. As an alumnus and current CAP arts coordinator, Theo Perkins said he worked with SCA to give Reid insight into symbolic campus locations that are featured in the project, such as the Inverted Fountain.
"(The SOUNDWALK experience) is very relaxing, it's beautiful," Perkins said. "It's like you're just guided by the music. … You're almost like an active observer of the environment."
Although SOUNDWALK: UCLA Campus was made available in September for students' return to campus, Perkins said planning for the project began in April. After completing an installation for Griffith Park, he said Reid had an interest in composing a SOUNDWALK for UCLA. The idea was passed through SCA, which funded the project, and Perkins said the role he played was supportive but not artistic. While SCA and CAP told Reid about popular student locations, such as the Franklin D. Murphy Sculpture Garden, Perkins said neither of them imposed any musical guidelines.
"Our role is not to dictate how you could make art," Perkins said. "We want to put your art on a platform … and help amplify whatever it is that you do."
[Related: LA State Historic Park introduces new immersive experience with 32 Acres app]
To give Reid a more complete picture of UCLA, SCA education head Isabella Bustanoby said the committee also provided the composer with an overview of student culture. The fourth-year art and physics student said she explained the differences between North and South Campus, as well as spotlighted historical places such as the Court of Sciences Student Center – otherwise known as the Bombshelter – and Royce Hall. Another factor Bustanoby said went into route planning was the incorporation of natural scenery in order to showcase plant species native to UCLA.
SOUNDWALK also isn't limited by COVID-19 pandemic restrictions which made the project exciting to SCA, Bustanoby said. While live events are usually site-specific and require COVID-19 virus precautions, Bustanoby said SOUNDWALK: UCLA Campus was an installation that could be enjoyed safely and throughout different parts of campus. Bustanoby said users can also shape their own experiences, being able to choose how long they'd like to spend with the score and where they'd like to take the app.
Part of what makes SOUNDWALK an engaging and immersive project was its recording process, violist Nadia Sirota said. Because of the remote circumstances of the pandemic, the project's remote recording producer said each element of the soundtrack was recorded in isolation, which makes SOUNDWALK feel like the musicians are playing directly for the app user. During the process, Reid sent the SOUNDWALK ensemble members a score with a reference tone and click track, a note and beat for musicians to tune their instruments to and keep time with, so that the music could be synced together, Sirota said.
Once all the recordings were received, Sirota said Reid put certain elements of the score on loops of different lengths, referred to as musical bubbles, so that sounds would collide and come apart randomly, similar to a kaleidoscope. As a result, instruments and melodic themes are repeated in new contexts to feel familiar but refreshing, Sirota said. The harp and synthesizer stand out in the score because of their usual absence in orchestral writing and frequent use in SOUNDWALK, but Sirota said Reid's work enabled all musicians to be expressive and put themselves into the recordings, including her own work with the viola.
"As you walk around, you get to hear snatches of each of these individual players," Sirota said. "It really feels like an intimate experience."
[Related: Celebration Spectrum brings dynamic DJ sets, art installations to Grand Park]
As the programming director for SCA, fifth-year world arts and cultures student B Thompson said one of SCA's main goals with SOUNDWALK: UCLA Campus was to bring the community together in a free, accessible way. The plan was for the project to be open to the public by the time the academic year started for students to use, they said.
When discussing the project with Reid, Thompson said SCA wanted places like Janss Steps and Bruin Walk to be centerpieces of the route – the former acts as the connective tissue between important areas like Royce Hall and Kaufman Hall while the latter is the one of the main paths in and out of campus. Regardless of how familiar students are with campus as new or returning students, Thompson said they hope SOUNDWALK: UCLA Campus offers users a way to explore UCLA with a new emotional dimension.
"It was honestly emotional for me, getting on campus and putting my earbuds in and just walking around without having to think about all the other parts of my day," Thompson said. "It just made me really happy to be back on campus and to be able to do something so special my first time back."