Opinion: UCLA should continue bringing food trucks to feed Bruins, support local businesses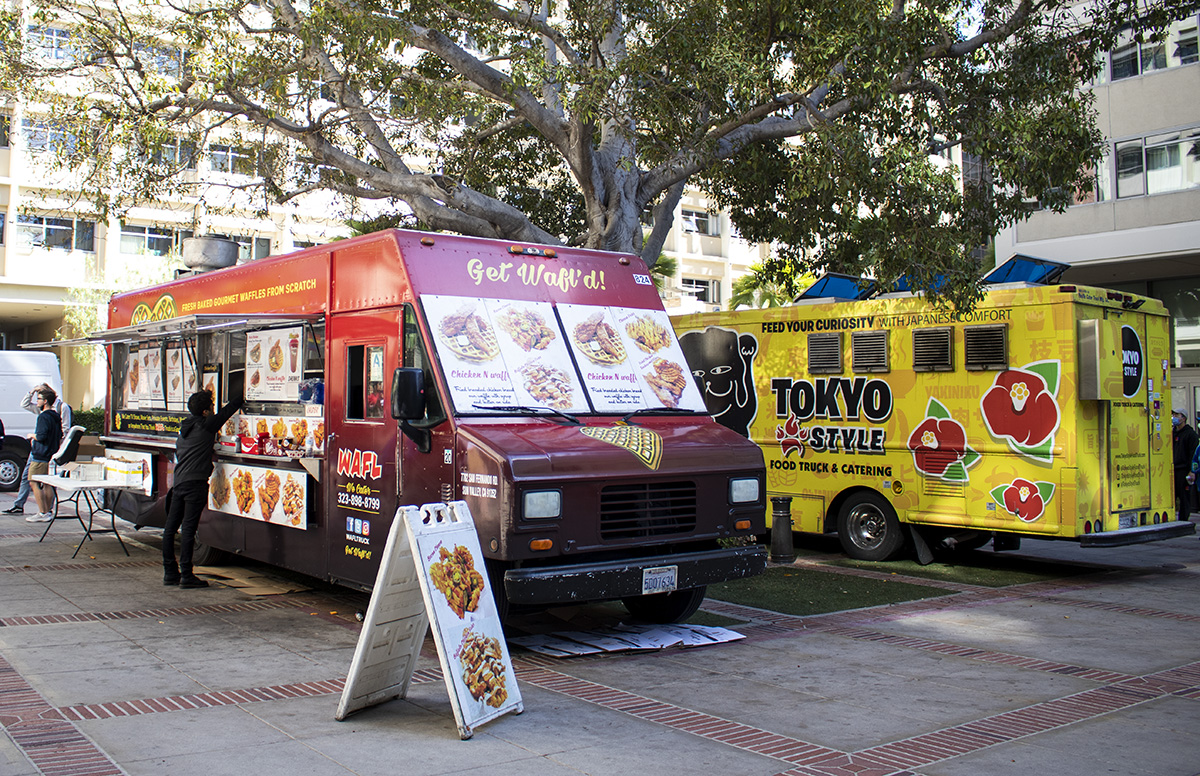 UCLA must continue to bring food trucks as staffing shortages end in order to provide more food options and help local businesses. (Esther Li/Daily Bruin staff)
With the shift to in-person instruction comes the return of hungry college students.
Considering the seemingly endless lines at dining halls and takeout places, it's evident UCLA was not prepared.
Since the start of this school year, students eating at dining halls have experienced long lines and wait times because of a staffing shortage. This shortage has also caused dining facilities to operate at a limited capacity, with the dining hall Feast at Rieber opening Monday, five weeks into the quarter.
In response, UCLA has invited food trucks from the Los Angeles area to pick up the slack. Students can trade up to two meal swipes a day and receive a coupon that is used to redeem one order at a truck for each swipe.
The arrival of food trucks to the Hill has introduced an even greater variety of foods for its residents. Now, in addition to dining halls serving the best college food in the nation, students can eat Japanese comfort food, Philly cheesesteaks or pad thai – food they'd normally have to go off campus to get.
With all these choices at their disposal, some Bruins aren't going to support a shift away from food trucks operating on the Hill – and for good reason. The university shouldn't either, considering how inviting these food trucks has benefitted the campus community. UCLA should continue hosting food trucks, during the current staff shortage and after it, to do its part in financially supporting local businesses and to improve the dining experience on the Hill.
Every student has their own schedule, and sometimes there isn't a lot of time to squeeze in a meal from a dining hall or a takeout place.
"The UCLA dining halls are usually packed, so … eating becomes a whole event," said first-year psychology student Isobel Van Kuiken. "Food trucks can be a lot quicker, even when there's a line."
Luckily, the trucks provide another alternative to dining services. According to an emailed statement from UCLA Dining Services, the trucks have reduced lines and wait times at UCLA restaurants and provided greater menu variety.
While there's a large variety of foods from truck-to-truck, an individual truck only serves around three to five options.
This may garner some complaints, but it helps reduce wait time. Students who have trouble deciding on one option often appreciate this limited menu.
"(I) like that there's not a whole bunch of options, because then that would just take more time," said Helen Lopez, a first-year engineering geology student. "I like that you can just choose one specific thing, and it's just fast … for you to get."
Smaller menus seem to benefit the food truck workers, too. Ozan Kcay, the owner of the Wafl food truck, which specializes in fried chicken and waffles, said he usually doesn't like limiting the number of menu items the truck can serve, but the smaller menu at UCLA helps with the fast pace of service.
"If we had a full-capacity menu, we wouldn't be able to have a good turnaround like we've been doing, which is like 1,100 to 1,300 (orders) a day," said Adrienne Daniels, the manager of Wafl.
The average LA food truck worker earns $27,495 a year, which is less than half the amount of the average annual salary in LA, which is $68,118 a year. UCLA has a duty to support the LA community, and on top of feeding students, the university can simultaneously assist these local businesses by keeping them on the Hill.
It's a win for food truck owners, students and the university.
The food trucks also offer options that vegetarians and vegans can enjoy. For example, Savage Tacos offers vegan carnitas tacos, and Original Herbivore offers vegan fried "chick'n" along with other plant-based options. Those who follow vegetarian and vegan diets would have more options to choose from if there are more of these trucks on the Hill.
UCLA can also utilize food trucks in its fight against climate change. The university currently denotes high-carbon footprint foods such as beef on dining hall menus to foster student awareness of how their eating habits affect the environment. To further encourage students to lower their greenhouse gas outputs, UCLA should continue to invite food trucks with plant-based options.
Food trucks may have a reputation for selling unhealthy foods – and rightfully so. Several trucks only offer options such as tacos, burgers and chicken tenders, none of which exactly represent the pinnacle of healthy eating.
Dining hall food, however, isn't free from this criticism either. While Bruin Plate is a dining hall devoted to a healthy menu, it still operates as an all-you-can-eat buffet, as do Epicuria at Covel Commons and De Neve Residential Restaurant. At these eateries, students are free to eat whatever they want – and at whatever amount.
Food trucks, on the other hand, aren't all-you-can-eat establishments. This could help students keep track of how much they eat in a day and determine whether or not the food they consume is nutritionally adequate.
Additionally, if a student wants to eat a less "healthy" meal, they will. The university is already doing the right thing by motivating students to pursue more sustainable and healthier food choices, but it's up to students to act on that motivation. Health concerns about food trucks shouldn't discourage UCLA from bringing them back in the future.
Bruins are busy enough without worrying about where to grab their next meal.
If UCLA can't feed its students properly, it should seek help from those who can.