Q&A: Actors from Netflix's 'Night Teeth' reflect on character backstories, LA influence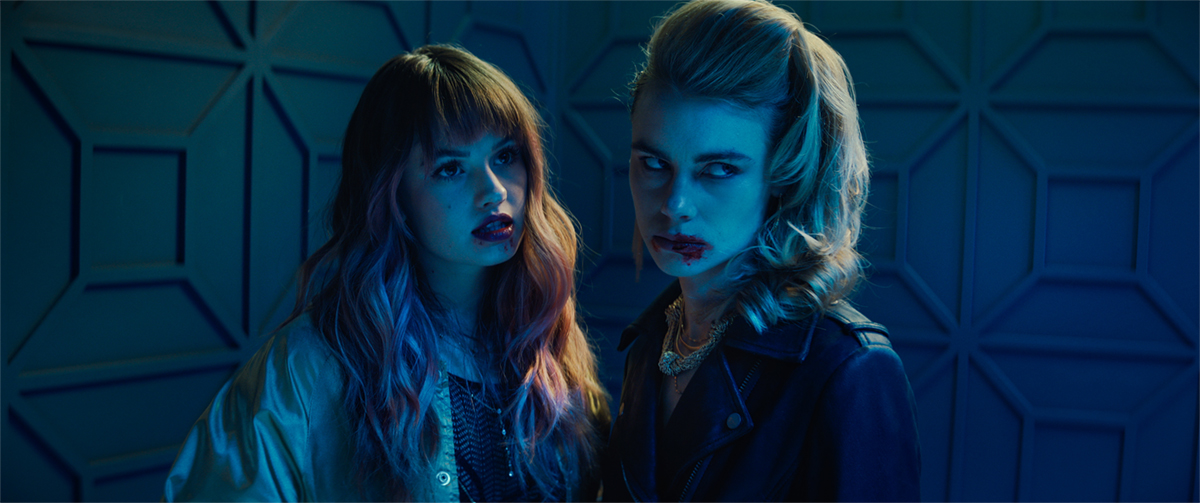 Debby Ryan (left) and Lucy Fry (right) play Blaire and Zoe in "Night Teeth." (Courtesy of Netflix)
"Night Teeth"
Directed by Adam Randall
Netflix
Oct. 20
Vampires are taking on the Los Angeles party scene.
Just in time for Halloween, Netflix's latest original thriller "Night Teeth" releases Wednesday. The film follows college student Benny (Jorge Lendeborg Jr.), who steps in for his brother Jay (Raúl Castillo) as a chauffeur for two mysterious women, Blaire (Debby Ryan) and Zoe (Lucy Fry), as they party hop around LA. His night soon spins out of control as he finds himself in the midst of a war between the city's vying factions of vampires hungry for human blood and the protectors of the human world.
Ryan, Fry, Lendeborg and Castillo spoke in a virtual roundtable with the Daily Bruin's Elana Luo and other college journalists about how they developed their characters and incorporated elements of reality into the film.
This interview has been edited for length and clarity.
[Related: Q&A: 'There's Someone Inside Your House' star discusses character development]

Daily Bruin: This story is a vampire story superimposed over LA. Do you see any similarities between the dynamics of LA and the dynamics of the vampire war?
Raúl Castillo: LA is a multifaceted city. It depends on which pocket you go to; it could be like an entirely different city. The film captures that beautifully and sort of metaphorically with vampires. It feels very much like an LA story, especially because if you're on the east side of LA, Hollywood feels like some other planet.
Benny navigating that world is awesome. I wish I had a movie like this when I was a kid. I wish I had Benny as a hero when I was 12, 13, 14 years old, because I would identify with him in that world and how he navigates that.
Daily Aztec: (Night Teeth) is told from a really unique perspective because it could have easily been told from Victor and Jay's perspective and how they're battling over the city, but we got to see you two (Ryan and Fry) take on the hard work. What did you think about that? Did it draw you to the film?
Lucy Fry: The thing that was really attractive about the script was these two women who maybe would have been supporting characters in the '90s. Now it's our story, and the friendship we have and the intensity of that friendship. That was something that was exciting to me, seeing Zoe's drive and ambition and wanting to get to the top and wanting to take her best friend on that journey.
[Related: Q&A: 'Dear Evan Hansen' cast, crew discuss transition from stage to screen]
DB: Lucy, we get to see Benny's backstory and hear about Blaire's, but Zoe's pretty mysterious. Did you create a backstory for her?
LF: I definitely came up with backstories and really had a lot of fun with them. Because she's so old, I could imagine all kinds of wild things. Adam (Randall) and Alfie (Allen) and I talked a bit about Zoe and Victor meeting in the times of the Wild West and just rampaging through America picking off all the humans. One of my favorite things was talking with Debby about our backstory because going through whatever Zoe went through up to that point, her greatest treasure becomes her friendship with Blaire, leading up to this story.
Debby Ryan: Zoe's life is the blueprint for Blaire's life, seeing what happens when you lose touch with humanity, seeing what happens when you get so jaded and so bored and you divorce people's souls from the equation and what that can turn you into. The conflict of saying, 'This is the person that I chose this life with, and this is my best friend, and this is the only future I envisioned, but if it's going to look like this, creating this destruction, I have to make a really hard choice,' and that texture was so informed by everything that (Fry) brought into Zoe.
FSView & Florida Flambeau: Debby, how was this experience different from other roles you've done?
DR: Adam directs with a very light touch. We sat with the script and with the scriptwriter in the hotel lobby, in the production office with Adam, with Jorge, with Alfie, with Raúl. Most of my dialogue, if not every single word, was rewritten. It was so collaborative, so trusting, and because of that, it allowed us to bring our A-game.
The work in other projects has been being present and having the conversation while internalizing every single note swimming around in my head, but in this project actually, we had so much space and time. We didn't feel rushed. This was the breakthrough project for me where I felt like I was allowed to just do my job and not be hypervigilant of other people's situations.