Graduate students immerse viewers in 'Perspective Slip' exhibit with surreal art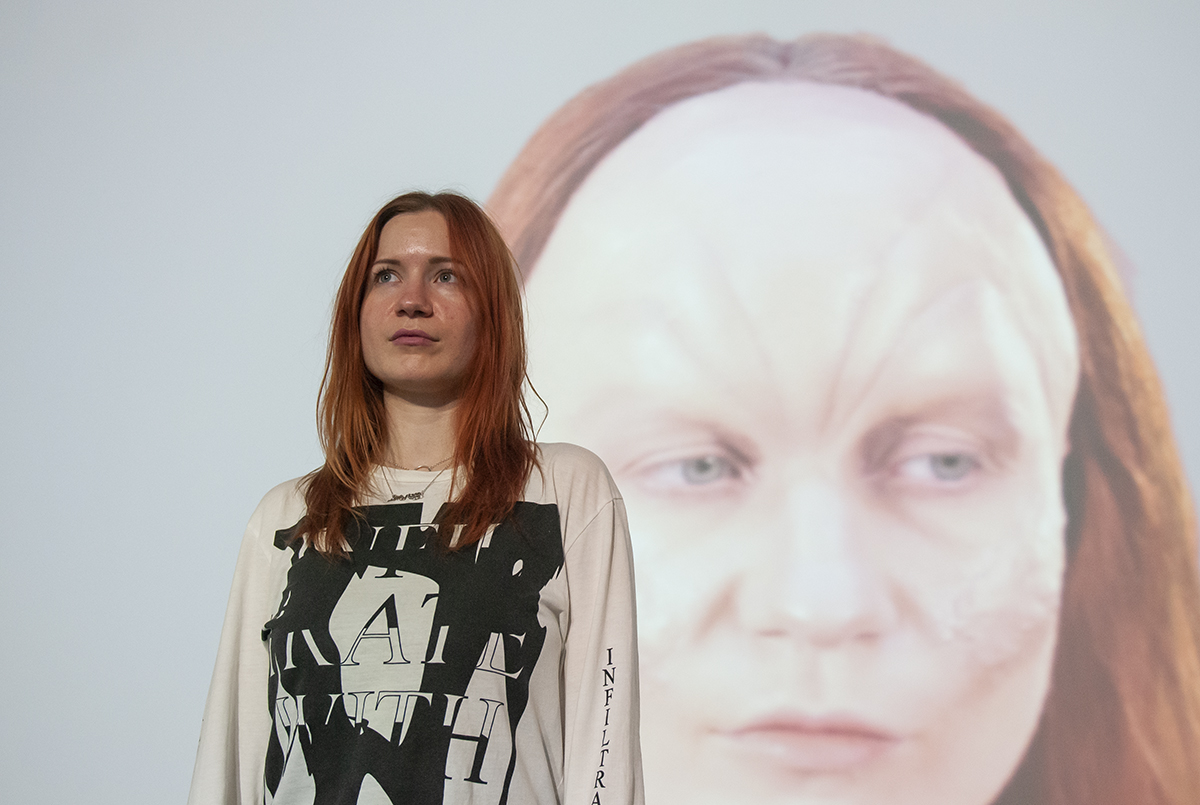 Fine arts graduate student Berit Gilma's piece "The planet Mars, 1 million years BC," is on view at the New Wight Gallery with other fine arts graduate students in the exhibition "Perspective Slip." (Ariana Fadel/Daily Bruin)
From the natural to the supernatural, artists are blending personal experience with modern science in a new exhibit.
Fine arts graduate students in the department of design media arts are presenting their work in the exhibit titled "Perspective Slip," which premiered Oct. 14 and will be on view until Thursday. According to the department's website, the installation displays the wide range of developing practices in the field of media arts with each piece incorporating an aspect of obscurity. With this being her first in-person exhibition in graduate school, student Carrie Chen said the process of creating her piece "Flutter 虫飞薨薨" felt like self-prescribed cognitive behavioral therapy.
"This process has been making, modeling, texturing and animating different insects that made me feel more connected to nature in many ways. … It was a form of reconciliation with nature," Chen said. "There's a lot of symbolism behind each insect."
Within her project of three unfolding animated portraits, Chen said the butterflies featured are a nod to Daoism in Chinese culture and how butterflies represent the notion that life doesn't end after death. Since the piece is silent, Chen said she wanted to formulate a meditative experience for the viewer. She said when looking closely, the viewer might notice how the face of the female figure, located in the center, morphs from young to old.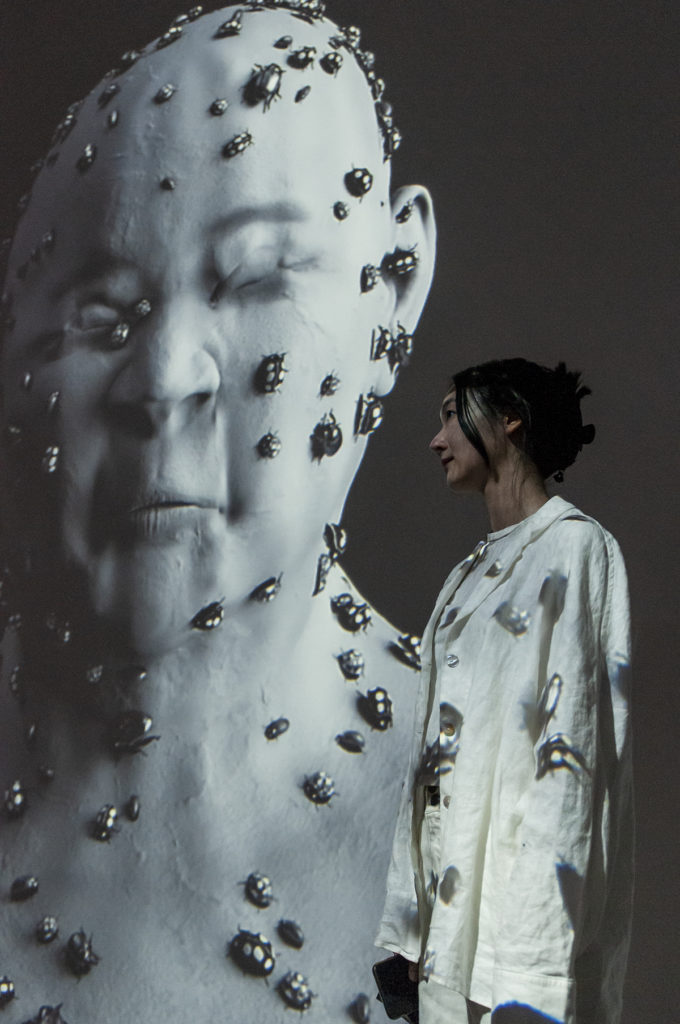 [Related: Student meshes real-world, imaginary elements in multidisciplinary design projects]
In response to the overarching theme of "Perspective Slip," Chen said she wanted to blur the line between reality and illusion, which is why she included the insects as symbols. The Asian American artist attended elementary school in China, and said her piece reflects how in both the United States and China, she still felt like "the other." Chen said when considering insects, humans treat them differently as "the other" as well.
"As humans, we think we're the largest, most complex animals in the wilderness," Chen said. "There's just a way we treat insects – we're so brutal, we smash them."
To fully immerse the viewer in this experience, Chen said the figures in her piece are crawling with insects. She said because of the giant scale of the figures, some of the older viewers are more hesitant to fully step inside the installation, but she wanted to put a twist on how insects are often viewed as insignificant to humans. However, she said the uncomfortable process of animating the insects in such detail revealed how she herself has become disconnected with nature.
Taking a different animated approach, fine arts graduate student Berit Gilma said her piece "The planet Mars, 1 million years BC," is a two-channel video installation featuring two characters having a dialogue about memory research, dreams and the color blue. She said each artist in the exhibition had a different artistic approach to their project, with hers being based on a declassified CIA document of a conversation between a CIA remote viewer and an ancient martian from 1984.
"I did not make this up," Gilma said. "I basically took that scenario and extended the narrative to talk about memory research and dreams, and the whole project (lasts) for about 3 1/2 minutes. It's an immersive space in the gallery (in which the viewer) stands right in the middle of the dialogue."
Since she could not afford to hire a model to play the character of the alien, Gilma said she did the modeling herself and instead hired a special effects makeup artist in order to place herself into the role of the ancient martian. In the process of researching her project, she said she read a number of new academic papers about memory and dreams.
Also inspired by modern research, fine arts graduate student Iman Person said she was interested in wind and how it reflects the flow of groups of people, whether by choice or force. Referencing her own personal background when producing her composition "New Air," Person said she thought about how her mother chose to leave Kingston, Jamaica, to come to the U.S. and how wind is often the catalyst of travel. She said the wind map on the floor is from four locations that are a part of her identity.
[Related: Design media arts students reflect on projects in exhibition 'Metamorphosis']
Within the exhibit itself, she said the viewer can hear wind harps that she recorded in Los Angeles and see live wind data being generated from LA, as well as Ghana and Atlanta, Georgia. Person said she was also inspired by how humans can communicate visually without words, prompting her to reach out to the movement artist, Anicka Austin, whom she featured in her project.
"We began having conversations about what it is to communicate without words," Person said. "She began to think about communication through gestures and finding new ways of communicating outside of the white gaze."
With each installation paying homage to the complex relationship between the digital realm and the natural world, Person said her inspiration stemmed from how humans experience virtual reality, mixing surrealism and naturalism. For Person, she wanted to design a project that would capture the notion of being in digital spaces and how the body interacts with one's digital identity.
"To me, (the digital identity) feels like an out-of-body experience," Person said. "In validating those (emotions), I think you can go back and see the seeds of where digital technology is headed (while) also bringing it back to natural elements and thinking about ways we can become more sustainable in our practices."