USAC recap – Oct. 12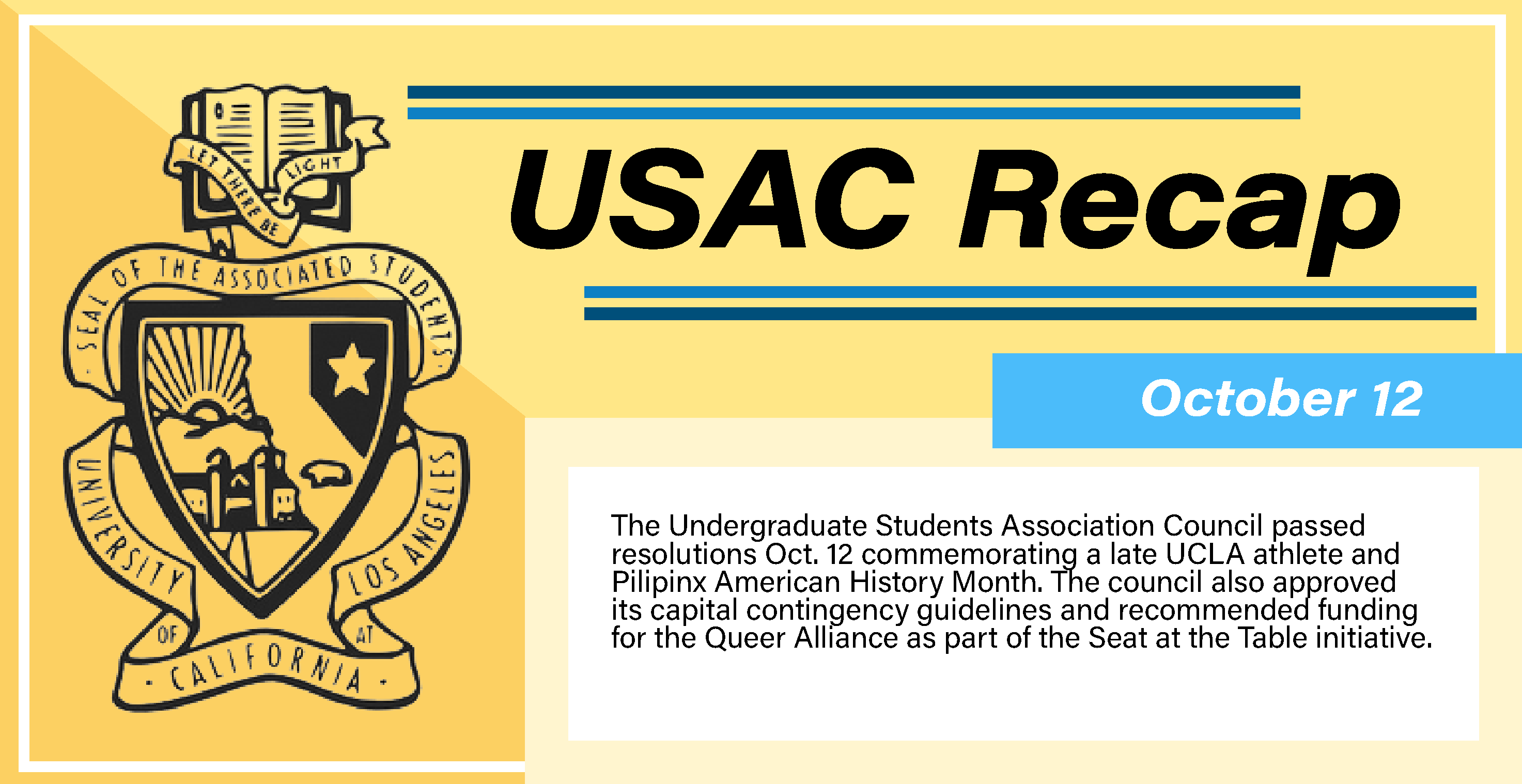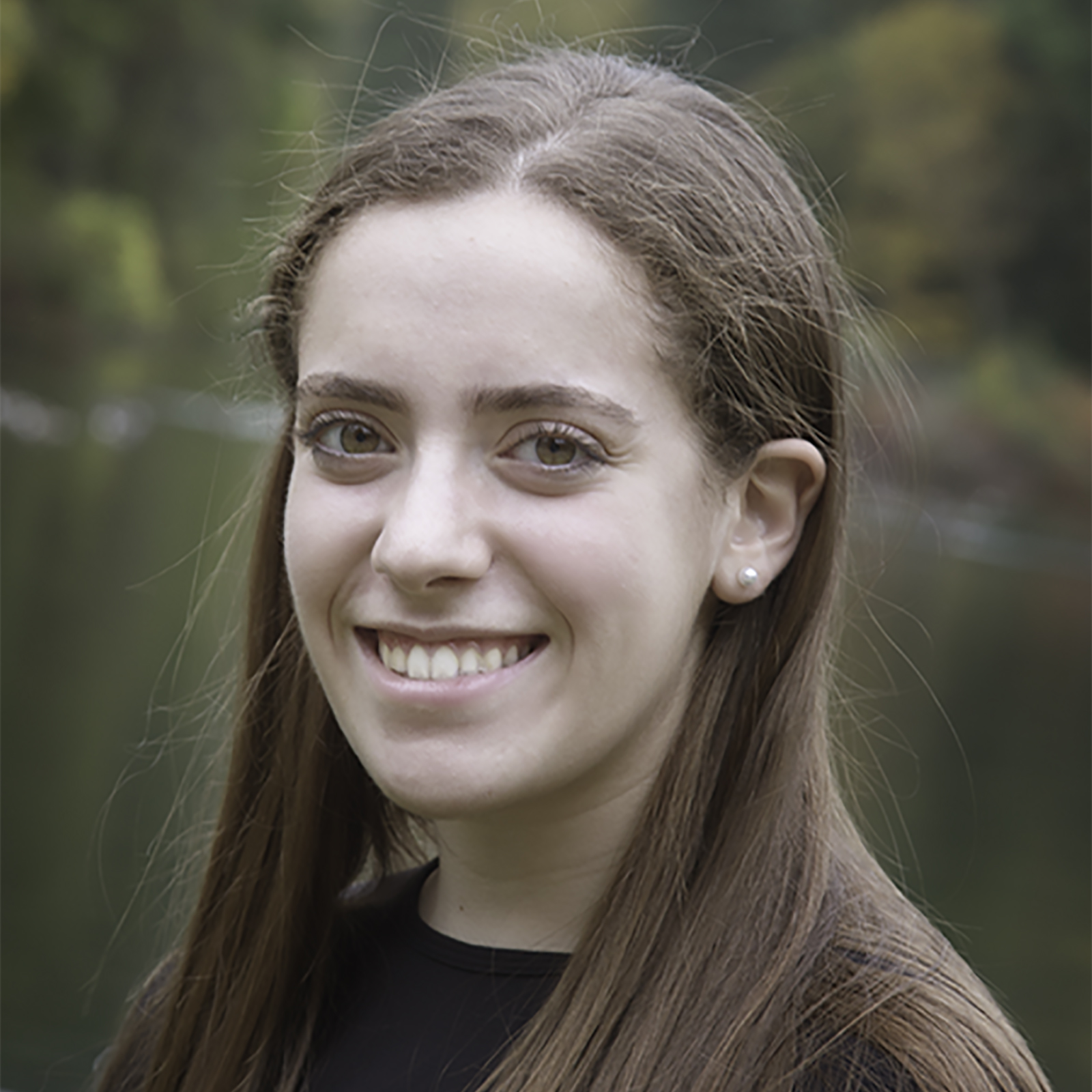 Correction: The original version of this article incorrectly dated the meeting as Oct. 14. In fact, the meeting occurred on Oct. 12.
This post was updated Oct. 20 at 10:35 p.m.

The Undergraduate Students Association Council passed resolutions Oct. 12 commemorating a late UCLA athlete and Filipino American History Month. The council also approved its capital contingency guidelines and recommended funding for the Queer Alliance as part of the Seat at the Table initiative.
Public Comment:
Radha Patel, chair of California Public Interest Research Group and fourth-year sociology student, said that CALPIRG will continue their campaigning for California to commit to run solely on clean energy by the year 2030, to establish a free textbook borrowing system at UCLA and to end oil drilling.
Allocations:
The council allocated $1,433.33 to the Undergraduate Psychology Society at UCLA for mental health first aid.
The council allocated $372.30 to Engineers Without Borders, an organization of students who promote sustainable engineering across the globe, for their project meetings.
The council allocated $51.14 to E3: Ecology, Economy, & Equity, a sustainability student organization, for their fall general meeting.
The council allocated $491.87 to Youth Movement Against Alzheimer's at UCLA for their guest speaker night.
The council allocated $414.16 to Students for Integrative Medicine for their Yo San shadowing program.
The council allocated $1,619.82 to Pilipinos for Community Health for their community health fair.
The council allocated $166.69 to the Association of Chinese Americans for the Amazing Chinatown Race.
The council allocated $263.40 to Asian Pacific American Health Collaboration, Access, Resource, and Education for their new member orientation.
The council allocated $345.12 to Samahang Pilipino, a cultural organization, for their leadership retreat.
The council allocated $733.33 to the UCLA Backpacking Club for their Joshua Tree Trip.
The council allocated $30 to the Regent Scholar Society, an organization for recipients of the Regents Scholarship at UCLA, for website maintenance.
The council allocated $2,083.33 to Hooligan Theatre Company, a student-run theater group, for their December production of "A Chorus Line."
The council allocated $110 to the Biochemistry Association for Student Enrichment for their general meeting.
The council allocated $566.67 to the Taiwanese American Student Association for their fireside chat with Patrick Lee, co-founder of Rotten Tomatoes.
The council allocated $742.17 to a non-USAC entity for The Green Initiative Fund. Facilities Commissioner Jane Ni added that the Facilities Commission extended the main fund deadline to Oct. 15 to allow for more applications.
Special Presentations:
Shivesh Shourya, a fourth-year neuroscience student and the external director of the Queer Alliance, presented the organization as part of the council's Seat at the Table initiative, an effort to raise awareness of student organizations' issues. Shourya said the Queer Alliance advocates for queer and transgender students with an emphasis on the needs of students that are Black, Indigenous or people of color. Shourya added that the Queer Alliance hosts several major events for UCLA's queer and transgender communities, including Pride Week. Shourya said that cultural organizations are not eligible for several funds within USAC, and council members recommended their offices' funds, including the Student Wellness Committee's Programming Fund and the Contingency Programming Fund.
Agenda:
The council voted to pass a resolution honoring Rafer Johnson, a late UCLA athlete and former USAC president, who was a 1960 Olympic gold medalist in the decathlon. President Breeze Velazquez said the resolution commemorates Johnson's contributions to the UCLA community as a distinguished athlete and member of student government.
The council voted to pass a resolution honoring the Mabuhay Collective, Samahang Pilipino, the Filipino community and the recognition of Filipino American History Month. Internal Vice President Cassandra Gatica said the Mabuhay Collective is composed of 14 Filipino-focused organizations, and they deserve recognition for their activism and leadership for UCLA students and the broader community during Filipino American History Month.
The council approved its capital contingency guidelines, which remained the same from last year. Students can apply for new computers and are eligible to receive them only if they did not apply the year prior.
Appointments:
The council appointed Kyle Schmidt, a third-year economics and political science transfer student, to the legislative assembly of the academic senate. Transfer Student Representative Herman Luis Chavez said Schmidt is one of the first transfer students to serve on the legislative assembly. Schmidt said he hopes to uplift transfer voices in his new role.
Reports:
Velazquez said her office met with Chancellor Gene Block to discuss budget transparency from the Community Programs Office. Velazquez added that the Response and Recovery Task Force voted to provide more hybrid learning options, which will be sent as a recommendation to the administration.
Gatica said her office met with Samahang Pilipino to discuss collaboration for Filipino American History Month. She also said she is finalizing a mental health resource guide along with the Academic Affairs Commission office and General Representative 1's office. She added that the ninth annual Associated Students UCLA T-shirt design contest is now open for students to submit designs to be sold at the UCLA Store.
External Vice President Sarah Wang said her office launched the Bruin Advocacy Grant, which will be available for organizations with eligible events occurring between weeks five and ten. Wang added that Governor Newsom passed AB-245, which was sponsored by the University of California Students Association. The bill allows students to remove their legal name and put their chosen name on diplomas.
General Representative 1 Hailey Valles said in a written statement that her office hosted a College 101 workshop and is preparing a video series to help students navigate MyUCLA. She added that her office is also finalizing plans for student major guides as part of the Seat in the Classroom campaign.
General Representative 3 Carl King said in a written statement that his office conducted its first financial literacy workshop about budgeting with the UCLA Financial Wellness Program. He added that he will meet with the IVP office to collaborate on a workshop focused on taxes.
Academic Affairs Commissioner Angelina Quint said her office participated in last week's Disabled Student Union protest, calling for more COVID-19 accommodations from the university. She said that AAC, FAC and DSU met with Vice Chancellor Anna Spain-Bradley and the UCLA Office of Equity, Diversity and Inclusion to discuss DSU's concerns, but that the meeting was inaccessible to many disabled student leaders.
Financial Supports Commissioner Emily Yu said in a written statement that Budget Review Committee meetings will start by the end of this week.
Student Wellness Commissioner Tayloneei Jackson said in a written statement that her office met with Vice Chancellor of Student Life Monroe Gordon and Assistant Vice Chancellor of Campus Life Mick Deluca to discuss CPO Basic Needs resources. She also said her office met with administrators to discuss menstrual hygiene with Bruin Necessities directors. She added that SWC will begin Wellness Wednesdays, which include health-related activities with SWC committees, starting next week.