Scouting Report: UCLA football vs. Washington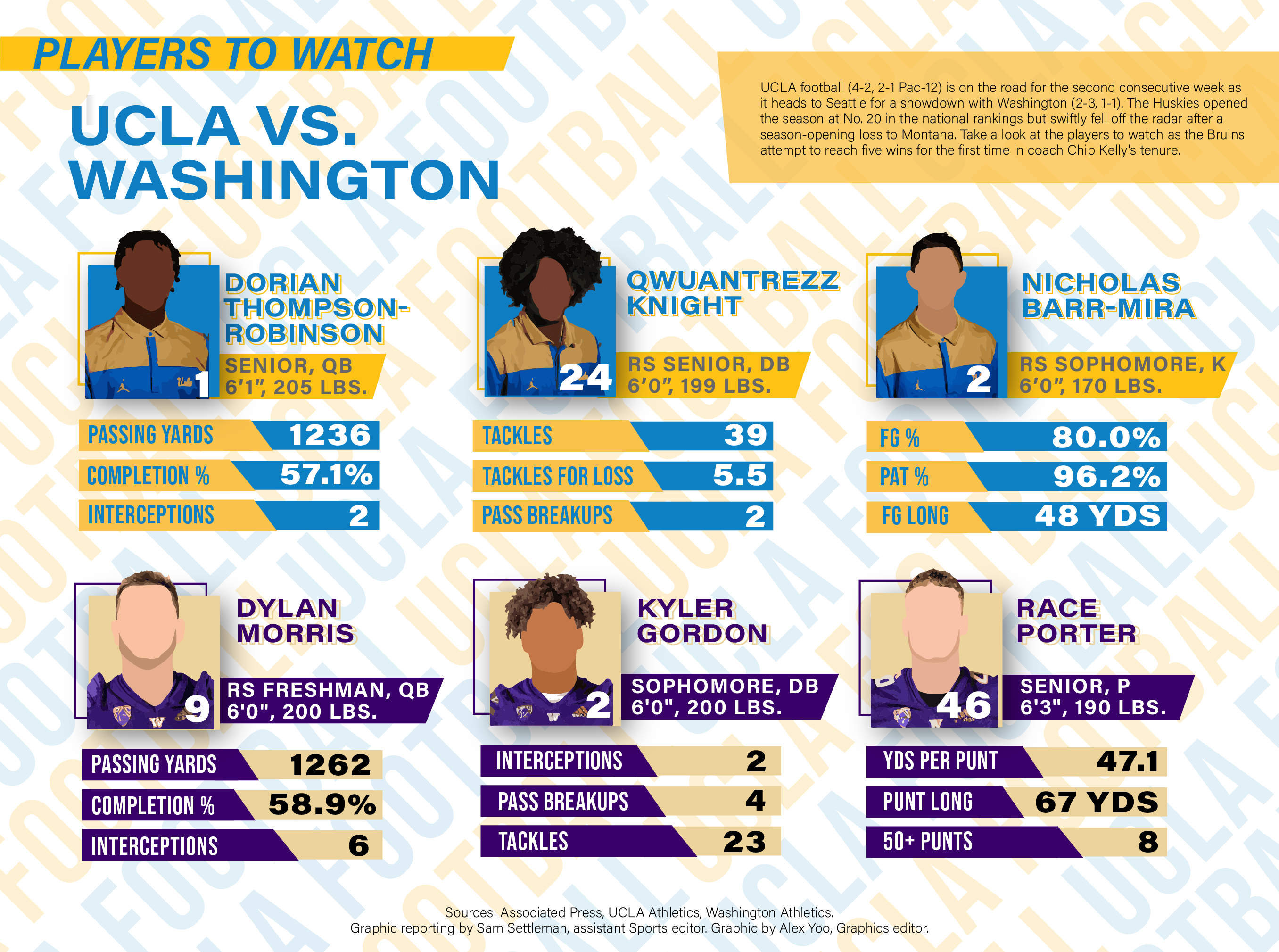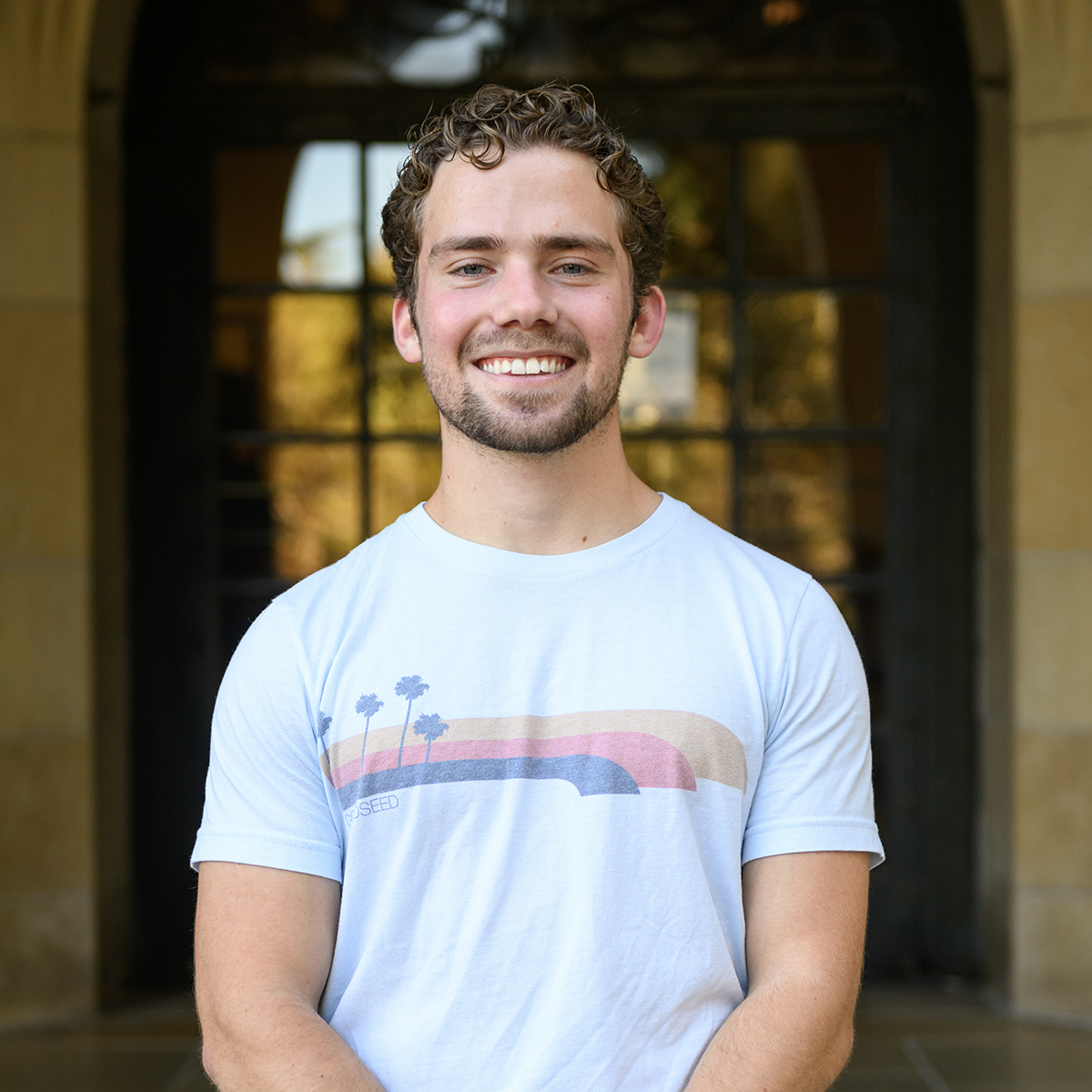 UCLA football (4-2, 2-1 Pac-12) will have the chance to reach five wins for the first time in the coach Chip Kelly era on Saturday, but Washington (2-3, 1-1) stands in its way. The Huskies entered the season with high expectations but have since dropped three of their first five games, including their season opener against Montana at home. Here is this week's scouting report from assistant Sports editor Sam Settleman – who hopes the Red Sox will be up 2-0 against the Astros by the time this game kicks off.
Washington's offense
Offensive scheme: Pro-style
Run-pass percentage: 53.2% pass, 46.8% run
Strength: Skill position depth
Weakness: Run game
X-factor: QB Dylan Morris
Much like Arizona last week, UCLA's opponent this week hasn't been too fond of pounding the rock.
The Huskies rank 103rd in the nation out of 130 teams in rushing offense compared to 47th in passing offense. But Washington flipped the script last week, running for 176 yards last weekend against an Oregon State run defense that ranks second in the Pac-12 behind only UCLA.
It wasn't enough to earn the win against the Pac-12 North-leading Beavers, as they ironically came up short on a 4th-and-1 run to seal the game, but the Huskies proved they might have something else up their sleeve on offense other than just throwing the ball.
Still, their offense runs through quarterback Dylan Morris. The local product and former four-star recruit started all four games for Washington in 2020 and was an All-Pac-12 honorable mention, asserting himself as one of the top signal-callers in the conference heading into the 2021 campaign.
Averaging 252.4 passing yards per game, Morris has registered at least 32 pass attempts in four of five games this season, a mark senior quarterback Dorian Thompson-Robinson has reached just once in six contests.
Morris has a bevy of weapons at his disposal, with 10 Huskies posting at least five receptions this year and three players above 200 receiving yards, which doesn't even include perhaps his most lethal weapon in tight end Cade Otton.
Otton was named to the All-Pac-12 first team and was one of the eight semifinalists for the John Mackey Award in 2020 but opted to return for his redshirt senior season instead of declaring for the NFL Draft. Through the first three games in 2021, Otton posted 13 receptions, but he has since missed the Huskies' last two games after being subjected to COVID-19 protocols.
If Otton can emerge in his return to the field as both a pass-catcher and a run-blocker, Washington's offense could take a leap.
While Morris and the Huskies have spread the wealth on offense, Morris has also been keen on sharing the love with opposing defenses. The second-year starter has thrown six interceptions in five games, including a three-interception performance against Montana that played a large role in giving Washington its worst loss in recent history.
When Morris plays mistake-free football, the Huskies give themselves a chance.
A confounding seven-point showing against Montana to open its season has somewhat deflated Washington's offensive stats, but Morris and the Huskies have an above-average passing game that could once again leave UCLA's most glaring weakness exposed on national television.
Washington's defense
Defensive schemes: Nickel 2-4-5
Strength: Secondary
Weakness: Run defense
X-factor: LB Zion Tupuola-Fetui
Already one of the top defenses in the Pac-12, Washington might return a game changer on that side of the ball this weekend.
Outside linebacker Zion Tupuola-Fetui ruptured his Achilles tendon in April, seemingly sidelining him for the entire 2021 season. Tupuola-Fetui enjoyed a standout campaign in 2020, garnering first-team All-Pac-12 honors and third-team All-American honors after ranking as the national leader in sacks per game.
Six months removed from his Achilles injury, Tupuola-Fetui practiced in full pads for the first time this week, with Washington coach Jimmy Lake hinting that he could potentially make his return to the gridiron against the Bruins.
In the absence of Tupuola-Fetui, the Huskies' defense has fared just fine, which shouldn't necessarily come as a surprise considering Pro Football Focus ranked Washington's defense as the fifth-best in the country entering the season, trailing only Alabama, Georgia, Clemson and Cincinnati.
While the Huskies' defensive unit hasn't quite lived up to those lofty expectations, it ranks 36th in the country in total defense with 328.2 yards allowed per game and is tied for 28th in scoring defense, conceding fewer than 20 points per game.
For a school that has produced two nose tackles taken 12th overall in the NFL Draft in the last six years in Danny Shelton and Vita Vea, Washington doesn't hang its hat on its stout run defense. In fact, the Huskies have given up 181.2 yards per game on the ground this season, the third-worst mark in the Pac-12.
In a matchup with Michigan earlier this season, Washington allowed 343 rushing yards, mostly accounted for by the Wolverines' dual-threat backfield of Blake Corum and Hassan Haskins. UCLA has a two-headed backfield of its own between junior running back Zach Charbonnet and redshirt senior Brittain Brown that could feast Saturday.
But while the Bruins might have the advantage on the ground, the Huskies certainly maintain the advantage through the air.
No team in the Pac-12 – and only two teams in the entire country – has been better at defending the pass than Washington, which has allowed 147.2 passing yards per game and just two passing touchdowns the entire season.
A lot of that success can be attributed to a shutdown secondary, featuring defensive back Brendan Radley-Hiles, a three-year starter at Oklahoma prior to transferring to Washington, and defensive back Kyler Gordon, who has two interceptions to his name this season in addition to four pass breakups.
The secondary depth doesn't end there for the Huskies, who also boast potentially one of the top cornerbacks in the country in Trent McDuffie, a projected first-round pick in the NFL Draft next year.
PAC-12 Player Spotlight:

Trent McDuffie (@UW_Football CB)

– PFF 2nd Team All-Pac-12 as a Freshman
– 5th Best Returning Player in the P12 for 2020 according to PFF
– 45 Tackles, 3 Forced Turnovers & 3 Fumbles Recovered in 2019

— WestCoastCFB (@WestCoastCFB) April 19, 2020
In recent years, Washington has produced some of the top defensive backs in the NFL with five second-round draft picks or better in the last six years, including a pair of first-team All-Pro players in free safety Budda Baker and cornerback Marcus Peters. It doesn't seem like that trend is slowing down any time soon.
The Huskies' secondary should shut down the Bruins' weak passing offense, but Charbonnet and Brown will get their fair share of run in what could be a rainy Saturday at Husky Stadium.
If UCLA finds success on the ground early, the Bruins will control the flow of the game. But if not, Thompson-Robinson could be in line for another ugly evening.
Settleman is currently the Sports editor on the football, men's basketball and gymnastics beats. He was previously an assistant editor on the gymnastics, women's soccer, women's golf, men's water polo and women's water polo beats and a contributor on the gymnastics and women's water polo beats.
Settleman is currently the Sports editor on the football, men's basketball and gymnastics beats. He was previously an assistant editor on the gymnastics, women's soccer, women's golf, men's water polo and women's water polo beats and a contributor on the gymnastics and women's water polo beats.