Weekend preview: Oct. 13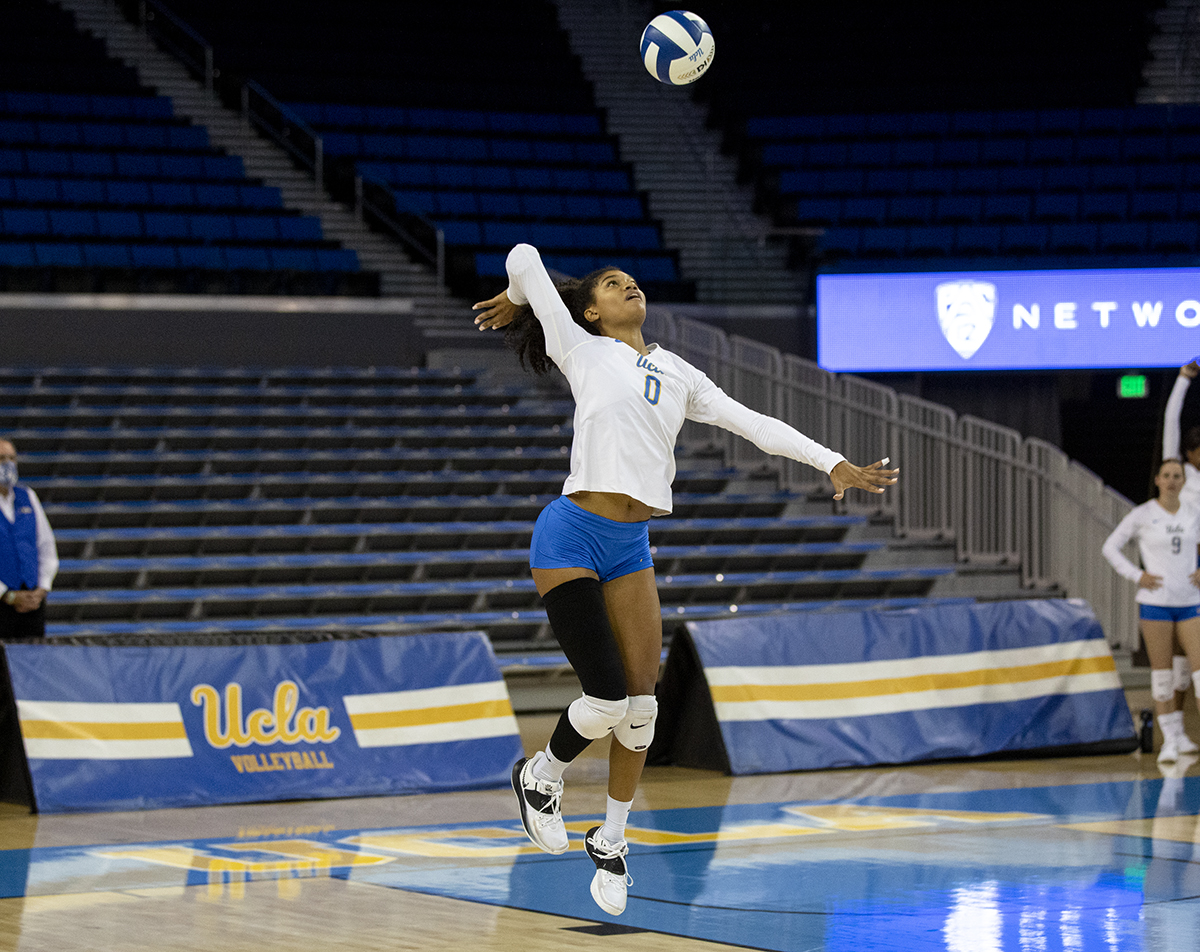 Senior outside hitter/opposite élan McCall – the Pac-12 leader in aces per set – and No. 14 UCLA women's volleyball will face Arizona and Arizona State this weekend. McCall currently averages 0.42 service aces per set. (Grace Wilson/Daily Bruin)
Women's Volleyball
David Deng, Daily Bruin reporter
The Bruins will take a three-game winning streak to the desert.
No. 14 UCLA women's volleyball (12-2, 5-1 Pac-12) will hit the road to play Arizona (11-6, 3-3) in Tucson on Friday and Arizona State (8-9, 1-5) in Tempe on Sunday.
The Bruins are coming off a pair of at-home sweeps last weekend, defeating then-No. 24 Colorado and upsetting then-No. 15 Utah. Graduate student outside hitter/opposite Mac May led the attack with 34 total kills while freshman outside hitter/opposite Charitie Luper netted 28 kills on a .390 hitting percentage en route to earning her third Pac-12 Freshman of the Week award. Senior defensive specialist/libero Zoe Fleck joined Luper in earning all-conference honors, picking up the Pac-12 Defensive Player of the Week award after a 30-dig weekend.
UCLA also had 13 service aces over six sets last weekend, after totaling 26 aces over its first 19 sets in conference play. Its efforts were buoyed by a career-high five aces against Utah from élan McCall, a senior outside hitter/opposite who leads the Pac-12 with 0.42 aces per set.
The Wildcats and Sun Devils rank seventh and 10th in the Pac-12 standings, respectively, but McCall said she warns against taking any conference opponent lightly.
"Within the Pac (Pac 12), everyone is ready to show up every night," McCall said. "It's just a lot of competition, and we all know that every night is going to be a battle, and everyone's coming for us, so we just have to suit up and be ready to fight up."
Friday's match begins at 8 p.m. and Sunday's match starts at 1 p.m.
Women's Soccer
Jay Fenn, Daily Bruin reporter
The Bruins will put their undefeated record on the line Friday.
No. 7 UCLA women's soccer (11-0-2, 3-0-2 Pac-12) will face off against No. 24 Oregon State (11-2, 3-2-0) on Friday afternoon in Corvallis. The Bruins have yet to lose a game this season but have had two matches end in draws since the beginning of conference play.
The blue and gold has also seen four of its five games go to overtime to open up Pac-12 play. Redshirt junior midfielder Madelyn Desiano said the coaches have made sure all the players are fresh for the games.
"Our coaches have done a good job of rotating players in," Desiano said. "Everyone's feeling pretty good physically."
Oregon State will be the second ranked opponent that UCLA will have faced this year, and the first since Santa Clara on Sept. 9, who the Bruins took down 1-0. The Beavers are coming off a sweep of Arizona and Arizona State and also boast an upset over No. 13 Stanford from two weeks ago.
Redshirt senior forward Kennedy Faulknor said although the Bruins have seen an increase in competition so far in the Pac-12, they are up to any challenge the opposing team throws their way.
"Every team wants to beat us and is gonna come hard at us," Faulknor said. "We just need to bring energy to every game and keep trying to get results."
The Bruins will kick off at 4 p.m. on Friday at Patrick Wayne Valley Stadium.
Men's Soccer
Jake Greenberg-Bell, Daily Bruin reporter
Following an overtime win, the Bruins will welcome a nationally ranked opponent to Westwood.
UCLA men's soccer (7-4, 3-2 Pac-12) will take on No. 14 Loyola Marymount (9-1-1, 1-1-0 WCC) on Thursday night at Wallis Annenberg Stadium in the Bruins' last nonconference game of the 2021-2022 regular season.
The team will have an opportunity to continue to build off its game last Friday against San Diego State, in which redshirt freshman midfielder Tucker Lepley's strike in the 98th minute won the game for UCLA. The win brought the Bruins into third place in the Pac-12.
UCLA is 1-1 against nationally-ranked opponents this season. The Lions most recently beat the Bruins 1-0 the last time the teams met.
"Our team has a really good belief that we can win every single game," said coach Ryan Jorden. "Our guys buy in and the guys pay attention to the tactical plan, they're locked in on it. So our expectation is that we keep getting a little bit better every time out."
The Bruins are scoring at a clip of 1.7 goals per game – the highest mark since the 2016 season, when the team scored 1.8 goals per game – and made it to the second round of the NCAA tournament.
Leading the way for UCLA in goals scored is senior forward Kevin Diaz, redshirt freshman midfielder Tucker Lepley and sophomore defender Tommy Silva, who all share a team lead with four goals apiece.
Following Thursday's game against Loyola Marymount, the Bruins will finish the regular season with five conference matchups before a potential NCAA tournament berth.
Men's Water Polo
Ricardo Garcia, Daily Bruin contributor
The Bruins will have the chance to extend their winning streak in another rematch.
No. 1 UCLA men's water polo (14-1, 1-0 MPSF) is headed to the road to take on No. 7 Pacific (6-7, 1-0 GCC) in the two teams' second meeting of the season. The Bruins upended the Tigers 11-9 at the Mountain Pacific Sports Federation Invitational in Berkeley earlier this season.
Even though UCLA has won five straight games, coach Adam Wright said there are still concerns about the team's offense that are preventing it from reaching its full potential.
"We're still turning the ball over on six-on-five," Wright said. "It cost us. We had five or six turnovers against (California) at the MPSF (Invitational) that led to three or four goals. You can't do that. We've got to take care of the ball."
Including the first meeting with the Tigers in Berkeley, the Bruins have gone 10-of-43 on the power play in their last six games. Against Pacific, UCLA went 1-of-5 with a man advantage.
Defensively, UCLA has allowed single-digit scoring in four consecutive games, giving up 6.3 goals per game since its only loss of the season when it fell to Cal at the MPSF Invitational.
Even while limiting opposing teams' offenses, Wright said his team must be wary of relying too much on junior goalkeeper Bernardo Maurizi to keep the Bruins in games.
"I can't expect that all the time," Wright said."I'd like to play a little bit better over the course of the game."
UCLA's opening sprint against Pacific is set for Sunday at 1 p.m. at Chris Kjeldsen Aquatics Complex in Stockton, California.
Women's Golf
Austin Tran, Daily Bruin contributor
The Bruins are back in California after a short trip east.
UCLA women's golf will be heading to Stanford for the Stanford Intercollegiate tournament from Friday through Sunday. The Bruins are coming off back-to-back runner-up finishes at the Molly Collegiate Invitational and the Blessings Collegiate Invitational.
In 2019, UCLA finished in seventh place out of 17 teams at the Stanford Intercollegiate. However, the Bruins will have new additions in the lineup this time around, including redshirt freshman Alessia Nobilio.
In her two most recent appearances, Nobilio has picked up consecutive top-five finishes. In the Molly Collegiate Invitational, she finished in a tie for fifth place, and in her latest showing, she earned a tie for second.
However, Nobilio said she still has room to improve, particularly with her putter.
"The part of the game I need to improve on is my putting," Nobilio said. "I'm used to European greens which are different from American greens. … I feel like I need to get used to these greens."
Redshirt sophomore Ty Akabane, junior Emma Spitz and freshman Zoe Campos will be returning to the lineup from the previous event, and senior Simar Singh will round out the team.
Coach Carrie Forsyth said she feels optimistic about the team's chances in the tournament.
"I love the Stanford tournament," Forsyth said. "I think we'll do really well there. I'm excited to get out there and see it."
The Bruins will tee off Friday at the Stanford Golf Course.
Cross Country
Eden Yu, Daily Bruin contributor
The Bruins are splitting up this weekend for two meets on opposite sides of the country.
UCLA cross country will travel to Tallahassee for the FSU Invite/Pre-Nationals on Friday and Riverside for the Highlander Invitational on Saturday. The travel team will head east to Florida, while the rest of the team will stay local.
The Pre-Nationals will feature 39 men's teams and 36 women's teams, including the Northern Arizona men's, Notre Dame men's, Colorado women's, and BYU men's and women's teams, which are all ranked in the top five teams nationally.
Sophomore Carlie Dorostkar said the Bruin women's team tries to keep their top five runners as close together as possible.
"A lot of our races are important for qualifying for nationals. … We're going to try to keep our spread small and (stick) together," Dorostkar said.
Assistant coach Devin Elizondo said the first few races of the season, including the upcoming meets this weekend, will determine which runners will ultimately be able to compete in the postseason.
"It gives us a good idea of who is coming on strong after preseason camp and who might be in the mix for our postseason roster late around Halloween weekend," assistant coach Devin Elizondo said.
Friday and Saturday's first races both start at 8 a.m.