The Quad: Films provide opportunity for emotional escape, visions of progress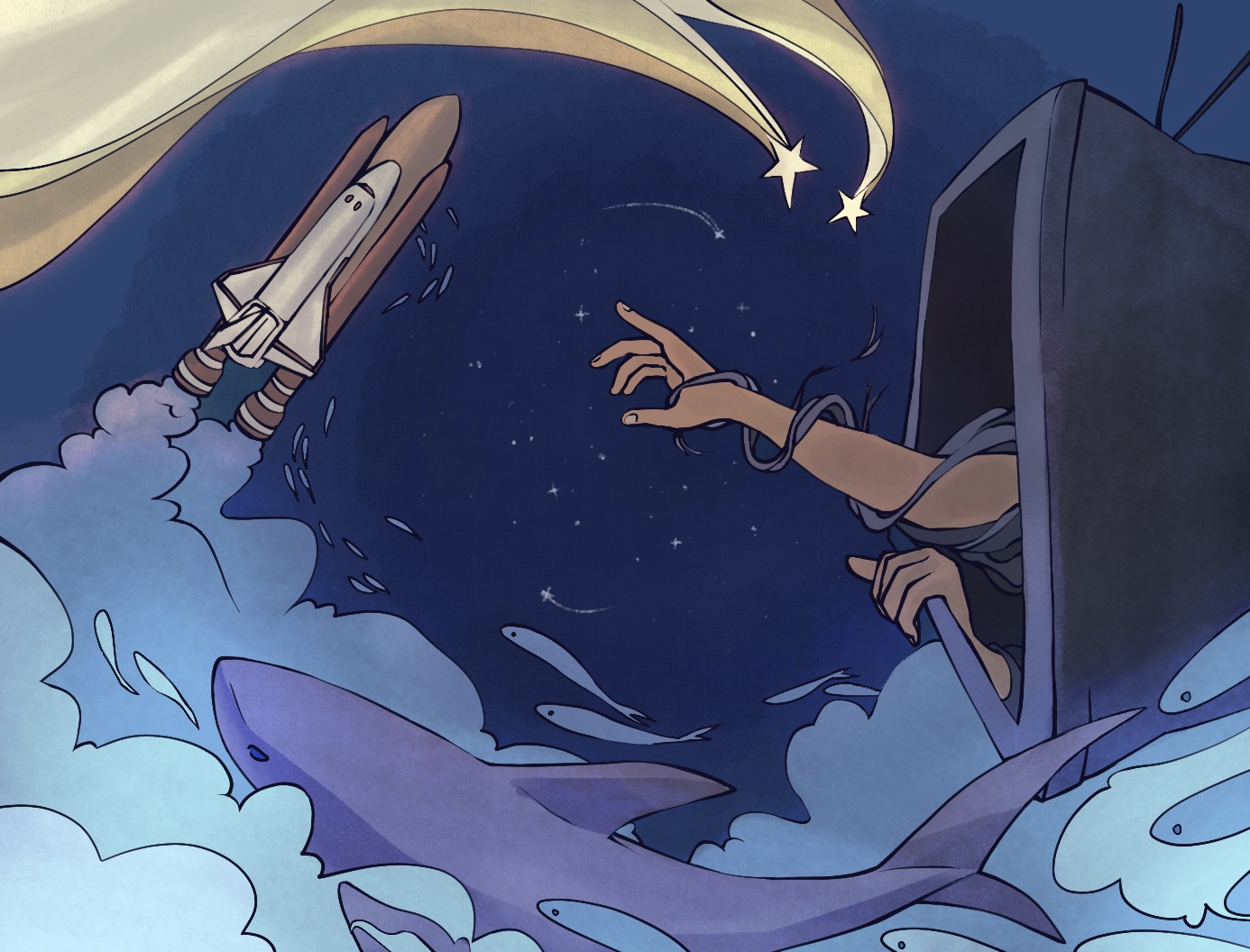 (Maddie Rausa/Daily Bruin)
From the tiny screen of your phone to the big screen of the Regency Village Theater in Westwood and everything in between, films are everywhere.
According to the Motion Picture Association in their 2019 THEME Report, the global box office market reached $42.2 billion in 2019, with the U.S. and Canada bringing in more than 250 million people to theaters. For many Bruins, films can be an escape from reality, an emotional break and a relief that transports them to a new world.
First-year film and television student Daisy Friedman said that films can act as an escape when she is looking for a chance to live vicariously through the stories of others.
"I think my favorite part about watching films is really being able to come as close as possible to experiencing something that I've never actually experienced," Friedman said. "You're living 90 to 120 minutes in their shoes, and that's really cool."
Third-year film and television student Charlotte Oxley said that many people may be attracted to movie theaters because of the immersive experience it provides.
"You're able to be immersed in the characters' lives, in their story and learn from a different perspective than you might normally have day to day," Oxley said.
Sociology professor Jessica Collett also said that theaters allow viewers to escape with films in a way that mobile devices fall short of. For Collett, films can especially be a more impactful experience when they are watched with others, making the emotion more palpable.
"Part of getting drawn into emotions and to the things that you're feeling is other people around you feeling it too," Collett said. "I took my son to see "Bridge to Terabithia", and he started crying, and then, of course, that made me cry."
While there are many ways that a film can act as an emotional escape for its viewers, Friedman said that it is important for aspects like dialogue or the set to allow for a suspension of disbelief.
"The best thing and the most important thing about a film is world building. If you can build that world for somebody, that person is totally immersed in it," Friedman said.
Oxley said that films allow people to take a break and not focus on what is going on in reality.
"I think some films can take you on an emotional roller coaster in a sense. If you have a really good plot and really good actors and a good director, you're able to go on a journey with the story," Oxley said.
Collett added that in addition to making viewers feel happier, films can also help them express bottled-up emotions.
"We're trying to give it an escape, … not escaping from what we're feeling, but we're trying to allow ourselves to feel what we want to feel. And so I think that that is healthy," Collett said.
Oxley said that finding an escape through film can be a mental relief as she reflects on why the film was especially impactful to her.
"I think that while you're watching it, you're able to get that escape sometimes," Oxley said. "Then I think you take a piece of that with you to try and think about what that escape was and why it was an escape for you."
Friedman said films like "Beautiful Boy" encapsulate a special on-screen world, showcasing mental health and addiction struggles along with familial empathy and love.
"For me, any world that shows more empathy to different kinds of people than what we have in our current one is a plus," Friedman said.
Friedman also said that the film "The Fault in Our Stars" functioned as an escape of sorts when she was younger.
"I am a post-transplant patient, so I have had medical issues, and I have scars," Friedman said. "Seeing that movie was an escape for me because it was the first time I was able to see two people on screen who were intimate with each other despite their physical differences."
Collett said that she used films as a helpful learning tool that allowed her students to better understand certain contexts they otherwise may not have witnessed.
"It gives you the opportunity to be an outsider and to watch things happening, and we're better at interrogating that than we are interrogating ourselves," Collett said.
Friedman said when we see certain elements we don't like in our world, the worlds that films create can offer different elements to integrate into our own reality.
"I think cinema as a whole is one of the best ways to see what the world could be," Friedman said. "I think if there's going to be any progression in this world, we're going to have to think critically about stories that aren't ours and pull from other people's interpretation of humanity."