Editorial: State Senate bills will improve housing development but more work should be done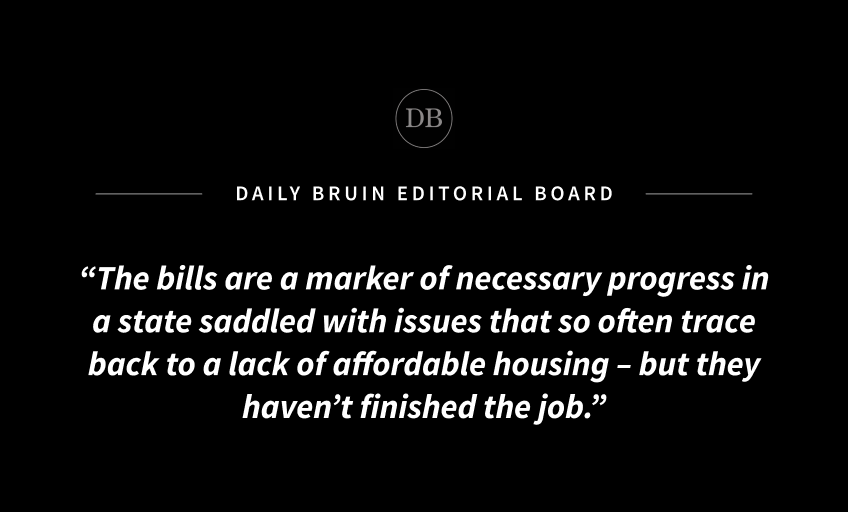 Editor's note: Editorials are intended to serve as the jumping-off point, not the conclusion, to discussion. As part of the Daily Bruin's commitment to its readers, the board hopes to present a responsible and clear analysis of relevant events and news items affecting the lives of those we serve, but our editorials are not representative of the Daily Bruin's views on issues as a whole. We encourage all readers to reach out to our board members and to respond to our editorials.
At last, an end to the era of Californian suburbia is on the horizon.
Unfortunately, there's still a long way to go, and progress is not happening fast enough.
Two California bills signed by Gov. Gavin Newsom in September – Senate Bills 9 and 10 – will allow for increased housing density in many parts of the state and a streamlined rezoning process that may facilitate more rapid housing construction.
SB 9, which supersedes local zoning regulations and permits landowners to develop multiple units on single-family parcels, could lead to the introduction of more than 700,000 new housing units in California, according to a UC Berkeley study.
The bills are a marker of necessary progress in a state saddled with issues that so often trace back to a lack of affordable housing – but they haven't finished the job. California must loosen other restrictions on housing development so more people have access to affordable and permanent shelter.
The Golden State has one of the highest rates of people experiencing homelessness in the United States, partially because of its sky-high housing prices. The state's median price for a single-family home hit $827,940 in August, according to the Sacramento Bee. Westwood, for one, was ranked the most expensive neighborhood in California by RentCafé.
More housing developments and lower prices would bring relief to those experiencing homelessness by providing more affordable housing options. Paavo Monkkonen, an associate professor of urban planning and public policy, said restrictive zoning is a major contributor to high housing prices.
California's Regional Housing Needs Allocation process, through which the state projects housing needs for regions, implies that the state needs 300,000 units per year, Monkkonen said. It currently builds a third of that number each year, he added.
The two laws may finally put California closer to its professed progressive ideals by increasing social mobility and creating more opportunities for residents.
Denser development may also help the state combat its environmental woes. The centrality of automobiles in urban areas combined with the freeway infrastructure built for these cars has created a lot of greenhouse gas emissions, Monkkonen said.
Building denser housing in urban areas would allow people to travel less for work and lead to a reduction in emissions. It's a win for the environment and the many people who commute to work.
Michael Manville, an associate professor of urban planning, said the laws are significant, positive steps but won't lead to immediate changes in the status quo.
"There's some importance and some reason to take heart simply because the majority of elected officials decided this was a path we want to go down," Manville said.
The changes may take time to come to fruition, Manville added. Large development firms have focused on building single-family residences, so they must work on transitioning to multiplex development, he said. On the other hand, the new laws may provide opportunities for small developers, Manville added, which can allow for increased unit development and greater variety.
It is essential for legislators to look at the bigger picture. More bills must follow SB 9 and 10 to accelerate development and ensure housing security.
While the reform allows developers to build denser housing, actual development would not happen until the state enacts other laws to make building more feasible.
Beyond density, cities can still restrict housing development through parking requirements and height restrictions, Monkkonen said. Future bills could eliminate these requirements and place price caps.
At the end of the day, developing housing isn't the only thing to consider. The state should also consider implementing programs that assist people who may not have equitable access to information on housing options.
SB 9 and 10 are a good start, but California can't stop here.