UCLA hosts 2021 E.R. Brown Symposium to discuss policies for ending homelessness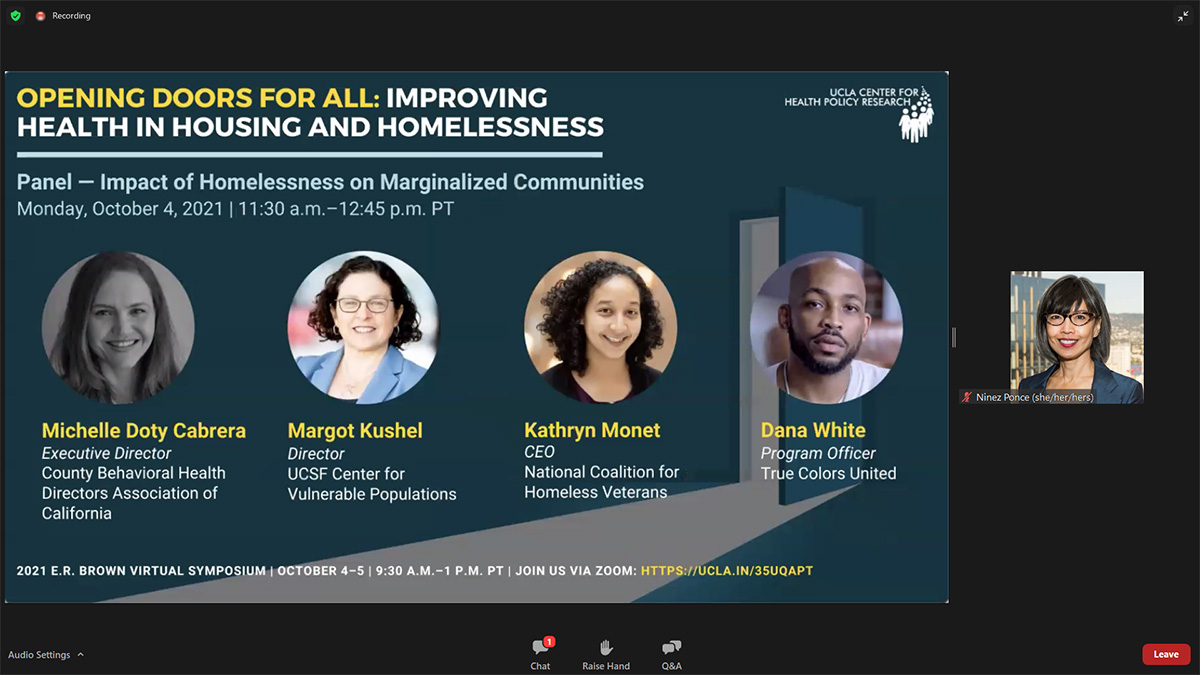 Public officials, activists and researchers discussed evidence-based solutions for homelessness at the 2021 E.R. Brown Symposium earlier this week. (Caroline Sha/Daily Bruin)
Panelists at the 2021 E.R. Brown Symposium discussed the causes of homelessness and advocated for solutions earlier this week, emphasizing the importance of having those with lived experiences of homelessness lead the conversation.
The annual event, started in 2019, honors the UCLA Center for Health Policy Research's founder, E. Richard Brown, who championed a healthcare-for-all system in California, said Elaiza Torralba, a public information officer for CHPR.
The 2021 symposium, held Monday and Tuesday, sought to inspire evidence-based solutions regarding homelessness by going over California's past successes and failures in its approach, as well as bringing together a diverse group of people to discuss possible solutions, Torralba said.
More than 20 speakers were present at the event ranging from public officials to activists to researchers.
One of the speakers – Donald H. Whitehead, Jr., the executive director of the National Coalition for the Homeless, said the COVID-19 pandemic has exacerbated homelessness by removing sources of income from households. Because of factors such as childcare needs, many families have seen their incomes decreasing, putting them at risk of homelessness, he said.
Another challenge to ending homelessness is local governments, which are elected by voters who often do not favor attempts to build affordable housing within their neighborhoods, said Phil Ting, the California State Assembly member for District 19. Though many people are not against the idea of affordable housing, they still do not want them in their own communities, he added.
The structure put in place by the federal government for people experiencing homelessness also hinders efforts to alleviate homelessness, said Leepi Shimkhada, director of Housing and Services at the Los Angeles County Department of Health Services.
"There have been some cities who have really experimented with universal basic income," Shimkhada said. "It's one of the things that I think we have toyed with to see if we can even try. But what really becomes precarious, especially for the folks that we're serving, is that if we get above a certain income for people who are on their federal benefits, they lose everything."
Many at the symposium said stigmas and stereotypes toward the population of people experiencing homelessness need to be removed.
Margot Kushel, the director of the UCSF Center for Vulnerable Populations, said on the first day of the symposium that the narrative around homelessness often centers on individual issues such as drug abuse and mental illness. However, this neglects the structural factors that could lead to homelessness, like a lack of affordable housing, structural racism and a non-existent social safety net, she added.
Kathryn Monet, CEO of the National Coalition for Homeless Veterans, said at the symposium that the negative perception associated with those experiencing homelessness must change. She said many Americans are unaware of how they themselves could also be displaced from their homes, and that they should remember those experiencing homelessness are also people.
[Related: Westwood Connect Day provides services to individuals experiencing homelessness]
Speakers also discussed specific groups that are disproportionately affected by homelessness.
While Black people only make up 9% of the population in Los Angeles County, they make up 39% of the population of Skid Row – a neighborhood in Los Angeles that has one of the largest populations of people experiencing homelessness in the country, according to the Los Angeles Chamber of Commerce.
Factors such as redlining – the denial of loans to someone based on their location – and intergenerational trauma are a major cause of homelessness for Black people, said Suzette Shaw, a Skid Row activist and poet. Middle-aged and elderly Black women are especially at risk of homelessness, Shaw said.
According to a study by the University of Chicago, LGBTQ+ youth are more than twice as likely to experience homelessness as compared to non-LGTBTQ+ youth.
Dana White, the program officer at True Colors United, said other factors, including aging out of the foster system – which leaves these youth with no housing once they turn 18 – make LGBTQ+ youth so overrepresented in the population of youths experiencing homelessness. They also said that the school-to-prison pipeline, which often denies LGBTQ+ youths access to education, can also contribute.
Some speakers said it is important for people who have experienced homelessness to lead the conversation on the issue.
White said their organization encouraged the LGBTQ+ youth to act independently and use their own lived experience to recommend policy changes as well as agitate politically.
Shaw said those with lived experiences of homelessness should be more than tokens in discussions around homelessness, referring to her own experience as a resident of Skid Row.
Noticing that the symposium's speakers were majority-White, Shaw said on the first day that the Black and brown people who are disproportionately affected by homelessness were not being properly represented during the event.
"You have not walked in my shoes," Shaw said. "You do not understand that this is not just about me. This is about my mama, and this is about my mama's mama, and this is about my family."
Participants also offered possible solutions to address homelessness.
Whitehead said changing zoning laws to allow multifamily housing is a solution that many people are receptive to. He also said that building more homes would also lower wait times for subsidized housing.
Gary Painter, director of the USC Sol Price Center for Social Innovation, said programs like additional tax credits for renters would also prevent people from being displaced.
Painter also added that it is important to tackle structural racism while addressing the disproportionate impact of homelessness on certain populations.
[Related: Researchers find link between expiring eviction moratoriums, COVID-19 case rates]
Torralba said she hoped participants either learned more about the housing crisis or the ways the government could use data to help solve the crisis and took back at least one solution to their respective organizations.
CHPR will compile insights and suggestions from the symposium into a policy action report, said Ninez Ponce, director of CHPR.
There are many questions those involved in ending homelessness must grapple with, including how to best utilize resources while honoring the humanity of individuals experiencing homelessness, Ponce said. They must also determine if the strategies they come up with will equally help every part of the population experiencing homelessness, especially groups who are disproportionately affected by it, she added.
"I hope our symposium today and tomorrow will get us all thinking and coming together and embracing evidence-based policy solutions to these hard questions," Ponce said on the first day.