UCLA student plays with fire as member of performance group The Firemingos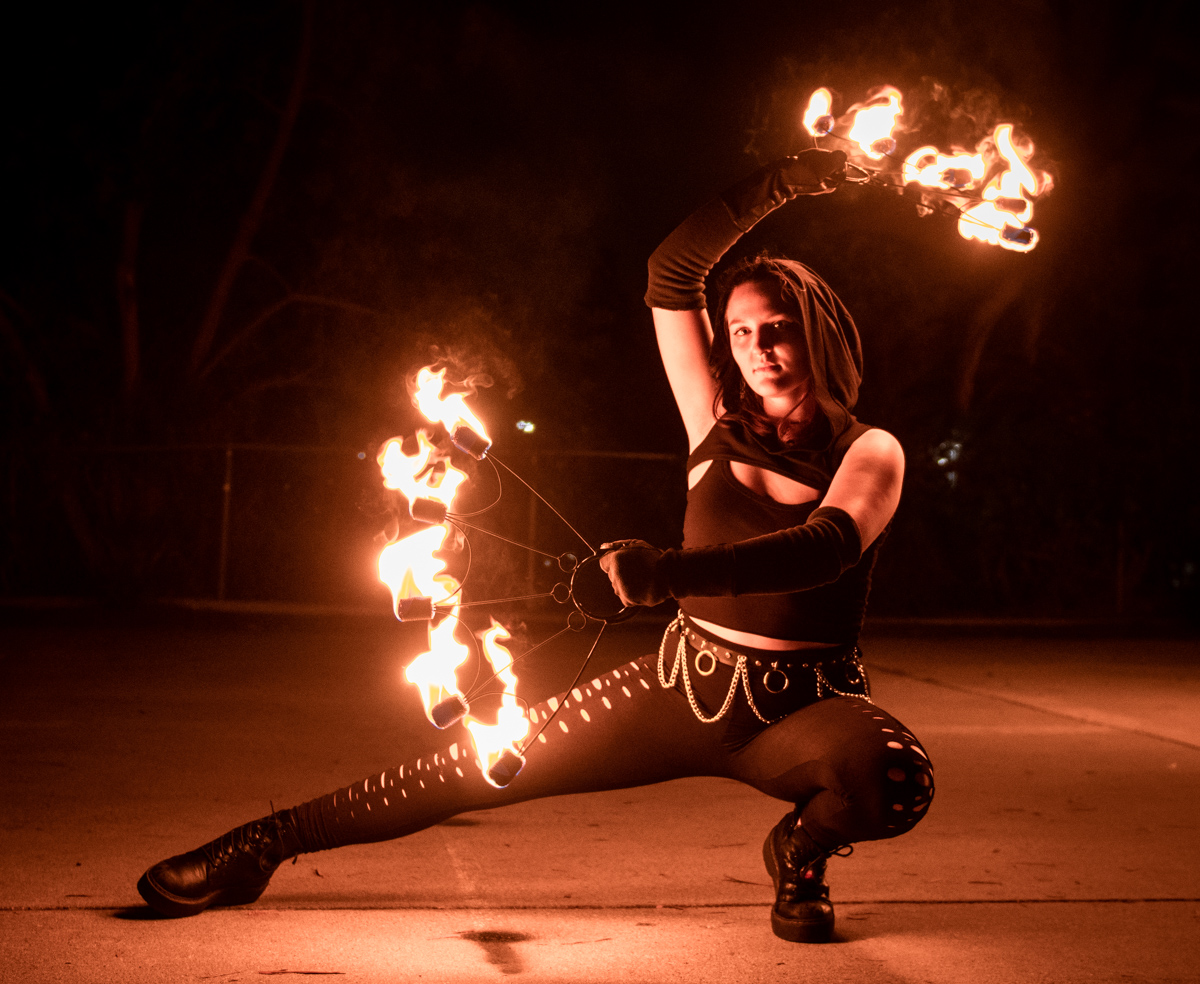 Second-year molecular, cell, and developmental biology student Eliana Bohn is a member of The Firemingos, an all-female fire performance conclave in Los Angeles. (Lauren Man/Daily Bruin senior staff)
This post was updated Oct. 10 at 9:51 p.m.
Eliana Bohn's quarantine hobby sparked joy.
Rather than picking up crocheting or bread making, the second-year molecular, cell, and developmental biology student said she turned to the art of fire performance. As a longtime flow arts performer with experience in hooping and object manipulation, Bohn said she was interested in venturing out of her comfort zone and into the fire. In March, upon learning about The Firemingos, an all-female fire performance conclave based in LA, Bohn said she felt exhilarated by the opportunity.
"If it weren't a year in which the pandemic was a thing, I wouldn't have discovered The Firemingos," Bohn said. "It (has) definitely (been) the most exciting thing in my life in the last six months."
Though Bohn joined the fire arts community recently, she said her journey to this point has been five years in the making. In eighth grade, Bohn said she was introduced to the flow arts by her older sister, who was a dancer and performer herself. Flow arts encompass a range of movement-based art forms, including dancing, juggling and hula hooping, among other similar practices. Bohn said she recalls attending classes with her sister and enjoying hula hooping in particular.
"The vast majority of what I know is self-taught, (with) experience discovered through experimentation, inspired by other dancers and of course a lot of drilling," Bohn said. " Sometimes it just looks like magic, but you slow it down and you figure it out. … I like being able to see how people spring certain movements together."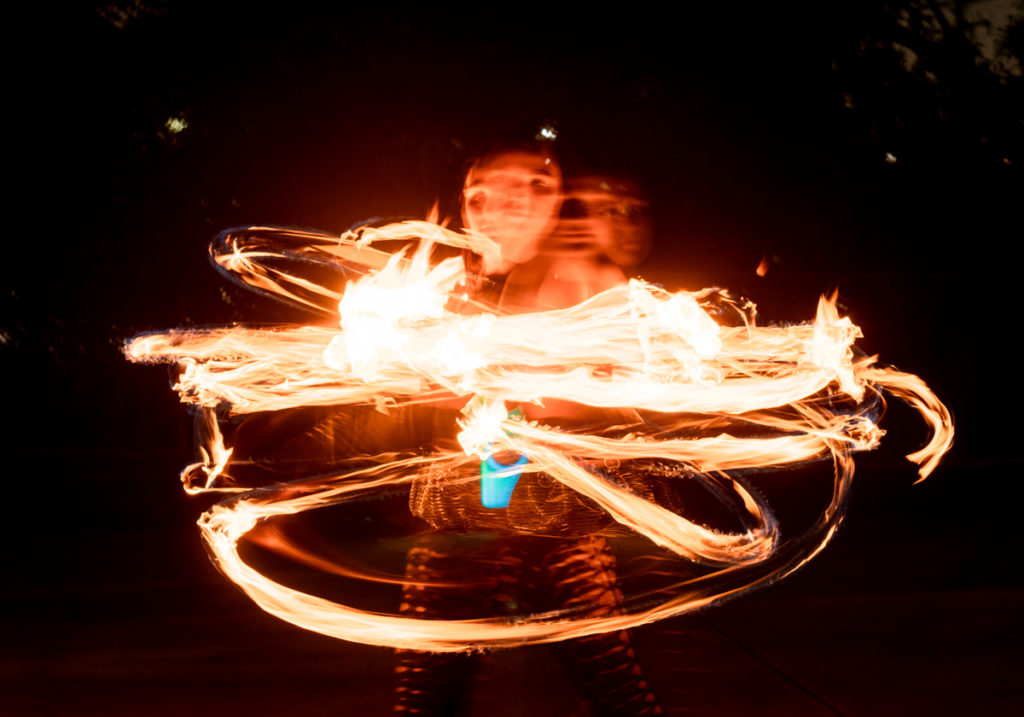 [Related: Kayla Tange channels emotion and Asian community in 'Sacred Wounds']
The transition from hooping to fire performance initially felt intimidating, Bohn said. The added spokes of fire hoops as well as the risk of danger had held Bohn back from fire performance, she said. But after mustering the courage to try fire, Bohn said she quickly gained an appreciation for the discipline, and her sister soon connected her with The Firemingos.
In practicing the new art form, Bohn said she has found a true community. In addition to The Firemingos, she said she attends L.A. Burn Club, a weekly gathering in Culver City for fire performers. Though Bohn, at 19, is the youngest member of The Firemingos by almost 10 years, she said has grown close to many of her teammates, including UCLA alumnus Erika Williams, who said Bohn's youth has not hindered her ability to learn new fire props or connect with members.
"(Bohn) is very reserved initially, but once I got to know her, … she shows so much passion for the flow arts," Williams said. "She's the baby of the group, but she brought all the pizzazz."
Because of the pandemic, Bohn said The Firemingos had to premiere this year's performances on virtual platforms such as Instagram and YouTube as opposed to a live show. She said the fire conclave held regular rehearsals, both remote and in person, before they ultimately came together at the end of the season to film a final video performance, "WONDERFORCE." During these rehearsals, Bohn said she learned to work with new fire props, including fire fans and the fire contact and fire dragon staffs. The filming for "WONDERFORCE" took nearly 10 hours, Bohn said, commencing at six in the evening and concluding at almost four in the morning.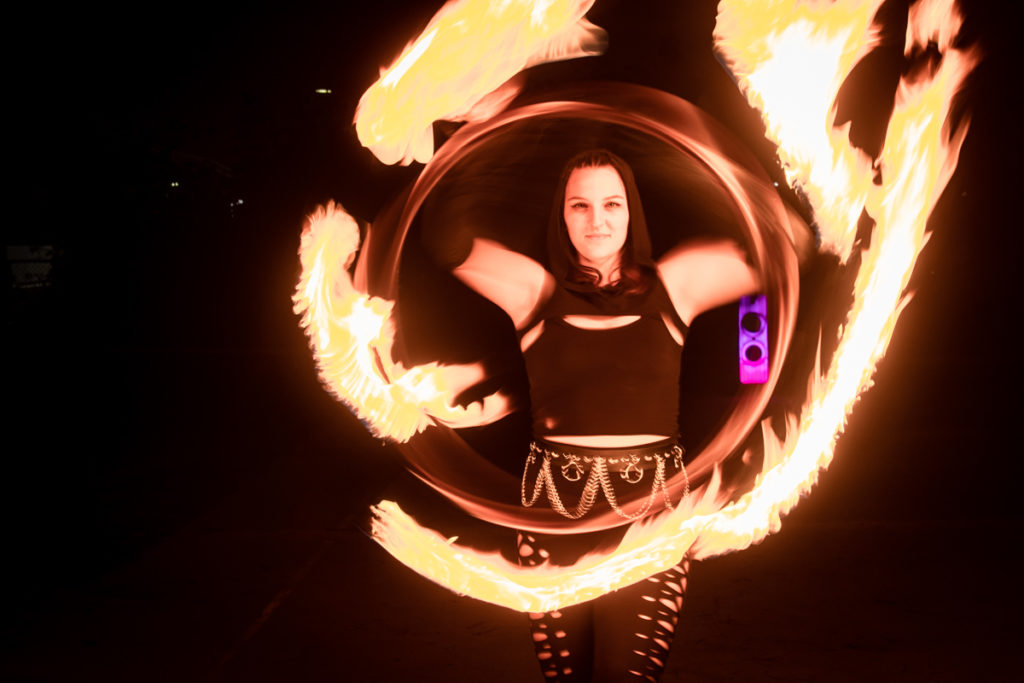 [Related: Online dance performance emphasizes resisting white supremacy through movement]
If pandemic restrictions allow, The Firemingos look forward to performing live at Burning Man next year, Bohn said. The Firemingos founder, Miche Moonflower, said she was originally motivated to create the all-female fire conclave after attending the Nevada event four years ago. Moonflower said founding The Firemingos has allowed her to place women in the spotlight of the fire community, a responsibility she takes seriously.
"I just want to continue to grow and foster this group of women," Moonflower said. "It's really important to me to help elevate women and give them positions of power. … Building community is everything."
After six months with The Firemingos, Bohn said she is excited for a future with both the fire community and the flow arts community. Now that she has completed her first show with the conclave and has more planned for the future, Bohn said she plans to bring her talent for flow arts to campus. She will be teaching hoop-focused classes with student group Cirque de 'LA, and she said she hopes to introduce students to fire performance one day as well.
"Being part of this (fire arts) community has become so important to me in the last year," Bohn said. "I want to continue my involvement in the community or wherever I end up."