'Tamarindo' podcast uplifts Latinx community with important discussions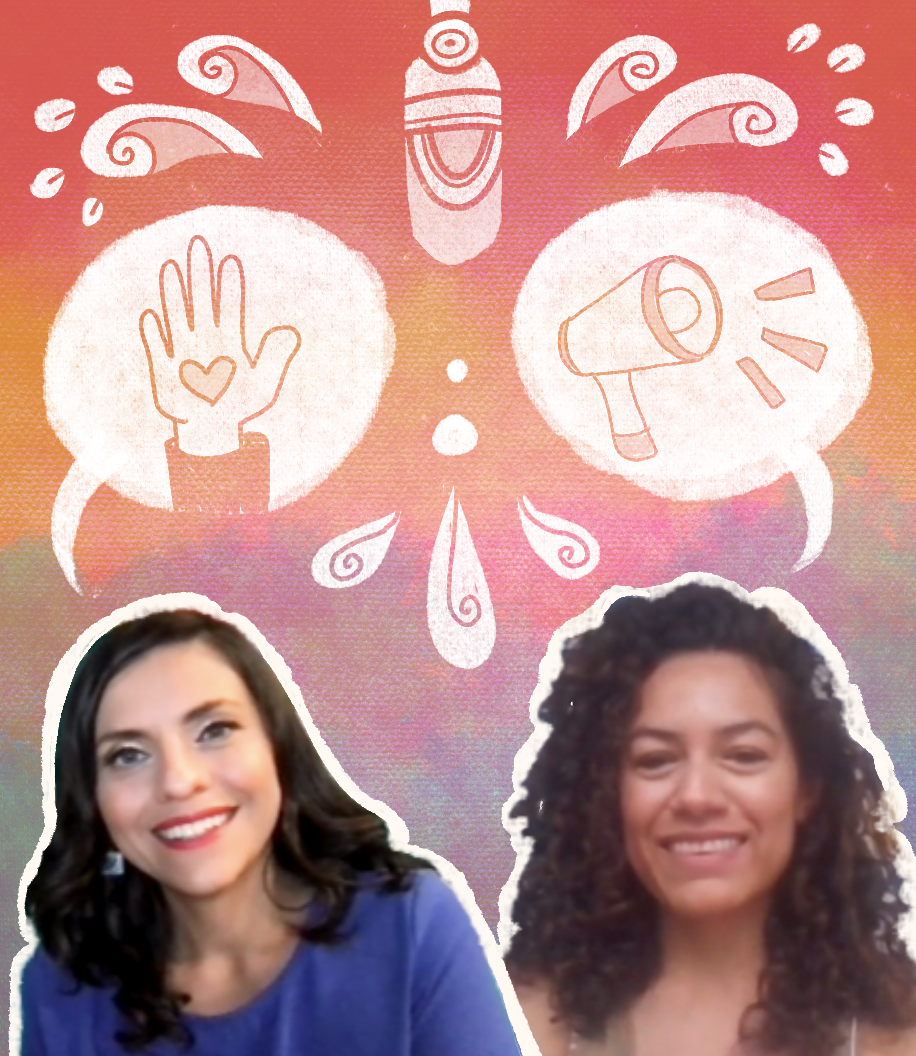 Latinx empowerment podcast 'Tamarindo' is hosted by Brenda Gonzalez and alumnus Ana Sheila Victorino. The podcast aims to celebrate culture year-round while also discussing topics ranging from racism to immigration. (Photo by Jeremy Chen/Photo Illustration by Isabella Lee)
This post was updated Oct. 7 at 11:36 a.m.
Editor's note: Daily Bruin used Latino, Latina, Latinx and Hispanic in this article according to sources' preferences.
Tamarindo is sweetening the podcast world.
Brenda Gonzalez and alumnus Ana Sheila Victorino's podcast "Tamarindo," named after the traditional Mexican candy, was founded back in 2016. This self-care and advocacy podcast features guests who contribute positively to the Latinx community to discuss topics from politics to well-being, Gonzalez said.
"Every single day we celebrate the contributions of the Latinx community into our society," Gonzalez said. "(We) remind people that we're here, that we exist and that we need to be reflected in media as well as in policy. … We don't want to be forgotten."
The podcast started as a passion project, Gonzalez said, in which she worked with her husband, a music producer, to create a space to educate people on important issues that impact their community, such as environmental racism and the experiences of first-generation college students. After Victorino joined "Tamarindo" in 2019 and brought her expertise as a wellness coach, the podcast became what listeners recognize today, Gonzalez said.
[Related: PREPARE seeks to traverse barriers, connect undocumented immigrants to employers]
Though the podcast's name is in reference to a traditional Mexican candy, Gonzalez said the word is also widely recognized because it is in Spanish and reminds listeners of the city of Tamarindo, Costa Rica. Gonzalez said many people within the Latinx community see the word and know the podcast will appeal to them because it is representative of their language but also brings to mind celebratory memories where the candy would be present.
Along with providing insight into political topics she's interested in, Victorino said she was drawn to join "Tamarindo" because she wanted to help listeners work through difficult times they may be facing amid social justice work happening in their communities. When discussing some difficult topics such as racism and police brutality, Victorino said the podcast provides some relief through necessary self-help practices such as setting personal boundaries.
"A lot of the topics that we were talking about were very heavy topics," Victorino said. "We felt like it was really important that we were also helping our listeners take care of themselves because a lot of times community work (is) not necessarily the most lucrative work."
When she first came across the podcast, Jasmine Romero, head of development at Sonoro Media – the media group that helps distribute "Tamarindo" – said she was naturally drawn to the podcast. Romero said part of what makes "Tamarindo" appealing to listeners is that it provides a platform to discuss important topics such as immigration crises while also honoring the culture of the Latinx community in a way that is accessible for people not from the community. By framing global issues through their experiences, she said "Tamarindo" brings a refreshing perspective to these topics that other podcasts don't offer.
"A lot of what's covered about Latinos in the media is stories that are incredibly important stories. … But, a lot of times those stories are really negative," Romero said. "It's hard to find spaces where you can just have fun and celebrate the great things about our culture, so I think that's one of the things that 'Tamarindo' does really well."
[Related: UNICEF at UCLA uplifts voices of Latinx community, mental health advocates]
For Victorino, helping girls who struggle with self-confidence is part of the self-help work she loves doing as a wellness coach. Growing up a Mexican immigrant in the United States, she said she refrained from speaking up in the classroom out of fear of being ridiculed, so now she uses her role as a wellness coach to share personal anecdotes in hopes of helping girls like herself speak up in their communities. Victorino said she hopes this coaching will help young girls realize their own potential and propel them to continue using their voices in their communities.
"When I joined (Gonzalez) as her co-host, we started bringing in more self-development," Victorino said. "We want to inspire people, we want to inform people and we want our listeners to be active in their communities."
For Gonzalez, bringing more guests on the podcast who can make listeners feel like their voices are being amplified in the media remains an ongoing goal for "Tamarindo," Gonzalez said. She said the pair is looking forward to continuing to speak to media groups that have the same mission as them: to empower people from within the Latinx community.
"For us, every single month is Hispanic Heritage Month," Gonzalez said. "It's always a good thing to take some time to recognize this segment of the population, but for us, it's about what happens all year long."