Q&A: 'There's Someone Inside Your House' star discusses character development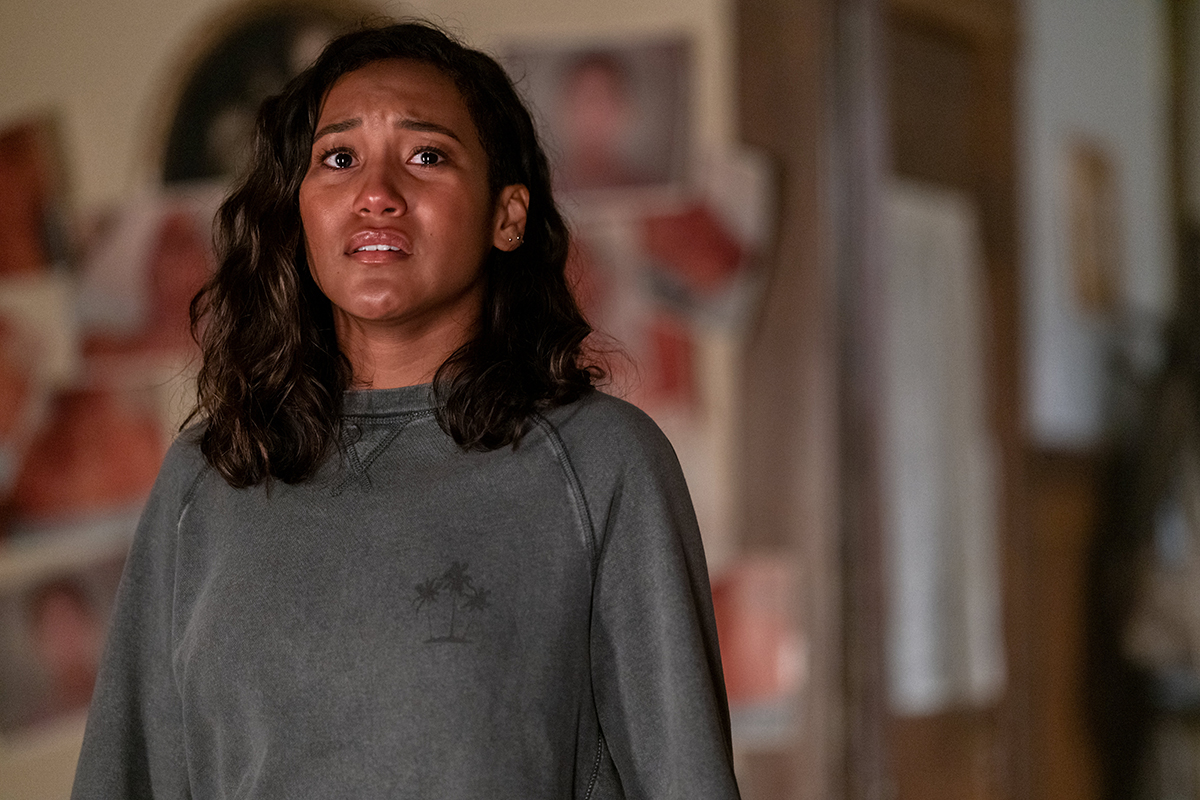 (Courtesy of David Bukach/Netflix)
The producers of "The Conjuring" and "Stranger Things" developed a new horror film just in time for spooky season.
"There's Someone Inside Your House" follows a group of Nebraska high schoolers as they navigate the dangers of a loose serial killer determined to make them pay for their secrets. Releasing Wednesday on Netflix, the film stars Sydney Park as new student Makani Young, who fears for her life as she bears the weight of a hefty secret from her past.
In a virtual roundtable hosted by Netflix, Park spoke with the Daily Bruin's Allyson Weissman and other college journalists to discuss how she brought her character to life as well as how the film takes cinematic elements from the past to fit into modern times.
[Related: Q&A: 'Dear Evan Hansen' cast, crew discuss transition from stage to screen]
Daily Bruin: Secrets play a huge role in the film as Makani's secret seems to consume her throughout the film and place her in her own mental space. The audience doesn't know her secret until the end, adding a mysterious aspect to her character. What techniques did you use to convey these characteristics and build Makani's character?
Sydney Park: She's got this sadness. She left Hawaii. We are led on that there's some instability there. We see the flashbacks. When I originally read the script, I thought, well, 'maybe she's the killer. What's happening here? This girl seems a little off.' But we all have inadequacies in the past, and so, the fact that this (secret) has been looming over Makani when she does have a group of friends who adore her, she is (the) valedictorian, she's in love with this boy and nobody knows – all of these things encompass who she is.
I chose to have a very straight posture, (have) a poker face, not smile often and make her quiet. I created a playlist for her – I like to create playlists for characters I portray. I had a bunch of different stuff on there, some throwback like '90s rock, some Nirvana, little Fugees in there, mixed with some modern-day stuff like The Black Keys and hip-hop R&B. But honestly, things that were melancholy in tone – that's really where I was going.
DB: How did you work with Théodore Pellerin, who plays your love interest Ollie Larsson, to build your chemistry on screen?
SP: This was the first time I had a sex scene and an intimacy coordinator, but we really got to bond. We just talked about the scene and talked about our relationship. I do genuinely think (the characters have) a healthy relationship because the love is unconditional, and I love that (Ollie) doesn't have to be so in (Makani's) face or be performative.
He's showing his weirdness, and he's showing, 'okay, I am this way, and you're this way. But regardless of who you are or who you think you are, I love you, and I'm here for you,' and that's beautiful. I feel like you don't see that often, especially with the teen genre.
[Related: Q&A: Stars of 'He's All That' discuss experiences remaking iconic film]
Yale Daily News: How did you portray the clash between social media and someone's actual identity? Do you think that leads to more tension between identities in the modern era?

SP: It's really important to know what reality is, and everybody is putting up this image of themselves. We're so quick, at least on social media, to make assumptions like, 'oh well, you don't deserve to be here. And oh, you're not (going to) learn so why don't we just X you out.'
The disregard of human life is really fascinating. Yes, people should be held accountable, and we should be responsible for our actions and do better. But at the same time, when you constantly beat somebody down, you're just fighting abuse with abuse. So when Makani is faced with that, it's really sad because it's not necessary. No one has the right to kill anybody, no one has the right to "X" somebody out or cancel anybody.
The Daily Texan: Were there any specific horror movies that influenced or inspired your performance?
SP: Yes, "Scream," "A Nightmare on Elm Street," I would say parts of "I Know What You Did Last Summer." Then of course we have this John Hughes aspect in there as well, like "The Breakfast Club" love story – these star-crossed lovers (and an) unconventional cast – which is really dope. I feel like we did pay homage and pay our respects to the OGs, but we did create something new as well.