The Quad: Transition to in-person learning poses unique challenge for commuters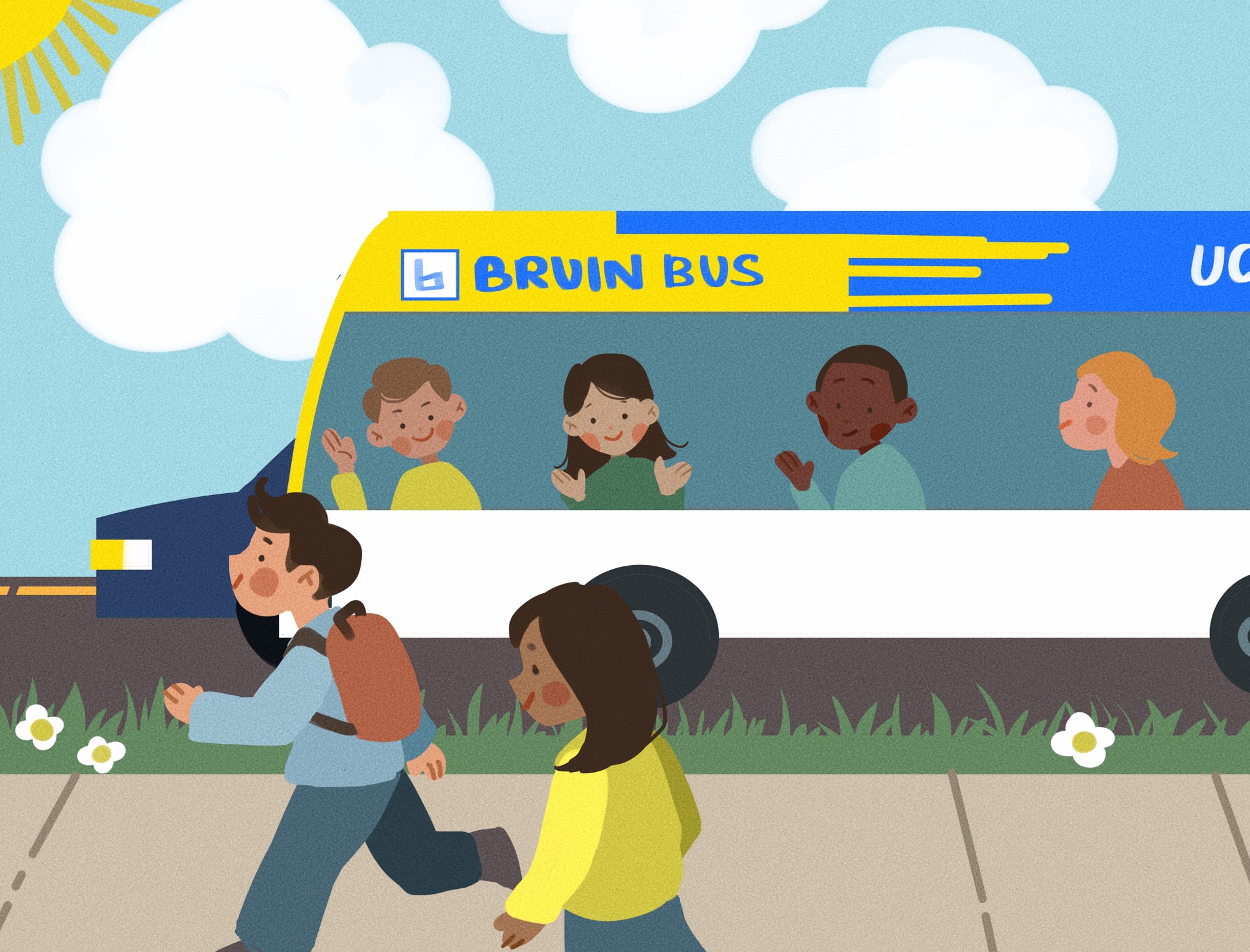 (Katelyn Dang/Illustrations director)
Sept. 25, 2021 10:14 a.m.
Correction: The original version of this article incorrectly stated that UCLA provides Vanpool and its services. In fact, Vanpool operates independently from UCLA and is not affiliated with UCLA Transportation.
This post was updated Sept. 27 at 6:23 p.m.
After quarters of students hopping between Zoom sessions, UCLA has officially resumed in-person learning. For many, this entails a strenuous trek from dorms on the Hill to on-campus classes, but for others, this journey is even longer.
According to a 2018 annual report done by UCLA Sustainability, commuter students make up 23.5% of the student body.
Many students opt for commuting for financial reasons, especially because room and board costs over $16,000 at UCLA – a price tag many students may not be able to afford.
In a 2019 UCLA cityLAB study, when asked what type of solutions students would like to see to reduce the stress of commuting, they responded positively to pop-up overnight sleeping accommodations and a designated commuter lounge on campus.
The study added that the unpredictability of traffic proved to be a major source of stress and students with a commute of at least an hour faced social and physical consequences, such as sleeping in their cars because of draining commutes or the inability to participate in activities exclusive to dorm life.
However, the onset of the pandemic resulted in major changes for commuting Bruins.
Fourth-year psychobiology student Kriseira Lamas-Krauletz said she was able to join more student organizations as she no longer had to commit to a two-hour bus ride from South Los Angeles to Westwood.
"(Before the pandemic,) having to leave school before sundown meant that I couldn't participate in most of the extracurriculars that I wanted to. It wasn't really safe to go home at night," Lamas-Krauletz said.
Other Bruins felt that the challenges of online learning were far worse than the challenges of commuting.
UCLA alumnus Jose Luis said while getting to class online was easier, he preferred in-person learning because he was able to use on-campus technology.
"You're paying to go to the classroom and the building on campus and all that, apart of like, just like the courses from certain professors," Luis said. "So even though the commute was an issue, I can't say that I did not like being there."
Urban and regional planning graduate student Brittany Montaño, who helped found the Bruin Commuter Student Association, said she felt the pandemic had a mixture of different effects on commuters.
"Commuters had to … have more responsibility, whether it was caretaking, maybe their fellow cousins or their own children or maybe elderly … or had to take a job to work," Montaño said. "So maybe they had to do classes and watch (lectures) in between work."
The findings from UCLA cityLAB revealed a longer commute time meant individuals were more likely to be nontraditional students, such as parents and first-generation students.
As in-person learning continues, other Bruins see their commute as a chance to do something different.
Electrical engineering graduate student Calvin Kuo said commuting is a good opportunity for him to try new activities.
"When I lived in the dorms, I had to go down that huge hill, but now it's pretty flat, so I can just basically get there however I want. So, that's why I'm trying rollerblading," Kuo said.
Multiple resources help ease the strain for students traveling far distances. For instance, Vanpool, a pay-to-use carpooling service that operates in the Greater Los Angeles area, has a route that can pick up and drop off students from different cities.
However, for some Bruins with late classes, other alternatives include the Metro and bus.
Montaño, who was also an undergraduate representative for UCLA Transportation Services Advisory Board, said she was excited to be part of proposing the universal transport referenda allowing students to use their BruinCard as a Metro and bus pass.
Montaño also said she plans to continue commuter advocacy and is co-programming the Bruin Hub, a new addition to campus geared toward increasing commuter student equity by fostering a sense of community among new and returning commuter students.
"I think there's a lot of lessons that we can learn to bring forth. And although we're going in person, I think it would be harmful not to reflect on what we've learned. Whether navigating academia, even online," Montaño said. "So especially for different demographics and groups, whether you're a commuter, a student with disability or a transfer. … It's a mixed bag, but we shouldn't forget."