'The Big Embrace' installation opens in person with physically engaging theme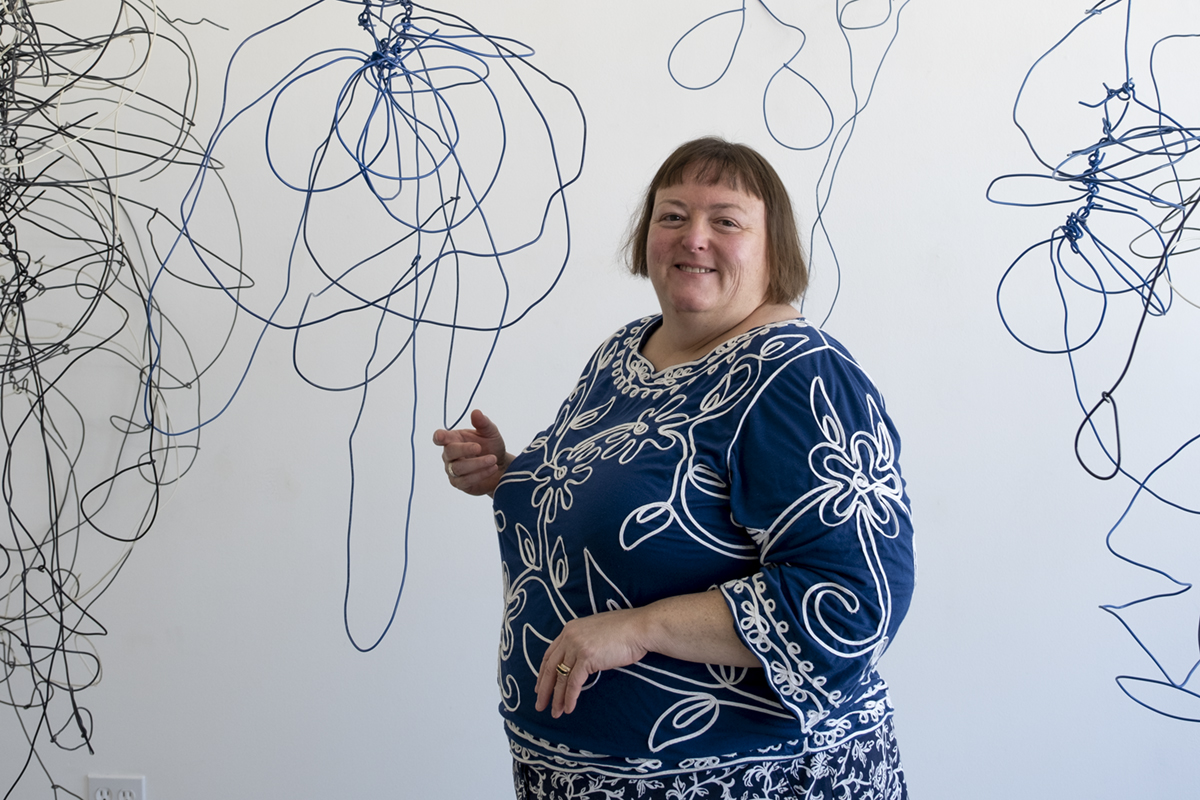 Alumnus Rebecca Niederlander's piece "Wald-en" is part of a site-specific installation at collective Durden and Ray. (Antonio Martinez/Daily Bruin)
"The Big Embrace"
Durden and Ray
Sept. 4 to Oct. 2
Free
Sept. 22, 2021 10:28 p.m.
Curatorial collective Durden and Ray is embracing viewers back in person.
Alumnus Rebecca Niederlander is among the three artists invited to install site-specific work by Durden and Ray, a 24-member collective which collaborates with galleries internationally. Though it opened Saturday, "The Big Embrace" has been in the works since May 2020, but artist and curator Valerie Wilcox said she hoped to open the show after lockdown. While working on the show and its themes of envelopment and physicality, Wilcox said she learned how to draw the line between curatorial direction and allowing artists creative freedom.
"The whole idea was to feel involved in embrace, to have a feeling of touch … and just (to be) in something experientially instead of just being on Zoom and seeing artwork on your monitor," Wilcox said. "I really wanted it to be very physically engaging and bodily engaging."
Encouraging this physical engagement with the art was artist Amanda Yamashita's goal when making her piece "Linked," she said. To invite and embrace viewers when they first enter the space, Wilcox said she wanted to place "Linked" by the entrance with its soft, fuzzy textures.
The looping, shimmering chain is made of nylon, polyester fiberfill, yarn and sequins. Yamashita said the piece explores the dichotomy between synthetic-looking sequined material and the organic shape of the work. The soft, light material is formed into a chain, a material that is typically weighty and strong, she said.
"Something that's normally used to strengthen and bind is created into something that envelops you," Yamashita said. "It's more airy and inviting, and you want to touch it and you're attracted to it."
[Related: 'Shadows Fall Down' spotlights connections in art across time, distance]
Yamashita said the other installations, like her own piece, are both hanging from the ceiling and constructed through repeated, weaving gestures. Artist Flora Kao's piece "Hope" is located in the gallery's long, separate room because of Kao's use of large spaces in previous installation work, Wilcox said. "Hope" is crocheted from yellow twine her mother sent from Taiwan, and bamboo leaves collected from her neighbors cover the floor, Kao said.
Crocheting is part of Kao's mourning process, she said. Kao started the piece following the death of her grandfather when she said she noticed the yellow hue used in Buddhist mourning rituals, including origami lotus blossoms and the paper draped on her grandfather's deathbed. Crocheting the piece with twine for the show became a way to meditate and seek solace through simple gestures, she said.
"I proposed to (Wilcox) that I create a giant cocoon or net to offer a space of comfort or respite but also thinking about these fallen bamboo leaves as a stand-in for ashes and rising again from the ashes," Kao said.
The bamboo leaves crunch underfoot, Wilcox said – one element of the show that would not translate onto Zoom. Wilcox said Niederlander's interactive elements in her piece "Wald-en" also work best in person, as pillows on the floor invite viewers to see the wire sculptures from below.
Watching electricians unwind wire inspired Niederlander to use plastic-coated copper conduit to make her sculptures, she said. Wire always retains some aspect of its previous shape on the spool, which she said is a metaphor for how all people are affected by their experiences, whether euphoric, traumatic or incidental. Niederlander said "Wald-en" is an homage to the transgender people in her life, and added she hopes it inspires contemplation and personal discovery in viewers.
[Related: Art exhibit review: 'The Evening Redness in the West' evokes often overlooked Indigenous history]
This thematic interest began when Niederlander said she learned site-specific installation practices during her time as a graduate student in fine arts at UCLA. Installation as a medium is still taught in the New Genres department. She said her experience still affects her work today, such as when teachers suggested cues for making her work better without explicitly telling her to do so. Niederlander said her MFA thesis show at UCLA invited viewers through dark hallways to see objects illuminated by LED lights.
"I was already playing with those ideas of what happens when you push people through an experience as opposed to just making a discrete object," Niederlander said. "That's always been an interest of mine – pushing people into other directions literally or figuratively."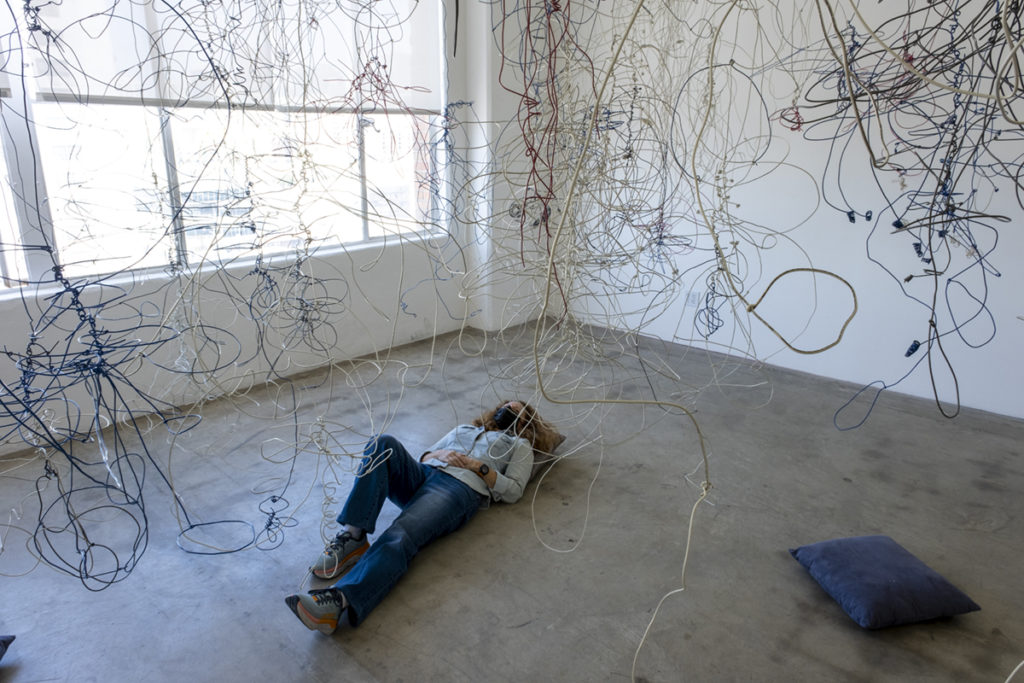 Though the installation was extensive, Wilcox said Durden and Ray will organize more site-specificshows in the future. Artists asked for the hooks that held the pieces to be left for use in future exhibits, she said. Galleries cannot support every artist working today, Wilcox said, and as they did with this show, Durden and Ray will continue working to give artists opportunities to exhibit work. For "The Big Embrace," Wilcox said she hopes the show brings joy to viewers.
"One lady came in … and right away she said, 'You made me smile,'" Wilcox said. "That's all I needed to hear."