Editorial: BruinHub pods mark progress in addressing housing insecurity, more work is needed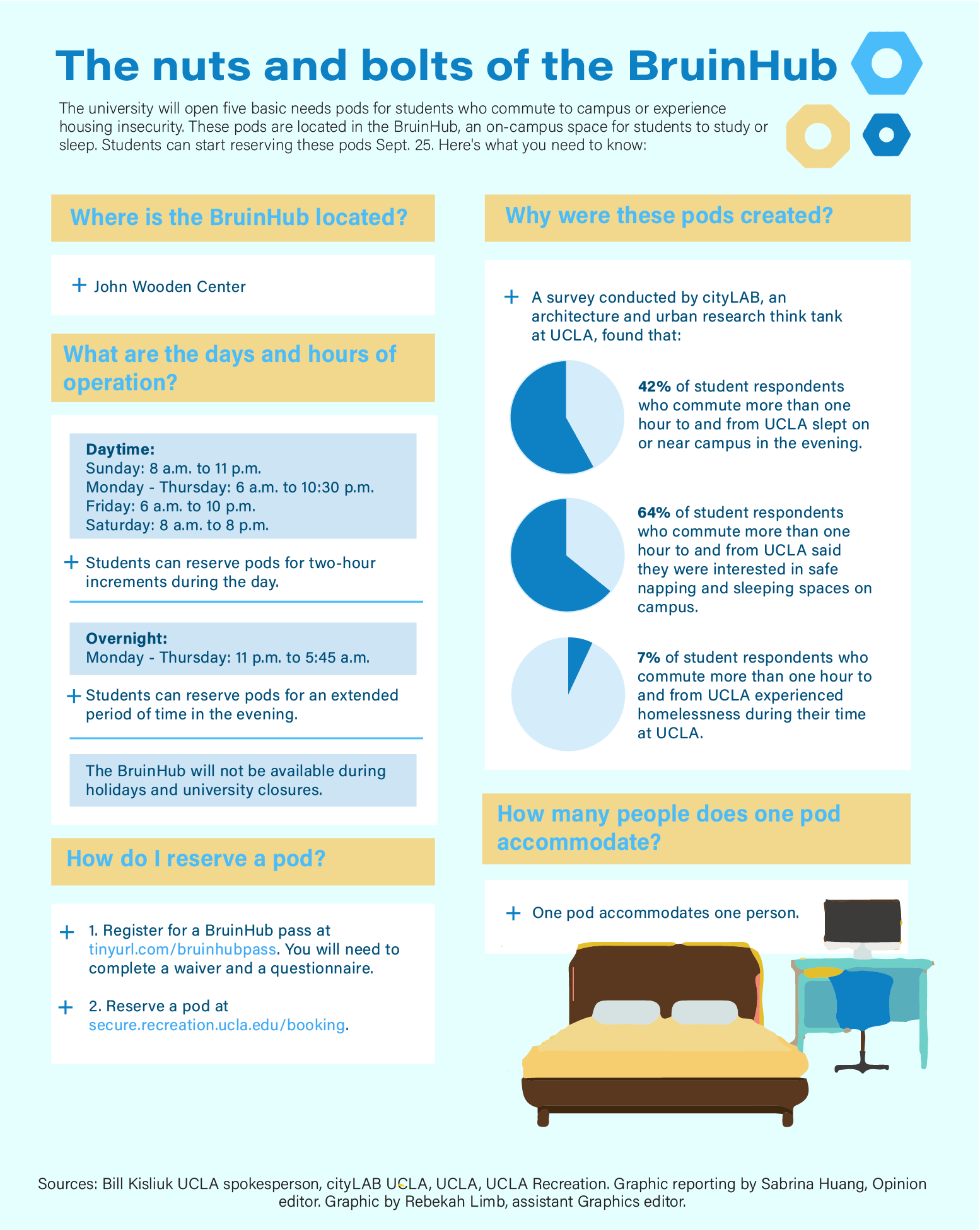 This post was updated Sept. 22 at 10:02 p.m.
Editor's note: Editorials are intended to serve as the jumping-off point, not the conclusion, to discussion. As part of the Daily Bruin's commitment to its readers, the board hopes to present a responsible and clear analysis of relevant events and news items affecting the lives of those we serve, but our editorials are not representative of the Daily Bruin's views on issues as a whole. We encourage all readers to reach out to our board members and to respond to our editorials.
We've heard it before and we'll hear it again: UCLA has a plan to support students experiencing housing insecurity.
After nearly two years of back and forth with student leaders, administrators have delivered on that promise – at least, on the surface.
The university is poised to open five basic needs pods in the John Wooden Center Sept. 23, UCLA spokesperson Bill Kisliuk said in an emailed statement. These pods are located in the BruinHub, an on-campus space for students to sleep and study.
Each pod will accommodate one individual and is available to all Bruins, free of charge, Kisliuk added.
Starting Sept. 25, students will be able to reserve pods for two-hour increments from 6 a.m. to 10:30 p.m. Mondays through Thursdays, 6 a.m. to 10 p.m. on Fridays, 8 a.m. to 8 p.m. on Saturdays and 8 a.m. to 11 p.m. on Sundays. They will also be able to stay for an extended period overnight Mondays through Thursdays from 11 p.m. to 5:45 a.m. The pods are not available during university closures and holidays.
To access the BruinHub, students must register for a BruinHub Pass by submitting a questionnaire that will help the university collect data on students experiencing housing insecurity and homelessness. Once students register for this pass, they can reserve a pod on the UCLA Recreation website.
There are no limits on the number of reservations students can make, Kisliuk said.
While this is excellent news for a university that has struggled to make meaningful progress in addressing housing insecurity on campus, five pods is by no means enough.
Almost half of the respondents for a 2019 survey of commuter students said they experienced housing insecurity, with those driving less than 60 minutes or more than 90 minutes to campus reporting the highest levels. Five percent said they experienced homelessness during their time as Bruins.
After researchers evaluated students' responses to questions about their housing situations, that number shot up to 14%.
To think five pods will help alleviate, if not eliminate, housing insecurity is absurd. Even 16 pods, the estimated number administrators hope to eventually open, is not enough to fulfill student needs. That's just 16 students – or 0.035% of the student body – who can sleep in the Wooden Center on a given school night.
Bruins' housing needs have never been more urgent. We are entering the 18th month of a pandemic that has catapulted many into financial insecurity. Add in the dangers presented by the COVID-19 pandemic, and securing safe housing becomes all the more difficult.
The BruinHub is an important step in UCLA's efforts to tackle housing insecurity. But it's just that: one step. Administrators should see the new space as an opportunity to evaluate how they can improve existing services for Bruins who are experiencing housing insecurity.
For example, the Economic Crisis Response Team, which provides resources to Bruins who have fallen into unexpected financial straits, provides only two weeks of emergency housing. It's unrealistic to expect students to find permanent housing in 14 days, especially if they aren't from the area.
Plus, students can only sleep in the basic needs pods four nights a week. That's not much assurance against housing insecurity, considering weekends may be the most uncertain time for those without a roof over their heads.
What Bruins need is affordable housing near campus. In the same 2019 survey, 33% of respondents said they preferred affordable housing to other alternatives like safe nap and sleep spaces and short-term rentals.
Though it's difficult for the university to provide affordable units to all of its students, it isn't completely out of the picture.
UCLA just opened the new Olympic Hall and Centennial Hall, increasing the number of students who can receive on-campus housing and moving toward the goal of guaranteeing housing to all undergraduates.
In 2020, UCLA purchased an apartment complex that now offers affordable housing units to UCLA medical house staff such as residents and interns, medical graduate students and, space permitting, nonmedical graduate students.
By scaling up these complexes and offering them to more students from a wide array of backgrounds, the university has the opportunity to greatly expand access to affordable – and permanent – shelter.
Kisliuk said in the emailed statement that UCLA will evaluate usage of the pods and determine whether there is a need to open additional space in the Wooden Center and other spots on campus.
However, parking spaces don't appear to be a part of the equation.
Proposals for safe parking, which would have set aside a parking lot for students to safely sleep in their cars, was rejected by administrators twice in the last two years because of sanitation concerns. These concerns still stand, Kisliuk said.
It's great that UCLA is considering opening up extra space for Bruins experiencing housing insecurity, and it's even better that the current space won't require students to pay upfront costs. But the university shouldn't discount the benefits of having additional room for students in the interim, especially if demand for the basic needs pods exceeds the supply.
UCLA can pat itself on the back for following through with its promise of the BruinHub. This effort is better than nothing.
But it's just the beginning.