UCLA professor, students create project to honor deaths of migrant women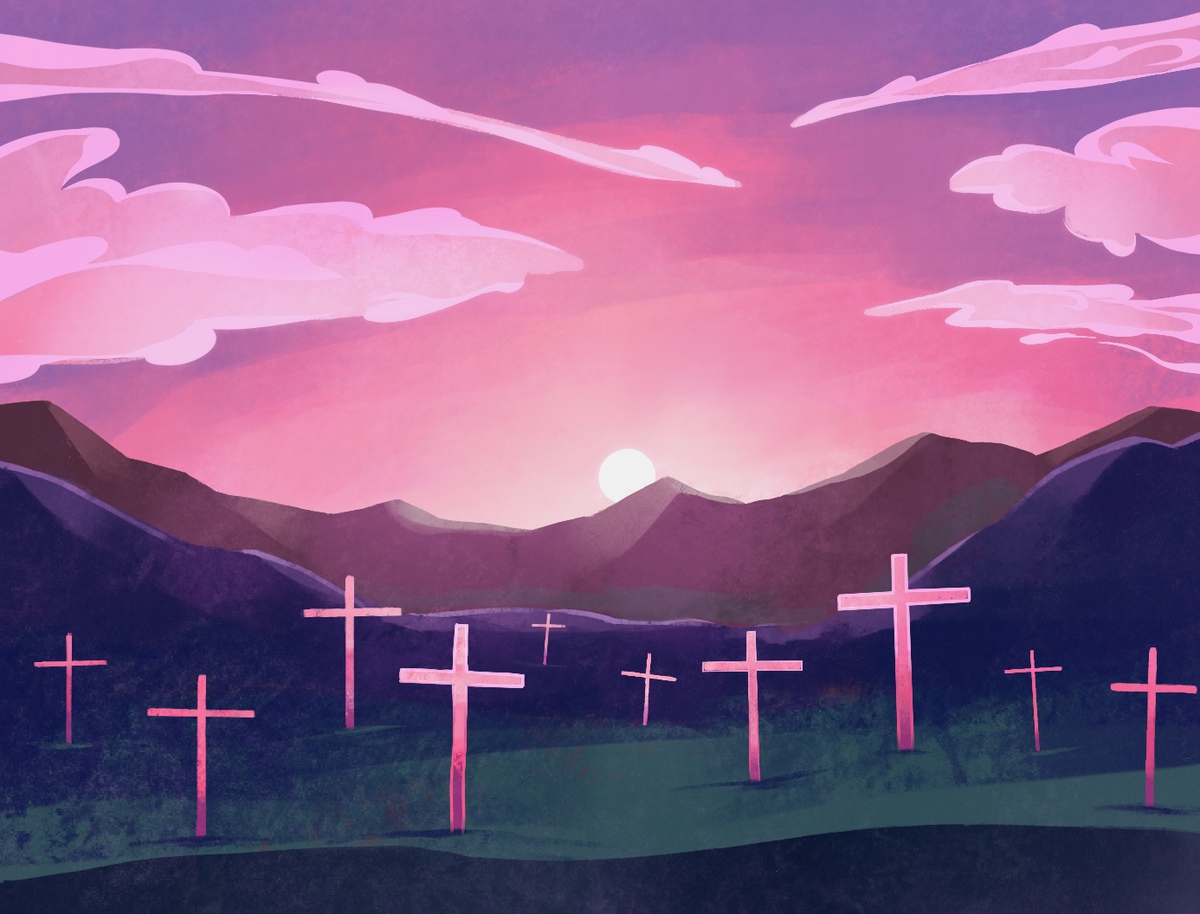 (Maddie Rausa/Daily Bruin)
Deceased migrant women are more than just dots on a map.
In collaboration with a team of graduate students, Spanish and Portuguese professor Maite Zubiaurre, who also creates art under the name Filomena Cruz, is using multimedia art installations to raise awareness of migrant women's deaths in the Sonoran Desert. Installed in June, the Mujer Migrante Memorial includes a physical mural in Venice, California, an accompanying poem and a virtual map illustrating the locations where women's bodies were found. Highlighting the pervasiveness of female migrant deaths without retraumatizing viewers was imperative, Zubiaurre said.
"Migrants are, by nature, vulnerable," she said. "But women are the most vulnerable of all. The purpose of the graduate seminar I taught … was precisely to conceive of an installation that will honor the death of female migrants as the most vulnerable members of the migrant community."
As part of UCLA's Urban Humanities Initiative, Zubiaurre was teaching a seminar course on the U.S.-Mexico border several years ago when she said the students became interested in how deceased migrants' belongings were handled after their bodies were recovered. After visiting Pima County in Arizona, where thousands of migrants have been found dead since 2001, Zubiaurre said her seminar became dedicated to memorializing those lost in the desert.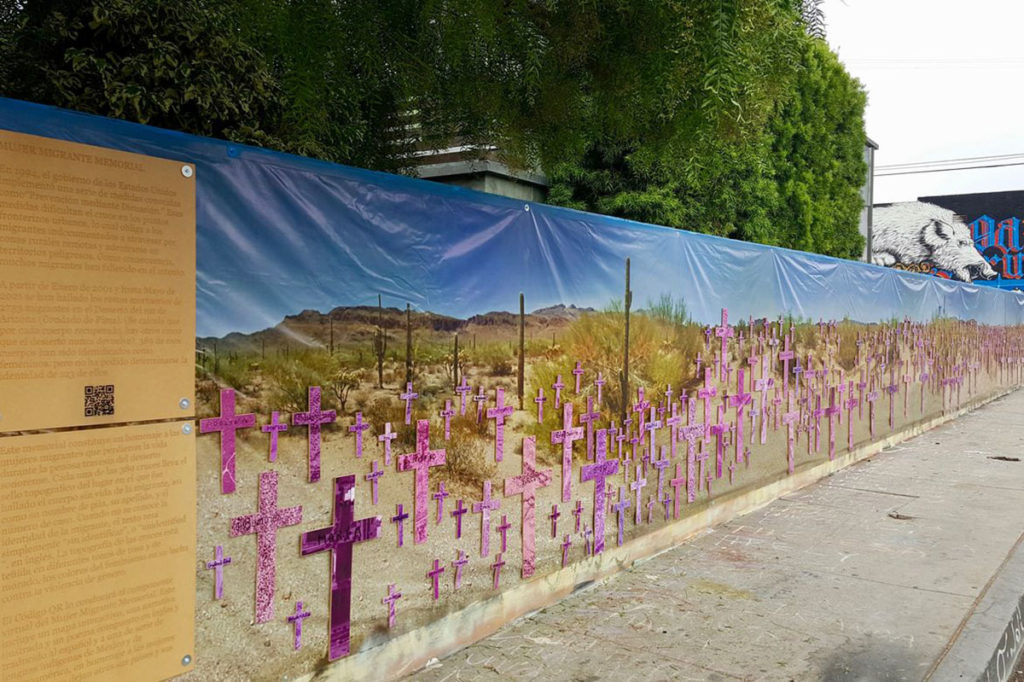 [Related: UCLA student's art exhibit to question idea of home, support migrants]
According to the Mujer Migrante Memorial project website, 2,733 bodies were recovered in the Pima County desert in Arizona from January 2001 to May. Of those, 389 were identified as women. Zubiaurre said she and her students chose to focus on the female migrant experience in particular because of the added violence and perils they face when crossing the desert as women.
Physically, the mural in Venice consists of a vinyl banner depicting the desert covered in crosses with either the names of deceased migrant women or "unidentified" in English and "sin identificar" in Spanish. Architecture graduate student Miranda Hirujo-Rincón said she proposed personalizing each cross for the 389 women memorialized with a map screenshot of the exact location where their bodies were recovered. Each image was tinted pink or purple, calling upon colors commonly represented in fights against gendered violence, she said.
"We believed that we were honoring these women however we can," Hirujo-Rincón said. "As I was doing these screenshots and looking at all of these locations, I would always say their name … as some sort of way to honor them."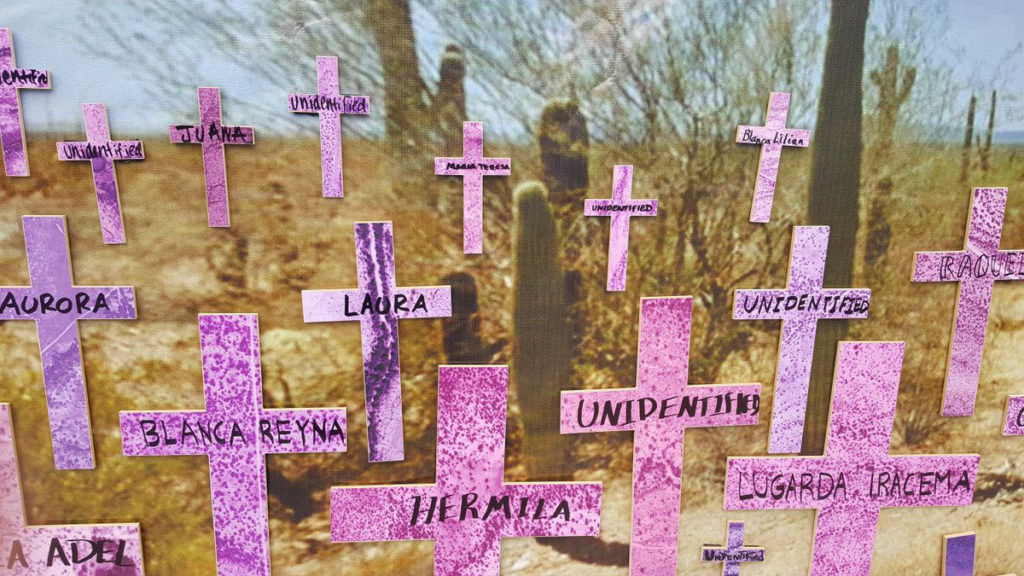 Another feature of the hybrid installation is a virtual map marking the locations where each body was found, developed by architecture graduate student Xiuwen Qi. Created while she was working virtually from China, Qi said the map shows not just where bodies were found but also the person's name and age if they were able to be identified. Gray, pink and purple crosses instead of red dots were used to represent the location of each body on the map in a more personalized way, she said.
In addition to a website documenting the entire process and background for the project, the memorial features a poem composed by urban planning graduate student Eliza Franklin-Edmondson titled "Her." Translated into Spanish and various Indigenous languages spoken by migrants, Franklin-Edmondson said her poem is a reflection of the experiences of women who cross the border.
"I hope when people hear the poem that they resonate (with it) and they're able to hear the voices … of the women whose experiences are to be acknowledged," Franklin-Edmondson said.
[Related: Music video 'Call Me A Dreamer' aims to empower, unite immigrants across US]
While the mural did experience one act of vandalism, Zubiaurre said she has more often spoken with people at the site of the memorial who have crossed the desert themselves, know others who have, or have lost loved ones in the desert. Viewers have told Zubiaurre of their own experiences as migrants, and she said others have photographed crosses with names they recognize.
"We reproduced a landscape on that road that is already intrinsically present in the lives and imagination of migrants in Los Angeles," Zubiaurre said.
In the desert of Tucson, Arizona, Colombian artist Alvaro Enciso collaborated with Zubiaurre and several students to create an installation bridging the Mujer Migrante Memorial and Enciso's own multimedia art project, Zubiaurre said. According to Enciso's Facebook page, Zubiaurre, Hirujo-Rincón, Franklin-Edmondson and architecture graduate student Maha Benhachmi helped stencil red dots onto an abandoned building, alluding to maps depicting migrant deaths. Seeing the desert where so many have died was difficult, Hirujo-Rincón said.
"In academia, it's easy to just study," Hirujo-Rincón said. "We never really … feel the weight of what's going on (by) just studying it. Going to the place that we studied and all the places that I took the topography screenshots … was really important."
A documentary for the memorial is in the works, and Zubiaurre said she and her students are interested in creating an oral history collection of people's migration stories. Later on, she said they plan to create installations at the U.S.-Mexico border and in Mexico City. Continuing to expand the memorial means continuing to raise awareness, Hirujo-Rincón said.
"We don't ever really want to stop working on this," Hirujo-Rincón said. "Hopefully it'll reach someone who is able to make changes that need to happen so that migrants don't have to cross the dangerous desert anymore."