UCLA mariachi ensemble reunites after months of online rehearsals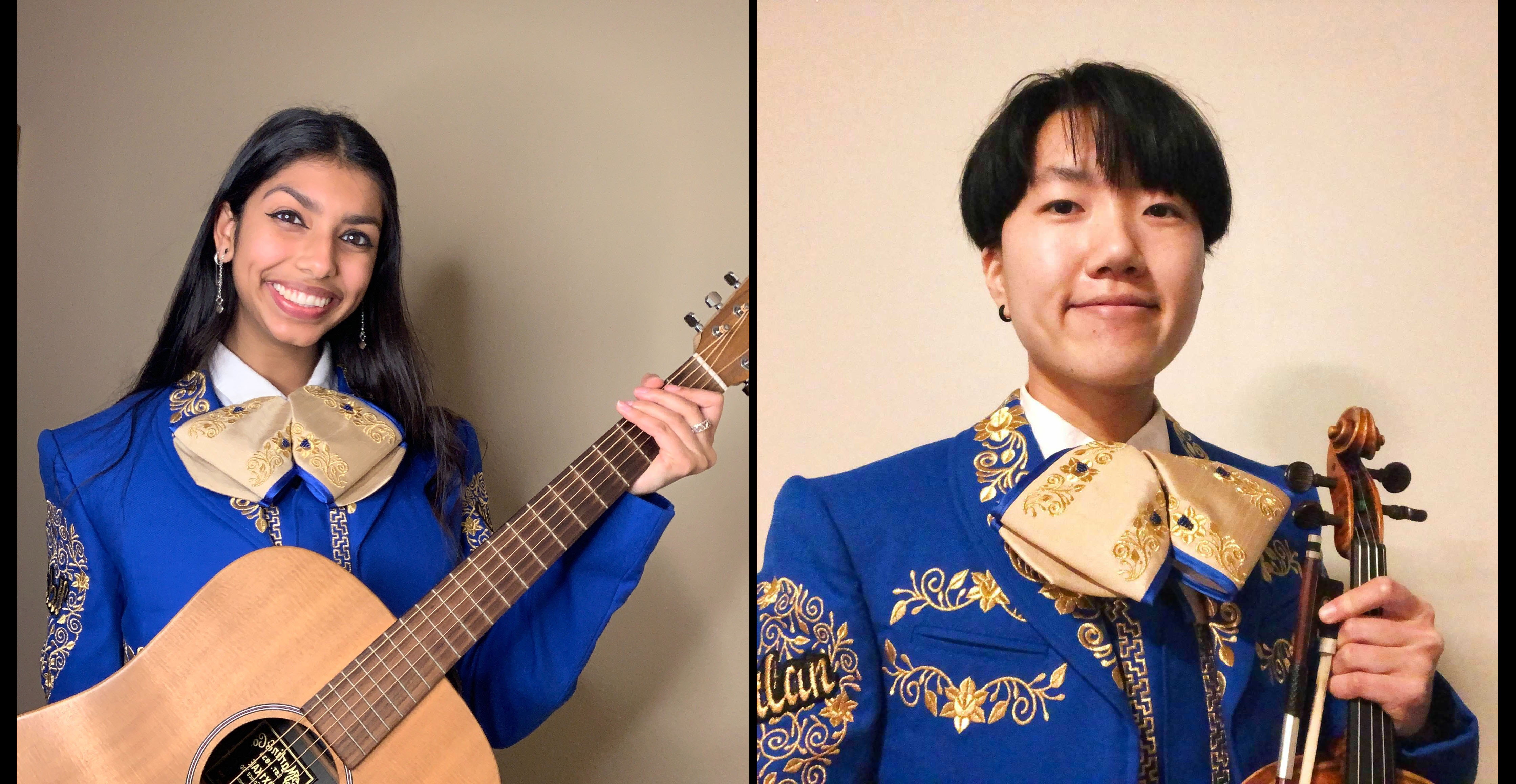 Third-year ethnomusicology student Saveena Patel plays guitar and third-year design media arts student Skye Hoffman plays violin for Mariachi de Uclatlán, a student ensemble of traditional Mexican music at UCLA. (Left to right: Courtesy of Saveena Patel, Courtesy of Skye Hoffman)
Correction: The original version of this article incorrectly stated that Skye Hoffman is a third-year student. In fact, Hoffman is a fourth-year student.
This post was updated Sept. 19 at 11:32 p.m.
Mariachi de Uclatlán are coming back into tune.
After more than a year of online practice, band director Jesús "Chuy" Guzmán said he's hopeful to start in-person learning with his student ensemble, which focuses on traditional Mexican music. The continuing lecturer of ethnomusicology said it was hard to maintain motivation throughout the COVID-19 pandemic – the group lost live performances and teaching in a virtual classroom was less than ideal. However, he said his students helped him keep faith in mariachi music with their skill and dedication, which he hopes to continue fostering in person.
"Working face to face, we can understand (each other) better," Guzmán said. "I can … explain how they need to play, how they need to sing (and) what they need to feel when they play."
As a guitar player and assistant student director for the ensemble, Saveena Patel said learning through Zoom for her first year in Uclatlán was a bit daunting and awkward. The third-year ethnomusicology student said instructional time was interrupted by cut-out audio and was often spent on mute, which prevented musicians from hearing their songs as a whole. Many of their performances – such as their Christmas celebration – were prerecorded, so Patel said she would spend more time trying to perfect her video, whereas in a live performance stumbles could be made and looked past.
At the same time, Patel said there were benefits to online practices. Recording songs at home gave her the flexibility to use sheet music instead of memorizing each piece, and she said the independence of an online setting pushed her reading skills, driving her to learn music more quickly. However, Patel said she still looks forward to rehearsing with Uclatlán in person so the band can begin to focus on playing together as a group rather than assembling the ensemble from individual recordings.
"Mariachi music is such a lively type of music," Patel said. "When you play in person, you really feel the emotions. You really feel all the energy."
[Related: Music students combine compositions, visual components in virtual spring showcase]
Similarly, assistant student director and violinist Skye Hoffman said the ensemble also had to implement other logistical adjustments. In a normal year, fourth-year design media arts student said Uclatlán starts rigorously, requiring members to memorize a set list of popular songs within the first few weeks of school for live gigs.
Without any in-person performances last year, they said there was more time upfront for newer musicians to become acclimated to their instruments. Hoffman said the size of the repertoire they learned throughout the year also decreased so that the overall pacing of the class felt more relaxed.
One of the other major differences in learning online was the dynamic of a virtual classroom, Hoffman said. In a physical space, they said Guzmán would often spend time working through a piece of music based on instrumental sections, such as the first violins and trumpets. Learning over Zoom, by contrast, enabled Guzmán to offer students individual help, going from student to student before observing the section as a whole, Hoffman said.
[Related: A cappella group Resonance wins ICCA semifinal with music video submission]
The mindset of a recording is different from an in-person gig, too, Hoffman said. When online, Patel said the ensemble is unable to interact with listeners or synergize with other band members in the same capacity as a live set. For Hoffman, ad-libs like gritos, or shouts interjected in the middle of a song, and on-the-spot decisions like set list sequencing can shape live performances but are lost virtually.
"We can't see how the audience is feeling through a screen … (and) that's why the live part is very important," Hoffman said. "Because mariachi is about putting on a good show, and it's dependent on the situation at hand."
For Guzmán, the upcoming school year provides Uclatlán the opportunity to learn more of the classic repertoire of mariachi while honing in on details. Hoffman said they want Uclatlán to gain more in-person experience and clean up aspects of performance, such as stage presence, as the ensemble begins looking for live gigs. Despite the hardships of the pandemic, Hoffman said they hope mariachi will continue bringing joy and awe to its listeners.
"A pandemic like COVID, it's not going to stamp (mariachi) out," Hoffman said. "Because it's folk music, it speaks to the soul. And as long as people have souls, there's going to be mariachi."