UCLA alumnus expands art business to marketplaces, finds new inspiration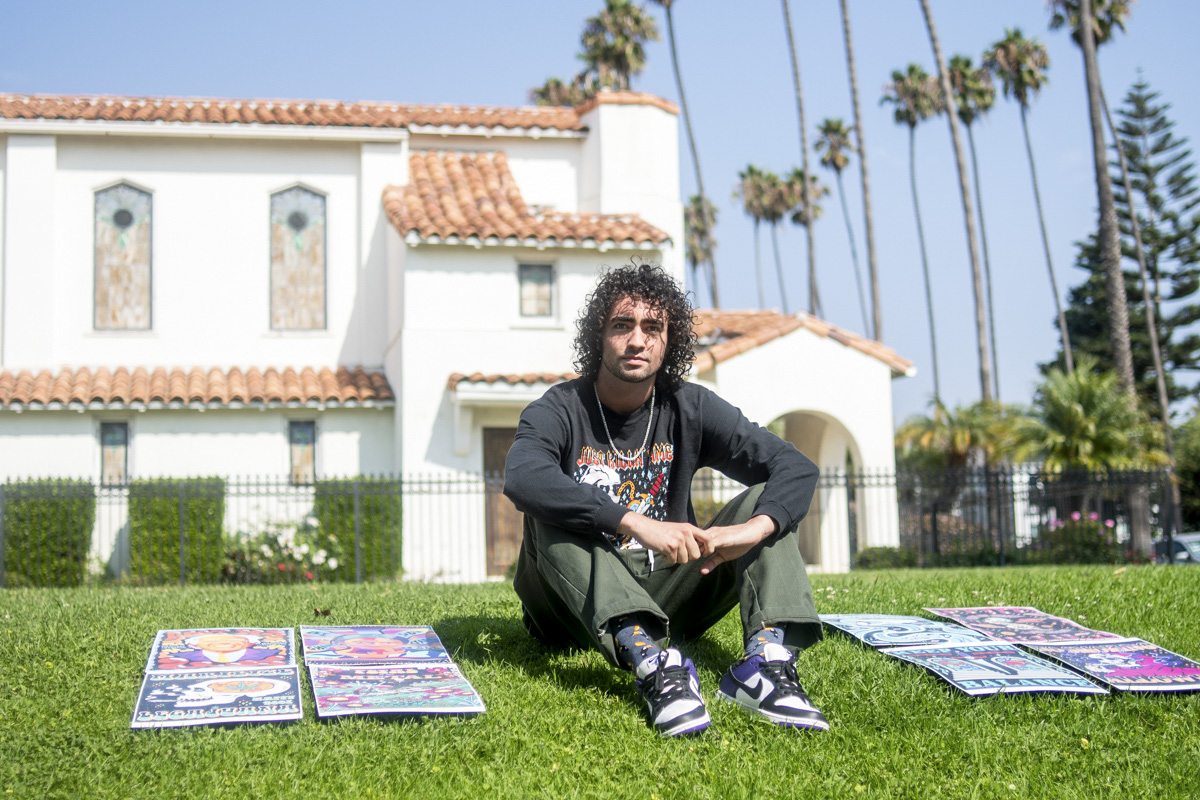 Alumnus Kyron Shochat built an art business after graduation, monetizing his political and patterned prints through platforms such as Etsy and markets such as the Melrose Trading Post. (Lauren Man/Daily Bruin senior staff)
Whether it is an image of a political activist or an animal in space, Kyron Shochat has it in print.
During his senior year, the alumnus took his knowledge of digital art and started making prints, leading to the development of a full-fledged print shop. He said he started making prints to raise money for the 2020 presidential election campaigns through portraits of political figures, beginning with one of Alexandria Ocasio-Cortez, then Cori Bush, Bernie Sanders and Stacey Abrams. Between graduating during the pandemic and his initial political art, the print shop was born, and Shochat said he launched his Etsy shop and dedicated his Instagram account to promoting his work.
"(The print shop) started with those first couple of prints, trying to raise money for certain candidates in the 2020 election, and then … that made me decide to spend more time working with it (with) the success I had," Shochat said.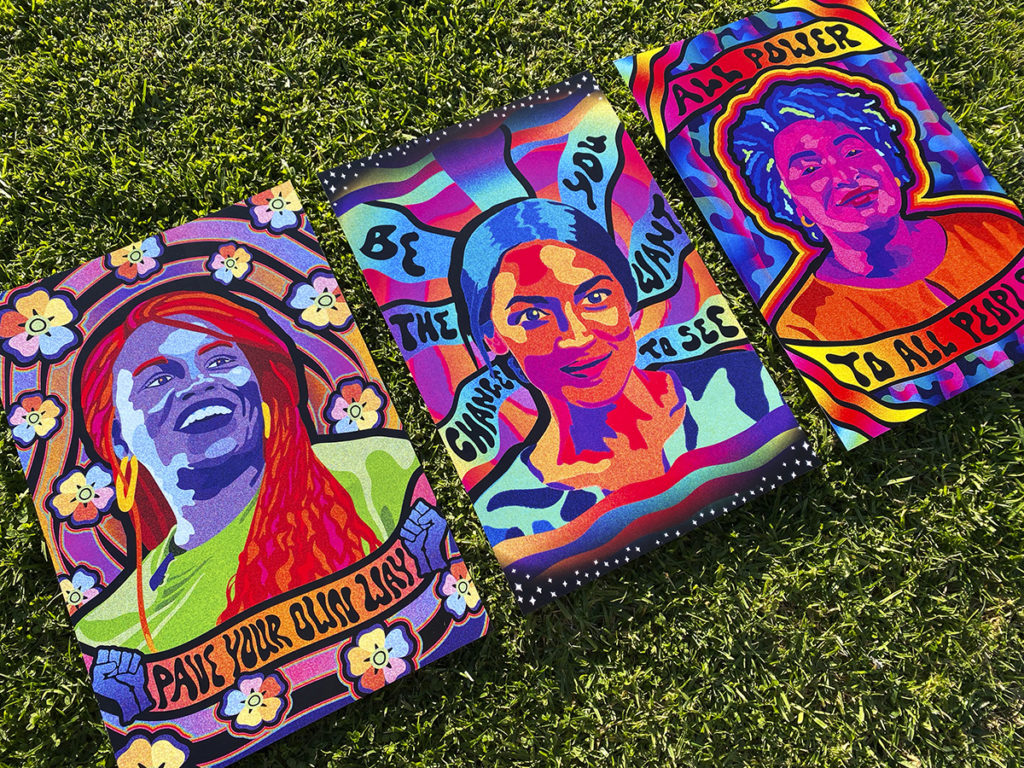 Although his business started with political prints, Shochat said it quickly extended beyond partisan statements as he drew inspiration from other creative outlets, such as various artists, fashion and nature. He said his recent work incorporates American traditional tattoo style, such as the classic Sailor Jerry technique with three distinct and recognizable elements: bold colors, thick black outlines and specific imagery. Themes such as skulls, skeletons, flowers and animals are now central to his style, Shochat said.
[Related: Student art shop explores the female form with abstract line pieces]
Such creative exploration and stylistic additions are indicative of Shochat's artistic versatility, said Shochat's friend and print shop customer Leo Pollack. Pollack said Shochat has experimented more recently with patterns and subjects, transitioning from his original portrait-style prints. For Pollack, Shochat's patterns are interesting because they warrant multiple viewings in order to understand the piece.
"It's not like you can just look at it once and get the whole gist," Pollack said. "It's always something you can look at and find different parts of the work that you haven't noticed before or appreciated."
With a largely online business, Shochat said he had to learn to strategize while marketing his work. His political work sells more on Etsy because he said people more often search directly for specific figures, such as Bernie Sanders, rather than random images of a rat in space. Shochat said this disparity in sales is due to his choice of keywords in the listing of his work, so he is still determining how to best utilize search engine optimization to ensure his work shows up more often in potential customers' searches.
"I still do sell some of my nonpolitical work online every once in a while. … The people who are looking to find my … political artwork are more likely to find it online," Shochat said. "There's not as specific of a definition for the other work that I'm doing. It's just harder to get in front of people's faces online."
Company owners have also commissioned Shochat's prints, including skateboard company owner and friend James Jordan whose company sponsors Shochat. He said Shochat designed a logo and several sports graphics for the brand. These designs represent the Bay Area community and skateboarding culture, including a graphic based on Bay Area pride, a rose knife graphic and a rat in space graphic, Jordan said.
Most recently, Shochat said his print shop moved to the Melrose Trading Post. He began selling his work there in July, and he said the in-person environment has given him more sales than his digital platforms. With an additional location for business, other inspiring artists and new customers each Sunday, Shochat said he has expanded his company.
"Getting into the art marketplace industry – starting to sell my own work at Melrose Trading Post – has been really helpful in terms of marketing myself," Shochat said. "I've just been able to meet so many new customers, which has helped me grow my social media a good amount and meet other artists as well."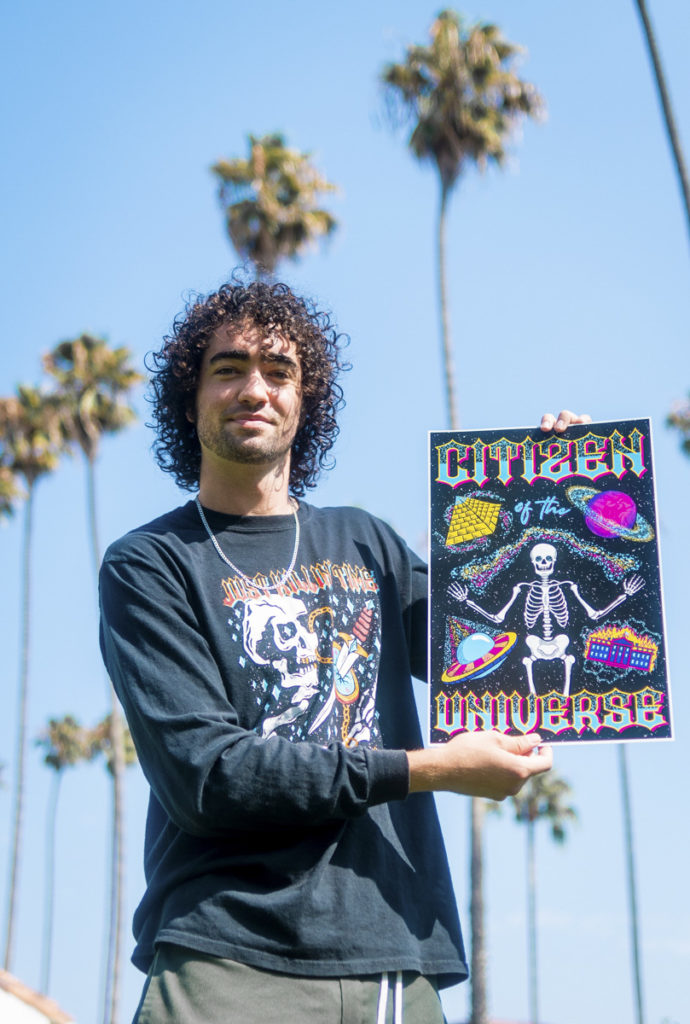 [Related: Art Students Collective creates space for artists to connect, build community]
Through his time at markets, Shochat said he met other vendors who have introduced him to the newest development in the digital art realm: NFTs, which allow artists to sell ownership of their original artwork and assign monetary value to it. The ownership of the digital artwork cannot be copied, similar to how only one person owns an original painting. Since Shochat began learning about NFTs as a result of his experience at Melrose Trading Post, he said it is something he is looking to get more involved in.
For Shochat, the print shop enabled him to monetize his creativity, but he said he needed some market experience before gaining confidence. Although he was hesitant at first to apply to the Melrose Trading Post, Shochat said his sales at smaller markets gave him the confidence to reach out. In order to gain insight into artistic and marketing opportunities, he needed to put himself out there, Shochat said.
"That's my thing I say: Put yourself out there, and don't hesitate to apply, whether it's a market or some other art show or other event," Shochat said.