Q&A: Magician David Kwong talks creation of immersive puzzle show 'The Enigmatist'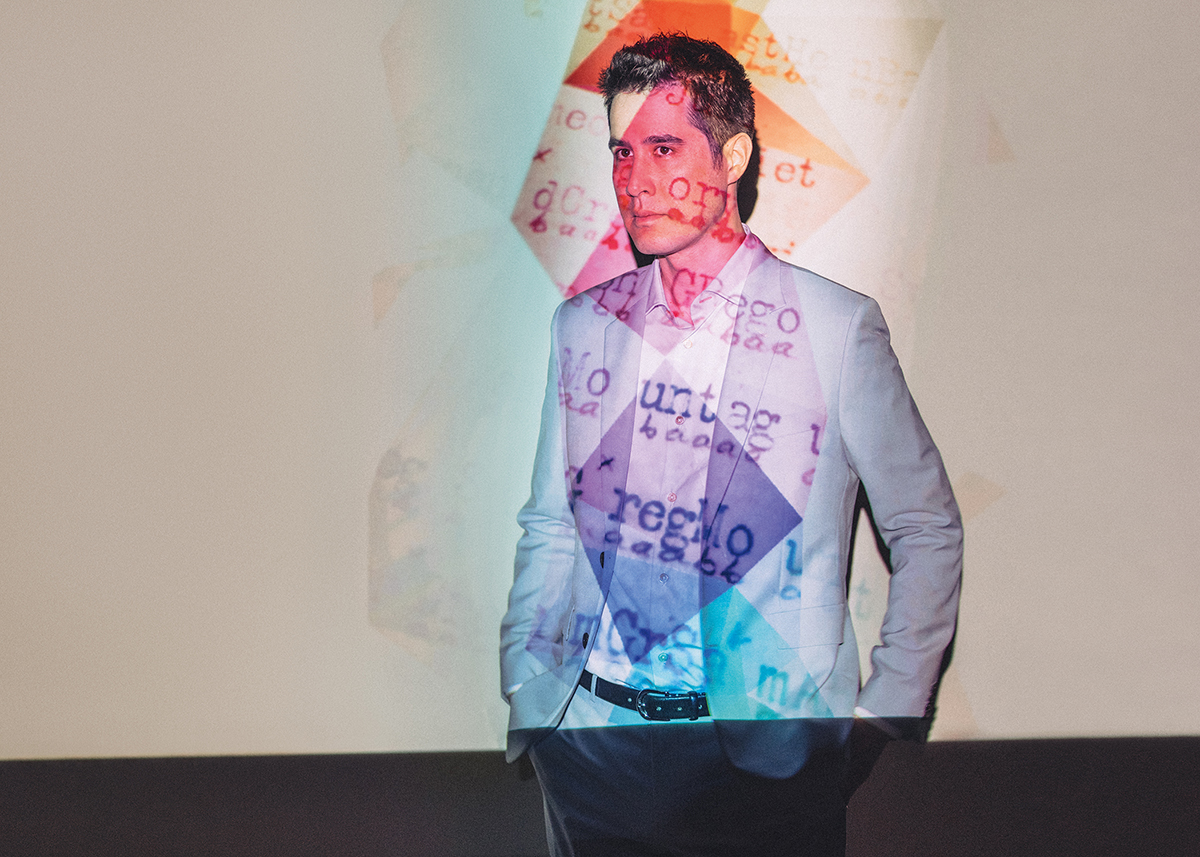 Illusionist and puzzle maker David Kwong blends his two passions into one immersive entertainment experience. Opening Sept. 14 at the Geffen Playhouse, "The Enigmatist" is a one-man puzzle, magic and storytelling show.(Courtesy of Yann Rabanier)
"The Enigmatist"
Sept. 14 - Oct. 30
Geffen Playhouse
$30-150
For David Kwong, seeing is not necessarily believing.
The magician and puzzle creator is performing his one-man show "The Enigmatist" at the Geffen Playhouse from Sept. 14 to Oct. 30 following its run in New York in 2019. Drawing on his experience from creating crossword puzzles for newspapers and performing magic, Kwong said he crafted the show to be a mixture of storytelling, illusions and puzzles.
Kwong spoke with the Daily Bruin's Annie Liu about the inspiration behind the creation of "The Enigmatist" as well as the process of developing the show from a story to an immersive experience for audiences.
This interview has been edited for length and clarity.
Daily Bruin: How did you get interested in puzzles and magic?
David Kwong: They were both childhood hobbies. I saw a magician when I was a 7-year-old kid, and I stuck with that hobby and started reading books on magic tricks and eventually graduated two books on sleight of hand. I practiced throughout my teenage years, and at the same time, I was playing Scrabble with my mother.
In the track of (puzzles), I started designing New York Times crossword puzzles. So, I've had these two parallel hobbies and passions, and it wasn't until later that I realized that I could cross-pollinate the two and synthesize a new art form. So I've been thrilled with how the product has turned out.
DB: What inspired you to create "The Enigmatist"?
DK: I am a magician and a puzzle maker. I write a lot of crossword puzzles for The New York Times, the Los Angeles Times and The Wall Street Journal, so I have managed to fuse together these two passions into one nerdy, brainy magic show. That is how the tricks that I perform were born, which are puzzle-based magic tricks, (or) magic tricks involving numbers and letters and words and secret codes.
"The Enigmatist" really took shape when I decided that I wanted to tell a story surrounding those tricks. I found and researched a wonderful love story, an unknown story from American history that has to do with code-breaking, and I wrote that narrative to surround those puzzle-based magic tricks.
[Related: Alum's horror film 'Initiation' defies gender stereotypes, explores social issues]
DB: How do you create an immersive theater experience?
DK: The immersion starts before you even walk into the theater. As soon as you walk into the Geffen Playhouse, you will be greeted by four puzzles that you have to solve to gain entrance into the performance space. They're not too hard – they're not meant to scare anybody. These are puzzles that everybody can solve, but they are themed on the location where the magic show takes place, which is a bizarre and fantastical estate out of Chicago called the Riverbank.
Then throughout the performance, I am performing magic tricks, I am telling stories. Every so often, I take a break, and I put a puzzle up on the screen, and I ask the audience to stand up if they know the answer. Everybody gets a chance to participate (and) feel smart, and all of these puzzles add up to a big surprise at the end.
[Related: Grad student's thesis project explores hardships, liberation in short dance films]
DB: As the Geffen's first in-person show since the pandemic, what do you intend to provide that may not have been possible in a virtual setting?
DK: I am thrilled to be back into the live in-person space. I think for illusion, I can't wait to see people's eyes pop – there's nothing like eye contact. I can't wait to hear the laughs and to hear the gasps and to really engage with people on a personal level, and it's going to be great.
DB: What do you hope to leave audiences with after the show?
DK: It's important to first say that I don't pretend to have any superpowers at all. I'm a magician that acknowledges right up front that it's all tricks. I even go so far as to say that they are all puzzles, and if you can figure out the solution, then good for you. I lay out this challenge for the audience to try to decode everything they're seeing, and my hope is when people leave the theater, they will discuss things with their family and their friends and try to work it all out and see if they can solve the puzzle that they just watched. I hope that people leave feeling inspired and that they learned about a couple of incredible people from history that they might see a little bit of themselves in as well.