Google award assists UCLA researchers mapping climate hazards in California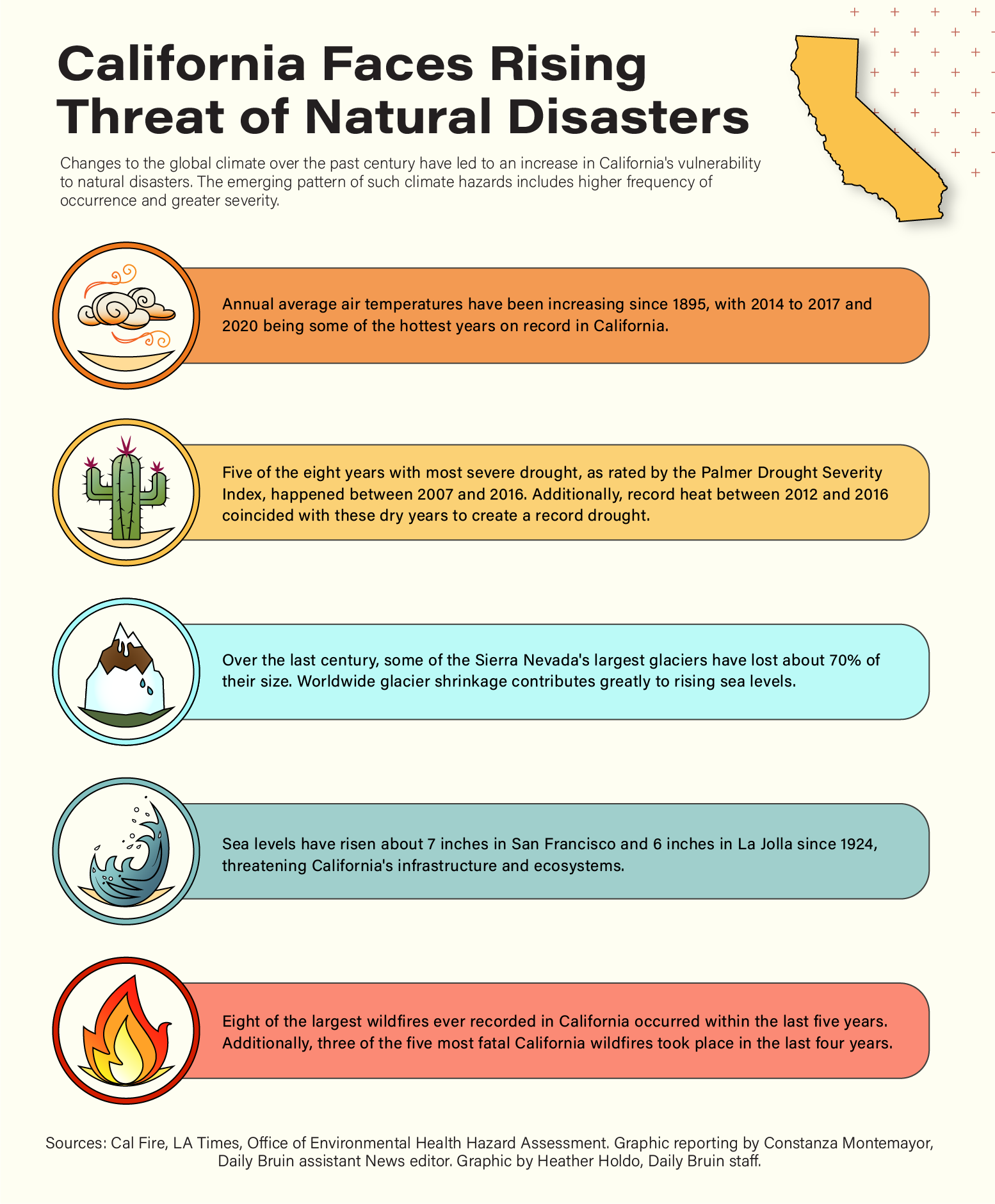 UCLA assistant professor Miriam Marlier was awarded one of the first awards in Google's new Research Scholar Program for her project on mapping compounding climate hazards in California.
Google's newly launched Research Scholar Program grants up to $60,000 in funds to 77 early-career faculty working on cutting-edge research.
Noam Rosenthal, a doctoral student in the Institute of Environment and Sustainability working with Marlier, said the Research Scholar Program often sponsors projects that align with Google's mission of using computing to organize information.
Marlier would hire Rosenthal using the grant so the two can work jointly on a project to examine the overlap between wildfires, extreme heat and air pollution in California, Rosenthal said.
Climate-related hazards are often the result of multiple interacting physical processes, Marlier said. The combination of these processes can result in impacts to the environment and society.
Marlier, who is a UCLA Fielding School of Public Health assistant professor of global environmental change in the environmental health sciences department, said scientists usually study climate hazards individually, but the grant will allow them to leverage Google's cloud computing to map the compound effect.
Rosenthal and Marlier plan to use Google Earth Engine, a publicly available cloud computing platform for academic researchers, to analyze satellite data and complementary ground-based measurements to measure these compound climate hazards.
Marlier said they can use the platform to look at the dynamics of weather disasters across time and space and plan to focus on wildfires, heat waves and droughts.
Google Earth Engine will allow Marlier's lab to analyze an area on the surface of the Earth and break it up into a grid, with each box being assigned a value that represents a value such as temperature.
"It's a lot of data that we're working with, so it can be computationally intensive," Rosenthal said. "Google's tool allows for anyone to do these large computationally intensive spatial analyses in a seamless way because everything is done on Google's servers."
Rosenthal hopes to use the grant to analyze climate variations on a small spatial scale to capture smaller changing trends between areas with different resources.
The grant will provide an opportunity to focus on their topic for the next year, Marlier said. Without the grant, they wouldn't be able to allocate as much time and energy into the research, she added.
Marlier said the project studies multiple climate-related hazards at the same time to take their research to the next level and better map and understand the most vulnerable communities, beginning with California.
Marlier and her lab have been studying climate-related hazards for the past few years. Katherine Brenner, a fourth-year environmental science student, works in Marlier's lab studying exposure scenarios for natural and working lands.
Brenner said she looks forward to this opportunity to use Google's resources to help discover which populations are most affected by certain natural disaster events in order to protect their communities.
"Wildfires and climate change-induced disasters are impacting the environment and human health, and it's important to spread awareness to other scientists and the public," Brenner said.
Marlier said the project she is working on is relevant to the current record-breaking heat waves and extreme wildfire seasons in California.
The issue is highly relevant in California, Marlier said, but other parts of the world also struggle with the effects of compound climate hazards, making their research important for public health preparedness.
Rosenthal and Marlier's goal is to build a publicly available online tool with which users can look at dynamic data representations in their regions of the state over time, so they can examine what the biggest climate-related hazards have been and how they are changing over time.
For the last 10 years, Californians have experienced climate change in the form of wildfires and seen what it does to the air they breathe, Rosenthal said.
In the future, Marlier hopes to collaborate with researchers working on health datasets to determine if there are differences in health implications for people who are exposed to compound or single-climate hazards.
"Climate change is here, and we need to find ways to adapt, and compounding hazards is an important notion for our resilience that has not been given enough attention," Rosenthal said. "It's an issue we want to illuminate."