An overview of Westwood politics, community organizations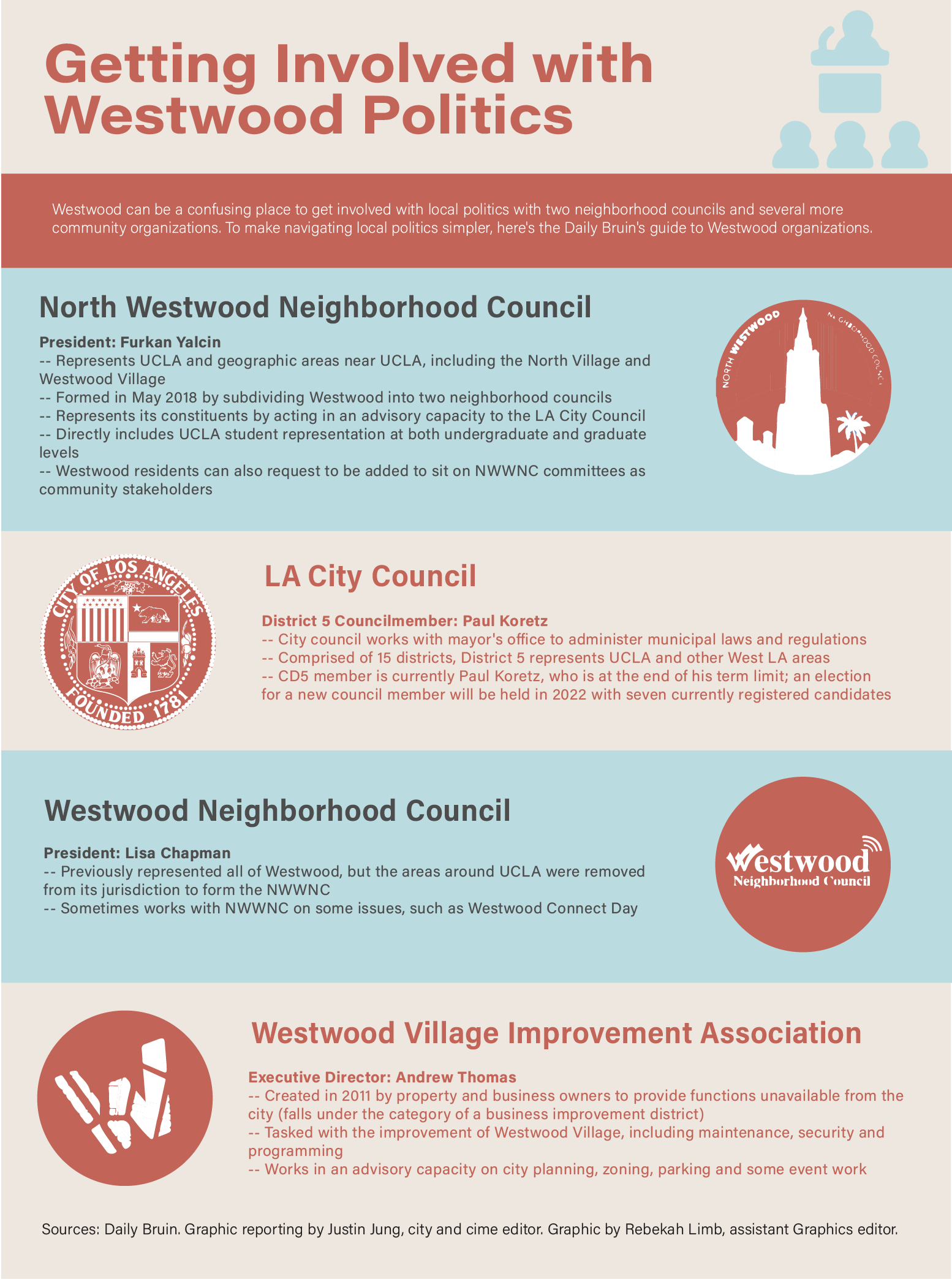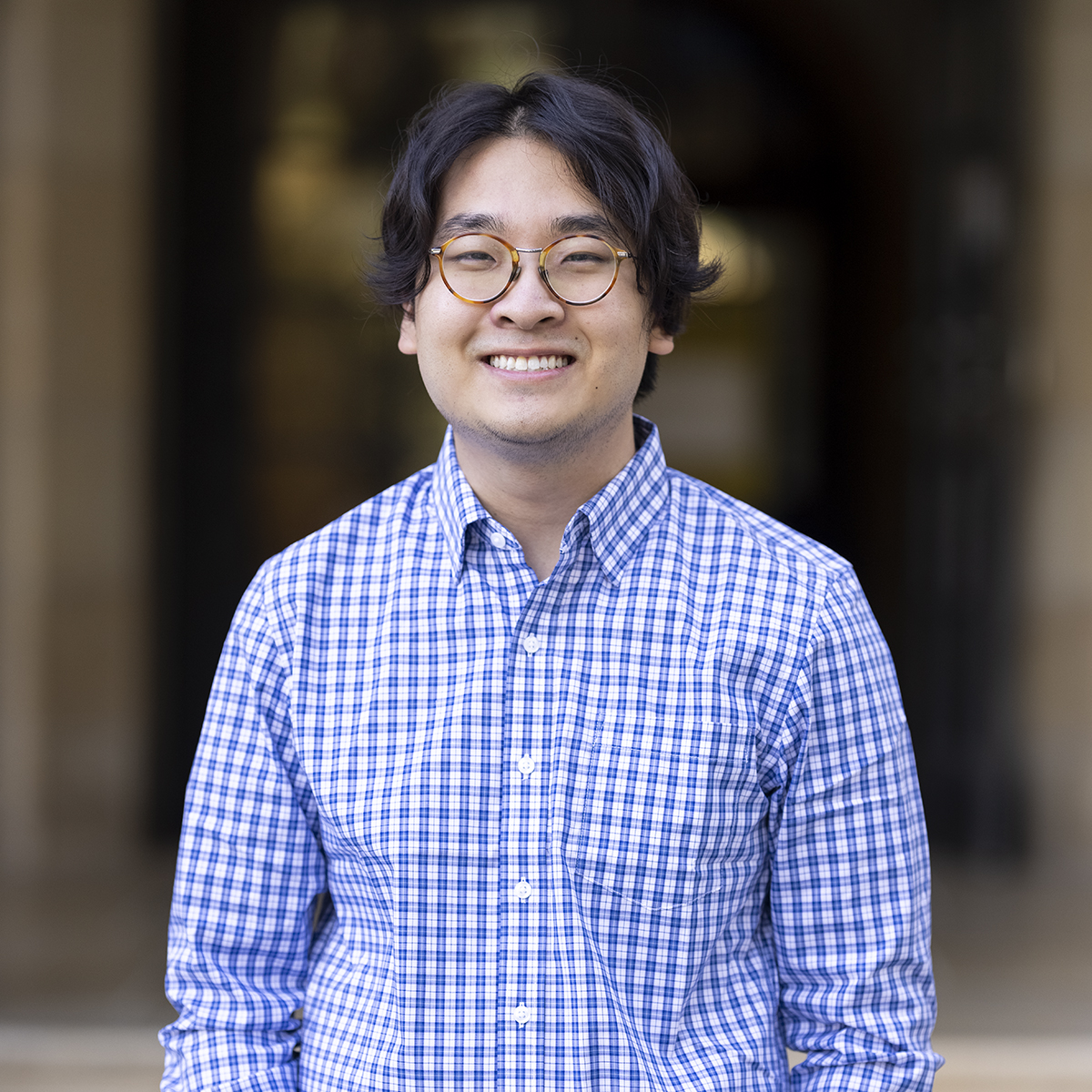 Whether you're a political science enthusiast or simply want to make an impact, Westwood is home to many different types of community organizations for students to get involved in.
The North Westwood Neighborhood Council represents the geographic areas around UCLA, including Westwood Village and the North Village. The NWWNC was formed in May 2018 by subdividing Westwood. Previously, the Westwood Neighborhood Council – which continues to represent the rest of Westwood – represented the entirety of the neighborhood.
Both neighborhood councils represent their respective areas as advisory bodies to the Los Angeles City Council, which is organized by the council district. The 5th District, which includes Westwood and UCLA, is represented by Councilmember Paul Koretz.
Westwood Village, the business improvement district located just south of UCLA's borders, is managed by the Westwood Village Improvement Association, which oversees services such as maintenance, security and programming, as well as advising on city planning and zoning.
Students can get involved with the NWWNC by starting as a stakeholder member on one of its committees, said NWWNC president and at-large stakeholder Furkan Yalcin. Although committee members do not sit on the NWWNC board, they are able to fully participate in committee discussions, he said.
The NWWNC has seven committees, including the Budget and Finance Committee, Planning and Land Use Committee, Outreach and Communications Committee, Transportation and Safety Committee, Elections Committee, Homelessness and Community Health Committee and Community Activities and Projects Committee.
All of the NWWNC committees are open for interested students to join, Yalcin said, with no limits on the number of committees that an individual can sit on. Yalcin added that he highly encourages any interested student to apply, regardless of prior experience. Students can apply to NWWNC committees by either emailing Yalcin directly or messaging the official council accounts on social media.
Sachi Cooper, an undergraduate student member and a co-chair of the Planning and Land Use Committee, said she hopes to encourage undergraduate engagement in council. In addition to joining committees, students can get involved by attending council meetings to give public comments and connecting with council members, added Cooper, a fourth-year geography student.
Students can also be involved with the WVIA by attending meetings and volunteering with the association, said Andrew Thomas, the WVIA executive director, in an emailed statement. Students can pursue creative opportunities, such as conducting research in the district, he added.
The LA City Council is another organization in which students can get involved both directly and indirectly, said Alison Simard, a spokesperson for Koretz's office, in an emailed statement. His office offers internships at both the City Hall and field offices, and interested students should contact Koretz directly at [email protected], she said. Students can also work with the city council on legislative decisions through grassroots organizing and advocacy groups, Simard added.
Students can also attend meetings held by other unofficial community organizations such as the Westwood Community Council, Thomas said. While these organizations aren't officially recognized by the city of Los Angeles, they have local influence and students can attend to make their voices heard, Thomas added.
In addition to Westwood organizations, students can also make an impact through their student government.
The external vice president's office at the Undergraduate Students Association Council has open opportunities for civic engagement through its fellowship program, staff hiring and affiliated programs, said USAC External Vice President Sarah Wang. The Office of the External Vice President focuses on lobbying and advocacy efforts at all levels of government, including local, state and federal, Wang said, noting partnerships with on-and-off-campus groups such as the University of California Student Association and the Mother Organizations, a coalition of student organizations representing underrepresented groups.
Students can also become involved in civic engagement, community organizing and advocacy through both partisan and nonpartisan groups, said Wang, a third-year communication and political science student.
The external vice president's office's new civic engagement team is also committed to helping students find opportunities by publicizing local internship and volunteering opportunities, Wang said.
Civic engagement and community involvement are important because current students are benefiting from the advocacy work of previous students, Wang said, adding that their current advocacy work is an investment into future students.
"We stand on the shoulders of those who came before us, and if you just look back 50 years, the rights and the resources that students had looked so vastly different," Wang said. "The reason why we're able to enjoy the high level of quality education we do today is because student advocates really fought for future generations of Bruins. … I think that's an obligation that we have to carry on."
Jung is a senior staff reporter and a photographer for the Bruin. He was a 2021-2022 assistant News editor for the campus politics and city and crime beats. Jung was also the 2020-2021 assistant Enterprise editor. Jung is a third-year global studies and geography student.
Jung is a senior staff reporter and a photographer for the Bruin. He was a 2021-2022 assistant News editor for the campus politics and city and crime beats. Jung was also the 2020-2021 assistant Enterprise editor. Jung is a third-year global studies and geography student.