Q&A: Stars of 'He's All That' discuss experiences remaking iconic film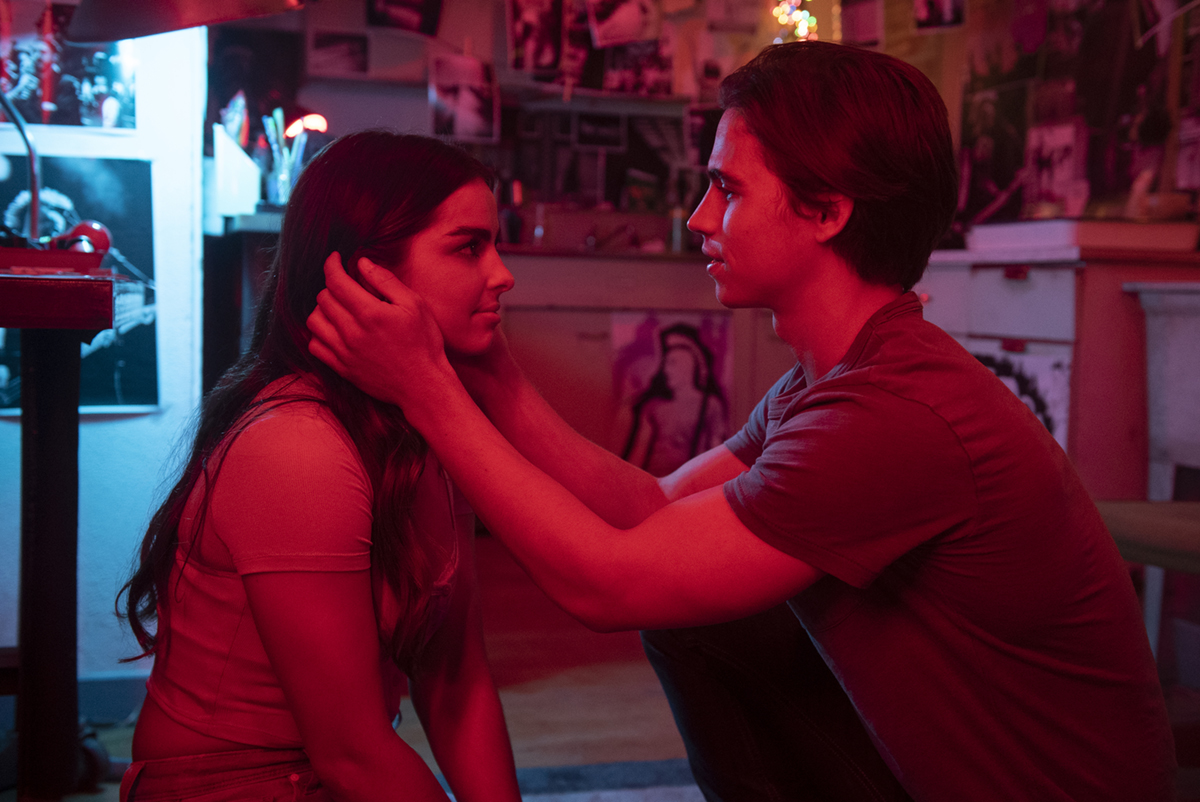 (Courtesy of Kevin Estrada/Netflix)
"He's All That"
Directed by Mark Waters
Netflix
Aug. 27
This post was updated Aug. 30 at 1:22 a.m.
"She's All That" is adapting to the modern decade.

Netflix is bringing the 1999 rom-com to the era of social media through its remake, "He's All That." Releasing Friday, the film follows teenage influencer Padgett Sawyer's (Addison Rae) attempt to transform her high school's outcast, Cameron Kweller (Tanner Buchanan), into prom king.
Rae and Buchanan spoke in a virtual roundtable with the Daily Bruin's Allyson Weissman and other college journalists, including reporters from FSView & Florida Flambeau, the Daily Aztec and the Indiana Daily Student, to discuss how they approached executing a remake of an iconic film as well as how they connected to their characters.
This interview has been edited for length and clarity.
Daily Bruin: Because your career and rise to fame is similar to Padgett's, how were you able to draw upon your own experiences to show the emotional highs and lows of being an influencer? Can you describe a specific scene that you felt resonated with you the most?
Addison Rae: A huge part of why this role felt so right for me was because I can relate to this character so much. I didn't start doing social media to the extent I do now in high school, but I was in college a little bit and was still figuring out the balance between social media and real personal life. I also started off like Padgett, very cautious and scared, and I wanted to be perfect because I don't want to disappoint anyone.
There's a scene in the movie (when) Padgett is talking to her mom and she's like, "I just don't even know who I am anymore because it feels like I'm constantly trying to be someone else so other people are happy." I definitely went through that. We are going to make mistakes, and that's what I've learned from my character.
[Related: Q&A: Alumna Nicole Riegel talks higher education and the home that inspired 'Holler']
FSView & Florida Flambeau: Did you do anything specific to prepare for your role as Cameron?
Tanner Buchanan: Something I do for every character, but differs every time, is keep a journal. I had pages of backstory for what Cameron has gone through, his relationship with his mother, his relationship with his father, etc. I looked up different towns in Wyoming and then decided which town he was going to be from. It might have been a little bit excessive, but for me, that's what helped me out a lot – to really find mentally where he was starting at in the movie and give him a good place to end up by the time the movie's over.
Daily Aztec: How does it feel to be portrayed in a romantic relationship on screen?
AR: I obviously have not experienced (an onscreen relationship) before, but have been involved in relationships. For me, even just having to kiss someone in a role is really weird because I always thought, "Oh my gosh, everyone definitely falls in love the second they kiss someone" because that's so me. But then I was like, "Oh it's just easy and it feels natural" and it's because you really get into these characters and whenever the scene is over, it just goes back to me and Tanner being besties.
TB: When you're on screen, it is awkward because I'm a very nervous person. When it comes to even anything like holding hands, I am always like, "Okay, before we get on screen I can't have it be awkward because it just needs to work, so we have to do it before we do it," and then you do it, and it's not a big deal. But you find that the awkwardness is there before you start because there's so many people behind the camera (who) are watching it. You do have that moment that's real on camera as your character, but then as soon as you call cut, it's just that switch that flips.
[Related: Q&A: Actors discuss future of 'High School Musical' franchise in roundtable event]
Indiana Daily Student: Because "She's All That" is a very iconic '90s movie, what made you confident that you could do the original film and its many fans justice?
AR: We aren't going to be "She's All That" because it's not "She's All That." I think for me personally, (it was) accepting that "No, I am not going to be what Freddie Prinze Jr. was to Rachael Leigh Cook." We all like to say it is a reimagining of the movie because it is a little bit different. That'll open up a new door for people to judge it from a different perspective. There are nods to the original, which are so amazing for people that were such big fans of the iconic "She's All That" who can now look at this and be like, "Wow, I love how they took little things here and there, but also reinvented the story as a whole."