Gameday predictions: UCLA vs. Hawai'i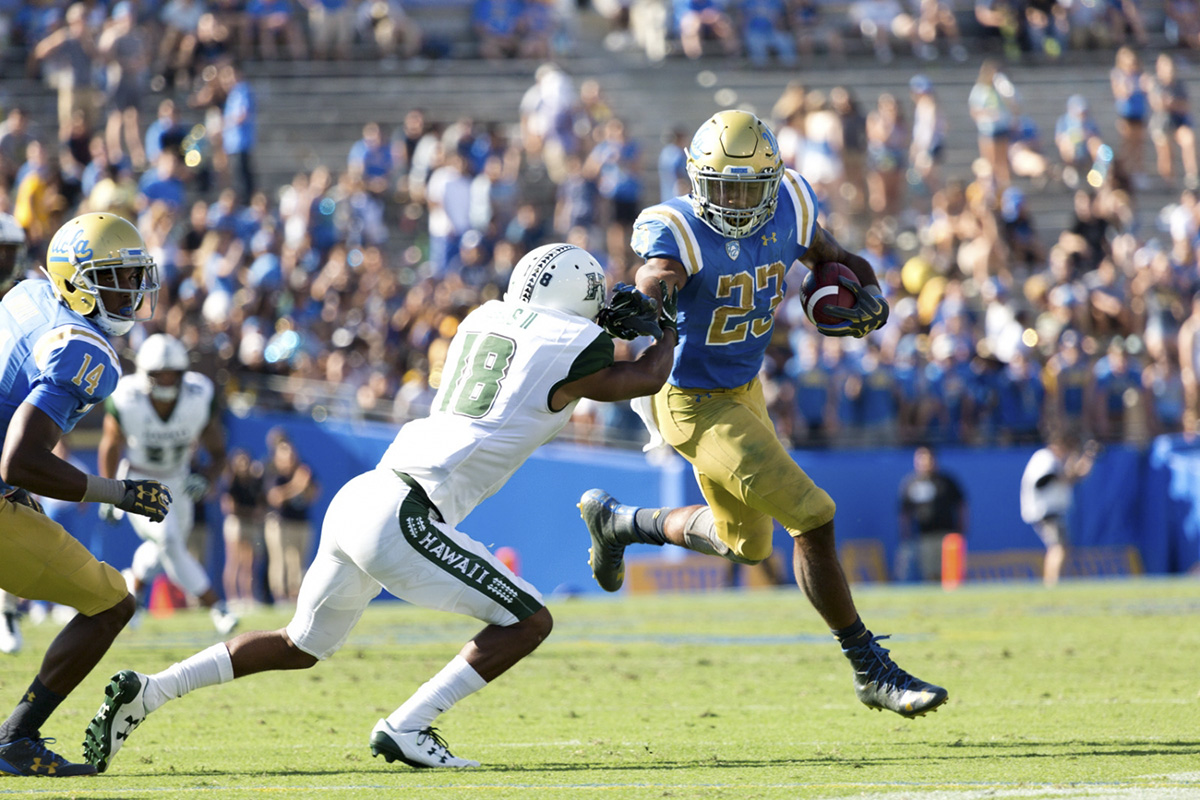 UCLA football will take on Hawai'i to open up its 2021 season Saturday. The Bruins and Rainbow Warriors last squared off in 2017, a game that resulted in a 56-23 UCLA win. (Daily Bruin file photo)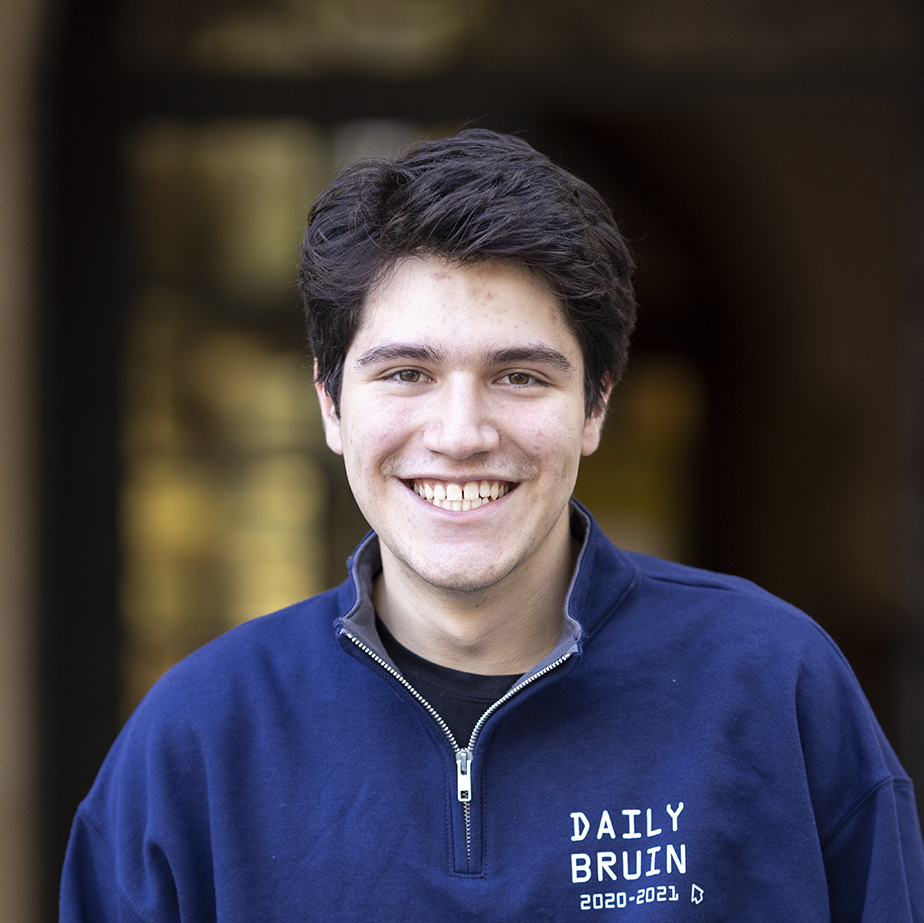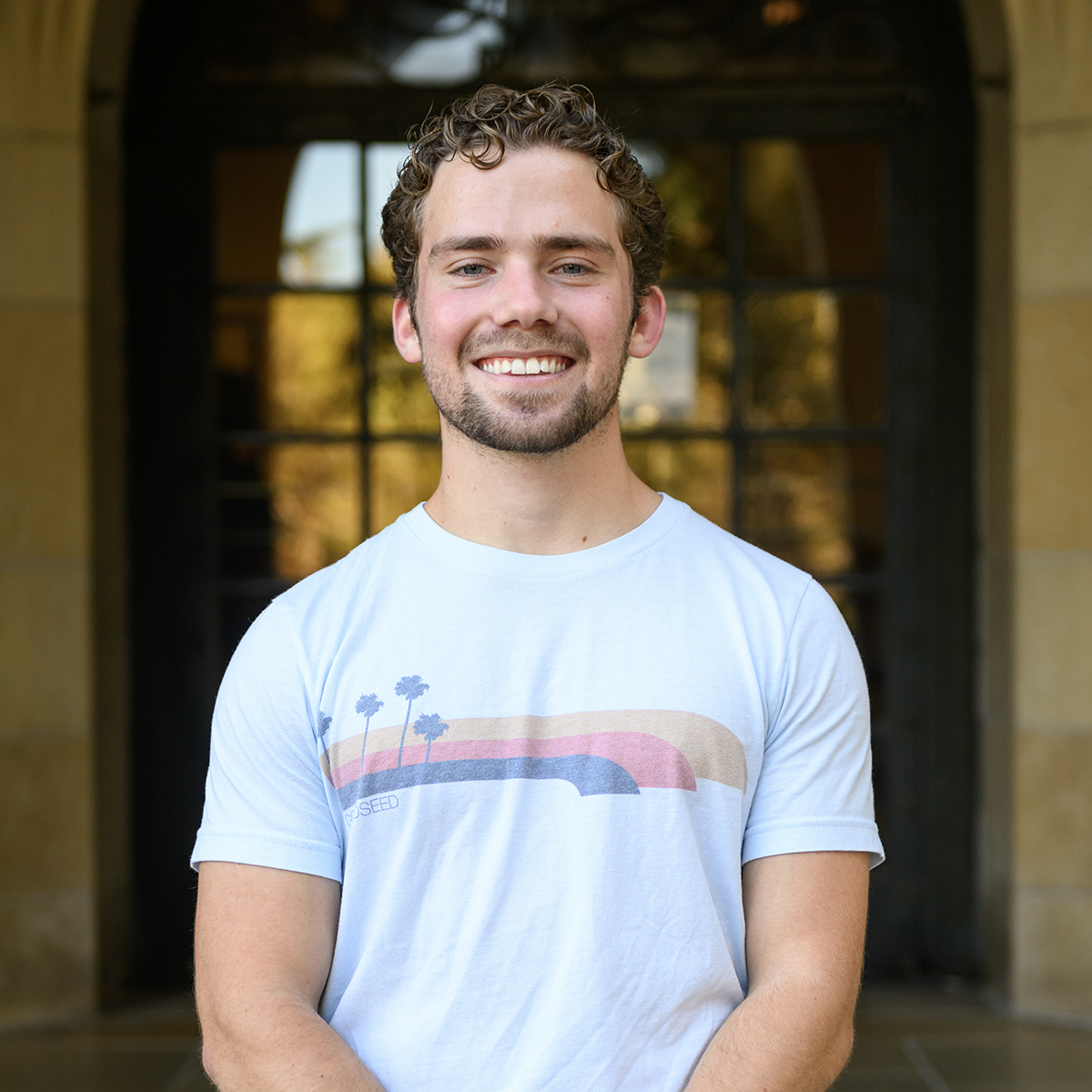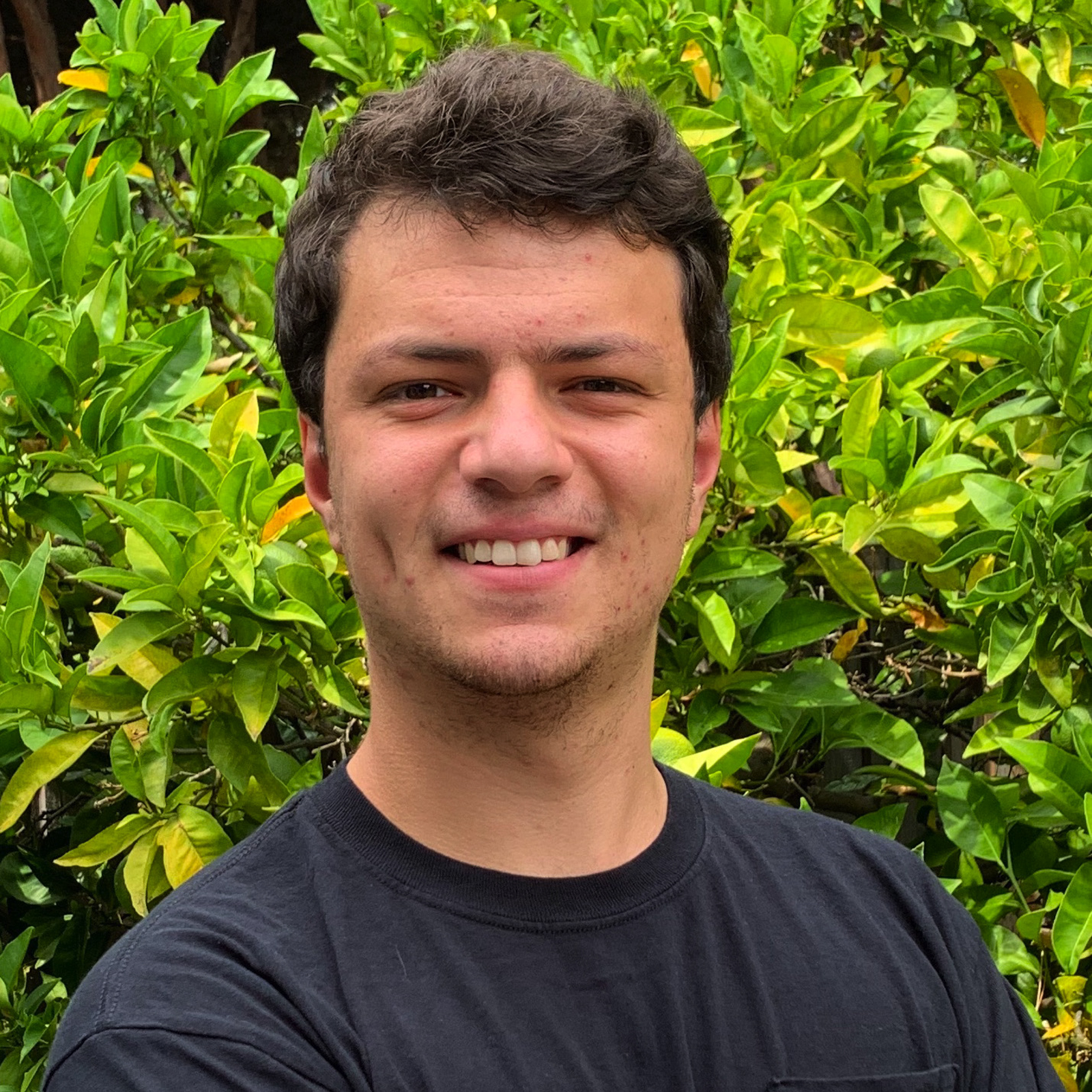 Correction: The original version of this article incorrectly stated that Todd Graham coached Arizona State from 2012-2019. In fact, Graham coached Arizona State from 2012-2017.
This post was updated Aug. 26 at 9:01 p.m.
Jon Christon
Sports editor
Prediction: UCLA 31, Hawai'i 24
Look, I don't have a good track record with football predictions – especially for season openers.
I predicted that UCLA would open its season with a 28-point trouncing of Colorado a year ago. Instead, the Bruins lost by six – a 34-point turnaround from my prediction.
So I'm hesitant to suggest another UCLA blowout win, even though my brain and my gut are telling me it's a logical pick. I'll split the difference here with a moderate, one-possession victory.
But really, this game shouldn't be all that close.
For starters, the Bruins have a stark talent advantage. UCLA has had a national top-40 recruiting class each year since 2018, while Hawai'i has yet to crack the top 80 in the last four recruiting cycles.
But the talent disparity also extends to the sidelines – the Rainbow Warriors' second-year coach Todd Graham is a familiar foe for coach Chip Kelly, and a kind one at that. Kelly is 1-0 all-time against Graham dating back to his Oregon days and UCLA went 3-3 against Graham's Arizona State teams.
History is on UCLA's side too with the most recent matchup between the two schools resulting in a 33-point blowout win in 2017. The contest featured the Bruins scoring 56 points, good for their second-highest scoring game over the past five seasons.
UCLA has talent, coaching and history all on its side, so theoretically, this should be an easy first win for the Bruins and an opportunity to get the nonconference monkey off Kelly's back.
But you can never be too sure with these Bruins, so I bet the Rainbow Warriors make the game close toward the end before UCLA's ample advantages prevail. If Kelly and the Bruins do find a way to lose, suffice to say, it will be a very long season in Westwood.
Taiyo Keilin
Daily Bruin senior staff
Prediction: UCLA 28, Hawai'i 13
Per ESPN, the Bruins enter their season opener as 17-point favorites, and the matchup predictor gives them a 90.7% chance of starting the 2021 campaign 1-0.
Only once before in the Chip Kelly era has UCLA had a pre-game win probability higher than 90%. And while San Diego State – given a 7.8% chance to win in September 2019 – beat its hosts for the first time in program history, I don't see a repeat of an upset that jarring in the Rose Bowl's future.
The Bruins have a lot to prove this year and can ill afford to get off on the wrong foot. Kelly is in a pivotal year of what has turned out to be an unfavorable contract in the eyes of many UCLA fans, senior quarterback Dorian Thompson-Robinson has some serious work to do to up his draft stock, and the team will be sporting Jordan Brand apparel after ending the most lucrative sponsorship deal in collegiate history with Under Armour.
The fans want – and probably feel they deserve – a good season of UCLA football. The last two graduating classes did not witness a winning season in their four years in Westwood. The class of 2019 saw the 8-5 campaign in 2015, but that was the only winning record in the last six seasons.
I don't suspect Saturday will feature the prettiest 60 minutes of football, but surely UCLA should come out on top and take the all-important first step toward a season with more wins than losses.
If not, perhaps those in attendance will take advantage of the athletic department resuming alcohol sales at the Rose Bowl.
Sam Settleman
Assistant Sports editor
Prediction: UCLA 35, Hawai'i 17
It feels like we've been saying every game for the last two years has been a must-win for Kelly and the Bruins.
Maybe it's always been true, or maybe it was slightly dramatic – but make no mistake, there's no hyperbole here.
UCLA cannot lose this game.
That's not to say Hawai'i is some sort of bottom-feeder team. The Rainbow Warriors are coming off consecutive bowl-winning seasons and are just two years removed from a 10-5 season that saw them post a 2-1 record against Pac-12 opponents.
But Kelly is 0-3 in season openers with the Bruins and 0-6 against nonconference opponents, and if a Hawai'i team that ranks in the middle of the pack in a below-average football conference poses a serious threat to a UCLA squad that's been buzzing all offseason about a breakout year, then all that offseason chatter goes out the window.
That being said, the Bruins are no strangers to losing games they're expected to win, so why am I predicting UCLA will more than double up Hawai'i on Saturday?
The Rainbow Warriors ranked 109th out of 127 teams in sacks allowed per game in 2020. Conversely, the Bruins' defense was eighth in the country with 3.29 sacks per game. Even in the absence of Osa Odighizuwa, UCLA's front seven should dominate Hawai'i's weak offensive line.
On the offensive side of the ball, the Bruins were 12th in the nation in rushing offense a season ago, averaging over 230 yards on the ground per contest. The new two-headed backfield of redshirt senior Brittain Brown and junior Zach Charbonnet should get plenty of carries against the Rainbow Warriors' leaky run defense, which ranked 105th in rushing yards allowed per game in 2020.
UCLA should run away with this one – on the field and on the scoreboard.
Michael Waldman
Daily Bruin senior staff
Prediction: Hawai'i 31, UCLA 27
You might not think Hawai'i's 5-4 record from last season is anything to write home about but neither was UCLA's 3-4 mark in a stunted seven-game schedule.
And it makes sense to give the Power Five conference Bruins the edge from the outset, but only one of these squads took on California's best collegiate football team last year – the San Jose State Spartans.
The Spartans finished 7-1, good enough for No. 24 in the country, and delivered an 11-point victory over the Rainbow Warriors en route to an undefeated Mountain West Championship regular season.
UCLA played no team as dominant as San Jose State, and Hawai'i's statistical returns against that team show its readiness against the potentially overconfident blue and gold.
Returning quarterback Chevan Cordeiro out-passed his Spartan counterpart 238-167, finishing the nine-game season with a gaudy 2,083 yards and 14 touchdowns. Meanwhile, the Bruins have indicated they hope to improve their passing defense, and it would be hard not to after finishing 11th in the Pac-12 in the 2020 season in the category.
By year's end, the secondary in Westwood could be a formidable crew. But in the first game of a more normal season, Cordeiro and Demetric Felton-esque running back/wide receiver Calvin Turner Jr. figure to have the Bruins on their back foot.
USC, California or Oregon are all good rivalry opponents for UCLA. But let's not kid ourselves – none of those teams pass muster when compared with San Jose State and its undefeated 2020 regular season, and Hawai'i is ready to take its experience with a Spartan-caliber program into the Rose Bowl for a season-opening upset victory.