New UCSA president, chair hope to prioritize equity, decentralization of power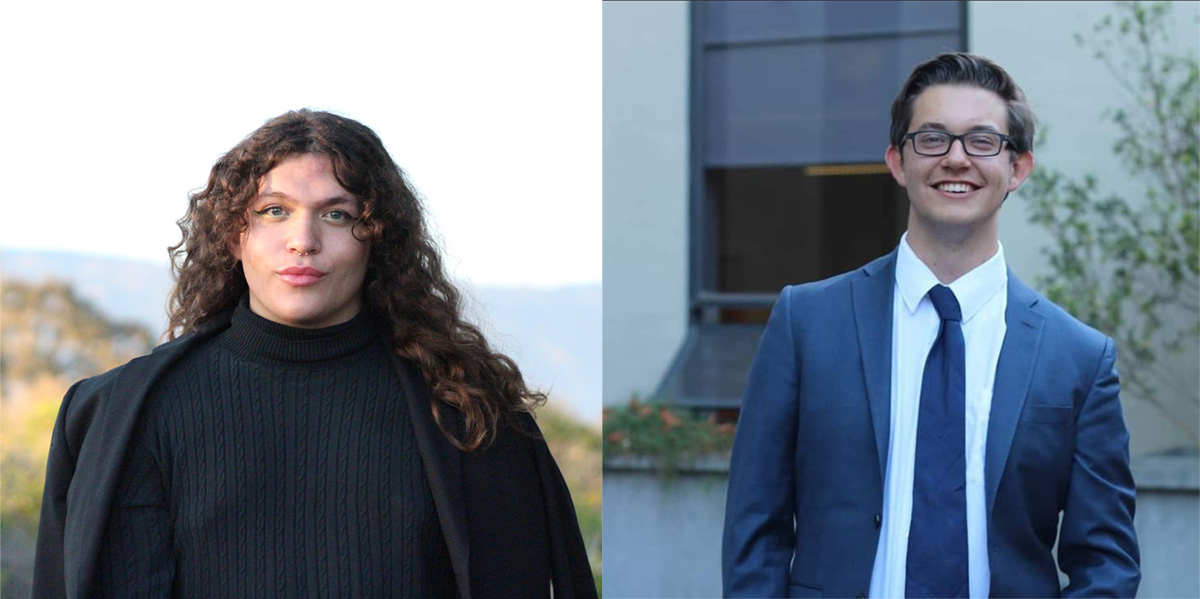 The University of California Student Association elected Esmeralda Quintero-Cubillan as the 2021-2022 president and Joshua Lewis as the 2021-2022 chair. Both hope to work on making UCSA and the UC system more equitable. (Left to right: Courtesy of Esmeralda Quintero-Cubillan, courtesy of Joshua Lewis)
This post was updated Aug. 22 at 7:47 p.m.
Editor's note: This article uses she/they pronouns interchangeably to refer to Esmeralda Quintero-Cubillan by the source's request.
The newly elected University of California Student Association president and chair said they hope to create a more equitable UCSA and mitigate challenges within the UC.
Esmeralda Quintero-Cubillan and Joshua Lewis, who were elected to president and chair, respectively, Aug. 8, said they are working to ensure a safe return to campuses in the fall, increase UCSA's advocacy and decentralize the power of UCSA's executive roles to empower and include all members of the board in advocacy and decision-making.
UCSA is a student-led organization that represents more than 280,000 UC students with a leadership consisting of representatives from the 10 UC campuses. The association aims to serve the interests of UC students and foster cooperation among UC student governments and other higher education student organizations, according to the UCSA charter.
Quintero-Cubillan, a fourth-year political science, sociology and environmental studies student, is the 2021-2022 UC Santa Barbara external vice president for statewide affairs. She was also a 2020-2021 UCSB Associated Students off-campus senator.
Although Quintero-Cubillan has worked with legislation and human rights advocacy before, they said they had no formal experience with UCSA before assuming the role as president.
Quintero-Cubillan added that she decided to run for president because of the many crises students are facing with the return to campus and because UCSA had always felt inaccessible to students like her who had no prior involvement in the organization.
Quintero-Cubillan said she hopes by the end of her term they can achieve a more equitable UCSA that gives smaller UC campuses more power and space compared to previous years, when larger campuses such as UCLA and UC Berkeley tended to dominate.
"I want to make sure (UCSA) feels as if we genuinely represent UC students and not just the handful that have had historical access to the organization," she said.
Quintero-Cubillan said her identities as a first-generation, low-income, transgender and Indigenous student have shaped the way she sees institutionalized power.
She wants to ensure that someone with her identities could feel they are being cared for and represented by institutions such as the UCSA, she added. She also said she is willing to hear student concerns outside of professional settings and does not want to create a formal barrier between herself and students.
"When people feel cared for, your organization will succeed, and it will thrive," Quintero-Cubillan said. "And I take that very seriously as someone who has had to enter institutional spaces where people don't feel cared for."
Previous UCSA members also voiced their optimism regarding Quintero-Cubillan and Lewis' leadership.
Vincent Rasso, the former UCSA chair and UC Riverside alumnus, said in an emailed statement that he is excited to see the new UCSA board shape the direction of student advocacy.
"I am hopeful they will empower issues around student representation, college affordability and financial aid, as well as community-centered enfranchisement through a stronger presence in our campus networks," Rasso said.
Lewis, who is a fourth-year political science student at UC Berkeley and the former UCSA government relations committee chair, said he wants to bring his experience as former government relations committee chair and his familiarity on issues about student needs to the table.
He added that currently the UC is facing many challenges, including a rise in tuition, the state government's decision to decrease the number of nonresident UC students and the ongoing debates concerning doubling the Pell Grant.
Lewis, who was also a 2020-2021 student representative for UC Berkeley's Academic Senate Committee on Courses of Instruction, said they are planning to use USCA's new budget to improve accessibility, equitable representation and transparency within the UCSA board.
He added both he and Quintero-Cubillan are passionate about ensuring the power of the organization and their ability to do advocacy work lies in every member of the board instead of being centralized within the executive roles, such as the president and chair.
"We want to make sure every member of the board is empowered to take part in all of our advocacy and make decisions about UC student priorities," Lewis said.
Lewis said he and Quintero-Cubillan want to build more opportunities for students to voice their concerns and aspirations to key decision-makers such as the government and university administrators. Lewis said it is disappointing that only a handful of students were able to access this opportunity in the past and he wants to enable students to use their voice to impact change in the UC.
He said the board has yet to determine its campaign goals for the upcoming year and is excited to hear what students have to say in the next two weeks during the UC Student Organizing Summit, where UC students will vote to select UCSA's campaign goals.
Quintero-Cubillan said she hopes students know that she and the board are continually advocating to ensure that students have their basic needs supported and working to provide a community for students who feel cast out.
"There is someone advocating for you on all levels, it just may not be visible," she said. "But I want students to know that not at any moment is there not someone who's in that corner. … Ultimately, there's always someone rooting for you, and I personally am rooting for you."