The Quad: Bruins share excitement about attending UCLA in person for first time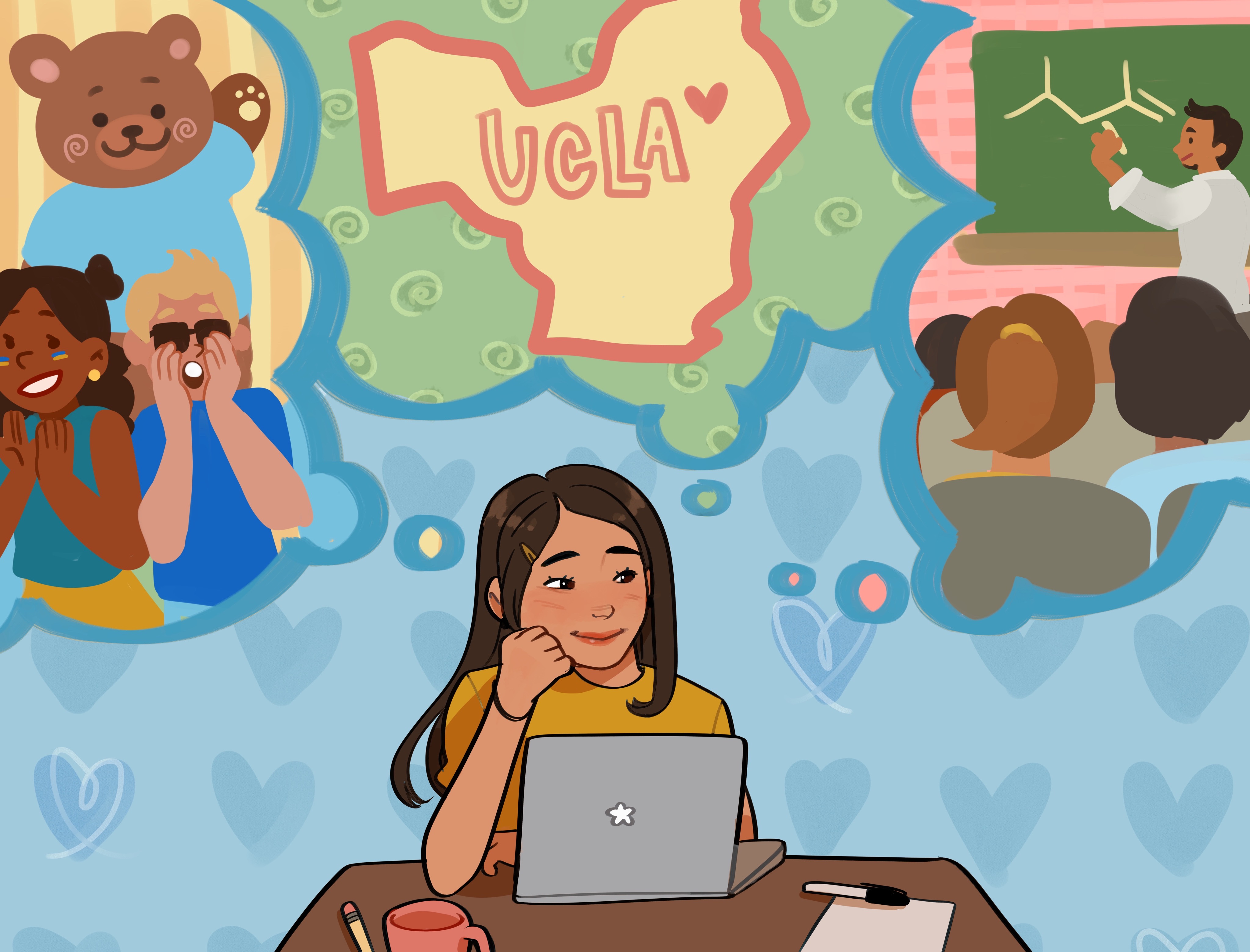 (Katelyn Dang/Illustrations Director)
With thousands of students either stepping foot on campus for the first time or reentering the realm of college life, the return to UCLA this fall will be unlike any other.
The transition will be especially momentous for those who have not yet experienced on-campus life. To mark the beginning of a special school year, The Quad interviewed incoming transfers and rising second-year students who have yet to attend UCLA in person. Join us as we hear about what makes UCLA special to them and what they look forward to the most.
Third-year English student Grace LaPlante said she has pictured herself at UCLA for a long time.
"UCLA has been my dream school since I was a little girl. Everything I've ever done has been working toward going to UCLA," LaPlante said. "And really nothing beats the feeling I get when I'm telling people now that I'm going to be a Bruin."
Third-year communication student Simi Rehill said she was attracted to UCLA's high caliber of education.
"One thing that made me choose UCLA over other schools is the quality (of) education that you get from going to such a prestigious school," Rehill said.
However, UCLA education is not limited to the confines of campus. Rehill said she is looking forward to the multitude of educational opportunities offered by the bustling city of Westwood and beyond.
"I think you can experience a lot of positive growth when you put yourself in a new challenging and exciting environment, which is what you get not just from attending UCLA but living in Los Angeles," Rehill said.
Third-year political science student Megan Aves said UCLA's prestige left a deep impression on her and her parents, but visiting campus beforehand sealed the deal for her.
"I remember vividly students on hammocks tied up on trees. I know a group of students were actually playing … Spikeball on the field," Aves said. "And so that environment really developed into a factor for me."
Second-year pre-human biology and society student Faith Lee said the vibrant city and weather played significant roles in her decision, but the most prominent factor was what current students had to say about UCLA.
"I talked to former and incoming as well as current students on their experience with UCLA, and they all had a lot of really positive things to say," Lee said. "They were much more enthusiastic than some of the other students I talked to who go to other schools."
Second-year economics student Katrina Raab said UCLA felt like the perfect distance away from home for her.
"I actually don't live that far away from UCLA," Raab said. "But then I realized it's far enough for me to be independent and … experience that college life and be in the dorms and everything, but then I can still be close enough to home."
As the school year approaches, new Bruins also look forward to the many events and locations open to them as students.
"I'm really excited to visit Powell Library because I really love reading in libraries, and Powell Library is such an iconic and historic part of the campus," Rehill said.
LaPlante said she is excited to explore Westwood and live in a big city such as LA. She added that being a sports girl at heart, she is most excited to watch the athletic games.
"I'm most excited for football games at the Rose Bowl and basketball games in Pauley Pavilion," LaPlante said.
For Aves, LA has always been her second home, especially having grown up there until the age of six.
"I'm excited to experience Los Angeles as a grown adult," Aves said. "I am also ready to just immerse myself in the college culture and experience the LA culture."
Aves said she hopes to attend local playhouses and movie premieres as well as partake in a number of UCLA traditions.
"I'm ready to learn all the traditions that UCLA has to offer, anything that gets students through finals, anything crazy like that," Aves said.
On the other hand, Lee is most excited to meet some of the incoming students and eat at the dining halls.
"I feel like I missed out on a lot of new student type of stuff, so I'm excited to be able to explore Westwood and make up for all the activities I couldn't do this year," Lee said.
Sharing Lee's sentiments, Raab said she is excited to experience activities that were not possible given the virtual format of the last school year.
"I'm excited to at least have some interaction or be able to go on campus and explore and go to different buildings," Raab said. "I feel like there's more that I want to do like intramural sports … like rock climbing … or archery … but also (get involved) in more academic clubs."
After facing numerous uncertainties and hardships, new Bruins are excited for all that UCLA has to offer and to return to a state of normalcy.