Voter turnout proves crucial in Gov. Newsom's upcoming recall election
(Katelyn Dang/Illustrations director)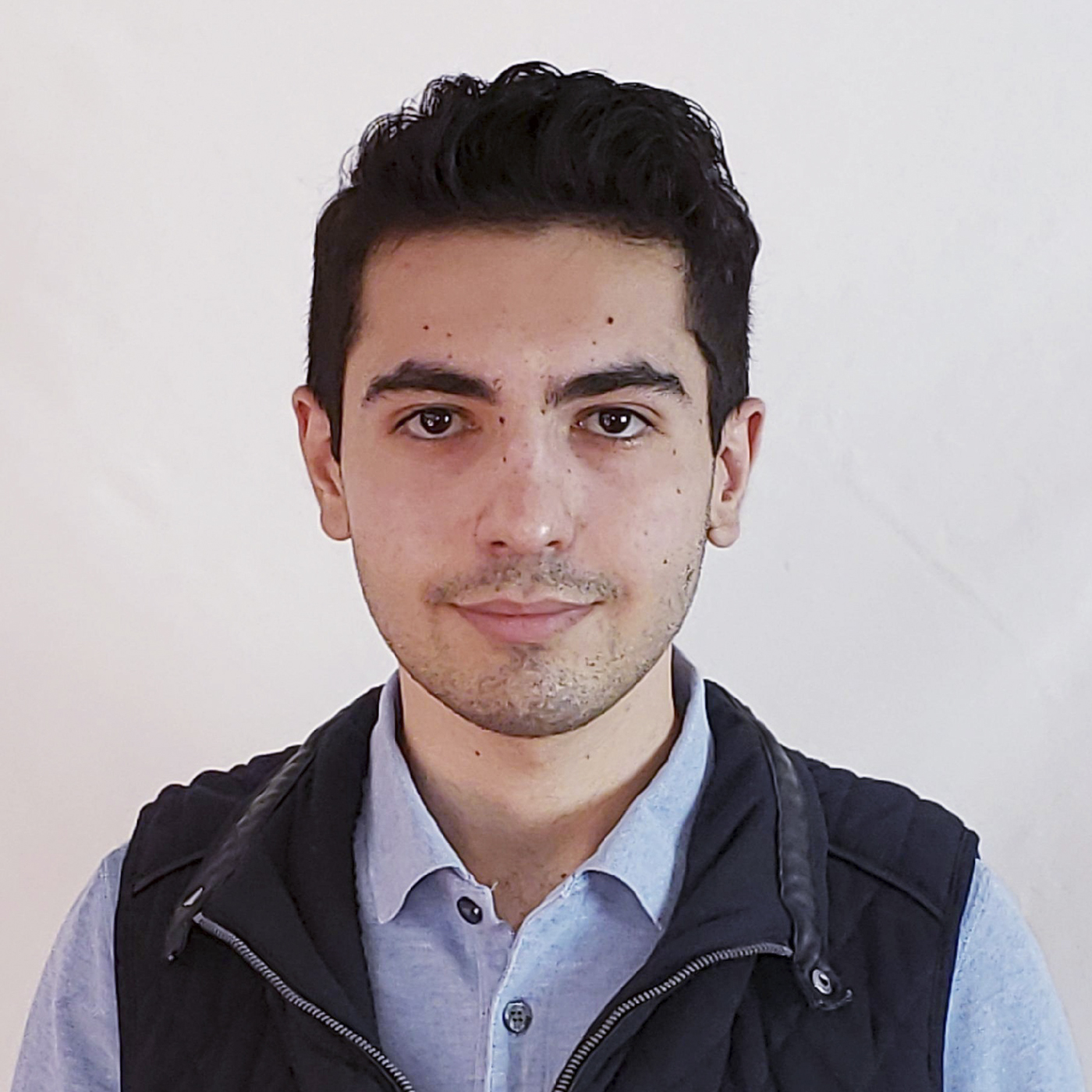 This post was updated Aug. 15 at 7:20 p.m.
Voter turnout will be a decisive factor in the Sept. 14 recall election of Gov. Gavin Newsom, University of California community members said.
According to a new poll from the UC Berkeley Institute of Governmental Studies, 47% of likely California voters in July supported recalling Newsom, while 50% opposed removing him from office before the end of his term in 2023.
If more than half of voters agree to remove Newsom, the candidate with the most votes becomes the next governor – even if they have less than a majority.
Recall supporters gathered more than 1.6 million valid signatures by the March 17 filing deadline, initiating the recall, according to the California secretary of state website.
As a result, all registered voters in California will soon receive their mail-in ballots to participate in the recall, according to the California secretary of state's office. A list of polling locations will be sent out alongside mail-in ballots, the website added.
The ballots, which must be sent to all registered voters by Monday, consists of two questions. The first question asks voters if Gavin Newsom should be removed from office, and the second question asks who should replace him from a list of 46 candidates, according to CalMatters.
Voters can vote on either one or both questions of the recall ballot, according to the California secretary of state website. The website also states a voter who votes not to remove Newsom can also vote for his replacement.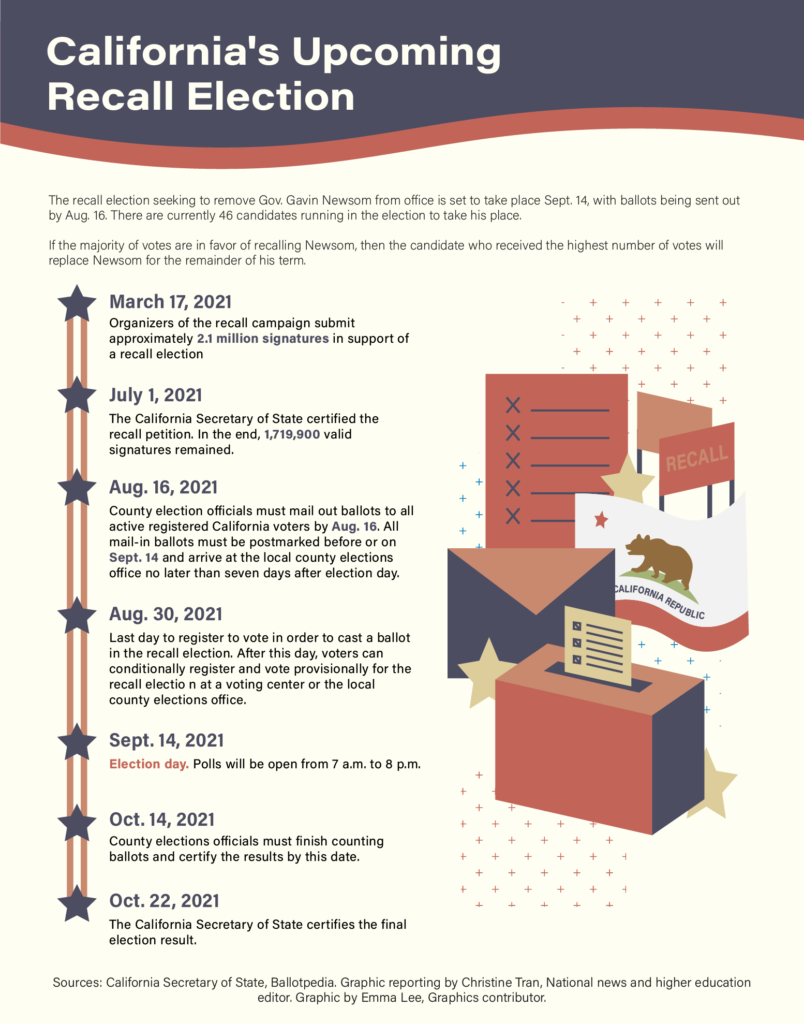 Jim Newton, a public affairs lecturer and editor in chief of UCLA's Blueprint Magazine, said he believes the structure of the recall election could lead to a strange outcome.
According to the California secretary of state's voter guide, more than 50% of people need to vote yes for Newsom to be recalled, and from there, whoever gets the plurality of votes to succeed Newsom on the second question replaces him without the need for a runoff to reach a majority. There may not be a replacement candidate who receives greater than 50% of the votes, based on the recent IGS poll.
"Newsom could get twice as many votes as his next closest competitor and still lose, in effect, and there's something alarmingly out of whack about that," Newton said.
The recall campaign's website states some of the reasons voters should remove Newsom include Newsom himself violating social distancing guidelines in November and extreme government overreach in the state's response to the COVID-19 pandemic.
In addition, Newton said that in a state as Democratic as California, a recall is an opportunity for Republicans to seize the governorship in a way that would be very difficult in a general election.
Mark DiCamillo, director of the UC Berkeley IGS poll and whose previous poll was close to correctly predicting the outcome of Newsom's election to the governorship in 2018, said that if every registered voter in the state cast a ballot, Newsom would easily defeat the recall by 15% or more.
According to the Public Policy Institute of California, 46.3% of California's registered voters are Democrats, while 24% are Republicans and 24% are not affiliated with any party.
However, according to the IGS poll, Republicans account for 33% of those likely to cast a ballot in the recall, while Democrats make up 42% of likely voters. In addition, the poll results show that 18% of likely recall voters are independent.
"It's more about the Democratic turnout, that's the unknown at this point. They weren't aroused in the middle of July when we were polling, and that's why it was so close," DiCamillo said. "If Newsom is successful in getting more interest and enthusiasm to vote among the Democrats, that should give him some comfort."
The last time a recall election was held for governor in California, former Gov. Gray Davis was removed and replaced by Arnold Schwarzenegger, a Republican who received nearly 49% of the vote, according to Ballotpedia.
Former Los Angeles County Supervisor Zev Yaroslavsky, the director of the Los Angeles Initiative at UCLA, said he believes that because mostly Republicans are at the top of the polls, Newsom's replacement would be highly conservative.
Democratic officials said in May they did not want any prominent Democrats running against Newsom, according to NBC News. As a result, the top first choices of likely voters in this recall are Republican radio host Larry Elder, businessman John Cox and former San Diego mayor Kevin Faulconer, who would receive 18%, 10% and 10% of the vote, respectively, according to the IGS poll.
"Hindsight is 20/20. If the recall fails, then it was the right decision not to have a Democrat on the ballot," Yaroslavsky said. "If the recall succeeds, then it will have been a disastrous decision not to have a Democrat on the ballot."
Yaroslavsky also said Newsom being successfully recalled could be disruptive to Democratic goals in Sacramento because a Republican would likely become governor.
"I think it could bring a lot of the progress that is being made in California to a grinding halt," Yaroslavsky said.