Jenny Nuo combines love for computer science, music in her first EP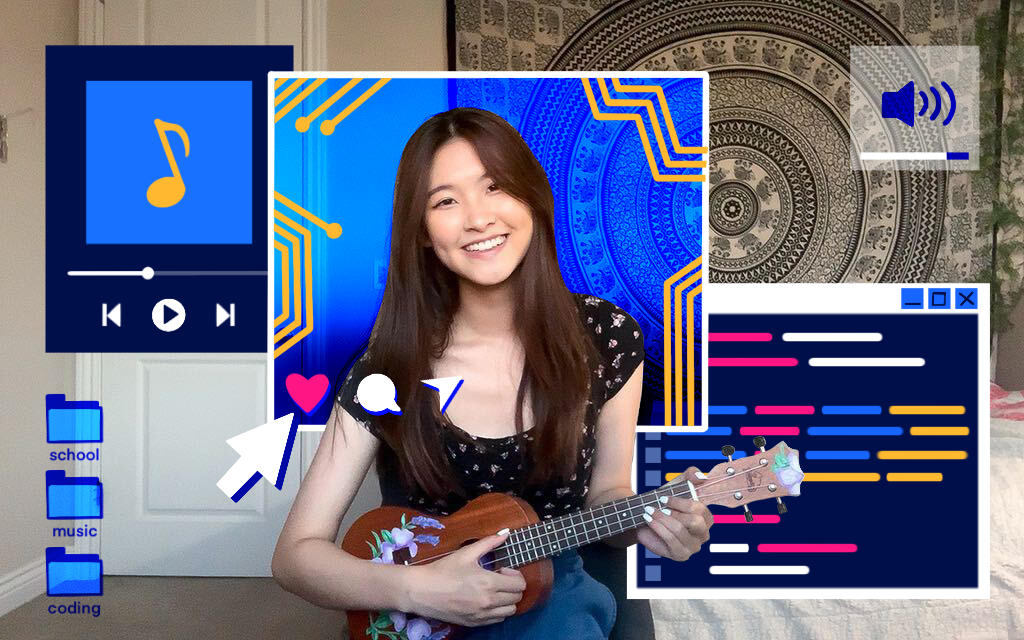 First-year linguistics and computer science student Jenny Wang, under stage name Jenny Nuo, has garnered a following of more than 57,000 thousand followers on TikTok for her musical content that combines songwriting and STEM. (Photo by Sakshi Joglekar/Photo Illustration by Isabella Lee)
This post was updated Aug. 15 at 5:34 p.m.
Jenny Nuo is turning over a new leaf with a STEM-inspired EP.
First-year linguistics and computer science student Jenny Wang, also known as Jenny Nuo, released her EP "bound by expectations," on which she combines her love of computer science and music. With more than 57,000 followers, Nuo said she uses her TikTok videos and songs as an outlet to release her emotions about being a woman in STEM and a first-generation immigrant.
"I write music for a specific target audience," Nuo said. "My music is made for burnt-out gifted kids – people who try really hard in school but still carry a lot of insecurities."
Growing up, Nuo said music was present in many of her family gatherings. From karaoke nights to piano lessons, she said her musical background turned into a way for her to express her emotions. Nuo said she is drawn to the narrative style of songwriting by artists such as Taylor Swift, and she uses her songs as a diary to talk about her life experiences. In "print('i'm so tired')," Nuo said she sings about impostor syndrome and the frustrations she feels while navigating her life as a woman pursuing computer science.
For Nuo, writing the songs for her first EP was a learning experience as she explored the ins and outs of producing music and collaborating with others. Since she started writing the tracks at the beginning of the pandemic, she said the process of creating music with others has been mainly over Zoom. Nuo said her experience creating an EP was different from most musical artists because it involved more virtual communication, such as sending prerecorded music to her producer.
"I have gotten to work with my friends who are musicians, people who are outside of my hometown … and with people that I've met on the internet," Nuo said. "Collaborating is such a cool way to get an outside perspective and add to your music while also staying true to yourself."
[Related: UCLA music students gain traction virtually through TikTok musical covers]
Creating music virtually, Nuo said, gave the opportunity to connect with other musicians online, such as first-year economics student Sunny Kim. He said he met Nuo through TikTok and they bonded over their mutual love for creating music. Kim said through her music, audience members are able to get a feel for her authenticity, which makes the listening experience more intimate.
"It's extremely genuine," Kim said. "When you listen to her music, it sounds like you're listening to a childhood friend talk about her emotions. It's the same appeal that makes old Taylor Swift and Olivia Rodrigo so attractive."
Nuo has found her niche in the music world by branding herself as a woman in STEM who also makes music, and Kim said witnessing her independence while creating and releasing her EP is exciting. Nuo said she uses parts of her identity as inspiration and draws from school experiences to write her music, so she will continue writing about personal experiences as her college career unfolds.
Nuo's friend John Kim said it has been thrilling watching Nuo's TikTok account grow throughout high school. He said the combination of catchy music with authentic lyrics makes her music appealing to people outside her usual demographic of burnt-out gifted kids because she talks about issues prevalent among most teenagers, including feeling anxious when learning how to drive.
"A lot of her songs, especially on her latest EP, (are) very relatable," John Kim said. "Someone could really take refuge in her songs. To know that someone like her can feel the same emotions that another student halfway across the world (is feeling) is something amazing to think about."
[Related: Student band Even Kevin combines indie jams, surf rock in debut album]
After receiving positive feedback on "bound by expectations," Nuo said she is working on songs for another EP. She likes to take the academic subjects she learns in school and turn them into metaphors for life events, she said. For instance, Nuo said she drew inspiration from her U.S. history class for her song "gilded age," which represents a struggling relationship that looks perfect on the outside.
As a computer science student, Nuo said she sees many similarities between music and the tech industry. She said both areas challenge her to keep up in a challenging environment because of the rapidly changing tech scene and fast-paced music world. Though Nuo said she has thought about how difficult it will be to balance computer science and making music, she does not anticipate having to choose between the two in the near future.
"Both fields are very creative," Nuo said. "There's so many intersections between art and STEM that people don't necessarily talk about. I just love being able to create, and I love being able to learn."