Delta variant contributes to rise in COVID-19 cases in LA County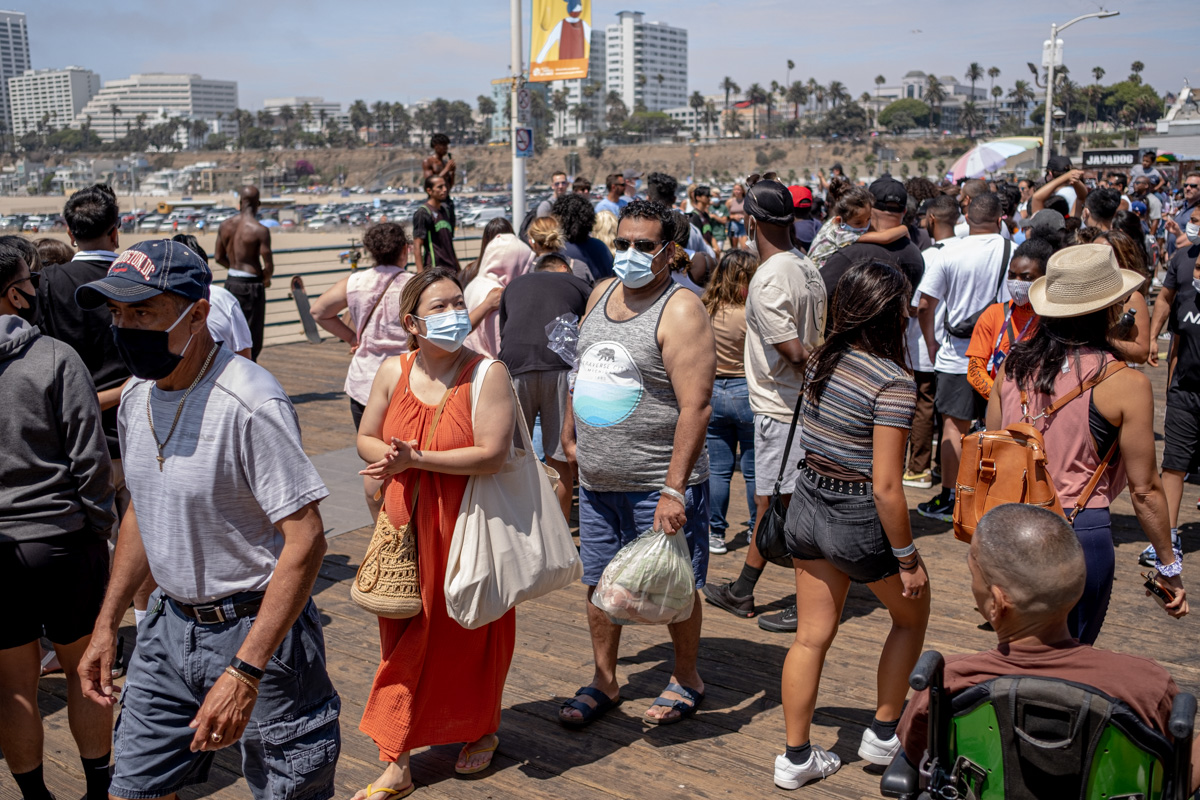 LA County experienced a seven-fold increase in new daily COVID-19 cases in the month after California's June 15 reopening, a trend driven by slowed vaccination progress and the delta variant. (Antonio Martinez/Daily Bruin)
This post was updated Aug. 6 at 3:25 p.m.
The rate of new COVID-19 cases is increasing in Los Angeles County, largely because of the spread of the delta variant among unvaccinated populations.
New COVID-19 cases in LA County have experienced a seven-fold increase since California's reopening June 15, with a total of 1,537 new cases July 15 – the highest number since mid-March, according to a press release from the Los Angeles County Department of Public Health. This rapid rise in cases prompted the LACDPH to reinstate the indoor mask mandate July 17.
One major factor is that the delta variant of COVID-19 appears more contagious than previous strains, said Dr. David Talan, a professor of emergency medicine and infectious diseases at the David Geffen School of Medicine.
Roughly 82% of new COVID-19 infections in the U.S. in the two weeks after July 4 are due to the delta variant, according to projections from the Centers for Disease Control and Prevention.
A virus is constantly mutating, said Neda Ashtari, a UCLA medical student. Some mutations, such as those that gave rise to the delta variant, can strengthen the ability of the virus to spread from person to person, she added.
The second major contributing factor to the current rise in COVID-19 cases is that LA's population – while having a relatively high vaccination rate compared to other places in the country – still has many individuals who have yet to get vaccinated, which in turn increases the risk of exposure to COVID-19, Talan said. As of July 29, 38% of LA residents 16 years or older are not fully vaccinated, according to the LACDPH database for vaccine tracking.
Nearly 100% of new COVID-19 cases in LA are among unvaccinated individuals, according to a July 10 LACDPH press release.
"People aren't getting vaccinated as fast as they need to be to reach herd immunity," said Tayloneei Jackson, a fourth-year human biology and society student and USAC Student Wellness commissioner. "Practicing COVID-conscious protocol is super important for both sides: vaccinated and unvaccinated."
The COVID-19 vaccine greatly reduces the risk of infection, Talan said. However, some people, especially those who are immunocompromised or have underlying health issues, may have a less robust response to the vaccine, he added.
Though vaccinated people can still be infected by the delta variant, they are better protected against severe symptoms than unvaccinated individuals, Jackson said.
"The rain is COVID – or the delta variant – and the umbrella is like your vaccination. So, if you're unvaccinated, you're getting drenched with the rain because you don't have that umbrella," Jackson said.
Jackson said while she feels discouraged by the rise in COVID-19 cases, she still has hope that classes will transition back to in-person in the fall.
"We all need to adapt as changes come, and I feel like as a student body I think we did that really well within the past year," Jackson said.
In order to attend classes in fall, UCLA is requiring all students to get vaccinated against COVID-19.
[Related: University of California to mandate vaccination for fall, require proof]
"Having people in your community getting vaccinated, having your family members get vaccinated – those things are so important," Jackson said.
The best way to combat vaccine hesitancy is to discuss the importance of vaccination with friends and loved ones, said Ashtari, who is also the advocacy director of ProtectUS, an organization dedicated to promoting vaccination and combating public health misinformation.
Many people do not trust the motivations of large pharmaceutical companies that urge the public to get vaccinated – and this distrust stems from valid concerns over past unethical studies and practices, Ashtari said. However, the COVID-19 vaccine was developed by scientists for public safety, and is merely distributed by pharmaceutical companies, she added.
Listening to what is causing vaccine hesitancy and addressing people's fears face-to-face can be very impactful and may cause people to change their attitude toward vaccination, Ashtari said.
[Related: Social media campaigns provide education about COVID-19 vaccines]
Ashtari said she and the ProtectUS staff worked with California state Sen. Richard Pan to help increase the rate of vaccination in a South Sacramento community by 3% by knocking on doors and having meaningful conversations to combat misinformation surrounding the COVID-19 vaccine.
As cases increase in LA County, Ashtari said she urges people to continue to take precautions – even if they are vaccinated – to help mitigate the spread of the virus.
"One conclusion to draw from what we're seeing is that it is important for everybody to get vaccinated," Talan said. "Because the problem isn't over – in fact, it's coming back."
Contributing reports by Victoria Li, assistant news editor.