UC Regents recap – July 20-22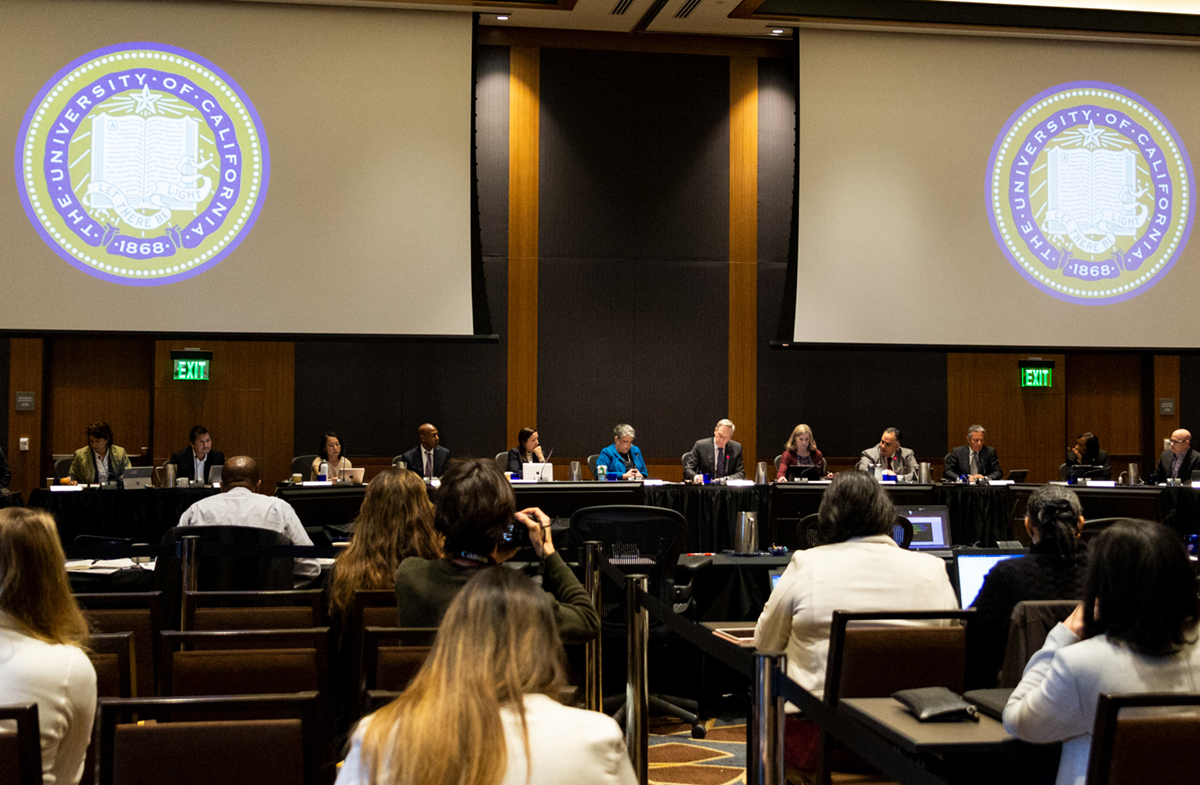 The UC Board of Regents met for its bimonthly meeting from July 20 to July 22, during which it passed a new cohort-based tuition model and assessed the quality of online education for the 2020-2021 school year. (Daily Bruin file photo)
This post was updated Aug. 1 at 7:22 p.m.
The Board of Regents, the governing body of the University of California, met for its July meeting from July 20 to July 22 via teleconference. The board discussed the proposed cohort-based tuition model and the impacts of the COVID-19 pandemic on instruction.
Tuesday, July 20
Board:
During public comment, David Yamada, a registered nurse at UCLA, said more than 7,000 nurses signed a petition demanding the UC provide safe staffing, prioritize nurse and patient safety and respect the rights of union nurses.
Several people voiced their support for UC lecturers in their mediations with the UC for fairer wages and a better rehiring process. The University Council-American Federation of Teachers and the UC held a state-supervised from mediation July 20 to July 21.
James Riddell, a fourth-year data science and marine biology student at UC San Diego, said the UC Regents should dedicate investment funds toward enabling the UC to stop using fossil fuel by the end of 2030.
National Laboratories Committee:
The UC has an ownership interest in two limited liability companies, and the net income earned by the UC in the 2021 fiscal year is estimated to be $27.6 million. The committee unanimously voted for the allocation of this fee income into 10 different sectors in the 2020-2021 fiscal year.
Michael Witherell, director of the Lawrence Berkeley National Laboratory, said the laboratory celebrated its 90th anniversary and recently opened a new road, Doudna Road, this year. Witherell added that the laboratory had also developed a new initiative called the Carbon Negative Initiative to reduce carbon emissions. Currently, the laboratory has six projects dedicated to researching ways to capture, store and use carbon, he said.
Governance Committee:
The committee approved to increase the annual base salary of Stephen Sutton, UC Berkeley's vice chancellor of student affairs, from $308,159 to $340,000 effective Aug. 1. The proposed base salary for Sutton is 4.5% above the 90th percentile of the position's range base salary.
Wednesday, July 21
Board:
Sue Johnson, a former UC Regent, spoke in favor of the UC's project to build the Thirty Meter Telescope atop the Mauna Kea volcano in Hawaii during public comment.
UC Berkeley alumnus Marithza Quiroz voiced her support for UC Berkeley's proposed housing project Anchor House. The housing project, which is dedicated to transfer students, will be a place that can help transfer students build community and improve their experiences at the university, Quiroz said.
During public comment, Paul Wallace, a Berkeley resident, raised his concerns about UC Berkeley's Long Range Development Plan, a long-term land-use plan to utilize campus areas and facilities, which may displace the people of the surrounding community.
Cecilia Estolano, UC Board of Regents chair, said the UC has gone from educating 7% of all high school graduates in California to 8% in the past decade. Estolano said she hopes to increase undergraduate and graduate enrollment by partnering with California state universities, community colleges and other partners to make a UC degree more accessible and achievable.
UC President Michael Drake said the UC has received a $1.27 billion investment from Gov. Gavin Newsom's proposal, which includes $547 million in ongoing funds and restoration of the $300-million budget cut in 2020.
Drake said the UC admitted a total of 84,223 California freshmen for the fall. Forty-three percent of the students are from underrepresented racial and ethnic groups, he added.
Public Engagement and Development Committee:
A study by the UC Office of Innovation & Entrepreneurship found that the UC hosts several I&E activities or programs, but many have unclear outcomes. Damon Tull, the director for industry alliances at the UC Davis Graduate School of Management, said 73% of the programs that fall under education and training are informal. As a result, participant data might not be fully reported or recorded, which makes it difficult to assess the reach and effectiveness of these informal programs, Tull added.
Meredith Turner, the acting director and associate vice president of state governmental relations, said the UC received $325 million for energy upgrade projects and maintenance across the UC system and more than $350 million in one-time funds, which includes investments for innovative cancer study, grants to animal shelters and medical facilities at UC San Diego and UC Riverside.
Academic and Student Affairs Committee:
Based on a survey conducted by the academic senate in spring, 81% of 4,312 UC faculty and instructors who participated in the survey reported they did not have any prior experience with online instruction before the pandemic.
The academic senate reported that 31% of male faculty and 40% of female faculty expressed that their research suffered greatly over the last year.
Delmar Larsen, a chemistry professor at UC Davis, said textbooks and supplies are responsible for 8.5% of tuition and 3.2% of the total cost to attend a UC school. Larsen said approximately 30% of students in his first-year chemistry course reported they chose not to acquire textbooks because of the cost. Larsen said open educational resources can mitigate the negative impacts of high textbook costs and improve textbook material.
Finance and Capital Strategies Committee:
UC Berkeley's 2021 LRDP plans to cover a significant amount of housing, including 11,730 beds, which would double UC Berkeley's current housing capacity, said UC Berkeley Chancellor Carol Christ.
Thursday, July 22
Board:
The regents approved the proposed cohort-based tuition plan that will increase tuition and student fees for incoming students. Based on the new plan, tuition can experience yearly adjustments based on inflation, although tuition will remain fixed for a maximum of six years once a student is enrolled. Both freshmen and transfer students would receive a maximum of six years of flat tuition.
The regents approved policy amendments that determine the UC's affiliations with health care organizations that have policy-based restrictions on care, including ending affiliations with organizations that do not comply with the UC's anti-discriminatory policy by 2023. Former regents chair John Pérez originally presented the amendment at the June 23 regents meeting.