Student representatives speak about UCLA transfer experience in editorial board Q&A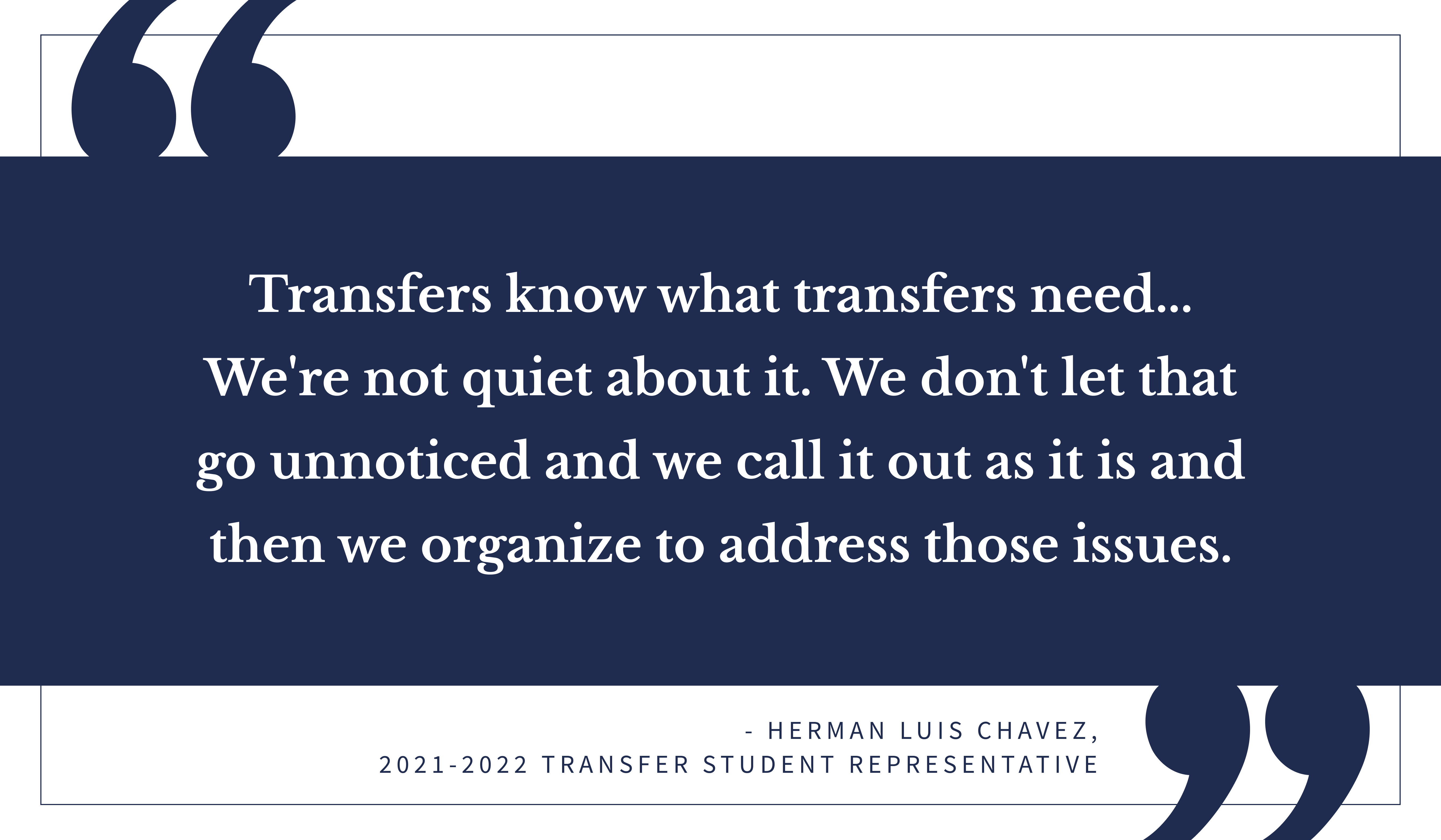 UCLA is home to more than 7,600 transfer students – 16.7% of the university's student population and 24.3% of the undergraduate population. Transfer students have half the time on campus as direct-entry students, but UCLA may not be as welcoming as some would hope.
The Transfer Student Center, which supports transfer students by connecting them with campus services and opportunities, only received a permanent director – the first in two years – at the beginning of April. Despite prioritizing the housing needs of sophomores for the 2021-2022 academic year, administrators neglected to do the same for continuing transfer students. Deferment, which allows students to delay their start at UCLA, is not accessible to the transfer community because the resources for it don't exist – a fact that some students attribute to the university's desire to keep profits up.
The list goes on.
But more important than the institutional obstacles transfer students face is their resilience. They have claimed administrative and governmental spaces for their own on their own terms. The Office of the Transfer Student Representative was created in 2014, after student advocates successfully added a referendum to the May Undergraduate Students Association Council ballot that voters then approved. Thanks to the efforts of previous TSR offices, the transfer community also has a voice in decision-making bodies like the Student Fee Advisory Committee – entities that once lacked transfer student representation.
It's clear all of us, including the editorial board, need to do better. Just one of this year's nine board members is a transfer student, which means we fall short of representing a key population on campus. With this in mind, the Board asked members of the transfer community to discuss the transfer experience and what students, organizations and administrators can do to make UCLA more accessible.
The following is a lightly edited Q&A between representatives from the Office of the Transfer Student Representative, the Transfer Leadership Coalition and the Daily Bruin Editorial Board. The Office of the Transfer Student Representative is represented by the 2021-2022 TSR Herman Luis Chavez. The Transfer Leadership Coalition is represented by 2021-2022 co-chair Ayona Hudson. The 2021-2022 Daily Bruin Editorial Board is represented by Opinion columnist Sarah Karim, Opinion editor Sabrina Huang, Managing Editor Cecile Wu and Digital Managing Editor Shirley Yao.
The board thanks Chavez and Hudson for their time and hopes this Q&A can continue much-needed dialogue about the transfer experience.
Editorial Board: What are some examples of institutional barriers transfer students face at UCLA?
Herman Chavez: Most programs and opportunities are not created with transfer students in mind. They're created with a direct-entry student, someone that is on that four-year pathway, in mind. And that means that (the) transfer perspective is often not included in the creation, or decision-making processes for a variety of cross-campus programming – that transfer students are often excluded and after advocacy efforts, have to be fit into programs rather than belonging in the very first place.
Ayona Hudson: I don't understand the stigmatization against transfer students. It's an unacceptable culture that is leaving us out of places that we need to be in because at the end of the day, when we graduate, we walk the stage, we get our degree (and) it says UCLA. We're all Bruins and the sense of otherness pushes transfer students to only intermingle within our community, our safe spaces. And that needs to change because…no matter where we're at, (UCLA) should be a safe place for transfer students.
EB: What should administrators do to improve the experiences of transfer students and make campus more accessible/welcoming?
Hudson: I believe (administrators) need to be a part of more transfer awareness trainings. And it's along the lines of equity training (and) understanding that, overall, we're Bruins. You need to decolonize your mind of whatever preconceived notions you have against us or about us … Acknowledge that we may be having a harder time adjusting to UCLA or there's questions that we might have, but (don't make) that a setback … Let us know that (you're) here for us and that (you) want transfer students to also be included in (your) conversations.
Chavez: Education really is that first step towards acceptance. I would really hope that administrators do take that step to become educated about the transfer community and have a greater understanding of where it is we come from and the challenges that we face at UCLA. And the other thing that I fundamentally believe that administrators need to do is have transfers have a seat at the table. When making important decisions that affect the university, we need to be present in those meetings. When administrators are talking to each other about decisions, we need to be there just as much as direct-entry students are. We need to be considered because often times, the big decisions that administrators make disproportionately affect transfer students. We need to have our voices heard before decisions are made … Administrators need to come and seek us out.
EB: What do you believe campus organizations and academic departments can do to be more inclusive of transfer students?
Chavez: I think really understanding the two-year timeline and what it means for a transfer student trying to not only graduate with their majors and minors and academics, but also have a complete UCLA experience … Requirements that are two years or longer really do shut out transfer students from opportunities that they would otherwise benefit from. So one of the things that organizations can really do to support transfer students is to … reduce their requirements for letting people into certain clubs or organizations or increase different avenues for their programs to make sure students are included. And the same goes for academic programs.
EB: Carina Salazar was recently appointed as the permanent director at the Transfer Student Center, the first since 2019. How do you anticipate this appointment will affect the transfer community and its advocacy work on campus?
Chavez: I think that it's really important first of all, that we even have a director of the Transfer Student Center … It took us pressuring administration to fast-track the hiring of a director for us even to have one in the first place … We've only had an interim director in the past, so we now have someone in (administration) who's really putting their efforts full-time to supporting the transfer student community (and) I think (Salazar's) really well positioned to connect transfer students to a variety of resources … I think that she's really open to our advocacy work and to working with students themselves in order to pursue equity at UCLA. I also want to say that I look forward to also holding her accountable as I hold every administrator accountable for the work they do with transfer students.
Hudson: I believe that (Salazar) is responsible for setting the foundation for what the Transfer Student Center is going to look like … Because of her role and being an administrator, she really has a strong duty to fill to make sure that the Transfer Student Center is seen well.
EB: What changes would you like Salazar and her team to make in the future?
Chavez: I think that one of the things that I really hope will happen is that we are able to plug students into sharing UCLA's transfer resources and structures to the other UCs … The other thing (is) that this is so unique in that this year, almost every single transfer student will be brand new to UCLA, whether they're my and Ayona's class that are returning transfers (who) had our entire first year virtual, or incoming transfers, who are brand new to UCLA period … The TSC also has a responsibility this year to make sure that that transition goes really well and to ensure that we really have a strong community even though some of us will only have one year in person before we have to graduate.
Hudson: What I want to see this year is, as I've been talking about, is just really education and awareness around the transfer experience … It starts at administration, professors who don't include transfer students in the conversation and that type of culture trickling down to the students. If we're not respected in spaces that students aren't in, how are you going to be respecting (us in) spaces that students are in?
EB: Some parts of that transition into in-person learning won't be easy for everyone. So how does the TSR and TLC plan to support and or advocate for transfer students in the coming year, given the situation?
Hudson: We are just excited for everyone coming on campus (and) seeing a lot of people's faces for the first time since our relationships have developed through Zoom … I just want to make sure that we keep (the) excitement going in and make everyone knows that even if it's our last year here and some students' first years, we're going to make the most of it and we're going to persevere even with these unlikely circumstances.
Chavez: Some of the things I really hope to impress is that transfer students do belong at UCLA, and they should feel like they belong at UCLA…One of the things that my office will be working on facilitating is creating a one-year pathway for transfer students to complete their True Bruin Traditions Keeper requirements. (We) will be working on formalizing a process and including events and other opportunities for students to complete that process by the time they graduate, whether they are incoming students or returning transfers, so that we can do the traditions that we've missed out on this past year (and) really feel like we're a part of UCLA.
The other thing that I want to mention as we transition back to being on campus is resources and making sure the transfer students still have the resources they need to be successful. So that includes academic resources – we're going into the quarter system, where first-year transfers will be coming from semester systems almost entirely from their previous institutions and where transfers that are returning will have only done a quarter system online … We (also) need to make sure that transfer students who, again, are disproportionately more vulnerable to things like experiencing homelessness or being low-income, are still supported.
EB: What are some aspects of the transfer experience that you think have improved?
Chavez: Something that happened this past year from the TSR office is that we were able to expand a variety of on-campus appointments to the Transfer Representative Office and, by extension, the transfer community. So this includes the Student Fee Advisory Committee, which decides how to allocate student fees, as well as the Academic Senate, which (decides) a lot of the instructional processes and policies that affect faculty and classrooms across the university … And so by having transfer students in those decision-making places as sort of an institutionalized thing that is written into bylaws that everyone has to do for the future … means that we really fundamentally changed an aspect of policy that will ensure that transfer students have a seat at the table.
For me, the positivity of this comes back to the drive that transfer students have, the passion and commitment that they have to their community and the fact that when we come together as a community we really are unstoppable … Transfers know what transfers need … We're not quiet about it. We don't let that go unnoticed and we call it out as it is and then we organize to address those issues.
Hudson: I believe this year, we have really shown that we can come together, we can organize and that transfer students, we advocate for ourselves. We're not backing down from anything and I believe we just really have shown how resilient we are. And that didn't just start this year. I believe that (there) obviously has been a build-up of culture for the past couple of years because as we've seen, we had to (be) advocates for some things or they would have been (ignored).
EB: What would you say to incoming and continuing transfer students who are nervous about starting the school year after more than a year of online learning?
Hudson: You're strong. You are resilient. You were accepted to UCLA for a reason. You are (a) Bruin. We are brilliant … We are going to do so many great things together and even if there (are) people outside of the transfer community that make us feel like we're pushed to the side, just know that you have a community. You have administrators, you have professors, you have allies and you have fellow transfer students that stand with you, that will fight for you.
Chavez: Find your community and know your community … The transfer community is here to support every single transfer here … (Be) proud of your identity as transfer students and (allow) that to forge our relationships with one another, but also other communities, whether that is identity-based communities or interest-based communities … (Know) you can ask for help and who you can turn to.
EB: Is there anything else you'd like to add?
Hudson: I recognize my privilege of being at LA, at an institution that I can see is really … transfer-receptive. And I appreciate that. But if UCLA is going to call themselves the best UC to come to for transfer students, then the administrators, the professors, basically anyone who calls themselves a Bruin or who is proud to be at UCLA needs to live up to those standards, and make sure that (UCLA is) the best UC for transfer students to come to. Because at the moment, I feel like there's still a lot of work that needs to be done.
Chavez: I hope that everyone who is not a transfer will take steps to educate themselves about the transfer community, so that they are aware and they are ready to support us when we need (it). One of the things that is really clear about being a transfer is that it's an invisible identity. When you're walking down Bruin Walk, you're not going to know who's a transfer and who's not a transfer. So you really have to do that work yourself to be aware of the … issues (and) how to treat everyone…with equity.