Op-ed: UC's tuition hike will only further burden low-income, nonresident students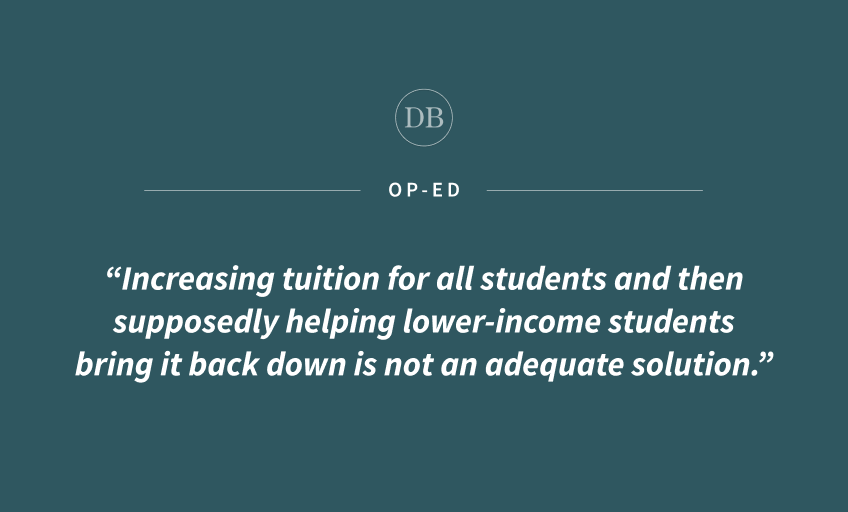 The University of California Board of Regents passed a proposal on Thursday to increase tuition and student fees according to the "cohort model": tuition and fees will increase yearly by up to 5% for each incoming undergraduate class, who would then pay the same rate for up to six years. Graduate students will see annual inflation-adjusted increases in their tuition. These increases, dubbed by student groups as a "forever hike", originally had no expiration date and 6% maximum annual increase; however, after opposition from students and politicians, the proposal was amended to be revisited in five years with the lower 5% cap. Regent Cecilia Estolano, the chair of the board, claims this increase would redistribute funds from wealthier students to lower-income students. In fact, the tuition hike will further burden lower-income students, as well as out-of-state students.
Tuition and fees will increase according to a three-year average annual change of inflation. This increase will be applicable to every incoming freshman and transfer undergraduate class after this year. Along with the inflationary increase, every entering class until the 2026-2027 school year will pay an additional surcharge. This means the incoming class of 2022-2023 will pay 2% extra, the incoming class of 2023-2024 1.5% extra and so on.
As an example of what this tuition hike will look like for students, the current UCLA tuition is $13,258 for in-state undergraduate students and $43,012 for out-of-state undergraduate students. If the regents were to impose a yearly increase of 3%, a little more than half of what this proposal would allow them to do, after fall 2022, tuition for in-state students would rise to more than $14,500, while out-of-state tuition would be greater than $47,500 by 2024-2025.
Proponents of the increase say that while tuition is increasing, financial aid is as well, offsetting the increase for lower-income students. This line of thinking fails to recognize the failures of our financial aid system and betrays a fundamentally flawed approach to higher education. Our financial aid system is not adequate for many students. Apart from the inherent inefficiency and drop-off associated with a byzantine system of grants and scholarships, there are a variety of exceptions that can prevent students from accessing needed aid. For example, undocumented students cannot access any kind of federal aid, while out-of-state students are generally unable to access state-based financial aid. Meanwhile, because financial aid is calculated based on parental wealth, regardless of whether the parents are actually helping to pay, self-funded students can potentially receive no aid at all, even if they have no assets or income.
Increasing tuition for all students and then supposedly helping lower-income students bring it back down is not an adequate solution. After all, students who receive more financial aid under this plan would still need to use this aid to cover tuition. We must strive to make our universities more affordable, but there is a simple way to make tuition lower for lower-income students: reduced tuition.
Further, a public university should be just that: public. When you go to public high school, you do not expect to pay a bill that increases every year. When you go to a library, you do not expect an ever-growing receipt tacked onto your library card. Public universities should be no different. The UC is a public good, and the flagship public university system in the entire country, boasting the top two public universities and a system that offers students an excellent education. We cannot brag about increased diversity and then turn around and exploit students like cash cows, making it harder for lower-income and out-of-state students to attend. It's true, these increases are preceded by decades of decreased state funding. But with an increase of nearly $1.3 billion in state funding this year, there is promising evidence bucking that trend. Regardless, the solution is not to pass costs along to students. Our schools need funding to achieve their full potential. However, it is unacceptable that in a state that is by itself the fifth-largest economy in the world, we would increase the already high bar of entry for lower-income students.
The regents knew that the forever hike would be unpopular, which is likely why they passed it mid-summer, over the objections of student organizations, politicians and activist groups. The board is approaching the University as though students should serve their interests and the interests of individual campuses, when in fact the University only exists to serve and educate students.
The regents may have passed the tuition hike, but the fight does not stop here. Students massively mobilized to prevent the last major tuition increase in 2011, with UCLA being the focal point of a statewide uprising in 2009. The regents think that they can get away with it this time by stashing the vote in the summer and couching it in language of equity. What they don't understand is that the power of a university lies with its students, and when we organize, we can defeat their unjust policies.
Whether the regents are for or against us, we can and will build a just university that serves all students.
Ruddick-Schulman is a third-year labor studies student and co-chair of Young Democratic Socialists of America at UCLA.