Editorial: Tuition hikes will burden students, make UC education less accessible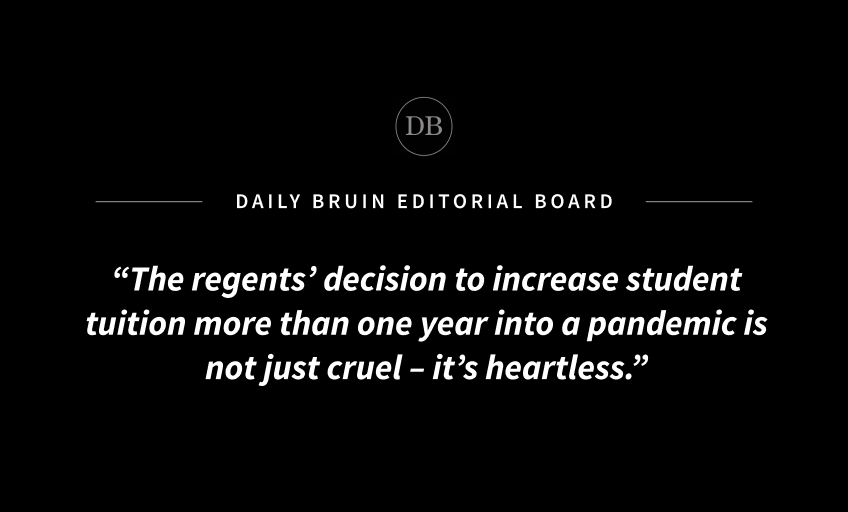 This post was updated July 25 at 3:43 pm.
Editor's note: Editorials are intended to serve as the jumping-off point, not the conclusion, to discussion. As part of the Daily Bruin's commitment to its readers, the board hopes to present a responsible and clear analysis of relevant events and news items affecting the lives of those we serve, but our editorials are not representative of the Daily Bruin's views on issues as a whole. We encourage all readers to reach out to our board members and to respond to our editorials.
The regents have spoken.
In a 17-5 vote Thursday, the University of California's Board of Regents approved a multiyear tuition increase that will drive up the cost of a UC education for the long haul. New undergraduate and graduate students starting or continuing at the University in the fall of 2022 will be the first ones affected by this change. Undergraduates will pay an additional $534, or a 4.2% increase in tuition and fees, which includes a 2% surcharge that will decrease each year until it is eliminated in 2026. Graduate students will pay an additional $282, or a 2.2% increase in tuition and fees.
The plan aims to provide financial stability by keeping tuition for continuing undergraduate students at the price they entered the UC with for six years. Annual tuition increases will also be capped at 5%. Such measures will supposedly help struggling families by offering greater financial aid while maintaining a high quality of services for all.
The regents' decision to increase student tuition more than one year into a pandemic is not just cruel – it's heartless. Students have dedicated time and labor to advocating against tuition hikes of any form. What the board chose to do in response is the exact opposite of their demands: regularly increase tuition.
This could not have come at a worse time, following a public health crisis that has been challenging to everyone within the UC. Whether it is the financial stressors or the educational barriers that the pandemic has inflicted on students, the tuition increases compound these difficulties.
But the UC doesn't seem to care.
Students came out strongly against the tuition increases and launched a campaign to "stop the forever hike" on tuition. In January, Gov. Gavin Newsom was clear about his opposition to tuition increases for the upcoming academic year. While the hike won't take effect until 2022, giving Newsom time to change his mind, we can't forget that legislators just allocated $1.27 billion to the UC – the largest year-to-year increase in state funding the University has seen.
The regents insist that tuition increases are necessary to offset years of state disinvestment, but it comes at a cost. By 2026-2027, the UC predicts new in-state undergraduates will pay $15,078 in annual tuition and fees while out-of-state undergraduates will pay $50,814, an increase of more than $2,500 and $8,000, respectively, from what incoming students in the fall will pay.
Students should not have to bear the weight of funding the UC. If anything, the University should turn to the state to fill any gaps.
Equally worrisome is the inequity baked into the model. Graduate students, unlike undergraduates, face tuition increases every year they are at the UC. Whether they are incoming or continuing, graduate students in state-funded programs are projected to pay $14,358 in tuition and fees by the 2026-27 academic year – just shy of $2,000 more than this year's classes. How this will improve accessibility to the UC makes little sense, considering the average graduate student already forks over more than 30% of their wages in rent.
Though it's disappointing the increase passed, Thursday's vote reminds us that student advocacy is crucial. Alexis Atsilvsgi Zaragoza, the student regent, was the one to propose the revisitation of the tuition hike in five years – a change the regents agreed to. This means the Board will have the opportunity to fix any issues or reconsider the plan entirely. Without her voice, the result could have been much worse.
Zaragoza's feat is proof that students are a force to be reckoned with, especially when those in power can't be relied on to do their jobs well.
And the regents can't be relied on. They're responsible for ensuring quality education – but their latest decision will prevent many from affording that education.