Editorial: UCLA must do more to support underserved foster youth community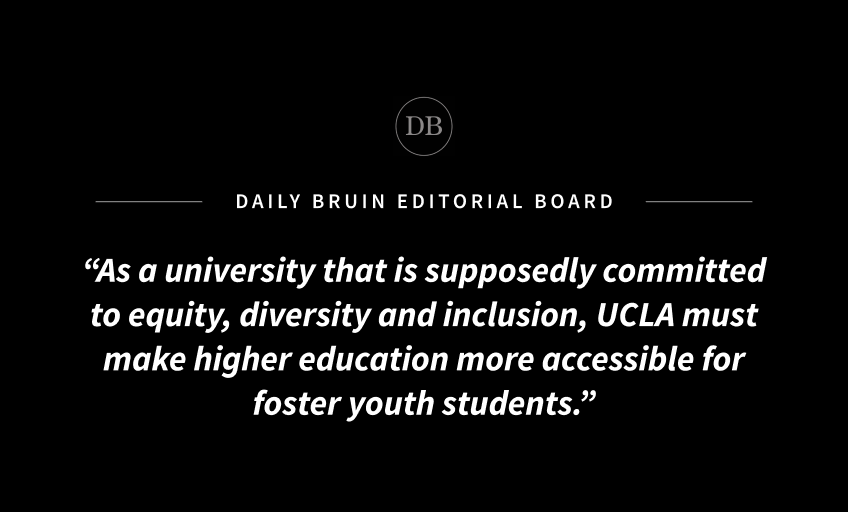 This post was updated July 11 at 1:38 p.m.
Editor's note: Editorials are intended to serve as the jumping-off point, not the conclusion, to discussion. As part of the Daily Bruin's commitment to its readers, the board hopes to present a responsible and clear analysis of relevant events and news items affecting the lives of those we serve, but our editorials are not representative of the Daily Bruin's views on issues as a whole. We encourage all readers to reach out to our board members and to respond to our editorials.
Many Bruins call UCLA a home – but for some, it may be their only place of security.
Around 350 students at UCLA identify as former foster youths, according to a May UCLA Newsroom press release. These students, who were previously in foster care, have experienced insufficient funding for programs, a lack of quality mental health services and uncertain living situations. But as the pandemic worsens housing insecurity and exacerbates financial struggles, they, and other historically underserved communities on campus, are bearing the brunt of the burden.
Unfortunately, UCLA isn't stepping up to the plate.
The UCLA Bruin Guardians Scholars, a program that helps current and former foster youth students navigate campus life, told the administration in a May 11 letter that the university's current resources are inadequate in supporting students who are or were once in foster care.
UCLA can't wait for students to come to its administrators when they see an injustice. Instead, it must strive to be more inclusive of its own will at all times. Anything less than that risks letting Bruins fall through the cracks.
Foster youth students are acutely impacted by sharp increases in rent prices and limited housing opportunities in and around UCLA, especially since many students do not have a home to return to after an academic year or during school holidays. The fact that Westwood is one of the nation's most expensive neighborhoods for renters does not make it any easier.
In addition, foster youth students are also underrepresented among those who pursue higher education. While around 31% of the general population earns a bachelor's degree, only 3% to 5% of foster youths in the United States do.
This statistic perhaps isn't surprising, given the lack of institutional resources for foster youth students. At UCLA, a student said the BGS had fewer than five staff members on hand.
All these conditions demand more robust support from UCLA for the foster youth community. In its letter, BGS asked the university to reallocate donor funds to cover students' housing costs, increase resources and funding for the BGS program and develop community and residential spaces for foster youth students on campus, among other demands.
At the systemwide level, the University of California Foster Youth Student Coalition is making similar demands for more mental health resources, accessible housing and increased staff.
As a university that is supposedly committed to equity, diversity and inclusion, UCLA must make higher education more accessible for foster youth students. This is an essential step to meeting the demands of BGS and UCFYSC.
In all fairness, UCLA is creating an endowment fund for the BGS program following a $1 million gift from Jill and Timothy Harmon, who were former foster parents. The endowment would also fund the salary of a full-time social worker for the program.
Although this is a promising first step, UCLA should listen to students to understand and meet the specific needs of foster youth Bruins. It must also bring to the table and utilize all its possible resources, expertise and existing programs – such as the UCLA Pritzker Center for Strengthening Children and Families – in its effort to solve the outlined issues.
The pandemic has disrupted the lives of many students, hitting marginalized communities especially hard. To fulfill its mission as one of the leading public higher education institutions in the country, UCLA must ensure the housing and food security of all of its students – particularly those who may be underserved.
Failing to do so makes the university anything but a home.