Editorial: Bruins must continue taking safety precautions in light of delta variant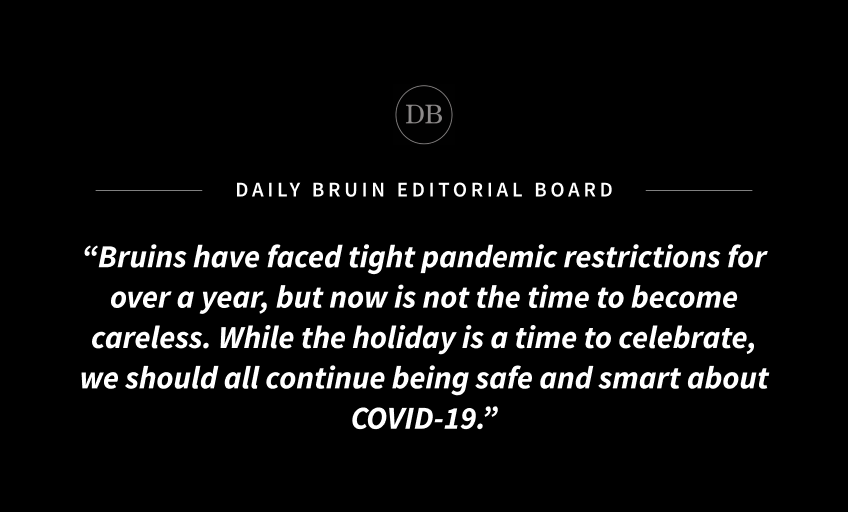 This post was updated July 5 at 7:54 p.m.
Editor's note: Editorials are intended to serve as the jumping-off point, not the conclusion, to discussion. As part of the Daily Bruin's commitment to its readers, the board hopes to present a responsible and clear analysis of relevant events and news items affecting the lives of those we serve, but our editorials are not representative of the Daily Bruin's views on issues as a whole. We encourage all readers to reach out to our board members and to respond to our editorials.
The Fourth of July weekend may bring celebrations and long-awaited gatherings, but risky behavior that endangers public health is not justified.
After more than a year of lockdowns, California finally reopened June 15. Social distancing protocols are no longer necessary, counties do not have to worry about moving into or out of COVID-19 tiers and businesses can operate at full capacity.
Yet, the spread of the new delta variant is threatening unvaccinated and partially vaccinated people. The delta variant, which was first identified in India, is expected to become the dominant strain in the United States and is linked with higher transmission rates. It is now considered a "variant of concern" in California.
According to the Centers for Disease Control and Prevention, less than half of the country's population is fully vaccinated against COVID-19, leaving Americans at risk for rapid spread of the delta variant.
Because of the increased spread of this variant, the Los Angeles County Department of Public Health recommended Monday that everyone – regardless of vaccination status – wear masks indoors. The World Health Organization released a similar recommendation a few days prior.
Bruins deserve to have an unforgettable in-person college experience come fall, and students should do all they can to make that experience possible.
We should all continue taking safety precautions to avoid significant outbreaks that could jeopardize this reopening. Many aspects of the return to UCLA – including the number of students provided with on-campus housing – are dependent on COVID-19 infection rates and the number of students who are vaccinated.
Large indoor gatherings for summer festivities increase the risk for variant spread. Following public health recommendations, such as keeping events outdoors and wearing masks indoors, is essential for students to mitigate the spread of the delta variant.
However, as LACDPH mentions in its press release, fully vaccinated people seem to be protected from the delta variant. Pfizer, Moderna and Johnson & Johnson have reaffirmed this finding, stating that their vaccines are effective against the new variant.
This makes it all the more urgent that Californians get the COVID-19 vaccine as soon as they can.
After all, the vaccine has proven its efficacy in reducing the spread of the virus.
For example, almost everyone in LA County who has died of COVID-19 since December 2020 was unvaccinated, according to data from LACDPH. Of the 12,234 Angelenos who died from COVID-19 between Dec. 7 and June 7, 99.8% did not receive the vaccine.
For those who have not yet been able to get the vaccine, it's important to remain cautious when participating in summer activities by taking safe steps like moving gatherings outdoors, wearing masks indoors and getting tested for COVID-19.
Bruins have faced tight pandemic restrictions for more than a year, but now is not the time to become careless. While the holiday is a time to celebrate, we should all continue being safe and smart about COVID-19.
We simply cannot afford otherwise.