Class of 2020 expresses excitement over in-person graduation in fall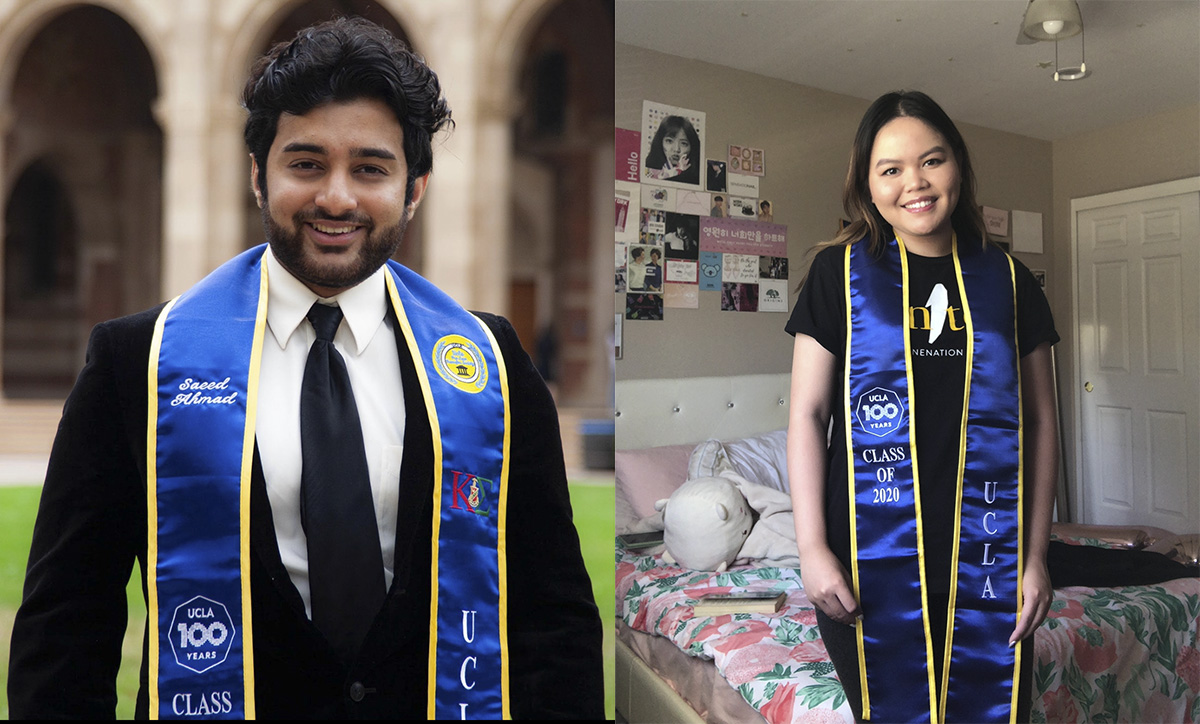 In early June, UCLA announced that the class of 2020, which graduated virtually last year, would be able to attend an in-person graduation ceremony in the fall. The class of 2020 expressed joy and enthusiasm for the opportunity to say a proper goodbye to the university and celebrate with the UCLA community. (Left to right: Courtesy of Saeed Ahmad, Esther Li/Daily Bruin)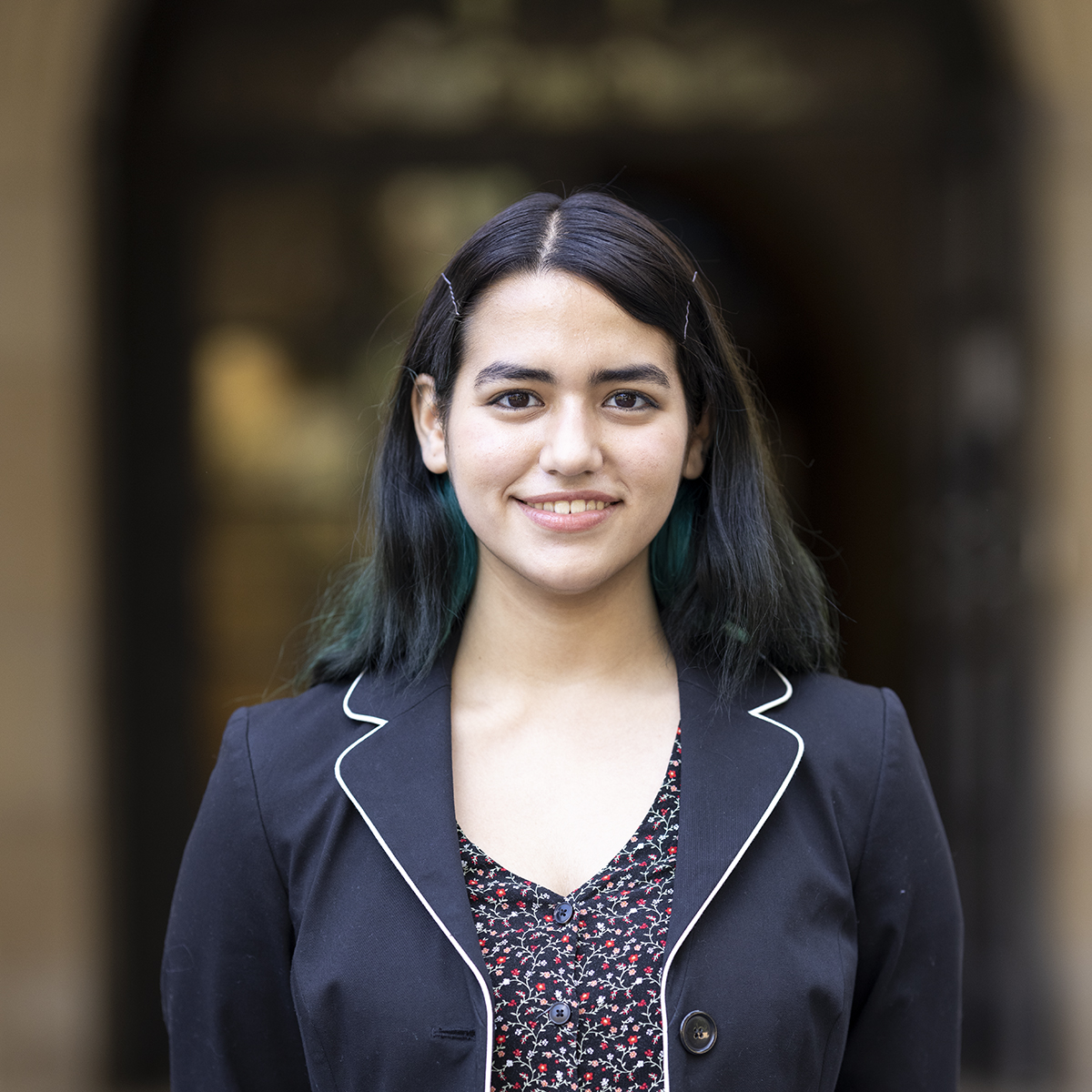 This post was updated July 5 at 6:13 p.m.
UCLA alumni expressed excitement and gratitude at the announcement of an in-person graduation ceremony for the class of 2020 in the fall.
On June 8, UCLA announced that the class of 2020 would be able to celebrate with an in-person graduation ceremony in fall. UCLA later announced June 22 that all ceremonies will be held in Royce Hall throughout September, October and November.
Alumni may request tickets online and rank their preferred dates and times, and UCLA will then assign them a ceremony via a lottery July 16. Those who cannot attend a ceremony in fall will also be able to attend one in June 2022.
[RELATED LINK: UCLA to hold in-person commencement ceremonies for class of 2020 ]
Brittany Nguyen, who graduated in spring 2020, said she is looking forward to celebrating her graduation in person this fall. Now a student at the University of California, Hastings College of the Law, she is glad the ceremonies will be held over multiple dates to help her plan the trip to UCLA around her classes.
Although it felt strange at first to plan a celebration for a time in her life she left more than a year ago, Nguyen said she felt it was better late than never.
"At first I was having mixed emotions about it because I was thinking I've already moved on from that phase of my life," she said. "But then I realized that pretty much my whole life I was waiting for this moment."
Daniela Rodriguez, a spring 2020 first-generation college graduate, said she is happy to be able to see her milestone celebrated in person with her friends, family and professors present.
Rodriguez said one change from previous ceremonies is that the fall ceremony for the College of Letters and Sciences will be held in Royce Hall rather than at Pauley Pavilion. Additionally, she was surprised that the ceremony was spread over different dates across three months.
Although she felt caught off guard that certain aspects of the planned ceremony remain untraditional, it seemed appropriate for a class that graduated in an unprecedented pandemic, she added.
"It just speaks to the uniqueness of our class," Rodriguez said. "I just really appreciate UCLA making it work, … and I think it'll be different but unique and memorable for us."
Nguyen said she understood the need to wait for an in-person celebration, and that she is happy to adhere to any safety measures still in place to protect against COVID-19. She added that she hopes to be able to walk across the stage in the presence of friends and family this fall.
"At this point, I'm just grateful for what we can get because at the end of the day, everyone's safety is still a top priority," she said.
Although many students said they were vaccinated and would feel safe attending the fall in-person ceremonies, some expressed concern over recent COVID-19 developments, namely the delta variant that has spread across the U.S.
Rodriguez said although the ceremony is a few months ahead, the new variants are worrying. However, she remains cautiously optimistic, she said.
"I hope that UCLA takes those precautions that they have, that are necessary to make sure that everyone's safe and good to go," she said. "Hopefully it gets under control so that we don't have to cancel or postpone."
Some students felt there could have been earlier communication from UCLA about the ceremonies.
Saeed Ahmad, who graduated in spring 2020, said he is excited to bring his family together to celebrate in the fall. However, as an incoming Harvard Law School student who will soon be living on the East Coast, he said he wished UCLA had communicated more consistently with the class of 2020 about its plans for the celebration so graduates could prepare earlier.
"I wish at least they had kept us updated, or at least like every one or two months been like, 'Class of 2020, we haven't forgotten about you, … here's what our plans are,'" he said.
Ahmad is hopeful to be able to celebrate in person at a ceremony in the fall because his time at UCLA meant a lot to him and his family, who dreamed of sending their son to the school, he added.
"I had some of the best times of my life there," Ahmad said. "UCLA has a special place in my heart … and always, I'm proud to be a Bruin."
Some first-generation college students also expressed their gratitude for a chance to bring family together and celebrate a step forward in their education and career.
Alumnus Isaiah Rutledge said he had missed the emotion and connection that came with an in-person ceremony when he graduated online in spring 2020. As a first-generation college student, Rutledge said his family was disappointed last year to see him graduate online.
Although it may be somewhat complicated to coordinate as an out-of-state alumnus, Rutledge said he and his family are ready to have a more traditional celebration.
Rutledge said he is thrilled to have a reason to return to campus, see friends and enjoy UCLA graduation traditions, such as dipping his hands in the Inverted Fountain, for more closure after leaving the university.
"It means like, literally the whole world," Rutledge said. "It just really is what everyone, I think, ultimately deserves to have to really represent the amount of time, effort and work that you put into getting that degree."
Montemayor is currently the 2020-2021 features and student life editor. She was previously a News reporter, Photo contributor for the news beat and Arts contributor. She is also a second-year global studies student at UCLA.
Montemayor is currently the 2020-2021 features and student life editor. She was previously a News reporter, Photo contributor for the news beat and Arts contributor. She is also a second-year global studies student at UCLA.