UCLA head of preservation retires, leaves legacy of digital restoration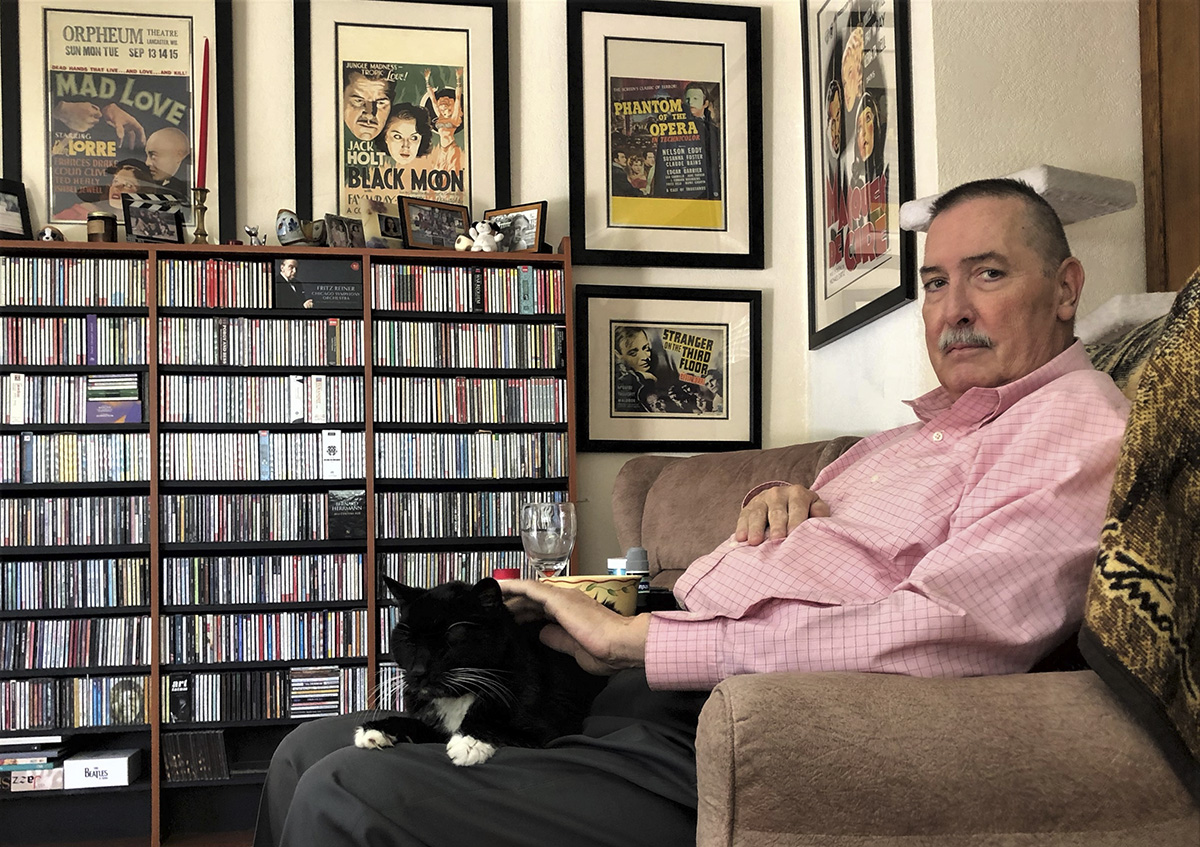 UCLA Film & Television Archive's head of preservation Scott MacQueen is retiring after nearly 10 years in his position and is looking forward to spending time on personal projects during his retirement. (Courtesy of Scott MacQueen)
Correction: The original version of this article incorrectly stated that Todd Wiener is the UCLA Motion Picture Archivist. In fact, Wiener is the UCLA Motion Picture Curator.
This post was updated July 5 at 7:50 p.m.
A longtime enthusiast and preservationist of classic cinema is stepping down from his post.
Scott MacQueen, head of preservation for the UCLA Film & Television Archive, is retiring Tuesday. Since joining The Archive in 2012, MacQueen led a staff of preservation technicians who helped restore and preserve classic films in danger of decay. MacQueen said working for The Archive gave him the opportunity to repair and protect some of his favorite films and others that were largely unknown.
"I knew (the films) were in trouble," MacQueen said. "And it was up to me to push them forward."
At the beginning of his career, MacQueen said he worked as a producer, but later realized his passion for film preservation – especially because many old film copies were at risk of falling apart and being lost. Before joining The Archive, he said he also led restoration efforts at the Walt Disney Company and the Eastman Kodak Company.
For MacQueen, one of his biggest restoration projects at The Archive was the 1932 film "Doctor X," which was rereleased on Blu-ray earlier this year. The Archive had preserved and restored the last surviving color copy back in 1985, MacQueen said, and it was restored once more when he copied the film to a digital format, leaving it looking like new.
MacQueen said he also restored other notable films such as the 1934 Mexican horror film "El fantasma del convento" and most recently the 1941 film "All That Money Can Buy," which will rerelease later this year. In addition, MacQueen said The Archive has partnered with organizations including Outfest, the Sundance Institute and the International Animated Film Association to acquire and restore classic films.
"We worked with the Film Noir Foundation on many Latin American and Argentinian film noirs which are unknown in this country – and largely forgotten even in Argentina," MacQueen said. "There have been some sensational world classics to come out of those dialogues."
[Related: 'In the Heights' seeks to represent Latino community, inspire pursuit of dreams]
Since many old films are on nitrate or acetate film – both of which are prone to falling apart – he said old pictures need to be copied to more secure formats like digital or polyester film. Restored films were traditionally copied from one analog format to another during the restoration process, but MacQueen said digital restoration is a new way to preserve the beauty of a movie's image. However, storing digital files requires many storage servers and money – both of which MacQueen said are hard to come by.
Instead, MacQueen said UCLA often does both digital and analog restorations for select projects, ensuring there is a backup copy of the film if digital files are corrupted. Additionally, he said digital restorations allow technicians to greatly improve the quality of the film by removing dirt and fixing tears and fluctuations. But because of the costs involved, he said it is not feasible to digitally restore every project.
While head of the department, MacQueen said he aimed to organize the restoration department and embrace digital restoration methods. UCLA Motion Picture curator Todd Wiener said MacQueen's efforts to take on more digital projects allowed The Archive to produce much higher quality film copies, such as the 1933 film "Mystery of the Wax Museum."
"We started utilizing all the new digital kinds of tools available to us after he arrived," he said. "('Doctor X' and 'Mystery of the Wax Museum') never looked that great as they do now because of these new digital tools that we have available to us."
[Related: Alum's coming-of-age film explores filial piety, sexual identity]
Before joining The Archive, Wiener said MacQueen was well-known for his role in Disney's restoration department. Recognizing the value of Disney's film assets, Wiener said MacQueen notably advocated for the preservation of Disney's film library for future generations.
"He's just so dedicated to film preservation and film history," Wiener said. "I'm really going to miss his encyclopedic film knowledge. … I've learned a great deal from him."
In addition to his hand in advancing digital restoration, MacQueen also shaped the department into an organized unit of The Archive, said senior film preservationist Jillian Borders. The department was fairly scattered before MacQueen took over, she said, but he encouraged everyone in the department to work as a team and support each other's restoration projects.
After a career working on world-class films he admired, MacQueen said he is planning to spend his retirement on personal projects, such as writing. But if any content owners require restoration services to their libraries, he said he would be open to working with them.
"Right now, I'm just very pleased to be finding some time in the sun, as they say," MacQueen said.