'In the Heights' seeks to represent Latino community, inspire pursuit of dreams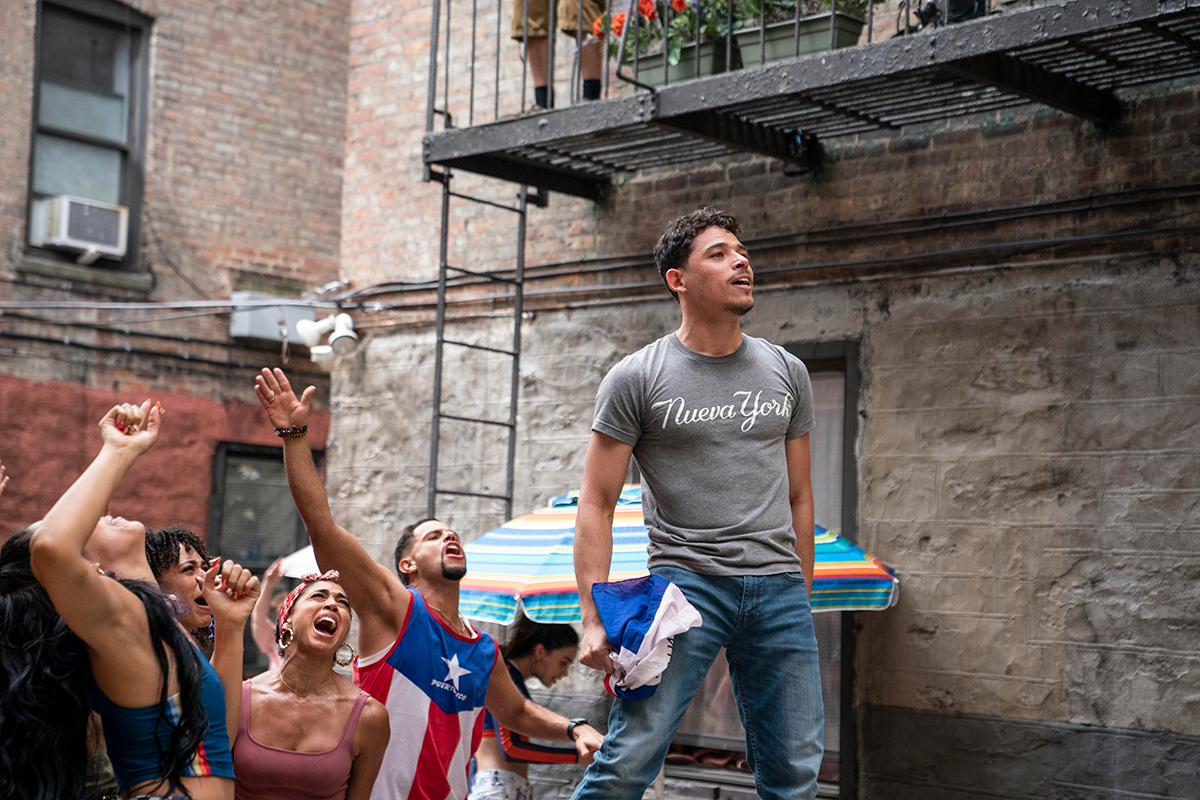 (Courtesy of Macall Polay)
"In the Heights"
Directed by Jon M. Chu
HBO Max
June 11
"In the Heights" soars out of the screen to make real-life dreams come true.
The film adaptation of the long-running Broadway musical premieres Thursday in theaters and on HBO Max, reviving both popular characters and storylines as well as introducing modern social commentary. During a Warner Brothers virtual roundtable, the cast and writers discussed the transition of adapting the musical to the big screen and how they personally related to their characters. Co-writers of the original 2005 musical Lin-Manuel Miranda and playwright Quiara Alegría Hudes collaborated once more to create the recent screenplay, both reflecting on their personal histories to add new dialogue to the script, Miranda said.
"(Hudes) made such strong bold choices that lets the movie live on its own terms," Miranda said. "When you go see the stage play, you get to see songs that you may have missed … and storylines that aren't as emphasized. Now it's two things that we've made together instead of an adaptation of one into the other."
Although some songs and storylines had to be cut, the film imbues its livelihood with elaborate musical and dancing numbers that jump out of the screen, said Olga Merediz, who reprised her role as Abuela Claudia from the original production. She said the on-screen visuals provide a personal perspective that cannot be experienced through theater, as the camera could capture facial expressions and actions that theater audiences could not.
[Related: Late screenwriter Rod Serling's legacy to be honored with virtual screening]
Merediz said her growth, maturity and lived experience as an actress also parallels the film's evolution from its original musical. Furthermore, due to the more intimate nature of cinema, Merediz said she added more depth to her character by refining Abuela Claudia's subtler traits, especially in her solo sequences.
"I was desperately looking for my old script and my old music, to all my little notes that I had scribbled, and I pieced her back together and went 'Okay, there she is' and so she came back to me," Merediz said. "I felt much more of a connection with Abuela Claudia, and also to my mother, to my grandmother, to my aunts and all these strong women who have gone through hell and back, but yet they're the rocks and pillars of their families and communities."
As a whole, the story of "In the Heights" revolves around dreams, Miranda said, as titular character Usnavi de la Vega (Anthony Ramos) idealizes life in the Dominican Republic while his love interest Vanessa (Melissa Barrera) daydreams about a career in design. Another major character in the neighborhood, Nina Rosario (Leslie Grace), wrestles with the decision to attend college. By opening with the question: "¿Que quiere decir sueñito?," which translates to "What does your little dream mean?" Barrera said the film interweaves universal human dreams into the supportive nature of the immigrant Latinx community.
"I love the word 'sueñito' because this movie is all about dreams," Barrera said. "Every person in the ensemble of the movie has different dreams, and some might seem like they have bigger stakes than others, but every single dream is as important as the next. I think that's a beautiful message of the movie, about feeling seen and validated in your individual journey."
For Barrera, having the opportunity to play the role of Vanessa fulfilled a long-held dream of hers. However, pursuing her dreams as an American actress also involved a strong feeling of guilt, as she said many fans felt like she had moved on from starring in films from her home country, Mexico. Grace said her character also struggled with living up to familial expectations both at college and at home, which resonated with her own experience of grappling with her privilege and marginalization as a minority actress.
[Related: Movie review: 'Cruella' delivers powerful acting, soundtrack despite its lack of plot originality]
The film specifically highlights the characters' dreams in the context of the Latino community and immigrant experiences, Barrera said. One storyline explores Sonny de la Vega's (Gregory Diaz) journey as a Dreamer, an undocumented immigrant brought to the U.S. as a child, while another highlights salon workers Daniela (Daphne Rubin-Vega), Carla (Stephanie Beatriz) and Cuca (Dascha Polanco), who Polanco said serve as a backbone for the Washington Heights neighborhood by facilitating a space for community members to feel at home.
By portraying a tight-knit Latino community with messages that all audiences can relate to, Polanco said "In the Heights" stands as a harbinger for minority representation and storytelling on screen. While cast members could resonate deeply with the Latinx characters they played, she said the film industry still lacks narratives centered around minority characters as a whole.
"There's not enough," Polanco said. "Any time there was one project, everyone that was from Latinx descent or was Black or brown we all wanted to get in there somehow because there was only one (project). ('In the Heights') goes to show these stories do work, and there's such a yearn and need for it. The question is when's the next (project), and who's willing to take that risk and leap forward and say 'I wanna produce something like that.'"
Ultimately, the sueñitos the characters pursue do not conclude with the film, but rather extend into new beginnings as the audience finds their journeys in the characters, Barrera said. With its musical roots, the film furthers the world of its characters beyond the screen to those who can personally relate to their experiences, Miranda said.
"That's the fun of making a musical, right? It's making something greater than you could ever make by yourself," Miranda said.