UCLA students, alumni find creative ways to serve communities during pandemic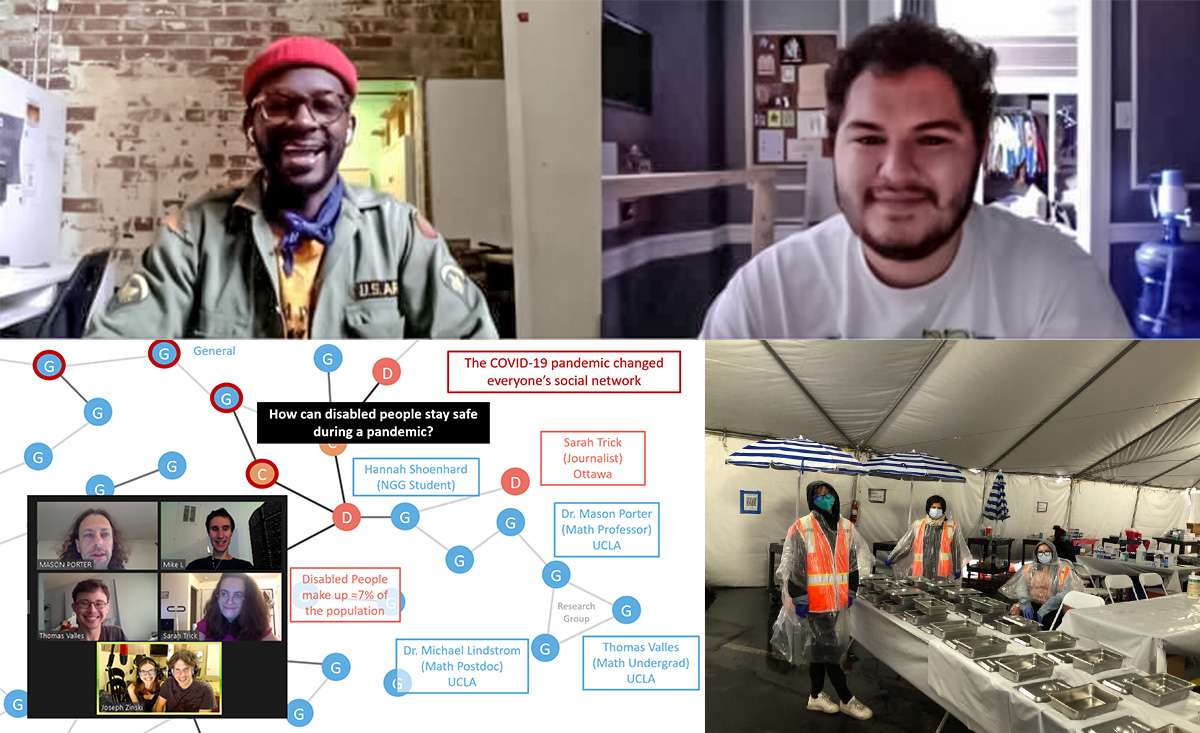 Despite the challenges of the COVID-19 pandemic, Bruins found ways to utilize their skills and interests to serve their communities. (Courtesy of Brenden Thompson, Thomas Valles, Dayanna Ramirez)
UCLA students showed their resilience through the COVID-19 pandemic by serving their community through research, work and volunteering.
The UCLA campus closed in March 2020, and instruction remains remote with reduced on-campus housing for students. These restrictions presented unique opportunities for UCLA students to innovate and aid their community in its time of need.
In order to better understand the virus and its effects, several students conducted research on COVID-19 and its impact on local and international communities.
In August, a UCLA-led team of researchers created a computer program to simulate the transmission of COVID-19 in Ottawa, Canada, said Thomas Valles, an applied mathematics alumnus and one of the researchers. The team's primary goal was to investigate how different COVID-19 mitigation strategies – such as masks and social distancing – affected transmission between caregivers and clients with disabilities, he added.
"It was really sad to hear some of the stories that they were sharing about people dying in these health care centers and not being given access to PPE, and how some of the caretakers were not willing to look after their clients because they were worried about catching COVID-19," Valles said.
When the United States first issued emergency use authorizations for the COVID-19 vaccines, the researchers also adapted their program to determine which groups should be the first to be vaccinated, Valles said.
Valles and his team published a short paper outlining their methods for modeling COVID-19 transmission August 25, and a longer academic paper is currently undergoing peer review before final publication, Valles said.
This program may serve as an example of how to model the growth of future pandemics and which mitigation strategies are most effective at limiting the spread of disease among specific groups of people, Valles said.
Other students focused their research on the effects of the COVID-19 pandemic on the arts and artistic activism in the Los Angeles area.
In particular, Brendan Thompson, a fourth-year world arts and cultures student, interviewed four LA alternative art spaces, in addition to various galleries outside of California, in order to better understand how these spaces were affected by the pandemic and how each space engaged with activism through art. One such location has since shut down because of the pressures of the pandemic, Thompson said.
"A lot of people rely on the arts to make sense and meaning of their lives," Thompson said. "These art spaces provide opportunities for artists, but also opportunities to build community."
An alternative art space called the Los Angeles Poverty Department used performance art, such as public speeches, on Skid Row to encourage compassion toward individuals experiencing homelessness in downtown LA, Thompson said. These individuals spoke to audiences about how compassion would be a better alternative to the current nightlife scene in LA, he added.
Several other art spaces engaged with political movements such as Black Lives Matter and Stop AAPI Hate through social media and online events, Thompson said.
Apart from research, other students found jobs post-graduation where they could provide information about COVID-19 to people in need.
From June to September, UCLA Housing resident assistants helped staff compile a COVID-19 guidebook as a resource for students living on and off campus, said Dayanna Ramirez, an alumna and former resident assistant involved in the creation of the guidebook.
The guide included information such as how to engage socially with the UCLA community during remote learning and how to get tested for COVID-19, she added.
When the COVID-19 vaccine first came out, medical professionals also needed help navigating the logistics of obtaining and distributing the vaccine, said Ramirez, who is now a health education assistant at the Los Angeles County Department of Public Health.
In her work as a health education assistant, much of the information about the vaccine also had to be translated into Spanish in order to make it more accessible to Spanish-speaking health care personnel, said Ramirez, who worked on these translations.
"The thing that I could do best for my community was take that information and break it down as simply as I could," Ramirez said.
[Related: Volunteers provide support in California's COVID-19 vaccine distribution]
Other students continued engagement by creating their own volunteering opportunities to address major issues affecting the UCLA community.
Mitch Mologne, a fourth-year physiological science student, co-founded the UCLA chapter of the University Blood Initiative in September to address the blood shortage during the pandemic. This organization helps recruit donors for the UCLA Blood & Platelet Center through community outreach, Mologne said.
There was a major shortage of blood due to the pandemic since mobile blood drives – a primary source of blood donations – were shut down, Mologne said. With so few people on campus, the donor pool was very limited, and it was challenging to get the blood that UCLA hospitals needed, he added.
When individuals donate blood at the donation center located in Ackerman Union, their blood goes directly to the UCLA Health hospitals – saving UCLA Health money and directly impacting the local community, Mologne said.
Despite the barriers presented by the pandemic, some students like Mologne have found innovative ways to engage with their community.
"One of the biggest lessons I've learned through the pandemic is that you always have a way to get involved in your community," Mologne said.