The Quad: As pandemic slowly comes to an end, graduates embrace uncertain futures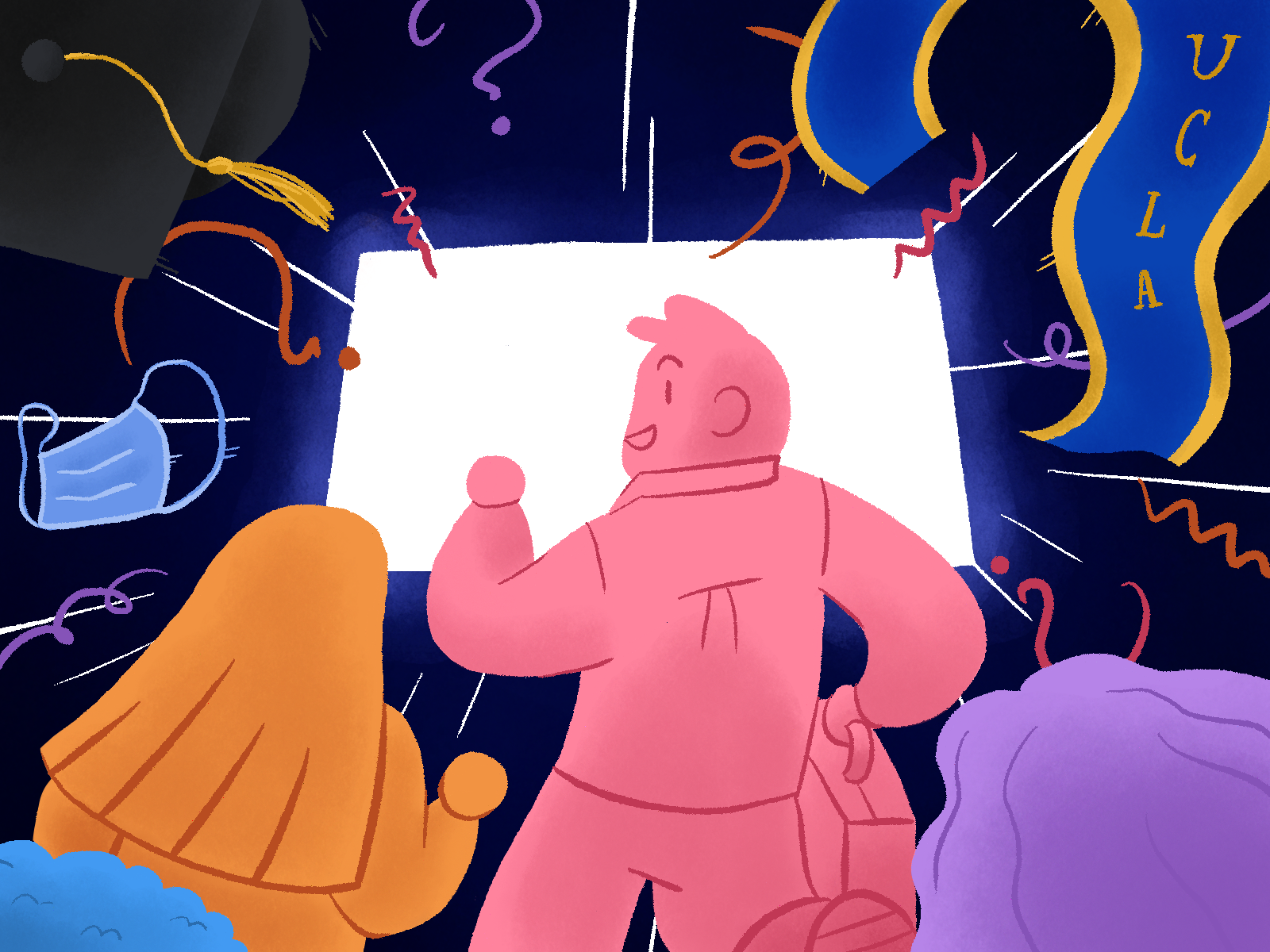 (Dani Nalangan/Daily Bruin)
While the end of the school year can be an exciting time for Bruin graduates entering the workforce, it also comes with much uncertainty as it rides on the heels of the COVID-19 pandemic.
Bemmy Maharramli, associate director of Strategic Initiatives at the Center for Community Learning, said members of the class of 2021 who are entering the workforce this year will have a different experience than others.
"I think we've all learned to appreciate communities on all scales, whether it's our work communities, our school communities or family communities, all of those intersections," Maharramli said. "We're all going to pause and reflect as we think about this for months and years to come."
Fourth-year education and sociology student Leyla Barkhordar said she is excited to start her teaching career in the Bay Area with Teach for America, an organization that allows her to simultaneously earn her master's in teaching and teach full-time in a low-income community.
"I'm most excited to actually be teaching (classes) in-person, so actually getting somewhat of a school experience in person, even if it's not necessarily me being a student since my master's program is online," Barkhordar said.
Barkhordar said she had originally planned to apply for a traditional master's program, but because of the pandemic, the testing centers necessary for that route were closed. Rather than taking a gap year, Barkhordar decided to follow her passion of working with students from low-income communities through Teach for America.
"Although the pandemic has affected my plans short-term, it actually made up for it in the long term because it's honestly been the best ride of my life," Barkhordar said. "If the pandemic had not happened, I probably would have been going to a different school or a different program that I probably would not necessarily have been really excited about."
Fourth-year biology student Kevin Zhang said he has already started working part-time at a pharmaceutical company in San Diego and is in the process of applying to medical school.
"I've already experienced some of the joys that I was thinking would be reserved for post-grad, like being at home (and) spending more time with the family," Zhang said.
But graduation will still bring Zhang many new opportunities and allow him to explore different passions.
"It's a lot of time for reflection to see how I've changed over the years, to see what I'm interested in (and) what I value," Zhang said.
Maharramli said while there have been many non-ideal work situations because of the pandemic, it has also prompted discussions about how working young adults can influence the future of society.
"There's this cool opportunity for this generation to contribute to rethinking not only how they work, where they work (and) what times they work, but what the workplace looks like," Maharramli said. "That is so exciting that you all will be shaping that and that connects to every facet of your life."
Maharramli said after graduation, some catch-up in networking might be necessary due to the largely online format of the past year. Despite these issues, Mahrarramli said our society, including the class of 2021, has demonstrated immense amounts of resilience and strength and can handle such obstacles.
Zhang said his biggest uncertainty is what will happen to the UCLA community he has built up over the last four years, especially after being apart because of the COVID-19 pandemic. Nonetheless, he added that they are still a strong community.
"I think in some ways COVID-19 has been good in the sense that a lot of us are not on campus anymore, but we still have (connections) to a lot of our friends and organizations that we have been in all of our previous years," Zhang said. "We have this support as we are exploring the workforce, and it's like testing the waters before we take the big jump."
For Zhang, the past year has resulted in a newfound mindset that is open to more than just one path in the future.
"The pandemic has changed how I see possibilities, mainly because I had a plan for how I wanted to spend my last year at UCLA and moving forward," Zhang said. "It's definitely helped me to have a more open mind on what I want to pursue and the experiences that I'm going to take part in."
While the pandemic abruptly shifted plans previously laid out for graduating students, it allowed for the discovery of new opportunities that may otherwise have been overlooked.
"Maybe it's forced us to recalibrate … and that's not to diminish the intense and invisible tragedies we've all faced," Maharramli said. "Maybe the silver lining of this awful, stressful, traumatic year is that we've all been able to rethink things, and there'll be an opportunity for social innovation and redesign."